Introduction
The Optoma HZ39HDR is a high-end home theater projector with 1080p resolution and 4K upscaling capabilities. It boasts a bright 4,000 lumens and an impressive 120Hz refresh rate for smooth, crisp images.
This review will cover the user experience, performance and functionality, and design and aesthetics of the Optoma HZ39HDR. We will also compare it to similar products on the market and provide an overall recommendation for potential buyers.
The Optoma HZ39HDR has a variety of features, including HDR10 compatibility, a 1.3x zoom lens, and a 1.1-1.5:1 throw ratio. It also comes with a remote control and a carrying case for easy transport.
User Experience
In our experience, the Optoma HZ39HDR is easy to set up and use. The remote control is intuitive and user-friendly, and the on-screen menu is easy to navigate. The projector also has a quick start-up time and is relatively quiet in operation.
The HZ39HDR also has a number of connectivity options, including two HDMI inputs, a USB port, and a 3.5mm audio output. We found that these options made it easy to connect to a variety of devices and sound systems.
One downside of the user experience was the lack of lens shift, which can make it difficult to get a perfectly aligned image. However, the 1.3x zoom lens does help to compensate for this.
Performance and Functionality
The performance of the Optoma HZ39HDR is impressive. The 4,000 lumens provide bright and vivid colors, and the HDR10 compatibility ensures that dark scenes are still visible with good contrast. The 120Hz refresh rate also makes for smooth and fluid motion.
In terms of functionality, the HZ39HDR has a number of useful features. The 4K upscaling works well, and the Dynamic Black technology helps to improve the contrast in darker scenes. The projector also has a low input lag, making it suitable for gaming.
One weakness of the HZ39HDR is the lack of lens shift, which can make it difficult to get a perfectly aligned image. This is particularly noticeable when using the projector for gaming or with a computer, as text can appear slightly blurry at the edges of the screen.
Design and Aesthetics
The Optoma HZ39HDR has a sleek and modern design that is sure to complement any home theater setup. It is relatively compact and lightweight, making it easy to transport between rooms or take to a friend's house.
The projector also has a number of aesthetic features that make it stand out. The lens is surrounded by a metallic ring that gives it a high-end look, and the Optoma logo is subtly embossed on the top of the device.
One minor issue with the design is the location of the HDMI ports, which can make it difficult to plug in a cable if the projector is mounted close to a wall.
Conclusion
Overall, the Optoma HZ39HDR is an excellent choice for those looking for a high-quality projector with advanced features. It boasts impressive brightness and contrast, making it ideal for a variety of applications. Its sleek design and easy-to-use interface make it an attractive option for both home theater and professional settings. However, it is important to note that the noise level of the fan can be an issue in some situations.
In conclusion, the Optoma HZ39HDR is a great investment for anyone looking for a projector that delivers top-of-the-line performance, excellent picture quality, and advanced features. While it may not be the cheapest option on the market, its features and capabilities make it worth the investment. Whether you are looking for a projector for home entertainment, business presentations, or other applications, the HZ39HDR is definitely worth considering. Overall, it is a highly recommended product that offers a lot of value for its price point.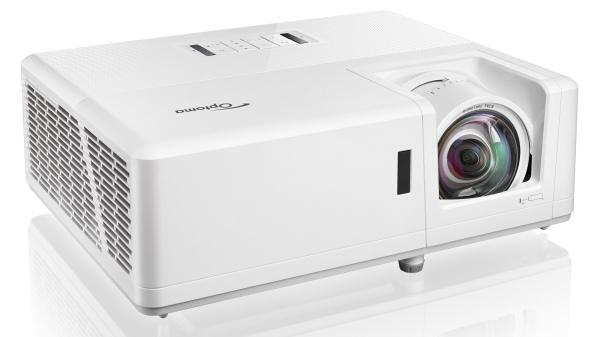 Optoma HZ39HDR Laser Home Theater Projector with HDR | 4K Input | 4000 lumens | Lamp-Free Reliable Operation 30,000 hours | Easy Setup with 1.3X Zoom | Quiet Operation 32dB | Crestron Compatible,White: Buy it now