amazon Shozy Form 1.4 reviews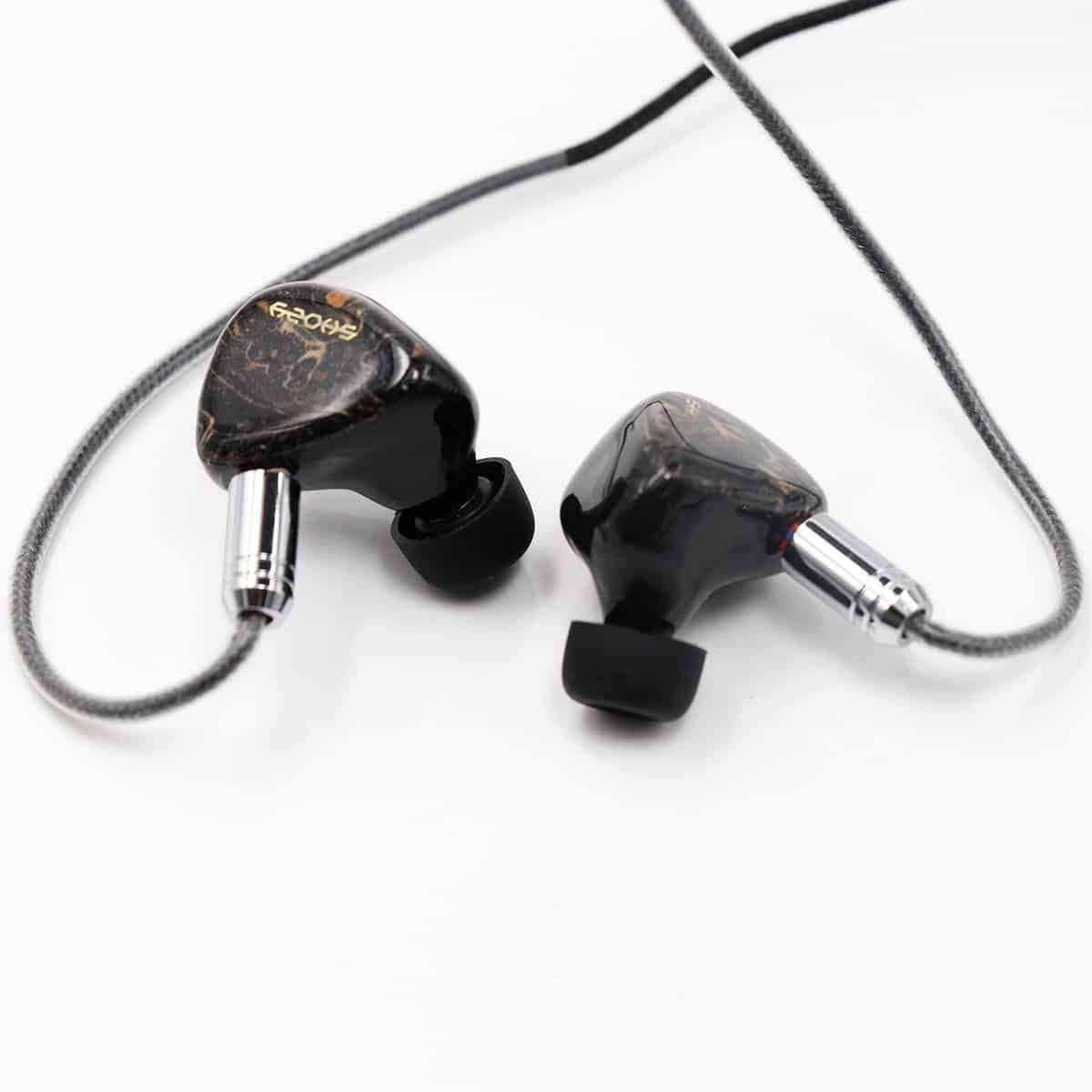 DESIGN AND COMPLETE OF SHOZY FORM 1.4
Shozy Form 1.4 is like an enlarged version of Form 1.1 when placed 2 headphones next to each other. There is no difference in design language, just a slightly expanded measurement to accommodate more drivers.
Shozy Form 1.4 is simple but still very impressive. The faceplate is decorated with a black wood texture. You may also imagine Shozy Form 1.4 is like two pebbles when you first see it. Two beautiful smooth, polished pebbles.
Shozy Form 1.4's housing is made from medical resin with high-precision 3D printing technology. The housing surface is covered with protective emulsion paint and polished by hand. Therefore, you will not be able to find any patch marks on the housing of Shozy Form 1.4. It is seamless to perfect. The exhaust pipes, vents are made of metal, which exudes a luxurious and high-end look for the design.
Coming to the wire, it seems that Shozy has reused the cables of Shozy Form 1.1 on the new Form 1.4 version. The appearance of the 2 wires is exactly the same. The wire is covered with very thick anti-breaking, high purity OFC copper core, jack, 0.78mm 2-pin connector and splitter are all covered with shiny metal. Basically, this is not a bad rope, but I see that this design is not luxurious and integrated with Shozy Form 1.4's Housing at 2 times the price of Form 1.1.
CONFIGURATION AND NUMBERS OF SHOZY FORM 1.4
The name says it all, Shozy Form 1.4 uses a configuration including a dynamic driver combined with 4 Balanced Armature drivers.
Dynamic driver on Shozy Form 1.4 uses Beri-plated vibrating diaphragms to handle the mid-range.
Beryllium is a rare metal, very light in weight, has high rigidity and stability. Thanks to that, the dynamic driver of Beri plating membrane will have the preeminent features that conventional types of the vibrating membrane will never have:
– Light, fast
– Accurate feedback, low distortion
– Extremely good detail reproduction
– Durable and supple
The remaining 4 BA drivers are in charge of the middle and high range. These drivers are specifically designed for Shozy to achieve optimum performance.
Frequency response: 20 – 20,000 Hz
Impedance: 16 Ohm
Sensitivity: 102 dB
Frequency: 3-way
Connectors: 2-pin 0.78 mm
With this parameter, Shozy Form 1.4 is extremely easy to pull the IEM ear. You do not need to worry about the power of the source when melding.
EXPERIENCE AND SOUND OF SHOZY FORM 1.4
Shozy Form 1.4's housing is slightly smaller than Form 1.1 but it is still very compact. Housing is also perfectly polished, without burrs. As a result, Shozy Form 1.4 feels comfortable and comfortable on the ears, even for long periods. Shozy Form 1.4's drainage tube is also quite long, so it can be inserted deeply into the ear to create good soundproofing.
The sound of Shozy Form 1.4 seems to be synchronized with the appearance, really beautiful sound. Shozy Form 1.4 has a little emphasis on the bass, warm mid-range, affection and smooth treble strip. The level of detail in the instrument, the impressive ability to class and the stage space is impressive.
Bass: Has good quality, bouncy and control. I'm not saying that Shozy Form 1.4's bass will be suitable for the bass lovers because Shozy's sound signature has not been like that, it simply fits into many genres of music.
The sub-bass extension is much better than Form 1.1, resulting in a slightly slower bass dissolution rate, but Shozy Form 1.4's bass speed is still quite good. You will feel the weight of the bass notes more clearly than Shozy Form 1.1. Thanks to that, the texture of the bass strip is also floating and more solid.
Mid: The bass strip is heavy and has a bit of influence on the mid-range of Shozy Form 1.4 to become warmer and thicker. Many people will feel like me about the analog in the mid-range of Shozy Form 1.4. Vocals are very natural and sentimental, there is no sense of the high-pitched thinness of the headphones that use BA driver but quite plump. This is understandable because the offset in the frequency transition between the dynamic driver and the BA driver creates sound characteristics that only Hybrid headphone models can do.
The details of the instruments are very well reproduced with warm, rustic colors, especially with stringed instruments. For metal instruments, the sound will be a little thick.
Treble: Extremely smooth, without any harsh, harsh notes appear. Details of this sound range are reproduced quite well. Treble is quickly roll-off after about 8 kHz, so many people will feel the treble of Shozy Form 1.4 is quite gentle and lacks personality when compared to Form 1.1. In return, the sibilant phenomenon of Form 1.1 has been completely overcome. The treble sound on Form 1.4 is also fuller and sounds more accurate.
Stage space: Shozy Form 1.4 recreates a fairly spacious music space, just enough for you not to feel secretive but not too big to feel spread. The picture is very well reproduced. The ability to separate instruments and vocals clearly and precisely arranged in space.
CONCLUDE
Shozy Form 1.4 will continue to be a promising headset of the Shozy family after the resounding success of Form 1.1. Own beautiful design, very good finishing. The sound quality of Shozy Form 1.4 can satisfy most audio lovers, especially those who love "analog".
where can you get a Shozy Form 1.4 online
Linsoul Shozy Form1.4 1DD+4BA Five Driver Hybrid in-Ear Earphones, with Detachable Cable for Audiophile Musician: Buy it now
---
shozy form 1 4 headfi iem price review vs graph