amazon Sony WH-CH500 reviews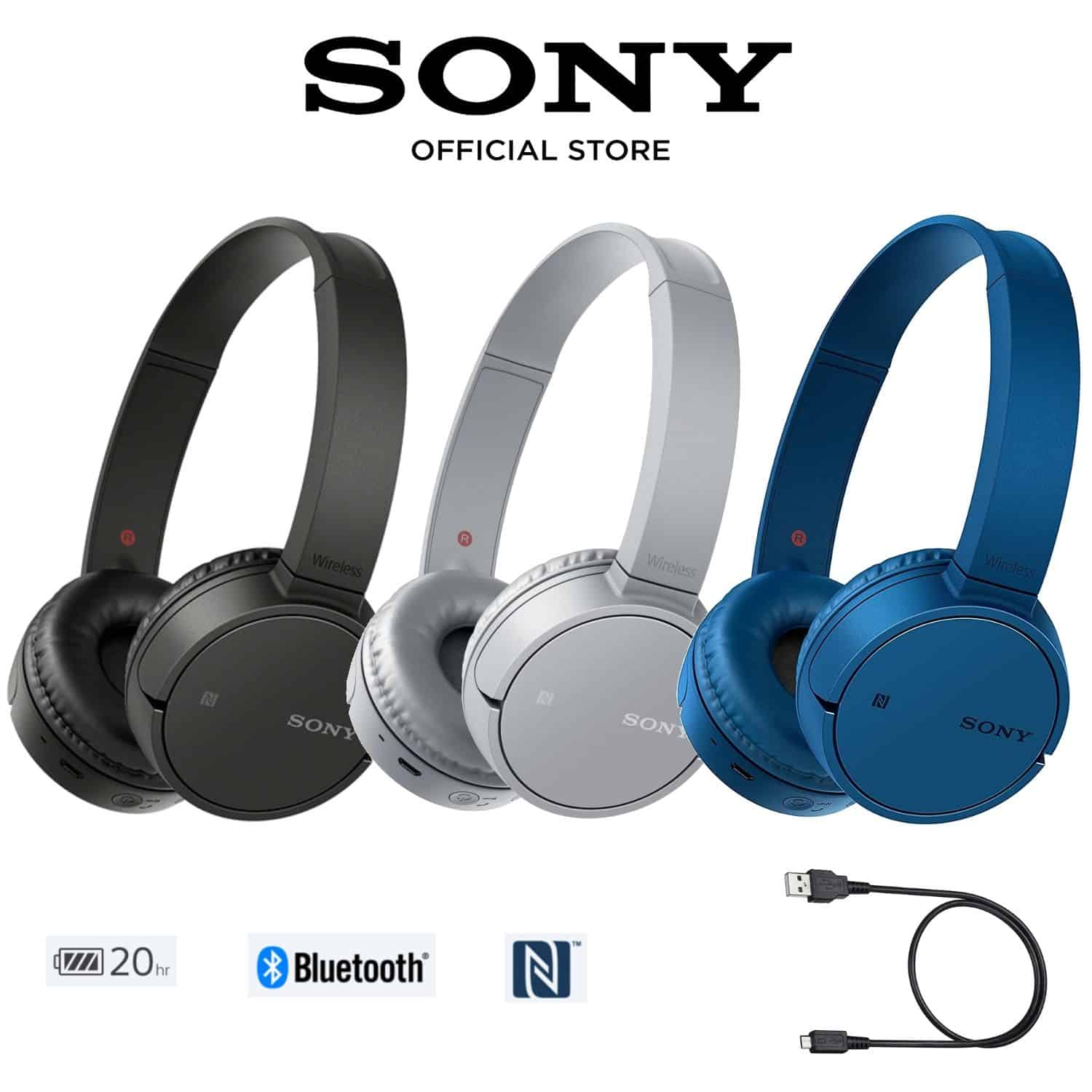 Sony WH-CH500 – The comfortable headphone
The Sony WH-CH500 has a larger ear cushion design and has more padding layers than the WH-CH400. This helps it to take advantage of its improved wearable comfort.
It is important to note that the revewer experience is only available after a short experience, so it is not possible to accurately assess the comfort of any headset. However, with the WH-CH500, in addition to the soft and thick ear cushions, its very lightweight plastic design also contributes to the feeling of a true "headphone comfort".
However, in reality, those with slightly larger head sizes may find it a little tight. The result is very good soundproofing, especially for on-ear headphones with thick ear cushions like the CH500. The quality of finish on mid-range headphones like the CH500 always raises the question: Can a manufacturer deliver everything well? The answer is "No". With the WH-CH500, the finish is not so excellent, but with any headset in this segment, you shouldn't wait too much.
Technically, Sony's WH-CH500 is an on-ear headset, but when you look at them, it's hard to tell. It is made like a mobile headset and takes advantage of most of what is on large headphones. The WH-CH500 uses a fairly large 30mm driver, which can provide very good sound detail, as well as much stronger bass than smaller headsets. The self-contained dynamic design ensures you won't be disturbed while listening, or disturb anyone while listening to music with loud sound.
Audio on the Sony WH-CH500
With cheap and mid-range headphones, often we will see everything is done "average". But with the WH-CH500, the first thing that impressed me was the volume on this headset. This small wireless headset has a really impressive volume level.
Bass
The bass on the WH-CH500 is really great. Hip hop, pop, and even EDM will not make this headset difficult. The bass is not too dry, but it is also true of what is typical of Japanese headphones.
Mids
At the price of WH-CH500, many people will be disappointed by the mids strip. But fortunately that didn't happen with the WH-CH500. It is easy to hear, smooth, not too bright or harsh. Towards a comfortable soundstage, the mids on the CH500 are thick and warm, the details are good and no noise occurs.
Treble
The high range on the Sony WH-CH500 is not obvious and you might be a little disappointed when listening to classical music. However, this category is not what Sony headsets are about. If you still want to listen to exciting pop and edm songs and have many instruments, the WH-CH500 is still more than enough to meet your specifications.
Sony WH-CH500 soundstage
Due to the rather tight on-ear design, the soundstage on the WH-CH500 cannot make the listener feel impressed from the first wear. It's handled just enough for you to feel the omni-directional sound, but it's hard to give you the exact concert space at home just like you're expecting too much in an medium headphone.
Battery life of Sony WH-CH500
The battery on the WH-CH500 gives you about 20 hours of music playback. You have to charge it via micro-usb charging standard. If true as the number of 20 hours, you can say this on-ear headset is too "wonderful". However, the fact that the WH-CH500 only gives the ability to play music for about 18, 19 hours. Of course it depends on the volume level you use, but really, the numbers are impressive.
Some other features:
The Sony WH-CH500, in addition to providing you with a good sound quality, is also capable of conversing with HD call quality. In addition, it is also equipped with NFC one-touch connection like many other brothers from Sony. Of course, the bluetooth on the WH-CH500 is very stable and provides extremely good connection quality.
Summary
Sony WH-CH500 is the product that characterizes Sony's style of headphones production. You will find a headset that is not too expensive, but what it brings is very good value for that money. No need to be colorful, but full of features, perfect and above all suit the needs of many people, especially many young people. The WH-CH500's selling point is its portability, compactness and wearing comfort.
where can you get a Sony WH-CH500 online
Sony WH-CH500 Wireless On-Ear Headphones, Black (WHCH500/B): Buy it now
Sony WH-CH500 Wireless On-Ear Headphones, Black (Renewed): Buy it now
Sony Bluetooth Wireless On-Ear Headphones WH-CH500 (Black) + USB Cable & Wall Charger + HeroFiber Cleaning Cloth: Buy it now
---
amazon sony wh-ch500 reviews on newest prices of deals best buying a lastest what is at where to buy can i you get online purchase sale off discount cheapest for products tutorial specification features test series service manual instructions accessories audifonos auriculares auscultadores bluetooth precio avis bedienungsanleitung wh-ch500/bc kopfhörer review wh-ch500/l bruksanvisning casque casti mode d'emploi cuffie compatible ps4 audio sans fil danh gia driver tai nghe drivers windows 7 not detected dns release date technische daten emparejar ebay wireless nfc on-ear headphones google assistant enabled headset with mic el corte ingles fone de ouvido fnac jb hi fi flashing red and blue gebruiksaanwijzing gigantti guide gym how pair laptop connect ipad put in pairing use handleiding charge instrucciones india instrukcja jbl t450bt mi vs quora tune 500 bt español john lewis käyttöohje kokemuksia koppelen kabelloser verbinden lesnumeriques purple light connecting battery life met mit pc mic/remote notice negre opinie słuchawki officeworks panasonic rp-hf400b pioneer se-mj553bt iphone price qatar quiet sound quality recensione recenze reset techradar recenzja bezprzewodowe jak podłączyć sluchátka chụp không dây – e hàng chính hãng tesco unboxing user uk uae uc wh-ch500/lc firmware update xb650bt sennheiser hd 4 40 skullcandy hesh 2 stereo xbox one xr mdr-xb650bt mdr-xb550ap x youtube yorumlar yhdistäminen yandex audífonos y función manos libres zwart hoofdtelefoon zx220bt draadloze koptelefoon zx330bt mdr-zx330bt đánh giá tinhte 10 auricular new wh-ch500- original linea 2018 3 5mm 4pda 5 400 450bt playstation 5s 500bt 6 подключение к компьютеру 8 anleitung argos arvostelu bežične slušalice noir launch discoverable dimensions hörlurar headphone model sparować ear philippines pret recenzia kulaklık resetleme reseña specs uproar setup vélemények black charging 450 cũ отзывы обзор wh-ch500b app aux aptx android altex asda australia mac time phone delay discord db emag elgiganten factory running fiyat flipkart frequency response folding grey (black the ear) (blue gaming gray hinta case help harvey norman ireland instruction issues impedance ios jack j pjh t460bt kaina kuantokusta latency lazada lag linux low volume microphone macbook multipoint mediamarkt multiple devices pro air noise cancelling nz headphones- schwarz ohm pink nepal problem recensioni stamina skype silver support target troubleshooting trusted teszt tweakers ubuntu t500bt wh-ch400 e45bt beats e55bt tietokoneeseen mdr-zx220bt 藍牙無線耳罩式耳機 connection com ソニー ワイヤレスヘッドホン đánh 無線藍牙 立體聲耳罩式耳機 評價 開箱 比價 比价 ヘッドホン 耳罩式耳機 耳罩式耳机 無線藍牙耳罩式耳機 レビュー n pantip подключение к компьютеру