amazon Sparklite reviews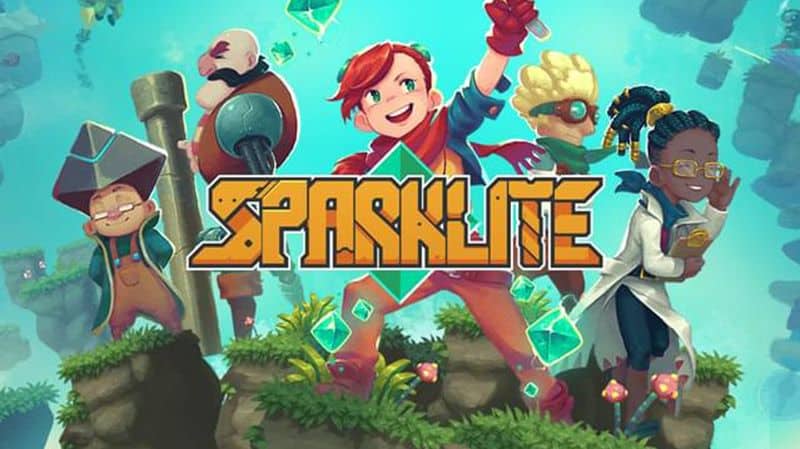 Thirty years ago, the limits of technology and technology only allowed images in general to be displayed through discrete pixels, making it difficult for the games of the time to do more than what was in the game reach.
Nowadays, when 4k HD technology of all types gradually ascends to the throne, "pixel-art" gradually becomes a "unique" graphic style to bring a retro feel – and is also a tactic. Indie studios are very popular, due to their simplicity and many other utilities.
Sparklite very cleverly chooses a pixel-art style, not only reducing the load in terms of capacity and work, but also aiming to create new dashing lines in order to attract female customers gender and children.
With gentle tones, not too fresh but somewhat leaning over the color of grass, Sparklite creates a world in the game quite suitable for its theme – such as mines or dry grasslands.
One of the most impressive highlights of Sparklite is its unique design.
Be it houses, environment, monsters or bosses; They are all very meticulously invested and detailed.
This is a rare feature where the games come from small studios, which do not have much resources and manpower to care for this array of tectonic plates.
Basically, Sparklite's dominant gameplay revolves around adventure through dungeons randomly generated for each play.
With a clear view and gameplay "borrowed" from the classic The Legend of Zelda versions, Sparklite players will go from one screen to another, trying to destroy all monsters on their way.
The problem of Sparklite is that the more you play, the more the game "drives" the player into an endless loop of … money.
Everything will fall into a vicious cycle: killing monsters – picking items – selling items – buying upgrades – killing monsters …
What makes things so bad is that the upgrades in Sparklite are extremely small and lack creativity.
It does not allow the character to add new skills, does not change the gameplay … most upgrades only purely increase stats such as damage, blood … Even from the middle of the game onwards, the "Damage Reduction" stat strong it makes every other upgrade a joke.
Sparklite also does not bring a lot of challenges for players – because the bosses are very "strength", but extremely "stupid" when they only have about 3, 4 different attacks.
Later on, Sparklite increased the difficulty by not making the boss more diverse and dangerous – but merely increasing the stats.
Just like that, the faster you play Sparklite the faster you get bored, because everything that goes on is regular and tedious – no change, no challenge, no discovery, no creativity.
Indeed, the longer Sparklite is played, the more players will want to ask themselves: what are we doing, for how long, for what?
where can you get a Sparklite online
Sparklite – Nintendo Switch: Buy it now
Sparklite – PlayStation 4: Buy it now
Sparklite – Xbox One: Buy it now
Sparklite (PS4): Buy it now
---
amazon sparklite reviews on newest prices of deals best buying a lastest what is at where to buy can i you get online purchase sale off discount cheapest for products tutorial specification features test series service manual instructions accessories adams as89f-1098 apr model epix fab and design beats red blue games all boss final blog chauvet led curtains drape download switch release date pc developer sparklite-darkzer0 demo entertainment enterprises signature edition events eshop game engine ending free gosen 840 73 870 like 880 review trophy guide harga raket 850 hltb hoop how return town igg industries pvt ltd ign private limited ios igggames press kit kickstarter key leki s unitika metacritic merge multiplayer near me reflective material nintendo nsp neon 85 xbox one co op steam ps4 physical gameplay trophies twitter tester update upgrades video wikipedia wiki (2019) analisis achievements first faq forum gamefaqs goldenwoods base hotel items launch trailer moonlighter mac meta price preview patches resetera tips youtube racket