amazon Star Wars Jedi Fallen Order reviews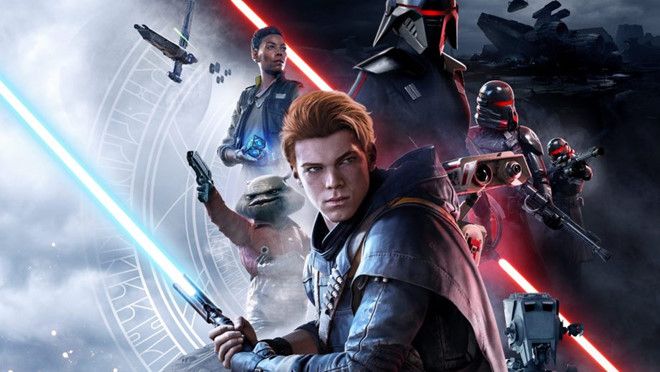 Admittedly, since making the first games so far, Respawn's geniuses have always maintained their style of how they convey the most overwhelming experience that a gamer imaginable.
The first 30 minutes, just the first 30 minutes of Star Wars Jedi: Fallen Order is enough for every gamer, whether he is a Star Wars fan or not, to have "supprise" because it is impressive, so beautiful, and so wonderful!
So much so that it feels like you've just walked out of the theater after watching Avengers Endgame and in your mind it's definitely the best movie ever seen.
It sounds funny, but Star Wars Jedi: Fallen Order really "knocked" you out with just the first 30 minutes of the mission.
Every frame in Star Wars Jedi: Fallen Order is extremely impressive, beautiful, overwhelming in detail, sharpness in design and arrangement, to the gameplay with extremely cinematic color combinations with the rotation angles.
Players will be swept away from scene to segment without rest, while constantly learning how to get used to the gameplay.
It is well known that it takes inspiration from the famous Dark Souls series, and it is not too much to put in the "Souls-like" game line.
From the "bonfire" scattered throughout the road, to the screen play with closed design, just opened with the shakes that sometimes players dare not turn on the map, or the battle is sweating all sweat and writhing.
Star Wars Jedi: Fallen Order must be similar to Dark Souls up to 70% in gameplay, almost bringing the context of Dark Souls combined with the essence of the adventure of the Darksiders series.
And so you have a Star Wars Jedi: Fallen Order just captivating in puzzle-climbing climbs, and immersing yourself in "deaths that make you immortal".
To feel the soul of Dark Souls in Star Wars Jedi: Fallen Order, please confidently choose the [Jedi Grand Master] mode.
I has spent a valuable Sunday from morning till late just to "gid-gut" a boss near the end of the game.
And the good news is … it's not the hardest boss yet!
There are two very interesting points that Star Wars Jedi: Fallen Order has a bit of flavor coming from Sekiro: Shadow Die Twice – the posture bar and the parry feature.
Each opponent you confront in the game has a defense bar (posture), the more you take this defense bar will exhaust.
On the other hand, if you control the timing of the attack accurately to every hundredth of a second, then you will repel the enemy with (parry) attacks.
Don't worry, you won't have to defend 6-7 attacks in … 2 seconds like Sekiro, but make sure you can hit every millisecond to get a single hit in Star Wars Jedi: Fallen Order !
Notice that it is always at the [Jedi Grand Master] difficulty level, each opponent's attack will be almost instant, just blink of an eye "!"
It might be enough to get used to it, but "strange" is how Respawn combines puzzle adventure scenes in an ingenious open world.
If you've ever played through Darksiders III, it's definitely an awkward combination and lacks the meticulousness of trying to bring the essence of Dark Souls into Darksiders.
But with Star Wars Jedi: Fallen Order, it is a very satisfying experience, which makes the writer reminisce the days of "half-dead" with Prince of Persia: Warrior Within, having just fought in the siege of enemies. The enemy has to always shake his head to solve creative conundrums and to be clever in every run and jump.
There are so many monuments in a game, and it is great that they combine in a clever and charming way.
Players travel from planet to planet, scouring every corner of the map just to earn more, many secrets are hidden, wriggling back and forth to a stage to a few times to the point of belonging No need to look at the map …
… Then plunge into epic battles of the colorful Jedi of the light swords, enjoy the extremely beautiful battle phase, capture all the majestic and massive frames, then have to find the headache again how to solve a puzzle on a certain path … until you're tired then you're lucky, you've seen a "bonfire"!
Not to mention screen design is also a flaw.
Initially the player will feel the screen is quite monotonous and quite linear, but certainly when going about 30% of the game, you will be amazed at their dexterity and vastness.
Fortunately, the game did not make a genuine 3D map.
To be honest, judging from each of the individual pieces in Star Wars Jedi: Fallen Order is not as cool as what you had with Dark Souls or Darksiders or Prince of Persia, but it is good enough to create a whole complete.
The feeling of rotation, seamless connection and urging you to move forward until you reach the goal is the next save is enough to satisfy you enough.
Based on the above factors, Star Wars Jedi: Fallen Order owns the most attractive game this year besides Sekiro: Shadow Die Twice, but that is not the stop Respawn places out for Star Wars Jedi: Fallen Order.
You will be playing Joke … well mistaken Cal Kestis – a Jedi trainee survived the purge occurred in the event [Revenge of the Sith].
The thought was to live a peaceful life with a new identity, but divine power always had a way to bring Cal back to the fight between good and evil, to once again rebuild the Jedi Society.
The interesting thing is the presence of a series of famous actors, an interestingly designed script that goes from one surprise to another (mostly the result), a series of worthy characters remember, maybe Star Wars Jedi: Fallen Order is more than a movie.
Each character in Star Wars Jedi: Fallen Order has certain inner depths, an easy story that makes you empathize with both the main and the villain, the characters are clearly portrayed with the gradual development adventure with players.
Even with a robot like BD-01, the manufacturer portrayed a very friendly and useful personality Wall-E style.
Cal, or the player himself, would be nothing without the help of his comrades, and also could not grow without enemies.
Cal's journey is not only to rebuild the Jedi Association but also to explore and learn all the NPCs present in the game.
One thing that the writer really likes, is that with the great graphics of Star Wars Jedi: Fallen Order, the female characters appear extremely impressive.
A frightening Second Sister with lots of insults and coolness, or an extremely innocent and cute Merrin … It's hard for players to choose parties!
Not stopping there, Star Wars Jedi: Fallen Order also contains a huge treasure of knowledge about the Star Wars world, about legends, about stories and countless small captions linking the events happening in the whole Star Wars series.
However, this is only valid for fans of Star Wars, but if you have the opportunity to experience the game, this is also an interesting thing to learn.
Despite the very high quality of Star Wars Jedi: Fallen Order, the game still has no shortage of miscellaneous bugs that make players sometimes uncomfortable.
But in general, most of these errors are quite small and can be ignored.
The first is a slow texture loading issue – a very common bug on Unreal Engine 3, and Unreal Engine 4 seems to have not been optimized.
This situation only happens briefly if the player has a relatively strong configuration, but if your configuration is only at the level of enough play, you will definitely have to difficult.
Anyway, Star Wars Jedi: Fallen Order is very light, with only i5-3570 and GTX 760 configuration, players can freely "using sword" at extremely high settings, which is very beautiful already.
The graphics of Star Wars Jedi: Fallen Order have to be said to be extreme high, but unfortunately, they are not taken care of in the most uniform way.
where can you get a Star Wars Jedi Fallen Order online
Star Wars Jedi: Fallen Order – PlayStation 4: Buy it now
Star Wars Jedi: Fallen Order Deluxe Edition – Xbox One: Buy it now
Star Wars Jedi: Fallen Order (Xbox One): Buy it now
Star Wars Jedi: Fallen Order (PS4): Buy it now
---
avis
star wars jedi fallen order
analisis astuce acteur argos analise art of all planets in actores age rating for black friday best buy big w deluxe edition bande annonce deals price bewertung skills ps4 carrefour cex cheat codes скачать critica cyber monday cheap config pc collector couleur sabre descargar durée de vie duracion date sortie on durata double lightsaber doppelsprung download e3 ea access eb games ediciones everything we know about eliteguias expert edicion fitgirl final boss fling trainer free fast travel f trophies cheats voice actor guia gamestop gamestar like game – xbox one guida informer green thumb gamefaqs hltb how many are to wall run harvey norman much is dive underwater histoire platinum play jump gameplay review đánh giá ordertm steam mod wiki test tesco trophée the tv tropes target trophäen leitfaden twitter uscita upcoming update upgrade 1 04 release uk unlockables usk bd upgrades escape underground jail voces español video ventas venator verkaufszahlen vale la pena valoracion voices vandal recensione will have multiplayer what does include walmart wymagania wikipedia who when take place walkthrough x s 1tb bundle pass youtube trailer part can you offline save your replay missions zagrajmy zackscottgames zero zeffo puzzle rätsel zefo chests tomb eilram secrets broken wing 05 03 version 100 patch gt 1030 2019 2 gamescom battlefront vs 2018 red dead redemption 3rd person 3dm gtx 1060 3gb sphere 32gb chapter 3 360 4players 4k hdr pro rx 590 560 5700 xt 580 gears war 5 570 imperial occupation kashyyyk 66 scene 60fps execute mission 6gb vega 64 60 fps 660 ancient catacombs 75 730 760 750ti 750 7 excavation village culture swamp sacrifice 85 overgrown 87 kujet 83 temple 80 dathomir forest trench gnarled heights upper strangled cliffs fx 8350 weathered monument 95 crystal caves 96 refinery 92 9th sister origin tree 93 explored ilum achievements at pre bonuses oggdo bogdo bogano creature beta bladed cast content demo dig site editions worth it special roam tips gépigény sistem gereksinimleri gry online instant gaming g2a jb hi fi force push bounty hunters imdb ign a sequel outfits jeu jvc jeuxvideo com jogo temps komplettlösung key kicking back kaufen kritik cd lösung colors colours lichtschwert farben campaign length orange customisation parts purple media markt music metacritic main character not so notes note new nightmare ruins controller working nota or ending hours miktrull crack plus side quests quantas horas quotes oculus quest q4 quick questions list qisahn cấu hình tipps und tricks grab von vorbesteller bonus regular wreckage vorbestellen standard hebe den turm an with wallpaper dual wield xatab cal got tongue türkçe yama be sith young training yellow tr need yoda electric water crash stuck 2nd system requirements rtx 2080 2070 2060 super series discount codex crackwatch engine color canon coop table last rebels reddit requisitos timeline knight recenze second sales locations scomp link skill actors bosses amazon abilities cutscenes at-at brand benchmark bug chest bugs cốt truyện characters dlc drop darth vader daominhha difficulty epic enemies store fshare full gamespot gamek guide 1050 gamecopyworld igg inquisitor jaro tapal flip robes joker 90 master secret kaputter flügel linkneverdie lag low end settings customization live stream merrin motgame megagames minimum meta nintendo switch news ninth nexus launching nightsisters ng+ nightsister open world original ost opencritic optimization oggy opening song purge trooper specs databank quiz quicksave evade reveal embargo location score stuttering steamdb tai trophy unreal 4 unlock updates voz viet hoa vietgame vr villain weapons won't start where yaddle year bd-1 ep parte player teil spheres ps3 o 10 hour trial percent 02 things planet 21 9 fight 3d models 3440×1440 balls 30 fans ball 4share 50gb 50 dollars 650 6 x3daudio1_7 dll was found windows 840m 8k 8 stranger 940mx 960m 970 99 940m 920m 9pm