What is foot massage machine?
Foot massager is a product line that supports foot massage and therapy at a lower cost than going to Spa centers. How effective the foot massage machine is depends on the brand and the price segment of the product.
Foot massage machines have the following main uses:
Foot massage reduces fatigue and stress after a long day of stressful work.
Acupressure helps clear acupuncture points in the soles of the feet and circulate blood throughout the body.
Enhance circulation and improve sleep, especially older people….
Types of popular foot massage machines
In the market today, foot massage machines are divided into many different types, depending on the needs you can consider choosing for yourself the most suitable product.
Specialized foot massage machine: This is the main product line mentioned throughout this article. Based on the massage position we can also divide the machine into 2 types including:
Foot massage machine: is a foot massage machine with compact size and features a flat surface design. Below the flat grid is a system of infrared lights that massage, stimulate the sole and heel to help blood circulation. Some brands of soles massage machines such as Xiaomi, Beurer …
Calf massage machine: is a high-class massage machine, possessing large size and vertical shape; Often used to massage from calf down to soles. Some famous Japanese foot massage machine brands such as Fuki, Buheung …
Multi-function portable massage machine: As a multifunctional product, this device can be used to massage in different positions of the body from the neck, shoulders, back to calves and soles of the feet. It has a compact size and manual operation.
Infrared foot bath: This is a therapeutic and health care device that receives a lot of attention in the market. Foot baths are favored for their ability to boil water quickly, incorporating infrared light technology to aid effective blood circulation.
Should we buy foot massage machines?
Whether or not to buy depends on the needs and conditions of each of us, but if you've read up here, we are confident that you are looking to buy foot massage machines.
However, for those who already have advanced equipment such as body massages or infrared foot baths, choosing a dedicated foot massage machine will be a quite expensive solution.
Experience of choosing the best foot massage machine
A. Choose designs for foot massage machines
In terms of design, priority should be given to models of compact size and not too bulky weight for easy use and transportation. Machines with luxurious designs and elegant colors also contribute to the room space.
B. Using durable materials, health safety
Most foot massage machines on the market are branded, with clear origins made from high quality materials. In particular, the case can be made of ABS, PP bearing, impact-resistant and safe for human health; The surface for foot massage uses durable felt cloth.
C. Power and massage modes
Should choose the foot massage machine equipped with a large capacity of 50W or more and have many different adjustment modes such as foot massage mode, reflexology mode or infrared heat mode … for you to choose suitable suitable for each purpose of use.
D. Control panel and display clearly
In addition, when buying foot massage machines you also need to pay attention to some other features and utilities that come with it. Such as:
Control panel and display light: All massage machines are equipped with a control screen with functional buttons and LED lighting system to display the parameters more clearly. Some machines also allow us to control via the remote instead of having to touch the control panel directly.
Smart timer feature: Some high-class foot massage machines have built-in massage timer feature from 5 minutes to 30 minutes; After this setting time, the device will automatically turn off to minimize the massage for too long, affecting the legs as well as saving power consumption.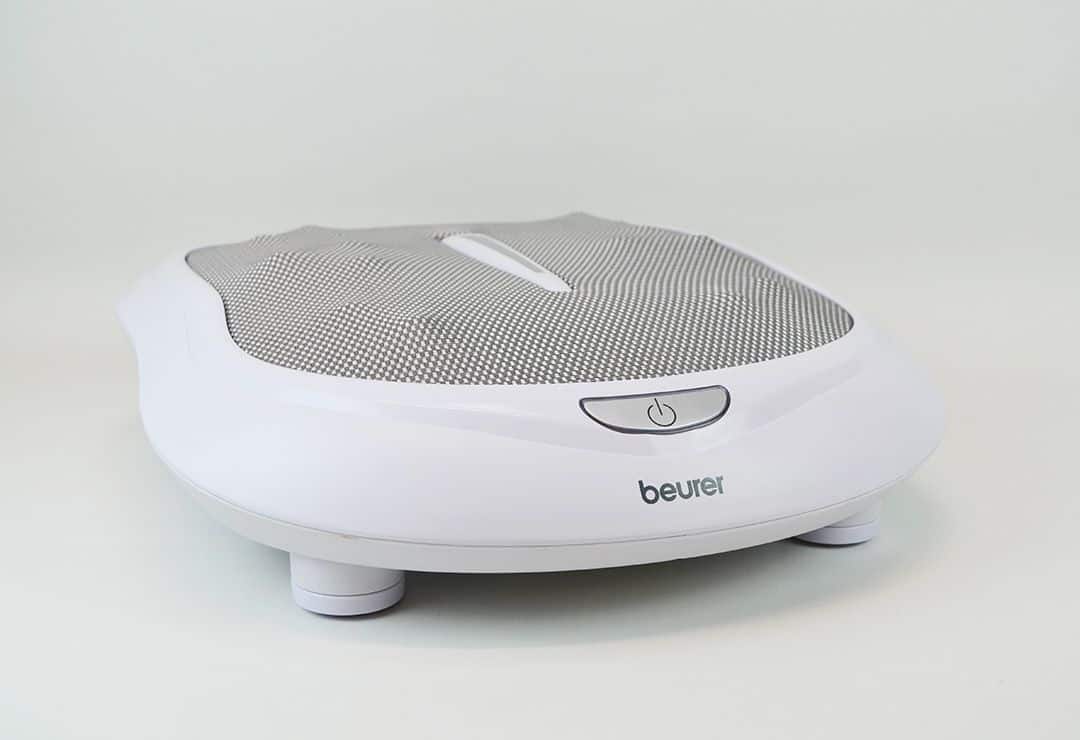 Beurer FM60
For those who are looking for a foot massage machine or simply want to give as a gift to their loved ones, Beurer FM60 is worth considering. The product is suitable for women who often wear high heels, the elderly have symptoms of diabetes.
The machine works on the principle of using waves to point to the acupuncture points of the soles of the feet, the joints, the toes of the toes in a safe closed cycle. The function of heating by infrared light combined with vibrating massage mechanism has the ability to enhance blood circulation and reduce the most painful pain.
Beurer FM60 is a high-class product line from Germany with outstanding white color, modern design and elegance; outer shell using high quality plastic material, durable. The surface texture of the foot massage is mesh-shaped with breathable fabric to provide good foot sweat absorption.
Underneath the fabric are 6 infrared rollers, each containing 18 active massage heads with a total capacity of 50W arranged in 2 symmetrical rows. The device integrates 2 gentle and soothing massage modes to help you choose freely according to the intended use.
The system of 4 solid brackets arranged at the bottom is able to withstand large loads. Machine control panel with clear function buttons and convenient LED display; operated by civil power source 220V – 240V / 50Hz.
where can you get a Beurer FM60 online
Beurer Shiatsu Foot Massager 18 Rotating Massage Heads, Relax Sore & Tired Feet with Deep Tissue, Heat Function, FM60: Buy it now
Xiaomi Leravan LF-ZJ007-MGY
In the segment of foot massager priced below $100, you can also consider another option called Leravan LF-ZJ007. This is a foot massager, a Xiaomi brand of medical and therapeutic equipment.
Leravan LF-ZJ007 looks like a slipper but with a large size of 345 x 320 x 150mm and a weight of about 2.4kg. Inside this sandals is air cushion system, thermal gel capable of foot massage effectively.
Besides the thermal gel system of the strap, the blood circulation in the instep; The foot-to-foot part of the machine is arranged with 4 infrared massage rollers with a continuous rotation mechanism to simulate similar pressures from the human hands, thereby helping to open the acupuncture points for the soles of the feet.
Basically, the design of this product is also relatively neat and compared to Beurer FM60 is not much different; the most noticeable difference is that the Leravan LF-ZJ007 is designed by the manufacturer to add the upper straps.
The parts of the machine are made of high quality and durable materials. In particular, the case is made of high-strength synthetic resin, the foot-net surface is breathable, the upper strap is felt fabric that creates a pleasant feeling for the feet and is aesthetically pleasing.
The machine is equipped with an operating power of about 30W and operates on a civil power source of 220-240V; means that when you use you have to plug directly into the power socket so this device is not suitable to carry on the go but should only be used at home or company offices.
where can you get a Xiaomi Leravan LF-ZJ007-MGY online
Fuki FK-6891
Fuki Foot Massage Machine FK-6891 is a product line manufactured based on modern technology lines from Japan that meets the quality standards of the US and Europe. A relatively suitable choice for the elderly, office workers who often wear shoes and high heels.
The product possesses a compact design, light weight, low details so it is easy to install and transport to many different locations in the house. On the body is integrated control panel with convenient function buttons, the remote comes with the machine allows you to perform on / off and remote control modes.
The structural parts of the machine are made of durable materials, with high-quality ABS plastic shell with bearing characteristics, less dust so easy to clean cleaning; breathable lining layer does not accumulate unpleasant sweat, can be easily disassembled for hygienic washing.
The entire massage process of Fuki FK-6891 is a perfect combination of massage technology by heating with pink lights, airbags and adding massage rollers for you to massage on the shoulders, neck, arms, abdomen, thighs or soles, ankles.
The heat from the infrared light has a gentle heating effect on the skin and then goes deep inside to disperse evenly across the feet to help detox, blood circulation. Not to mention the continuous airbag release system improves blood circulation and relieves painful symptoms.
Massage rollers have the same effect as hand-held massage machines in simulating massage and acupressure techniques of technicians from professional spas; both help prevent and treat foot diseases while strengthening flexibility for the leg muscles.
where can you get a Fuki FK-6891 online
Legs KSR-C11
Legs KSR-C11 is a versatile device that can be used to massage the feet and calves. Compared to pure foot massage, this product is quite bulky in size and weighs 12.5kg.
In terms of design, the Legs KSR-C11 possesses stylish and many fashionable luxury colors so it can be arranged in many different use spaces from the living room, the family's bedroom to the office of the company.
The case is made of high quality plastic, is durable and has strong stand; During use, users can also freely adjust the tilt angle according to sitting posture.
The device is equipped with a strong operating capacity of about 80W and integrates 3 massage modes including:
Massage press, rake the instep: Stimulate deep inside the indentation of the instep, effective excretion of toxins and blood circulation.
Reflexology massage: The machine will work longer on the heel area, which stimulates the hip nerve while helping to increase metabolism.
Massage therapy by heat method: Infrared lights can reach a temperature of 40 degrees C in just 8 seconds and radiate around to reduce the most painful pain, bring feelings of comfort and deeper sleep.
where can you get a Legs KSR-C11 online
Bodi-Tek CRB03
Bodi-Tek CRB03 is a high-class foot massage machine imported from the UK, suitable for people who are sitting a lot, being sedentary and suffering from the most painful and tired symptoms such as office workers or elderly.
The Bodi-Tek CRB03 therapeutic massage machine adopts advanced Electro Muscle Stimulation (EMS), a method used to simulate the exercise regimens that the world's leading athletes are currently practicing training.
Electrical impulses (99 points) emitted by the machine can stimulate muscle areas such as the soles of the feet, instep and calves to help blood circulation. The mechanism of action is similar to that of electric pulse massage machines.
Bodi-Tek CRB03 is equipped with 3 training modes, including:
Mode 1: Stimulation and deep effects cause shrinkage on both soles of the feet with 6s electric shock combined with 1 second electrical pulse to stop.
Mode 2: Stimulating and deep effect causing shrinkage on each sole of the foot.
Mode 3: Stimulating synthesis in about 25 minutes.
Note: For those who have pathological symptoms related to the legs, before using the Bodi-Tek CRB03, please consult the doctor, health professional.
Besides the technological advantages, the machine also has a modern and luxurious design; relatively compact design, compact structure that can be easily moved or stored. The control panel is full of function buttons, a convenient timer mode for relaxing while reading or watching TV …
where can you get a Bodi-Tek CRB03 online
Nikio NK-188 2 in 1
Nikio Foot Massage Machine NK-188 is a high-class product from Japan that applies foot massage technology with air pressure or a process using compressed air running at a gentle pace to massage and release acupuncture points blood flow and reduce pain in the legs.
Nikio NK-188 is a multifunctional foot massage machine that has been equipped with 3 massage modes from F1-F3 and equipped with 5 L1-L5 massage intensity levels to give users a deep and refreshing sleep. mental face. Depending on your needs, you can choose for yourself the best massage mode and massage intensity.
The device is a combination of traditional and modern massage methods and infrared massage heating mechanism. Nikio NK-188 is suitable for a wide range of subjects from elderly people, people who are sedentary like office workers, offices to those who often wear western shoes, high heels like singers, actors. …
Simple operation mechanism, the body is connected with the controller to help you easily adjust the operation of the machine. In addition, the control panel with 1 super-sensitive touch buttons and LCD screen display the features clearly; Thereby you can both use the machine to massage the foot and perform other tasks at the same time as reading books, watching TV, listening to music …
The compact size, luxurious design and trendy colors with the combination of the two main colors of cream and champagne contribute to the space extra luxury. The foot protection cloth bag that comes with the device is made of high quality felt cloth and detachable for cleaning.
The machine works with strong power up to 50W, comes with a smart timer function that allows you to easily set the massage mode in 5 to 30 minutes to protect the legs as well as save energy for Machine if unfortunately overslept during massage.
where can you get a Nikio NK-188 2 in 1 online
Foot Massage
Foot Massage Machine Foot Massage is an OEM product line manufactured from China, specializing in foot massage. The device is used for massage and therapy of positions such as knees, elbows and feet.
Foot Massager machine is equipped with an operating capacity of about 40-50W and comes with 4 massage mechanisms including automatic mechanism, personal mode, customized mode and remote control via the remote.
In particular, individual buttons allow you to flexibly adjust between areas needing massage such as heel, arch of foot and sole of foot; custom buttons allow users to easily set the appropriate massage mode and speed; Remote control mechanism allows people to freely adjust the operation of the remote.
Inside the machine has been installed automatic stop mode after 30 minutes of massage is very safe. Machine weighs quite a bit about 11kg and wing-shaped stickers relatively eye-catching.
where can you get a Foot Massage online
---
are foot massage machines good for you any safe during pregnancy argos at game prices in south africa and calf clicks australia best 2019 rated costco www com diabetics dublin electric sale harvey norman home ireland india leg makro nz reviews shiatsu massager top therapy target uk vibrating water near me machine spa m ô 7 amazon bath buy brand malaysia plantar fasciitis singapore the walmart 2018 advertised by ian botham as seen on tv boots benefits bed beyond bd big w bangladesh brookstone bahrain brands daraz dubai diabetes dawn fraser guys gumtree gold coast groupon homedics hong kong health how to use hs code hurts hk pakistan sri lanka chennai john lewis jb hi fi japan kmart kuwait kohls kijiji lebanon lazada lidl lloyds mauritius melbourne made myer macy's meaning neuropathy naipo osim ogawa olx online shopping ebay price perth philippines qatar repair revitive reddit ratings shop saudi arabia sydney shoppers drug mart suitable help circulation 10 tesco test toronto translation tariff usa video vibrate vancouver with heat walgreens while pregnant when where westfield youtube ă doha devices tens reflexology kenya karachi kolkata kansa oto ten 5 i feet legs korea renpho remote control r đ hot z vibration 9 8 arealer deep kneading invospa – belmint function review th intey marnur nekteck miko switchable h c