amazon Anker SoundCore Motion B reviews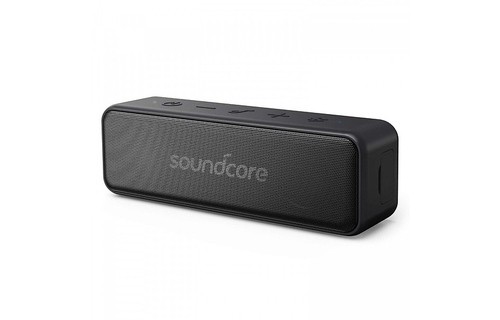 Anker SoundCore Motion B has a sophisticated design, giving a comfortable grip
Still like the previous Anker SoundCore, Anker SoundCore Motion B is contained in Anker's distinctive white and blue paper box. The box has a wavy face, looks very dizzy if you look at it for a long time. Inside the box is an Anker SoundCore Motion B speaker with a micro usb charging cable and Anker's "Happy or Not happy" paper, or placed in their products. It can be seen that Anker did not give include any bag to hold Anker SoundCore Motion B for user.
Anker Soundcore Motion B has a slightly different design previously. The corners and corners on the speaker are more curved. The speaker has a rectangular box design with dimensions of 171 x 48 x 56 mm and weighs only about 400 grams. Slightly obese compared to Anker SoundCore. Anker Soundcore Motion B can be said to be smaller in size compared to speakers in the same segment in the market. Anker Speaker SoundCore Motion B only 1 color is black. According to me, Anker will add more colors to Anker SoundCore Motion B in the future.
The upper side of the speaker is the control button cluster such as power, volume down, play / pause, volume up, bluetooth. On the right side is a micro usb charging port, 3.5mm port – with a waterproof lid – to connect to audio devices when you don't want to use bluetooth. The front is a metal mesh that protects the speaker with the sound of SoundCore instead of Anker as before painted white. The speaker is protected with a thick, firm rubber layer. This layer of rubber in addition to protecting the speaker also helps to prevent shock to the speakers.
Speaker has 2 led lights, 1 white light source and 1 blue light with bluetooth indicator.
Generally speaking, Anker SoundCore Motion B doesn't have much change. The change is inside the speaker.
Anker SoundCore Motion B for 12 hours of continuous playing time, 1m5 waterproof in 30 minutes
If you look at it, we will see Anker SoundCore Motion B's playing time decrease ½ compared to Anker SoundCore from 24 hours and 12 hours of continuous music playback. A very significant number. In return, Anker SoundCore Motion B has nothing new.
Bluetooth from 4.0 upgraded to 4.2
– "The Bluetooth 4.2 standard was released on December 2, 2014 by the Bluetooth development organization (SIG) with many important improvements in security, speed and many new features.
– Bluetooth 4.2 has 2.5 times data transfer rate compared to Bluetooth 4.1. In addition, the capacity of the data transmission is also increased, which helps the power consumption of Bluetooth save more and less errors during the connection process.
– Especially Bluetooth 4.2 with higher security makes the device more difficult to attack and you can share the internet connection from the phone to another device via high-end IPv6 communication standard.
– Bluetooth 4.2 can be upgraded from 4.0, 4.1 through firmware updates from the device manufacturer. However, if the hardware (chip) does not support Bluetooth 4.2, you will not enjoy the high data transfer rate of v4.2. "
There is IPX7 waterproof standard
Anker Speaker SoundCore Motion B is equipped with water resistant level 7 – equivalent to the ability to soak in water 1 meter deep in 30 minutes
Ability to combine 2 Anker speakers SoundCore Motion B
Anker equips Anker SoundCore Motion B with the ability to connect 2 speakers to 1 pair of stereo speakers with 2 left channels – right to increase the playback volume and the ability to experience music. Of course no one bought 2 Anker SoundCore Motion B to be a pair of stereo speakers but this feature is to help 2 users with Anker speaker SoundCore Motion B can combine the same.
Anker SoundCore Motion B has many valuable upgrades such as waterproof IPX7 along with combining 2 Anker SoundCore Motion B speakers together to make the game more fun. Anker SoundCore Motion B retains a clear sound quality, high volume level even at volume level of 50%.
It can be seen that the exchange of time for playing music on Anker SoundCore Motion B for more features is worth it. So if you have a need for a good portable speaker and beyond Anker SoundCore Motion B can't have a better choice.
where can you get a Anker SoundCore Motion B online
Portable Bluetooth Speaker, Soundcore Motion B by Anker, 12W IPX7 Waterproof, Bluetooth 4.2 Speaker with 12-Hour Playtime, Dual-Driver with Built-in Mic, Compatible with iPhone, Samsung, and iPad: Buy it now
---
boost 開箱 評價 – stereo ses b比較 b比较 ipx7