amazon Anker Soundcore Spirit X reviews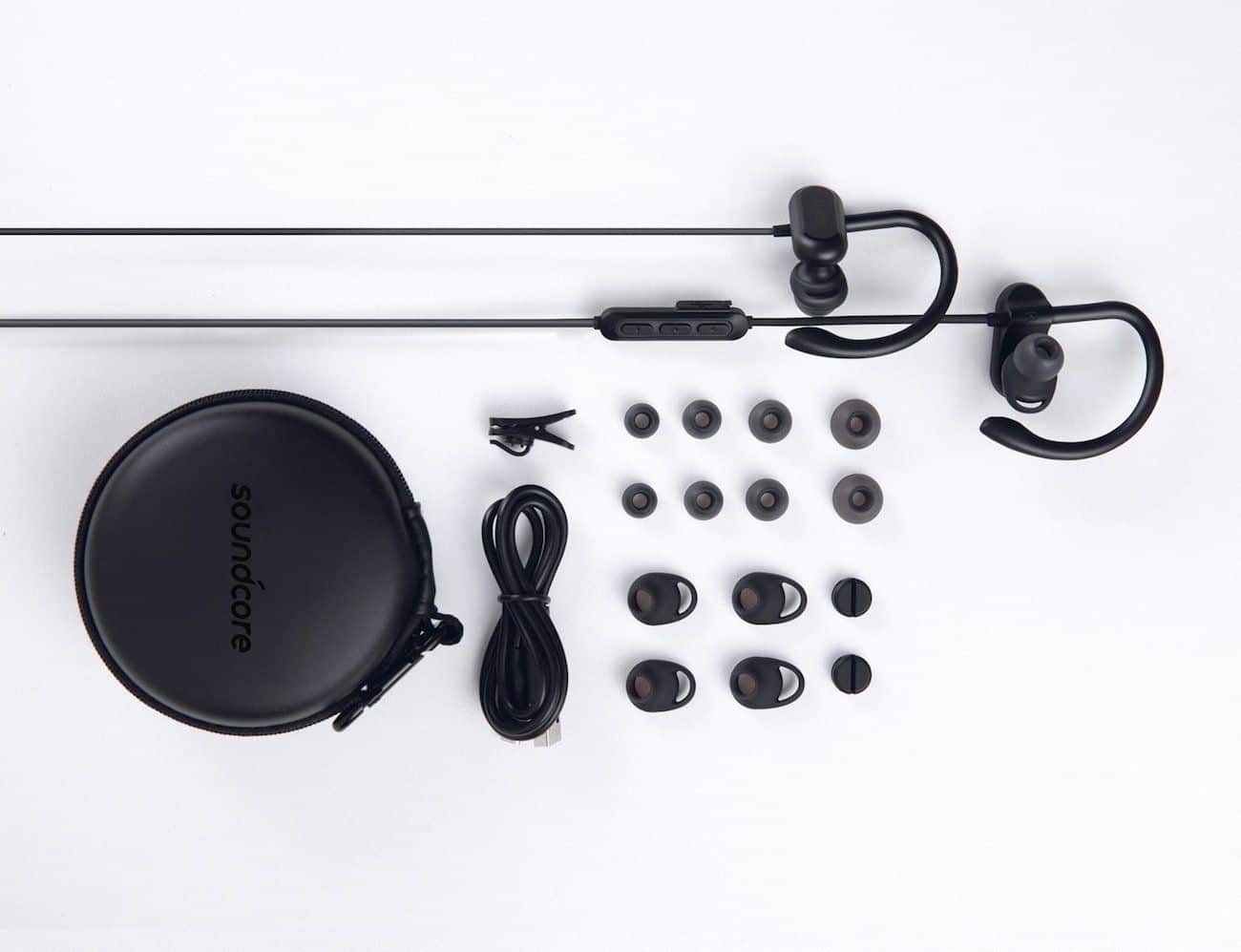 From the exterior finish to the sound, the Soundcore Spirit X is a pair of wireless headsets designed for indoor and outdoor use.
In recent years, Anker has entered the market with more and more of the 'Soundcore' products. Small form factor Soundcraft speakers have not received enthusiastic reception yet, but wireless headsets are gaining attention, especially from headset users gym, sport, active.
Spirit X is perhaps the best-selling product, having received about 450 comments, gaining 4.2 star ratings on Amazon. For comparison, the pair Bang & Olufsen H5, also a pair of headphones of a famous but only 330 comment with only 3.2 stars!
'Decoding' for the success of this pair of earphones is cheap, currently Soundcore Spirit X is priced at less than $50, but promises a lot of features and cough as well as accessories 'good' for A pair of wireless headsets at a cheap price.
Speaking of accessories, there are four rubber cushions, two ear cushions, a clamp, a cord clamp and a micro USB charger, and a zippered case. Anker is well known for making strings, so the attached rechargeable cord seems to be also of high quality!
It's hard to say that this is a 'nice' pair of earphones, as it is designed to be handy, not to look. The earrings are quite large, but they come in contact with the human ear using rubber cushions so they are not too tight and comfortable. We also have an ear hook that is attached to the ear but can not be removed, because the Spirit X is quite heavy so no hooks can not be worn.
Once you have selected the right cushion, Spirit X is firmly clamped on the user's ear, no matter how strong the action will not slip. The disadvantage of this' oversized 'design is that we can not wear both headphones and helmets.
The noise level of the headset is just average, not really as good as the other in-ear earpieces because of the lightweight design. This is a good thing for those who exercise, because they can listen to music and listen to what's happening around them to ensure safety. But for those who use headphones in place, and need good soundproofing. This is a downside.
On the standard three-button control system, the tactile feel is not high, but we should not expect much in a low-level headset.
The charging port is also located here, and is covered by a thin rubber gate that is water resistant. The Spirit X is water resistant 'SweatGuard', which, according to Anker, is "much higher than today's IPX standards" because they do not show the salt resistance of sweat users.
Maybe this is a rhetorical advertisement, but one thing is for sure: Spirit X is very water resistant, as many people use this headset to run … in the rain but the product is not broken.
About the amount of music, Spirit X can play music for 12 hours continuously with 1.5 hours of charging. This can be said to be good for a pair of wireless headsets, but it is easy to understand that two large ear cushions can hold two higher capacity batteries than others.
Specifications
– 10mm Dynamic Speaker
– Bluetooth v5.0
– AAC, SBC codecs
– Waterproof SweetGuard
– 12 hours of music
– 1.5 hour charging time
One weakness of the Spirit X due to its cheap price is that it does not include the apt-X codec for better transmission quality. But the final quality of the sound is dominated by the quality of the diaphragm, apt-X is only secondary, but the better, but not too important.
In contrast, we get the latest Bluetooth v5.0. This standard gives the headset a solid signal, saves battery life and reduces latency with previous standards. The battery life I mentioned above, but it's long and simple because the ear has a large battery so I can not test Bluetooth v5.0 contribute to how much.
But Spirit X's ability to receive waves and latencies is experimental, and can be said to be good. The ear keeps the connection firmly, unless set by a smartphone or a wall over 10m. At one time I used to experience the phenomenon of loss of music, but after about a second, the ears continue to play, so it does not matter.
Delay with smartphones is also very low, so watching movies and gaming is also becoming more feasible. At present, the type of headset or loss of connectivity and the highest latency are true-wireless earphones, while others have resolved this problem.
After testing so many of the earphones advertised as 'sports-oriented', I had the impression that they all had a subdued, EDM-oriented sound. And that continues to be true with the Soundcore Spirit X, the headphones have a slightly louder sound, and have a lot of bass. The bass was impressive at the time of the opening of the first track, whether it was a soft jazz song – Nobody by female singer Alexis Cole. The mid-bass hit a lot, forming a very high volume, with high punchy should make the pop tracks especially exciting.
It seems that gym and running people often play strong music, so it's a good fit for them! But back to those who listen to light music, this bass seems to be redundant, playing quite strong even in the slow rhythm.
Spirit X's surprisingly strong midrange band, while standing at the bottom of the bass, is very strong, but still holds the foothold, and has good realism. Often, these sports headphones often make vocalist 'deformation', electronic to serve electronic tracks, but with Spirit X we can completely enjoy country music like Take Me Home Country Roads by John Denver without feeling overwhelmed.
Is this the best midrange of all wireless headsets at the same price range of $50? Not at all, perhaps the SoundMAGIC E10BT still holds the title. But is this a prominent midrange of the earphones? Yes of course!
As with the 99.99% of cheap headsets, the Spirit X does not have the strength to reproduce high tones. The high range of ear is just enough to use, but not metal and seems to be 'lost' between the bass area much. In many cases, the high pitch of Spirit X fulfills the task of keeping a non-condensing sound into a mass, but it is hard to say that a negative tone creates an accent.
where can you get a Anker Soundcore Spirit X online
Anker Wireless Headphones, Soundcore Spirit X Bluetooth Sports Headsets w/Mic, Bluetooth 5.0, 12-Hour Battery, Noise Isolation, IP68 Wireless Earbuds, SweatGuard Technology for Gym Running Workout: Buy it now
Epilogue
It's hard to say Anker Soundcore Spirit X Is a perfect product, as there are some downsides to having to buy a pair of wireless earphones at such a cheap price. The design is not fashionable, the sound insulation is not high, the sound quality is lacking in the high band. But for those who practice the gym, this run is a very worthwhile product, because of the long playing time, equipped with advanced water resistance and very strong sound.
Advantages
– Low price, easy to access
– Accessories are plentiful
– Wear comfortable, high water resistance
– Long listening time (12 hours)
– Low latency
– Strong bass, energized at practice!
Defect
– Design is somewhat boring
– Low sound insulation
– High sound pressure
---
firmware レビュー kulaklık –