amazon Ecovacs Deebot Ozmo 950 reviews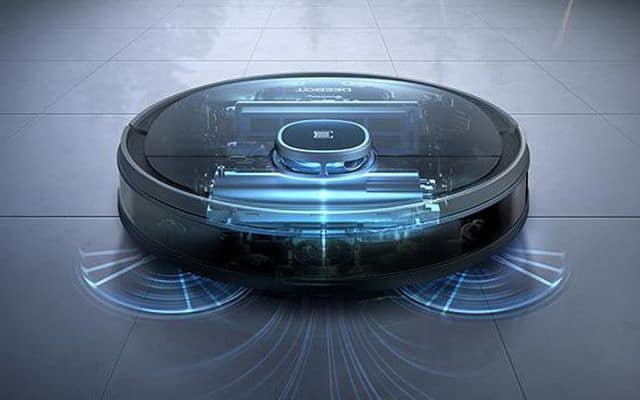 Smart robot vacuum cleaner is the optimal cleaning solution, but there is no general standard to evaluate. Please give 4 standards to consider when buying this product and introduce Ecovacs Deebot Ozmo 950 – a "qualified" robot.
What are the "4 standards" needed for a worthwhile vacuum cleaner?
Again and again, before deciding to buy a robot vacuum, you need to pay attention to these 4 criteria first:
Design: affects access to floor corners and space of the intake tray, engine, trash bin;
Technology: for optimum efficiency and independent active cleaning in various types of terrain and environments the robot has as many smart technologies as possible;
Gravity: Robots with multiple suction modes will help you make the most of your cleaning needs;
Battery: The battery capacity determines the cleaning time and the cleaning time determines the area the robot vacuums can be cleaned.
After experiencing quite a lot of robot vacuum cleaner lines, I would like to introduce Deebot Ozmo 950 of Ecovacs, a model that meets all 4 criteria: breakthrough design, advanced technology, advanced suction multi, standard large capacity battery.
Breakthrough standard design
Ecovacs Deebot Ozmo 950 has a moderate size: 33.5cm x 33.5cm x 9.3cm, can fit into small nooks and crannies, but has enough capacity to store 0.45L garbage bins. 4.1kg robot weight – not too light as a toy, not too heavy when needed to move.
If the average high-end vacuum cleaner on the market is generally about 10 – 12 cm tall, the Deebot Ozmo 950 is only 9.3cm high – easier to get into low ground areas such as sofa, bed, under cabinets … Not only that, this design also helps Deebot Ozmo 950 overcome obstacles such as thick rugs, door edges … as high as 2cm.
Advanced standard technology
Continuing technology from the lower Deebot Ozmo models, Deebot Ozmo 950 is equipped with SmartNavi 3.0 smart laser scanning, automatically optimizing the running path according to the cleaning diagram. That is, the robot will scan (position obstructions, map settings and navigate smartly) so that the cleaning time is shortened without missing the positions, rather than running around but having the spot again ignore not being sucked.
Deebot Ozmo 950 can memorize 3 cleaning maps at the same time, giving 3 different cleaning spaces. This really makes sense for Building and Villa.
Deebot Ozmo 950 sets up 3 sanitary maps for 3 different floor maps
Deebot Ozmo 950 belongs to the Ozmo line of Ecovacs, so the wipe function is also notable. Deebot Ozmo 950 has 4 humidifying modes, which can actively control the humidity of wipes when robots clean different floors. When the robot is in sweep or suction mode, the sensor will order to stop spraying water. In addition, the water tank has a capacity of 300ml, containing enough water to wipe the area of 200m2.
Maximum suction force
Ecovacs Deebot Ozmo 950 has a strong suction power because of the technology to increase suction pressure – this is a breakthrough improvement of the new generation suction engine, while reducing noise. With 4 suction modes: 600 Pa daily cleaning, Standard – 800pa is the standard cleaning mode, 1200 Pa vacuums sandy floors and 1500 Pa thoroughly cleans stored dust with strong suction power.
Currently on the market, the vacuum cleaner for small houses usually has a battery capacity of 2000 – 2700mAh, for large houses, from 3500 – 4200mAh. Particularly for Deebot Ozmo 950, Lithinum battery capacity up to 5200mAh, allowing robots to clean 200 minutes continuously.
With 200 minutes of continuous cleaning Ozmo 950 can be cleaned continuously with apartments or villas with a large floor area of over 200m2 without recharging, in addition to the floor house, each floor area is less than 100m2 of floor you complete. It is possible to work continuously 2-3 floors on a single charge – this is really convenient, you do not need to wait for the battery to be full to move to another floor.
where can you get a Ecovacs Deebot Ozmo 950 online
ECOVACS DEEBOT OZMO 950 2-in-1 Vacuuming & Mopping Robot with Smart Navi 3.0 Systematic Custom Cleaning, Up to 3 Hours of Runtime, Multi-Floor Mapping, 3 Levels of Suction Power, Hard Floors & Carpets: Buy it now
---
amazon
ecovacs deebot ozmo 950
reviews on newest prices of deals best buying a lastest what is at where to buy can i you get online purchase sale off discount cheapest for products tutorial specification features test series service manual instructions accessories