amazon Fujifilm X-T30 reviews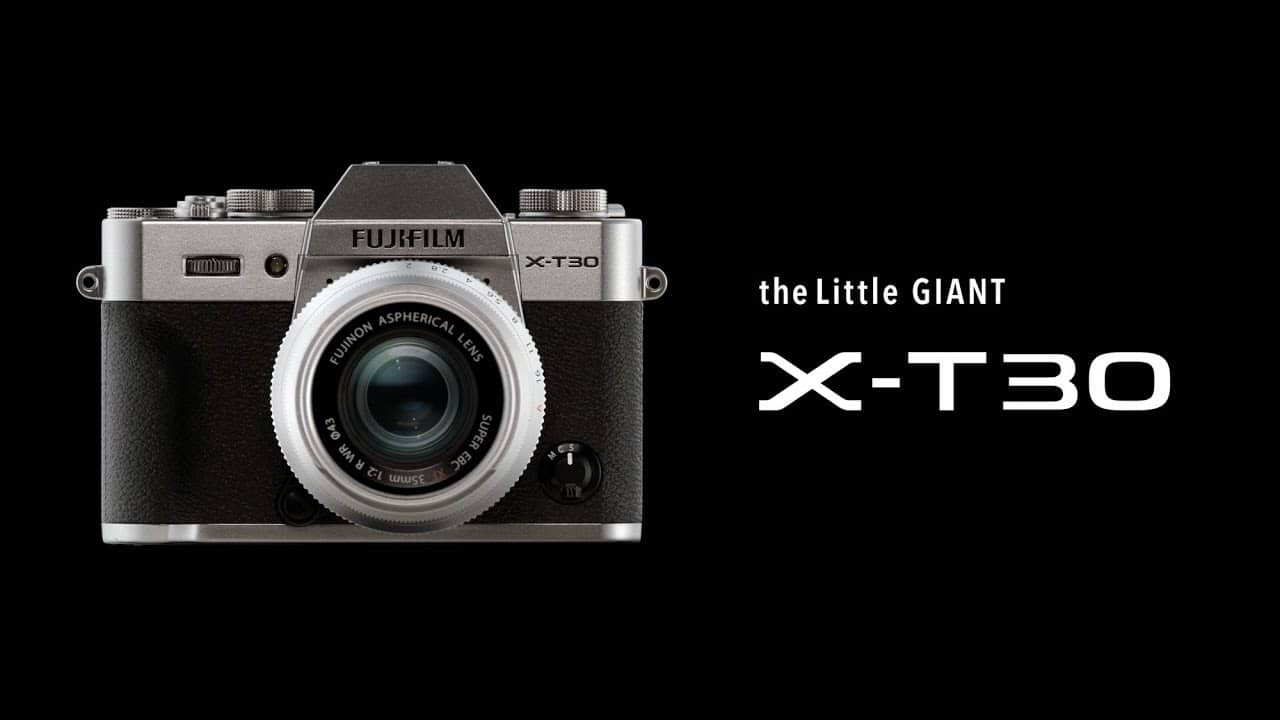 Perhaps someone who is passionate about photography or is a photographer has heard of 'Fuji magic', something that fans of this company constantly say their cameras are 'better than other DSLR's or Mirrorless'.
I myself love technology, and especially cameras, but have never experienced a machine of my own long enough to fully understand these claims. But the last chance comes when a newly launched Fujifilm X-T30 launches.
What is a good Fujifilm camera?
So we have to wonder, what makes Fujifilm so powerful, while in the market there are many other camera companies that have more advanced specifications? The simple answer is that Fujifilm does not compare with other manufacturers on paper, but their products 'eat points' in the actual use experience.
With the history of film camera production, Fujifilm created modern digital cameras but with an extremely nostalgic exterior. The company's machines are really unlike any modern camera on the market, making a difference right from the first glance. In the past, there were also companies that experimented with this design, but all failed badly, a typical example is the Nikon Df.
This design is not only 'beautiful' but also has high usability, as its X-Series models have rotation to adjust parameters such as aperture, ISO, shutter speed, mode. Continuous shooting or 1 image, focus mode … creates a feeling of physical use like never before.
Fujifilm's machines are also famous for image quality, especially with film color emulators. In addition to making cameras, Fujifilm is also a 'big player' in film production, and is still used by many photographers. A firm that has a film-making experience will definitely produce better digital film image colors than other brands.
Fujifilm X-T30 – Nostalgic, convenient but not perfect design
Returning to the Fujifilm X-T30, this is a new high-end model that was released about 2 months ago, which can be considered as a 'shortened' X-T3 version. This product has a design language no different from its predecessors, but there are also a few minor changes to make the user's experience more perfect.
As a shortened version of the high-end X-T3, the X-T30 also has a more compact overall design. This is an advantage for those who need a small machine, which has a high usability, but also that creates a disadvantage that the grip is small.
To remedy this situation, I hold the device according to a compact model (put a cross-arm, palm down) instead of a traditional DSLR grip. I have a big palm, so if I were to choose, I would use X-T3 with a larger grip than the X-T30.
As mentioned, Fujifilm models have a lot of revolutions to adjust parameters like a physical film, including exposure compensation, shutter speed, shooting mode (1 image, continuous), ring Adjusting the aperture on the lens and in particular there is a lever to set all of these parameters to an automatic level, turning the X-T30 into a point-and-shoot machine for beginners to take pictures.
Unlike the predecessor X-T10 and X-T20, the X-T30 did not have a D-pad navigation button but switched to using Joystick. According to me, this control is convenient and more intuitive, and also saves the area on the back.
A good point in the design of the X-T30 is that the rear rotation is all pressed down, so when you rotate, there is a function, and when you press and rotate, it becomes another function. On my device, the rear ring is used to adjust the ISO, but when I click it, I use it to switch between movie emulators – it's really handy. This feature works so perfectly that I have to ask myself: Why don't other companies do that?
The main screen of the device is 3 inches in size, 1.04 pixels in resolution, supports flip out (1 direction) and multi-touch.
The largest 'shortened' point in the external design of the X-T30 compared to X-T3 is the Input / Output system. The X-T30 only has a single SD card port, and is also the regular UHS-I standard instead of the high-speed UHS-II. It also has a headphone port, and the microphone port is scaled down to 2.5mm instead of 3.5mm.
Despite these weaknesses, I still appreciate the design of Fujifilm X-T30. The minimalist look like a film with a convenient and diverse operation system makes this device stand out from the 'practical' design but has the rigid dry part of DSLR and Mirrorless of other brands.
The incredible power for a small body
Despite the film's exterior design, the X-T30's internal configuration is not 'neck' at all. The X-mount mount is a 26.1-megapixel APS-C sensor X-Trans CMOS similar to X-T3. X-Trans sensor has become Fujifilm's 'specialty', which is said to have high noise reduction and good definition due to the absence of Aliasing filter.
The noise reduction capability of CMOS sensors is now too good, so each different device is just a little big. And the definition of the image depends very much on the lens mounted on the machine, in my opinion, that is the strong point of Fujifilm. The company does not produce Full-frame cameras, so X-mount lenses are exclusively designed for APS-C machines, so the optical quality is optimized for this sensor.
To support the sensor we have 4-core X-Processor microprocessor for 150% faster speed compared to the X-T20 generation, the system focuses on phase 2.16 million points (select 445 points). According to foreign reviews, the X-T30 currently has the fastest focusing speed in all Fujifilm machines, even faster than the X-T3 series because of the newer software version. But in the future, the company will also update the X-T3 software to keep up with the X-T30, so users of this model will not worry!
This is also a significant advantage of Fujifilm, as it continuously improves its models with software updates, something that Sony rarely does, and Canon, Nikon, Pentax … keep dreaming. ! So the older models of the company keep their use value longer because of the features of the new model.
In fact, the focusing speed of the X-T30 is really fast, almost instantaneously with the two lenses you use are Fujinon 23mm f2 and 35mm f2. The 27mm f2.8 Fujinon has a slower speed, but probably because of the speed of the motor in the lens, not the camera body.
We can continuously shoot 8 images per second with the shutter, and increase it to 30 frames per second with electronic shutter (crop 1.25x). The point that X-T30 will be inferior to the high-end X-T3 is the ability to film. The device can only shoot 4K30p instead of 4K60p, along with the color system is reduced to 8-bit instead of 10-bit.
Until now, the X-T 2 series has always been reduced in video recording, so this is not something new. But with the X-T30, although it has been reduced, it is still in the high-class, when being able to read the entire 6K sensor and compressing it to create 4K video, the detail will be higher than those of rotating machines Normal 4K.
A feature that Fujifilm has had for a long time, I also have to mention that the software on smartphones for remote control, transfer photos to share quickly, add tag locations.
This software works fine, but the first setup process makes me dificult. The company made users have to open the location on the smartphone to connect to the camera, but the first time the software set up did not notice it so I was struggling for a while, thinking of an error. This app seems to have a lot of bugs because there are currently only 2.9 / 5 stars on Play Store, so expect the company to invest more in this area in the future.
where can you get a Fujifilm X-T30 online
Fujifilm X-T30 Mirrorless Digital Camera – Black (Body Only): Buy it now
Fujifilm X-T30 Wi-Fi Digital Camera & 18-55mm XF Lens (Black) + 64GB Card + Battery + Charger + Mic + LED Light + Tripod + Flash + Case + 2 Lens Kit: Buy it now
Fujifilm X-T30 4K Wi-Fi Mirrorless Digital Camera with XF 18-55mm Lens Kit – Black with 32GB Bundle and Travel Photo Cleaning Kit: Buy it now
FUJIFILM X-T30 Mirrorless Digital Camera Body (Body 5 Piece Bundle, Black): Buy it now
Fujifilm X-T30 Wi-Fi Digital Camera & 15-45mm XC OIS PZ Lens (Silver) with 32GB Card + Battery + Flash + Tripod + Case + Kit: Buy it now
Experience the reality of film color simulations – Not advertising
When asked which camera company has the best color market, it is likely that 90% of photographers will say Fujifilm X-Series. Unlike most camera brands in the market, which is aiming for authenticity – the mainness is accurate to every color, Fuji goes in the other direction, creating images similar to the color of the film they have been working on centuries with rich colors, but still with certain harmony.
The concept of 'beautiful color' of each person will be different, there are those who think that the color must be true to the most real life may be beautiful, but most people agree that the image color is just eye-catching, not too It will be successful, there is no need to have too high authenticity. And the fact is, most Asian photographers are also following the trend of adjusting images according to film colors, so Fujifilm's film emulators are not just a promotional game but rather a useful point great.
The X-T30 comes in Provia (natural), Velvia (bold), Astia (gentle), Classic Chrome (nostalgic color – vintage), Acros (black and white with high contrast), neg PRO (portrait ), Sepia (brown earth film) and finally the latest color – Eterna, light, smooth and flat to serve the purpose of filming.
The two modes I like the most are Acros and Velvia, one is colored and one is black and white (monochrome) but all have high contrast, always creating the outstanding and eye-catching images. It must be said that all of Fujifilm's colors are really good, JPEG images taken from the camera are usable and not modified.
In contrast, Fujifilm has not been known for its RAW file so far. I work with Lightroom, but all Fujifilm camera users recommend not to handle the RAW file of this camera with this software because it does not give the best quality.
There is not yet any software that can read RAW of X-T30, so I can't test it, but for those who never take JPEGs and just want to sit and edit on the computer, they probably have to choose others. The value of Fujifilm photos lies in the built-in film emulators.
Epilogue
Perhaps this statement has been repeated to the point of becoming cliché, but the more you use the Fujifilm X-T30, the more it feels right. Glamorous design, along with extremely convenient usage.
And there were times when I went out to take photos like that, I was willing to drop the high-end Full-frame machine in my backpack and 'work' with the Fujifilm X-T30, simply because using this machine 'was fun ' more. Perhaps this is the 'Fuji magic' that attracts users that people often say.
This is not to say that this is a perfect camera, when there is a small grip – forcing the user to switch hands when using, the electronic viewfinder has a high magnification, only 1 memory card slot, The X-T3's 4K60p recording capacity is reduced … But all of that is perfectly acceptable when it comes to a much lower price than the X-T3 ($ 899 vs $ 1400).