amazon Google Home Mini reviews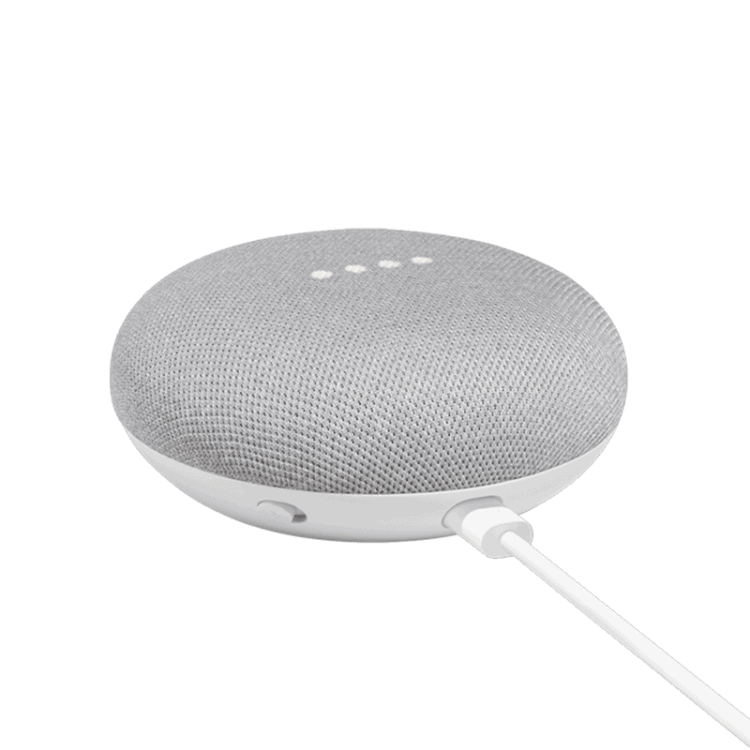 Google Home Mini is a smart speaker with a compact design, built-in virtual assistant Google Assistant that allows smart searching or controlling other smart devices by voice. The Google Home Mini is part of Google's smart home ecosystem in addition to Google Home and Google Home Max.
Design
Google Home Mini has a compact design, looks funny like a shoe with a diameter of 98 mm. fabrication consists of plastic-coated yarn in the upper half, plastic in the lower half and the bottom in soft rubber.
Soft rubber layer on the bottom to increase grip when placing the speaker on the table because of its very light weight. Near the edge of this rubber bezel is a hidden power button, hold down to turn on / off the speaker.
You can also choose your favorite colors including red, gray and black.
The size of the Google Home Mini is ideal for a portable speaker, but unfortunately it doesn't have a battery, it always needs to be plugged in via the microUSB port. The Google Home Mini is a central device that helps connect and control with smart home devices, so this is why Google doesn't equip the battery with it. The charger is quite nice, white and also white wires but also so that easy to dirty.
Next to the microUSB charging port, there is also a switch to turn on / off the mic to avoid accidentally activating Google Assistant when not needed.
The Google Home Mini has a built-in signal light below the speaker fabric. They include 4 circular LED lights, showing the status of Google Home Mini like calling Google Assistant, volume level. We can increase or decrease by touching the left or right speakers, in addition can order Google Home Mini to adjust. However, to play music, we have to order to next or stop.
Establish
You just need to install the Google Home app on your Android or iOS device, the phone will find the Google Home Mini and automatically connect via Wi-Fi generated by the speaker itself. The first time you connect, the Google Home Mini will be saved to the Google account you use with Google Home, so if you use many different devices such as phones and tablets, you do not need to set up Google Home Mini with each device because the configuration settings are synchronized.
Sound quality
The Google Home Mini is a 360-degree omnidirectional speaker and has a fairly loud volume level. Sound quality is average. You can listen to the call, conversation or listen to music temporarily.
Feature
The Google Home Mini will be the hub for connecting and controlling other smart devices compatible with Google Home such as Philips Hue light bulbs, Nest thermostats, security cameras like Logitech Circle and many other devices by list with Google from 150 companies are working with Google.
For devices that are compatible with Google Home, we can control by voice such as reducing the light, turning on and off the lights or connected devices.
We can use Google Home Mini to look up information. Just like when we search on Google, the Google Assistant will search results and provide information. We can find a lot of things with Google Assistant like locations, calculating routes on Google Maps, definitions or concepts, information about characters, objects, events, translate a sentence from English into other languages, search for information about stocks, sports, and food.
In addition, we can ask Google Assistant to check the schedule, set an alarm time, create a to-do list, forecast the weather, see information about my day or when bored you maybe ask Google Assistant to tell jokes.
Currently Google Home Mini only supports a number of streaming sources such as Google Play Music (requires registration), Spotify and some radio services such as TuneIn Radio. Unfortunately, with the music in the phone, the Google Home Mini cannot be played because it still needs the Play Music service.
For movies or videos, you'll need your Chromecast to stream to TV. The Google Home Mini supports services like Netflix, and you can request to play a movie from Netflix on your TV.
where can you get a Google Home Mini online
Google Home Mini Wall Mount Holder, Caremoo Space-Saving Design AC Outlet Mount, Perfect Cord Management for Google Home Mini Voice Assistant (White, 3 Pack): Buy it now
Google Home Mini Wall Mount Holder, Caremoo Space-Saving Design AC Outlet Mount, Perfect Cord Management for Google Home Mini Voice Assistant (White): Buy it now
---
amazon google home mini echo dot vs alexa or apple music on a free tv are worth it alarm clock application ad boulanger bán buttons bundle buy best canada button bottom of blue battery life connect to bluetooth speaker speakers spotify compatible devices for costco code promo coral charger does work with iphone difference entre et differenza tra e diferencias y discount download between and dansk enceinte 3rd generation euronics reddit envoyer un sms avec el corte ingles india expert elgiganten easter eggs funny things ask funciones premium family uk funzioni funktionen fake offer 2 hcm giá là gì rẻ tiếng việt shopee tinhte how reset setup use play much is get wifi install installation an instructions the good john lewis jeux jb juegos jual jeu jeedom jouer jot know mit spiel kohls kijiji kết nối với loa broadlink kjell klik aan uit kostenlos lowes leclerc light bulbs lights thông minh la différence liverpool mua microphone malaysia multi user mac address mount wall manual pdf media markt nest hello video doorbell notice nokia netflix nature remo thermostat new features nvidia shield night mode officeworks offerta oferta opiniones orange one offers operate order open prezzo pair youtube philips hue power consumption supply price pack que es faire questions hacer con peut se puede puedo fait quoi reinitialiser redeem recensione roku range radio root rm 3 saturn specifications test turn off samsung review using as intercom without unieuro update firmware pc software verschil en vattenfall tussen vad är vodafone väggfäste viajes vivint vragen what app where sale xataka xperia 10 xbox xda xiaomi yeelight mi box x9000f x900f xfinity sur verbinden su set up your account not eligible yonomi zwei zolo mojo z-wave zubehör für zmiana jezyka zwame z wave zigbee zurücksetzen âm thanh đánh điều khiển tivi bằng đổi cho đế ở đâu làm được để đà nẵng 100 1 dollar 1dayfly codes say windows $25 2nd gen 25 x 50 2019 $29 99 360 electrical powerclip 3d print printed – chalk 300 stand 333 4 4pda red dots $49 freebox 4k associer 5 reasons 5g $50 support 5ghz 4ghz 5mm $59 58 680 news 6 2018 harvey norman $74 $79 79 fritzbox 7490 7 plus 83902 802 1x port 8008 kgskerrordomain 8009 11 domain error erreur 8 cent can call 911 9 19 90 mediaworld cents assistant at và chromecast i chrome + audio cast calendar com duo device de deal deals darty ebay external charcoal games setting max hub compare in mise jour wat kun je ermee comment mettre headphone jack co jest keep kopen was kann hong kong starter kit kan keeps restarting lautsprecher list lazada singapore next nederlands pay store pixel 3a podcast para sirve sert regala regalo hard reviews smart shop unboxing usa voice volume control walmart siriusxm sirius xm you unplug zwart unterschied zwischen und nghe zing mp3 trên ziggo auf werkseinstellung zachter zetten geluid cài đặt cách hướng dẫn 14-ca050sa 14 intel® celerontm chromebook grey carrefour euro jbl link po polsku 29€ 29 black friday $39 printer ou 4g $40 $45 433mhz 49 from add aqua comparison can't find eller differenze comparatif koppelen fnac hi fi ls remote calls nz connecting norsk playing hà nội prisjakt homepod prix regular rm3 sync sound quality specs successfully but be found 10€ 110 220 bị lỗi banlinhkien big w pairing chính hãng có thể dùng cell phones hỗ trợ commands dimensions disney dock demo description disassembly esp8266 ethernet einrichten fpt functions factory sỉ bao nhiêu gestures guide green gumtree hải phòng hacks help hack ifttt ios car issues jailbreak japan jokes japanese jarir legend không nói nhận kmart kaufen những tích hợp lý ảo languages language lg login mất mới nhái nhattao working responding turning outlet online output australia phone quora quick start quiz qatar hace quizzes quit routine sosanhgia sử dụng tiki tphcm teardown thủ đức thegioididong us uses utilisation voz vietnam websosanh wiki won't warranty vacuum xcite yodobashi abspielen zap zoom $1 tile slickdeals release date hòa polsce rms 1st 220v model view white 4999 solid 5v $5 1a months driver digit $9 newest prices buying lastest purchase cheapest products tutorial specification series service accessories