amazon Hiby R6 PRO reviews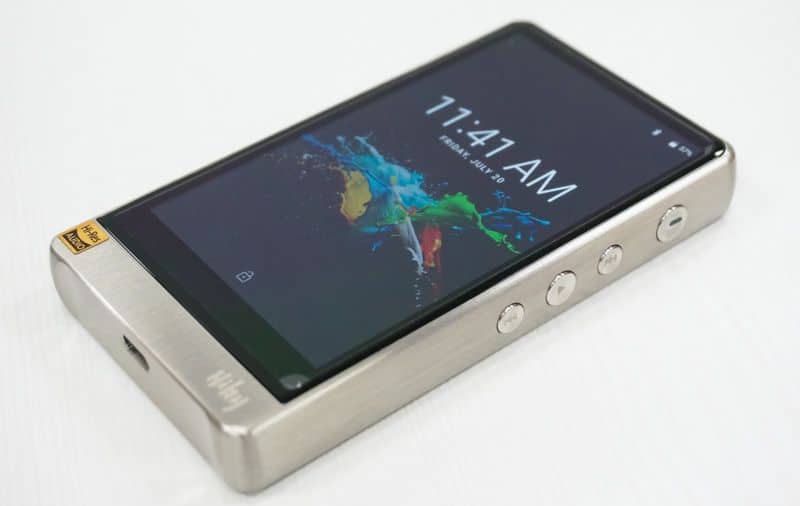 At the end of 2017, Hiby R6 is the best Android music player ever made by the audio industry. Possessing an outstanding design not only of powerful hardware, Hiby R6 is also impressed by the DTA architecture that allows all music playback software to be sent directly to the DAC on the machine without the need for intermediate processing of Android operating system, thereby bringing a great sound quality.
In early 2019, Hiby continued to release an upgraded version of the man called Hiby R6 PRO. The audio forums once again praised this product and called it the best player to buy for under $ 1,000.
BOXED
No flashy flashy in canning way. The entire box of Hiby R6 PRO is enclosed in a mysterious black case. Compared to previous versions of R6, the box of Hiby R6 PRO is the largest version I've ever had.
The Hiby R6 PRO accessory is larger than all the previous versions, which is understandable as this is the most advanced version and is likely the last upgraded version of this model. We will have :
1x Type C data / charging cable
1x Coaxial 3.5 Cable to Coaxial RCA
1x Instruction Manual
1x Memory stick stick
1x Silicon case
2x Protective stickers
DESIGN
The design of the Hiby R6 PRO is inherited from the previous version of Hiby R6 Stainless Steel with the frame made from 316L stainless steel. No sharp points appear on this body. All are curved very smoothly for a very good grip feeling.
When placed next to the old Hiby R6 version, we will see a few small changes on the body. The most significant is the connector on the top of the device.
The old 2.5mm Balanced Lane has been upgraded to a larger and more robust 4.4mm Balanced Lane with metal-covered contact tips. This jack is due to the relatively large size of the thickness of the machine so the placement is not really balanced. The top half of the side of the device has a 4.4mm port that is raised to make the length of the device slightly increased.
The tweaked USB-C port at the bottom has a more balanced position in the center than the old version.
Remaining positions of physical keys and memory card slots remain unchanged on this version of Hiby R6 PRO.
Due to the use of monolithic material, the weight of Hiby R6 PRO is quite "compact". The 285g weight of a player might sound like a lot, but compared to other players of the same level, that's not a big deal.
SCREEN
The screen used on Hiby R6 PRO is the same size as the old R6. 16 million color IPS screen size 4.2 "1280×768 resolution for pixel density is quite high 350dpi.
The screen of Hiby R6 PRO has a great viewing angle. Color saturation and brightness are very good when compared to other DAP models of the same range. Until this year is 2019, this is still the best screen player I've ever used.
The screen border of Hiby R6 PRO still looks very similar to the old R6. That means the bezel is still extremely thin, almost the thinnest on the current player market. This design follows the trend of borderless on modern smartphones and PCs to increase the overall sexy for the device.
Both its screen and back are protected by 2.5D Corning Gorilla glass like on high-end smartphones. This design helps reduce scratches as well as increase the elegance of the machine. The touch gesture on the screen is also much smoother due to this design.
HARDWARE
Hiby decided to opt for the safe option of not using the new DAC chip on Hiby R6 PRO while keeping the old design on the old R6. Hiby R6 PRO has 2 separate DAC chips for 2 channels and the chip here is ES9028Q2M with the maximum decoding capability of DSD256, but that is not all.
Hiby was able to replace the ES9028PRO with the same DSD512 decoding capability as the DX200, but that would cost a lot more. Not to mention the actual performance on these two types of DAC chips if only processing two separate audio channels is not too much difference. ES9028PRO is capable of handling up to 8 audio channels but the power consumption is up to 500mW when compared to ES9028Q2M with only 82mW. Choosing ES9028Q2M to save battery as well as keep the price at a reasonable level is the right step of Hiby.
INCRESING AMPLIFICATION
A major change in hardware on Hiby R6 PRO will be on the amplifier. The entire amplifier circuit on Hiby R6 PRO has been redesigned for more impressive power and of course this will lead to a marked change in sound quality.
Hiby R6 PRO uses 4 MUSES8920 opamp for the main amplifier and SSM6322 from Analog Devices for the Low-Pass Filter layer. The upgrade of the new design brings noticeable improvements when compared to the old design using the Texas Instrument op-amp.
The first is that the output impedance has been reduced from 10Ω to only 0.24Ω for single-end lane and 0.28Ω for Balanced lane. Hiby R6 PRO will no longer experience impedance aberrations with high-sensitivity IEMs headphones. These deviations will cause the clearest sound distortion on low impedance and high-sensitivity IEMs.
The second is the incredible improvement of output power in both single-end and balanced outputs on Hiby R6 PRO. The old R6 only produced 120mW at 32 Ohm with single-end lane and 300mW for balanced. Hiby R6 PRO delivers more than double the power up to 245mW at the single-end and hits the 750mW threshold at the balanced lane at the same impedance. This is the power for each separate headphone channel, not the sum for both channels. It's awful for a portable DAP like Hiby R6 PRO.
INPUT, OUTPUT
A notable hardware change on Hiby R6 PRO is that the new 4.4mm Balanced port replaces the old 2.5mm Balanced port. The advantage of 4.4mm standard is that it is clear and stable, not fragile like 2.5mm. In addition, connecting Amp Balanced via 4.4mm port will be much more convenient because there is no more GND sentence from lane 3.5 as before. However, because it is a new standard, there will be few headphones on the market with compatible jacks, during use you still need a Balanced 4.4-2.5mm adapter to protect yourself.
As I mentioned above, the Type-C port on the Hiby R6 PRO is moved to a more balanced position than the old one. The function of this port remains unchanged, besides being a charging port, this Type-C port also has additional OTG function, data transfer and USB-DAC for PC / Macs. Most importantly, the USB-DAC function is indispensable because it will increase the performance of Hiby R6 PRO. Buying Hiby R6 PRO also means you already own a high quality mobile DAC / AMP Balanced already.
SOFTWARE
Hiby R6 PRO has been upgraded to the new Android 8.1 platform. This is an important step for Hiby. This not only helps Hiby R6 PRO expand its compatibility with the software on the Google Play app store but also brings new typical features such as LDAC standard. This also shows that Hiby is not inferior to typical competitors such as iBasso with DX line.
The operating system that Hiby R6 PRO is running is called Hiby OS based on Android Oreo 8.1 platform. The most interesting thing about this operating system is the DTA (Direct Transport Audio) architecture. Normally all audio signals before being sent via DAC are collected through an intermediate processor of the operating system to reprocess to the standard and then decoded. This means that Hi-res music or high quality audio signals will be denatured before decoding, making the sound when out is no longer the original sound on the original music file anymore. DTA architecture eliminates this intermediary step of the operating system, bringing the signal directly from the music player to the DAC so that the final audio output is honest and accurate.
It was Hiby who was the first in the world to bring this architecture to an Android player from the first R6. And this architecture works smoother and more smoothly on the new Android platform.
The default music player on Hiby R6 PRO is still Hiby Music but you are not forced to use this software to play music like some brands do with their music players. You can download Spotify, Poweramp, TIDAL or even Youtube, any media software on the Google Play app store. The DTA architecture is applicable to most popular music players, making Hiby R6 PRO different from most Android music players on the market today.
If you've ever used Hiby Music software to play music on your phone like yourself, getting acquainted with Hiby Music on Hiby R6 PRO is very easy. There is almost no significant difference here. Hiby Music even supports DLNA wireless music streaming, so listening to music from your hard drive is convenient. In addition, the ability to control Hiby R6 PRO by phone via the Hiby-Link feature is also quite interesting although I find it really redundant.
where can you get a Hiby R6 PRO online
HiBy R6 Pro Portable Hi-Fi Music Player Hi-Res Audio Player Bluetooth MP3 Player (Stainless Steel) with Cayin 2.5mm to 4.4mm Adaptor: Buy it now
HiBy R6 Pro Hi-Res Audio Player, High Resolution Music Player with atpX HD/LDAC/Bluetooth/DSD/Tidal/Spotify/Android 8.1/5G WiFi/4.4 Balance Output, HiFi Lossless MP3 Player with Touch Screen: Buy it now
HiBy R6 Pro Hi-Res Music Player, High Resolution Audio Player with aptX/atpX HD/LDAC/Bluetooth/DSD/Tidal/Spotify/Android 8.1/5G WiFi/4.4 Balance Output, HiFi Lossless MP3 Player with Touch Screen: Buy it now
EXPERIENCE
With a tight grip and a firm grip, the feeling of confidence in this machine's grip when held in the hand is something that everyone will feel.
The physical buttons on the Hiby R6 PRO are very well arranged. Large film size and good bounce. The keys are very tight, there is no leakage when pressing the keys as well as crunching when shaking. Feel like using Hiby R6 PRO just like you are holding a flagship smartphone.
Experience of the console as well as extremely smooth transition. It can be said to be the smoothest of the Android music players I've ever used. Fortunately, Hiby R6 PRO is equipped with Qualcomm's Snapdragon 425 processor along with 3GB of RAM, so the task of opening applications is very simple and light. There is rarely a lag phenomenon unless you are playing a game on this player.
Experience the wireless features on Hiby R6 PRO. The first is the Wifi section. Hiby R6 PRO supports both 2.4G and 5G bands. I tested using the software in 5-6 different locations. Although the speed is very dependent on the broadcast router, the experience I gained on Hiby R6 PRO is average but not surprising. This is still acceptable when I watch youtube videos or stream music on Spotify with absolutely no problems. The speed is relatively stable and uninterrupted.
Next is the Bluetooth section. Hiby R6 PRO supports the two best codecs in the wireless audio world, LDAC and HWA. HWA, in particular, only supports when playing music through Hiby Music. LDAC testing through the 1More Triple Driver Bluetooth is very good, stable, clear sound and clear details. However, when transferred to the FiiO BTR3, the results were not very satisfactory. The connection sometimes jerked even though I had BTR3 right next to the device. I tried restarting Bluetooth, the results were better but still not as stable as the 1More Triple Driver Bluetooth.
Experiment with other music players. The first is with Spotify. Works deliciously and is extremely smooth, sounding pretty good with Spotify Premium. Then there was YouTube, too, without any lag or jerky, the same feeling as on a smartphone, but obviously the sound is much clearer.
The Hiby R6 PRO is introduced with up to 12 hours of continuous music playback. I don't have enough time to listen to 12 hours continuously but Hiby R6 PRO will surely not be able to stand that long, even if the screen is off. I think 10 hours would be a reasonable number when listening to Hi-res music, turning off all connections and screens. Fortunately, Hiby R6 PRO supports QuickCharge 3.0 fast charging with the ability to charge 70% battery in just 60 minutes. There is nothing to worry about.
During use, the Hiby R6 PRO will warm slightly when listening to DSD tracks, light up the screen and turn on wireless connections. If you listen to 320kbps music from Spotify or 16bit / 44.1kHz music, the device is still quite cool even if WiFi is on. I only see Hiby R6 PRO really hot when charging fast but this is completely understandable.
SOUND QUALITY
The old Hiby R6 has a fairly high output impedance of up to 10 Ohm so it would not be suitable to pair with high-sensitivity headphones, most of which are BA or hybrid IEM models. Hiby R6 Pro has overcome this weakness, hiss no longer appears with the headphones listed above. However, the Hiby R6 Pro is still a very powerful music player, so when listening to high-sensitivity IEMs, limiting the volume is a must.
It must be said that the description of the sound quality of the source is quite emotional as it depends a lot on the headphones used, but the use of multiple headphones with different properties for testing will bring customer reviews most important. Hiby R6 Pro has MSEB feature with processing algorithm that will change a lot of tones, so in this test I will turn off this feature to Hiby R6 Pro in standard mode.
The sound quality of Hiby R6 PRO tends to be very neutral in the style of reference sound with extremely high level of detail reproduction. It's not completely flat but definitely linear and well balanced, without adding colors to the track. Clarity is also a strong point of Hiby R6 Pro, not too technical. The dynamics and ability to layer on Hiby R6 Pro are equally impressive. Despite the neutral tendency to bring natural weight to the notes in the music and the ability to layer between instruments very well, Hiby R6 Pro is still full of music for many different genres.
Speed ​​and control are really good, especially when paired with IEMs using multiple BA drivers. This is a music player that pushes the details and the feeling of space up quite strongly. Soundstage is very wide and deep, good 3D feeling with accurate sound.
The difference between the Single-End port and the Balanced port on most music players only comes from the difference in power with some differences in the soundstage. Fortunately, our Hiby R6 PRO is out of this crowd. Balanced 4.4mm port has better sound than single-end 3.5 port even when using 2.5mm jacks.
For 3.5mm single-end ports, the tone is more neutral and goes in the more reference direction. The sound is flatter and more linear from the bass range, mid to treb band, with a slight lift on the treble band. Neutral bass strip adds any information, hit fast and compact. Mid range very good detail but a bit cold, technical inclination. Treble strikes to and control well. Put simply, the sound is balanced, detailed and accurate but technical, not really inspiring.
Balanced 4.4mm port has 3 times the power of 3.5mm single-end port so it is not difficult to understand when the sound of this port is more energy-intensive. Use obvious improvement in the bass range both in impact and depth. Speed is better controlled on tracks with complex rhythms. The weight and buoyancy of the instruments as well as the singers were significantly increased. Although the sound has become smooth and thick, but in return is the ability to layer and separate again better. Bass still beat fast but fuller. The mid range is smoother and more important than the music. High energy treb strip and good control. Soundstage is widened further in width and height.
CONCLUDE
Hiby R6 PRO is a very complete music player, eye-catching design, excellent processing, extremely intelligent and smooth software. All are invested very carefully and seriously, it is difficult to catch errors on Hiby R6 PRO. Particularly in the audio section, Hiby R6 PRO shows the superior sound quality at Balanced 4.4mm port with sound rich and emotional sound.
There is no doubt that Hiby R6 PRO is truly one of the best Hi-res music players in 2019 and after many more years.
---
amazon hiby r6 pro reviews on newest prices of deals best buying a lastest what is at where to buy can i you get online purchase sale off discount cheapest for products tutorial specification features test series service manual instructions accessories astell & kern sr15 vs akg australia difference between and digital audio player andromeda airplay hi-res battery life bluetooth case canada leather cena sd card cayin n6ii dap release date dx200 music onkyo dp-x1a ibasso dx150 dac firmware download europe ebay eイヤホン fiio m11 và x7 mark ii forum update portable hi-fi giá google play đánh máy nghe nhạc head fi hk hong kong price hkepc headfonia dx 220 output impedance india kaufen kopen line out mqa malaysia user mojo moov measurements munkong tidal offline or prezzo philippines screen protector purple store problems review reddit r5 sony zx300 wm1a singapore spec spotify ss stainless steel taobao uk usb wm1z dx220 youtube 32gb 4 aliexpress x7ii root specs ak アップデート 海貝 不銹鋼 海贝 不锈钢 価格 皮套 ケース 更新 台灣 台湾 違い 二手 ノイズ 発売日 評測 比較 開箱 干擾 評 比较 干扰 香港 紫色 問題 レビュー アルミ 個人輸入 中古 aluminium dimensions hiss reset đánh nhạc với m9 prix salehiby