amazon HPE DL380 Gen10 reviews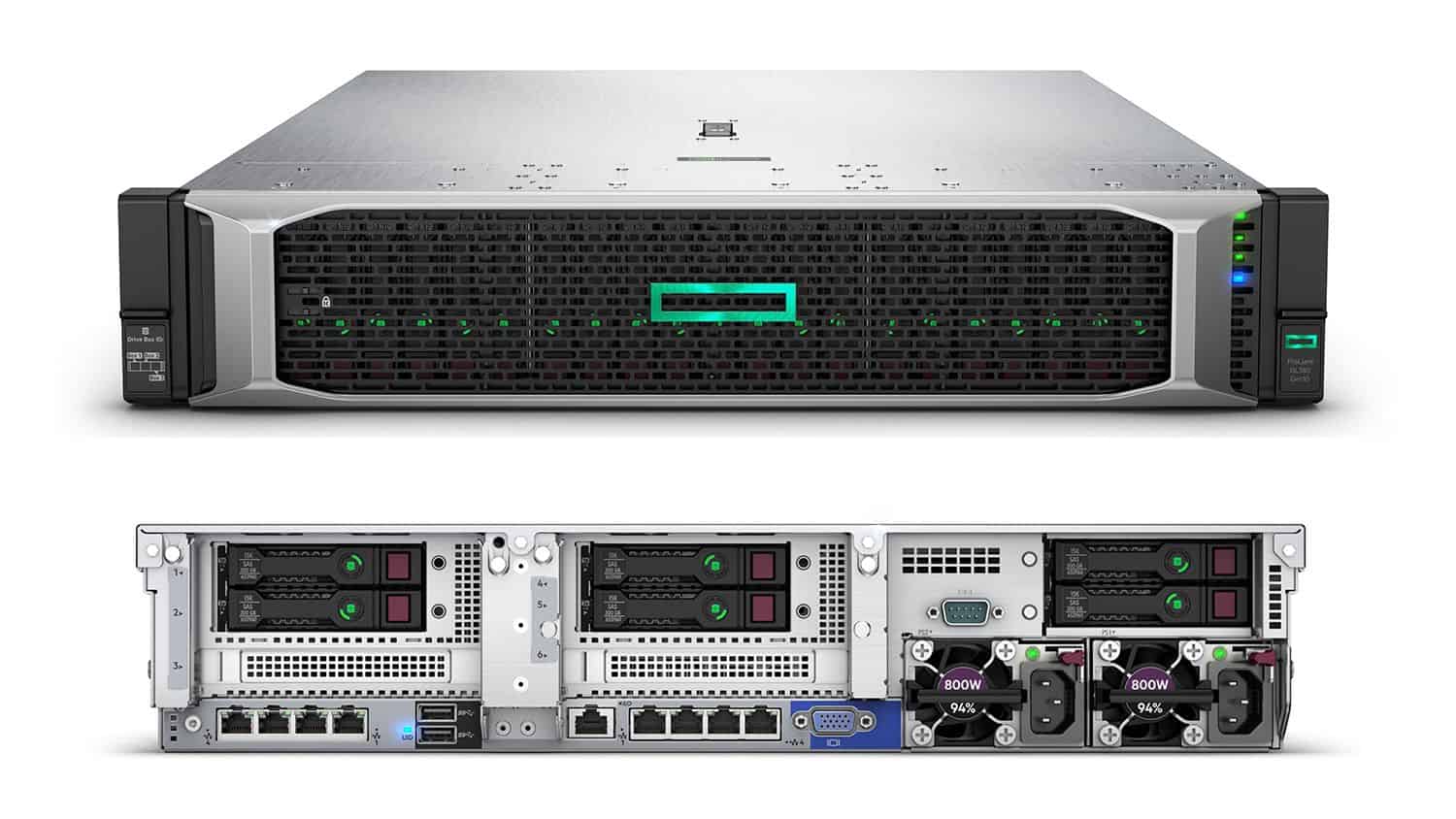 Adaptable to the workload and common environment, the HPE ProLiant DL380 Gen10 with 2P 2U delivers world-class performance with a balance between scalability and elasticity. The appearance gives high flexibility and resilience while supported by a comprehensive warranty package. Standardize the industry's most reliable computing platform.
The inside is lined with black foam instead of white like the HPE DL380 G9
Included accessories include rail bars and 2 power wire of type C13 and C14.
Front HP DL380 Gen10. With this model, we have 1 drill 8 drive of 2.5in, 2 drums still available for maximum upgrade capacity of 24 drives 2.5in. The right edge is the HPE logo along with the model name ProLiant DL380 Gen10.
The left cluster includes: 3 expansion card slots and 1 network card slot, 2 USB ports, signal LED.
The middle cluster includes: 1 5 iLO port, 4 network ports, 1 VGA port
Cluster must include: 2 sources of Hot Plug 500W.
HP DL380 Gen10 is equipped with 2 socket 3647 with Intel Chip Scalabel generation with scalability. With 1 CPU configuration, the machine is equipped with 4 cooling fans, and 2 CPUs are 6 fans. There are a total of 24 DDR4 RAM slots for maximum upgrade capability of up to 3 TB with 128 GB DDR4 ram.
The difference between the Heatsink of the DL380 Gen10 and Gen9 is the hexagonal screw.
Removable RAID cards are built into the machine. DL380 Gen10 is equipped with 1 HPE Smart Array P408i-a / P816i-a / E208i-a, depending on the model.
These are 3 SAS ports of onboard S100i RAID card. So each DL380 Gen10 model is equipped with both onboard and removable raid.
Memory card slot and 2 USB 3.0 ports are integrated on the mainboard inside the device.
The Riser card cluster is accompanied by a manual.
The current model has a built-in riser card, there is still one drill available for later upgrades when needed. Besides dual PCIe x16 slots, there is also a single PCIe x16 slot for adding expansion cards.
And the PCIe x8 slot is suitable for upgrading network cards.
HPE's leading 2U rack server is equipped with an Intel Scalable Xeon processor. Probably the most versatile 2U rack server on the planet, the HPE DL380 Gen10 offers a host of new features including large storage options, slick iLO 5 management and tough security measures.
Technical specifications
Chassis: 2U rack
CPU: 2 x 12-core 2.3GHz Intel Xeon Gold 5118
Memory: 64GB ECC DDR4 2,400MHz (max 3TB)
Drive bays: 8 x hot-plug SFF (max 30)
RAID: HPE Smart Array S100i and P408i-a SAS3 / 2GB with FBWC / BBU
Array support: RAID0, 1, 5, 6, 10, 50, 60, 1 ADM, 10 ADM
Expansion: 6 x PCI-e Gen3 slots (max 8)
Network: 4 x embedded Gigabit
Other: FlexibleLOM, internal USB 2 (2), microSD card slot
Power: 2 x 800W hot-plug PSUs
Management: HPE iLO5 Standard with Gigabit
HPE's ProLiant DL380 consistently tops the best-selling list – and for good reason because it is the company's most capable rack server. We especially give you a first look at HPE's new Gen10 series.
There are many interesting things, along with the support for Intel's Scalable CPU Xeon series, the HPE DL380 Gen10 receives complete refresh in storage with new module design. HPE's intelligent RAID controller has also been upgraded to provide additional storage and interface choices.
The server supports 3TB DDR4 SmartMemory memory and can handle up to 192GB of HPE's Persistent Memory NVDIMMs memory. These applications are in high demand such as analytics or databases and provide 8GB of high-performance DRAM memory, powered by 8GB flash, mounted on the standard modular DIMM.
And then there's the new management controller of HPE iLO 5. It provides a host of new features along with improved server monitoring, it has a point of attention to laser security for platform with Get silicon fingerprints, encryption technology and violation detection.
Storage
The model being evaluated in the article uses 2 Xeon 5118 CPU Xeon 5GHz 2.3GHz 12GHz combined with 64GB DDR4 memory. A quick look ahead shows that HPE has retained the 8 + 8 + 8 drive configuration layout, allowing 24 SFF drives to be launched.
You can mount the HPE multimedia device in the left position, providing two USB3 ports, a DisplayPort optical socket plus a room for two SFF drives below. There are many things going on in the back: you can add 3 SFF trays, a total of 30 drives.
SFF Chassis also supports up to 20 NVMe drives. If capacity is a key requirement, it will lose 12 LFF drives in front, 3 in the back and even 4 in the middle with HPE's tray set.
All models start with HPE's Smart Array S100i chip, which supports RAID 0, 1, 5 and 10 for 14 SATA drives. Our server has Smart Array P408i-a module that adds SAS3 plus 2GB of cache protected with flash to store equations and HPE provides other models with different cache numbers and external expansion ports.
Management and security from the root
ILO 5 uses new ASIC and Start's security key to operate when the server is powered on. It validates its software by using Silicon Root of Trust of HPE and if it fails, it will stop booting the server. Next is Secure Recovery, validating the iLO software and if the test fails, automatically flashes it with the resident recovery image.
Included in the iLO 5 standard license is the operation to confirm the system ROM and if this fails, it will activate the redundant system ROM. If both ROMs fail, the Advanced Premium Security Edition license can run a software scan and repair process and will also run daily basic system validation.
ILO 5 is twice as fast as iLO 4 with twice as much memory and we have found tools to deploy Intelligent Provisioning OS deployment tools and Virtual Media Services faster. The main iLO 5 web interface makes it more informative and HPE has completely shifted to a management service without an agent (AMS), denying the need to download any operating system agent.
Current users of HPE's OneView must upgrade to v3.1 to support Gen10 hardware and patience is required, as we find it takes about two hours. With this application, we added the server's iLO 5 certificates to the OneView Hyper-V virtual machine in the lab and observed the CPU and used the energy plus temperature, running the remote control sessions and server support up and down.
where can you get a HPE DL380 Gen10 online
HP DL380 Gen10 6132 2P 64G 8SFF S: Buy it now
HEWLETT PACKARD Enterprise 875760-S01 HPE DL380 GEN10 Intel Xeon 2.1 GHz Laptop, 16GB RAM: Buy it now
Hpe Dl380 Gen10 6130 2P 64G 8Sff Bc SVR: Buy it now
HP HPE DL380 Gen10 5118 1P 8SFF S: Buy it now
Hpe Dl380 Gen10 5115 Xeon-G Kit: Buy it now
Power and network capacity
Developmental ability, because our model includes a PCI-Express 3-slot upgrade card with space for a PSU 2-slot advanced tube. The free tool design of HPE tool is put into play when two main lift parts can be easily removed by just one rotation.
All models come with 4-port embedded Gigabit ports and you can upgrade with an option of FlexibleLOM card types. The server supports a matching car with dedicated slots on the back of the motherboard and HPE provides dual or quad-port fiber optic cable or 10GbE copper and 10/25/40GbE dual card.
Our system includes a pair of 800W hot-plug PSU and HPE also offers 500W and 1600W versions, but not the Flex Slot Battery Backup Module from Gen9 servers. For the 48 core virtual server, the power consumption is noticeably low, with 81W in standby mode and reaching 272W with both CPUs at extremely fast speeds.
Conclude:
In general, the HP DL380 Gen10 retains the design features of the DL380 Gen9. Our feeling is that the machine is beautifully designed, hard and durable. HPE's DL380 Gen10 continues to be stronger than any generation and the latest Gen10 offers a wide range of new and rich features. 2U rack server has a wide range of selective storage capabilities and new iLO 5 controllers, operating capability and platform security in a long distance. Small and medium-sized companies and organizations are looking for a powerful and safe 2U rack server, and they will find the HPE ProLiant DL380 Gen10 an excellent choice. HP DL380 Gen10 promises to be HPE's best-selling server line in particular and the server market in general and is the perfect successor server of DL380 Gen9.
---
– identifying components osインストール 24-sff 価格 quic html g6134 xeong g6142 s4112 xeons 構成ガイド サーバーユーザーガイド システム構成図 消費電力 仕様 8 solution the numa 背面図 ファームウェア マニュアル ユーザーガイド ユーザガイド ドライバ ダウンロード srv p06420-b21 x-s-4110 1p 10-core 1x32gb 1x800w p408i 24×7 32gb data sheet cables 4 規格 共契 5218 utility clear nvram downloads eccn features graphics gold dissipation 4208 6242 iscsi rail 8p kvm enablement lom low latency led latest legacy slots network cards ports matrix operating pxe pcie treiber temperature uncorrectable machine check exception reference architecture with/ms wattage 4210 4214 6248 zubehör 10gb 4112 nc bay2 cage/backplane drive cloudera additional anleitung accessories build device chủ smb 24×7 serveur disk konfigurator là gì oracle linux – configuring clearing package hadoop x-g 16c wdmr pc ams san eosl 3ghz/16-core/125w) consumptionhpe version upgrade xeon platinum vga malaysia cost egypt kenya only specifications spec technical bronze benutzerhandbuch description health summary hs code harga indicators part model size 2008 сервер configure af-4 all config create einrichten setup 10 dvd sps shipping software smartstart storage troubleshooting layout port switch p40 servidor xeon-bronze iss p06421-b21 intel® 2x max maximum buy default password optimal cooling 6254 kithpe – сервер (gen 10) cores s-4110 hpeproliant 41108-core 4110fio pci pictures