amazon iBasso DC01 reviews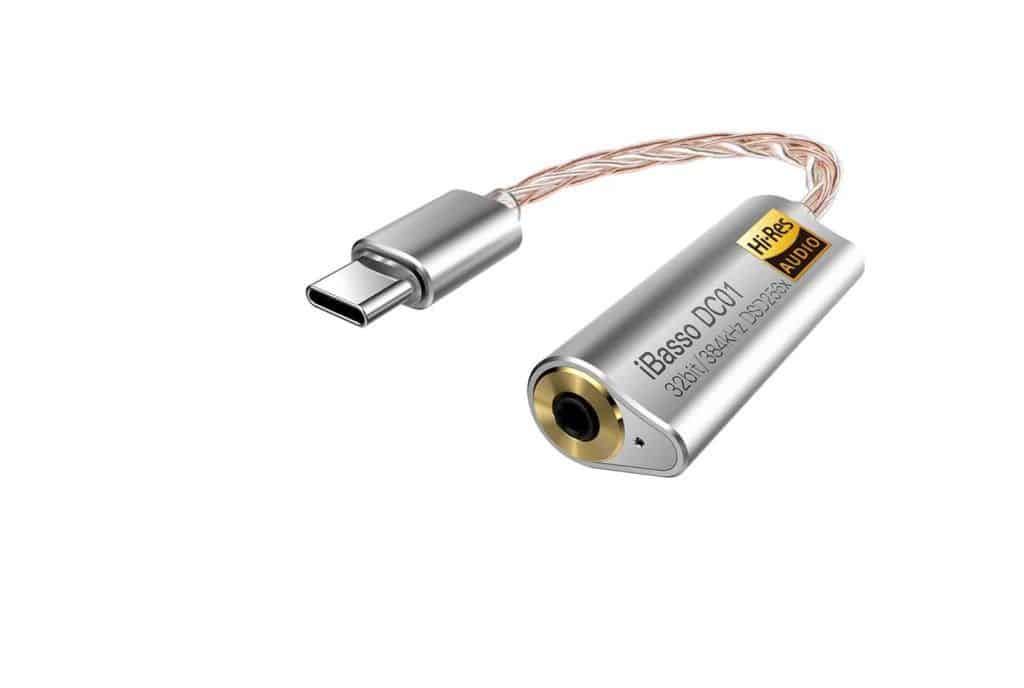 DESIGN AND FINISHING
USB Type-C ports are becoming more and more popular as it appears in every device from Android phones, PCs or even Macbook. The need for a compact, simple device that can upgrade the sound of any existing device. Many manufacturers have quickly created discrete cables with DAC / AMP with good quality such as Hidizs Sonata HD or VE Odyssey HD, but no device has reached audiophile grade. Therefore, iBasso decided to create DC01 with what is most powerful that could be stuffed into a transfer cable with just the tip of a finger.
iBasso DC01 is divided into 3 main parts: Type-C connector, Wiring and Main module contain signal processing circuit. The plug and the main body are all covered with durable metal casing. On the main body is engraved with the product name with the words 32bit / 384kHz DSD256x to confirm the decoding ability of this small cable. Next to it is a golden "Hi-res" stamp. The connecting parts are made very tight, showing the good finish of the product.
The wires used on iBasso DC01 are braided from 8 small wires, interwoven between copper and silver-plated copper materials to feel very solid and equally beautiful. This cable seems to use the same material as the iBasso IT04 wire so I believe it will also bring very good transmission performance.
The current version of iBasso DC01 only offers a single 2.5mm Balanced lane. This means you can't use the regular 3.5mm Single-End headset. If you are using other Balanced standard headphones, you can use the Balanced to Balanced adapters for use with the iBasso DC01.
CONFIGURATION
To obtain this decoding power, iBasso DC01 is equipped with extremely high-end processing chip of Japanese Asahi Kasei with the code name AKM4493EQ. This is an upgraded version of the AK4490 that used to be very popular when used on Hi-end music players like Astell & Kern AK380 or a series of expensive DAC, Music Server or Bluray players. This alone is enough to prove that iBasso DC01 has sound quality is not trivial.
Plus, the iBasso DC01 is equipped with a full-balanced amplifier circuit. With this compact cable, you can turn any device into a mid-range player that supports Balanced. What we could hardly do in the price range of iBasso DC01 before.
The iBasso DC01 is equipped with the latest UAC2.0 (USB Audio Class 2) interface, which enables PCM audio data transfer up to 32bit / 384kHz and DSD256 Native right directly on your Android phone. It will also work with latest Mac and Windows Computers without installing any drivers.
For Windows versions from Windows 8 and earlier, you will need to install the driver if you want to use iBasso DC01. Android versions from 5.1 and earlier will have trouble connecting to DC01.
In addition, iBasso also equips DC01 with an accompanying software on Android that allows you to control the volume directly on the hardware of the transfer cable. By default, if you do not use the app, the volume on the hardware of the DC01 will always be at its maximum. If you are a audiophile hardcorde, remember to use this feature. You can find this software on its homepage, under Downloads. The software is named "iBasso UAC".
where can you get a iBasso DC01 online
iBasso Audio Hi-Res Audio Balanced DAC Cable Adapter DC01 (USB Type-C ⇒ 2.5 mm Balance Terminal)【Japan Domestic Genuine Products】【Ships from Japan】: Buy it now
EXPERIENCE AND SOUND
I use a transmitter called Samsung Galaxy S10 and the headset is Shozy BG. During the experience I found that the iBasso DC01 warmed up pretty quickly. It is not too difficult to understand when inside the DC01 is a very terrible DAC chip plus a separate 2-way amplifier circuit. But don't worry, this is a completely normal phenomenon on transfer cables with discrete DAC / AMP.
I also installed iBasso UAC to control the volume of DC01 and found it quite effective. Remember to max the system volume, then adjust the volume on iBasso UAC to get the best sound.
The sound when passing through iBasso DC01 is rich in music, detail and balance, without too much stress on the sound band. The soundstage and sound of the instrument perform very well in the price range.
Bass sound :
Neat and accurate, good control. If you are expecting a booming bass, then iBasso DC01 may not be for you. Bass of iBasso DC01 is not added anything in volume but only adds detail and texture to this sound range. Bass has a more body, focusing more on the mid bass, the sub-bass is a bit modest. Bass is well controlled so there is absolutely no encroachment. Decay dissipates quite quickly, with less drag.
Mid tones:
Clear, rustic and neutral. Not smooth, not warm or colorful, the mid range of iBasso DC01 retains the true quality, many people will like this style but I do not. I want a thick and smooth strip of sound, but this does not appear. The details of the instrument are very good at peeling off for a DAC / AMP with just the tip of this finger, which surprised me. The clear vocals are held in a moderate position, sometimes a little bit forward but not the kind of close-fitting annoying listener's face, just a little bit to emerge from the orchestra.
Treble range:
Extended, tinkling and pretty. Not as excellent as the dedicated music player but what the treble strip of iBasso DC01 does is very good. Treble has good opening, up and control. There was no dry or severe phenomenon. The small details in the recording are not pushed in super detail level but are also retained quite a lot. The common perception of this sound range is relax and easy to hear.
Theater space is also improved markedly, wider and deeper. The picture is shown quite well and clearly.
Compare with Hidizs Sonata HD
The sound of Sonata HD is more playful, more bass in volume but all the details in the music, the technicality of the instruments lacks the necessary control. iBasso DC01 makes everything mature and clearer, sharper. IBasso DC01 bass significantly reduced in volume, in return it is tighter bass texture, with clearer details as well as more neat. Very good control even in songs with fast and heavy bass like Hunger – Amaranthe. Midrange strip a bit more, clearer and more detailed, feels more relaxed. Mid is not as smooth and warm as the way Sonata HD does, keeping the vocal neutrality.
CONCLUDE
If you are looking for a DAC / AMP with balanced, neutral sound quality and a compact, convenient 2.5mm Balance port, there is no more reasonable choice than the iBasso DC01 at this time.
This is also the cheapest DAC / AMP Balanced in the world that you can find from a famous manufacturer. So what is the reason for not experiencing and owning them today?
---
amazon ibasso dc01 reviews on newest prices of deals best buying a lastest what is at where to buy can i you get online purchase sale off discount cheapest for products tutorial specification features test series service manual instructions accessories audio usb-c dac adapter alternative app aliexpress dac/amp 2 5mm iphone アイバッソオーディオ cena vs dragonfly cobalt type c driver red dc02 ebay firmware head fi đánh giá hidizs với sonata price hk india ios kaufen lightning review singapore spec specs spotify uk usb 3 5 レビュー canada hi-res balanced cable mqa measurements output impedance アップデート 価格 評測 開箱 香港 ヨドバシ アプリ ファームウェア đánh