amazon iBasso DC02 reviews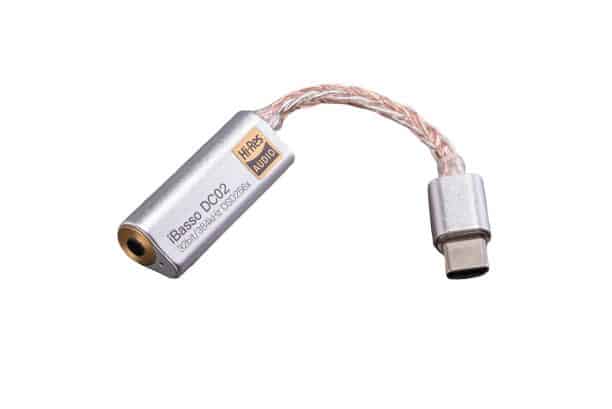 After iBasso achieved great success with DAC / AMP iBasso DC01 transfer cable, the company quickly launched the next version called iBasso DC02 supporting traditional 3.5mm jack. Netizens are frantically sharing about this holy DAC / AMP, whether it is really as attractive as the public speculated, let's find out through this article.
Box of iBasso DC02
No different from DC01, iBasso DC02 is still packed in a very modest white paper box. The front features a product illustration with a bright yellow Hi-res certification stamp.
On the back is the basic specifications of the product printed in English.
The design of opening the box is very smart when there is a small round hole next to the hip, we push horizontally the box will be opened. Inside the box we will get:
1 x iBasso DC02
1x USB Type-C to Type-A adapter
1x Instruction Manual
DESIGN AND FINISHING
Basically, iBasso DC02 retains the design style of the previous DC01 with the whole body and jacks made from aluminum surface roughened to help increase the durability of the product as well as better heat dissipation.
In the main body, iBasso DC02 has a lot of difference in shape compared to DC01. iBasso DC02 is made flatter, more compact. For that reason, the weight of DC02 is a little lighter than that of DC01. The first part of the pin is protruded an extra paragraph, on the surface, it does not look very neat, but when used, it will help to unplug easier because there is space for you to put your fingers. This small detail will help protect the jack for your headphones better.
The conductor on iBasso DC02 uses high-purity silver-plated copper. Allows for cleaner signal transmission and less interference.
CONFIGURATION OF iBasso DC02
iBasso DC02 is equipped with AKM4490 DAC chip from Asahi Kasei of Japan. This chip is so well known in the audio industry, has been used on both the top music players such as Astell & Kern AK380 or Cayin i5. Therefore, the sound quality of iBasso DC02 has not yet been heard but it is partly guaranteed by this DAC chip.
iBasso DC02 is capable of decoding almost without leaving any format. PCM music up to 32bit / 384kHz and DSD up to 256x in Native mode. Maybe you do not need to understand these parameters carefully but one thing you need to understand is that iBasso DC02 will turn your phone into a dedicated music player.
The distortion of the output sound is <0.001% and the power reaches 900mV at 32Ohm. Comfortable for you to pull inear to earbud size 150 Ohm or less then.
In addition to working with your phone or tablet via the Type-C port, iBasso DC02 is fully compatible with desktop or laptop computers via the included adapter. Even with an iPhone, if you have the right adapter, the iBasso DC02 can work with your phone (this feature was not recommended by the Manufacturer, it depends on the iOS version, switch)
where can you get a iBasso DC02 online
iBasso DC02 USB DAC/Headphone Amplifier: Buy it now
iBasso Audio Hi-Res Audio DAC Cable Adapter DC02 (USB Type-C ⇒ 3.5 mm Stereo Terminal)【Japan Domestic Genuine Products】【Ships from Japan】: Buy it now
EXPERIENCE AND SOUND
For better experience, iBasso recommends that users of Android devices download the iBasso UAC software, copy it to a memory card and install it. This software works to control the hardware volume inside iBasso DC01 / DC02 because we do not have physical volume knob on these two devices.
On Windows, iOS, Mac or Linux devices, the iBasso DC02 will still receive normally without having to install the driver.
Experience on iBasso DC02 extremely simple. Plug and receive, do not receive then your phone has not turned on OTG mode (or does not support) and not the fault of iBasso DC02. (You can enable this mode by google search).
Sound quality of iBasso DC02 is what we are most interested in. Of course, 99% of people buy it because of the sound. The overview sound of iBasso DC02 is smooth, warm, detailed and very airy. Extremely suitable for vocal genres, gentle affection.
Bass range: Do not add too much in volume but focus primarily on quality. Bass when going through iBasso DC02 has a clearer body, floating block more than the 3.5mm jack of the phone. The bass range has been slightly raised and evenly spread from sub-bass to upper-bass, so it retains the quality of the original recording. The impact and decay have been improved but not too much, it is still quite relaxing and pleasant, not V-Shape.
Mid range: Clearer, warm, smoother and fuller. That is why I say iBasso DC02 is very suitable for listening to vocal because its mid is made quite smoothly. A little press on the low-mid part makes the singer's voice more warm, more romantic, especially with the deep male vocal. However, with high soprano, the iBasso DC02 still performed quite well. The sound of instruments such as guitar or piano is reproduced with more depth, separation and fullness making the music come alive.
Treble band: This sound strip on iBasso is made quite gentle, no fire to match the general sound personality. The details of the high notes remain the same without adding anything, quite smooth and easy to hear. Absolutely no glare phenomenon, hiss or sibilant appear.
Soundstage: The stage space when passing through iBasso DC02 clearly has a much better depth and width than when plugged directly through the 3.5mm port of the phone. Singer instruments are separated from each other and arranged precisely in space. It's not absolute, but it's too good for a tiny DAC / AMP like the iBasso DC02.
COMPARISON WITH iBasso DC01.
Although comparing Balanced with Single End is a lame, but because there are so many curious people, I will still do this part. Remember that you can only switch from Balanced 2.5mm to Single-End 3.5mm via the adapter, not the opposite. If the wrong plug is likely your device will be short-circuit and malfunction.
Overall, the sound of iBasso DC01 is more balanced, detailed, separated and more spacious than DC02. iBasso DC02 is warm, emotional, easy to hear, although the treble strip is somewhat inferior and not as wide. Balancing does not mean that every music is good, it is really only suitable for those who have light taste, like harmonious without accents.
The first thing that is most noticeable is the soundstage and the separation of the instruments. iBasso DC01 has the advantage of AMP Balanced circuit for wider soundstage, the instruments are clearer when compared to the Single-End port on DC02.
The treble strip on DC01 has better detail, brighter, brittle than DC02. However, the bass range of DC01 proved less impact and less in quantity. The mid range of DC01 is still very clear, the details are a little bit better than DC02, showing a better female voice, but in my opinion, DC02 still sounds more emotional due to its warm, sweet quality.
CONCLUDE
iBasso DC02 is clearly an audio upgrade solution that converges all the elements: compact, beautiful design, high configuration, good sound and, importantly, the extremely reasonable price. iBasso DC02 will turn all your phones into true music players.
---
amazon ibasso dc02 reviews on newest prices of deals best buying a lastest what is at where to buy can i you get online purchase sale off discount cheapest for products tutorial specification features test series service manual instructions accessories audio dac/amp 3 5mm レビュー iphone アイバッソオーディオ ビックカメラ allegro type c 轉 轉接器 转 转接器 dac driver vs dragonfly firmware đánh giá hk price review specs 5 aliexpress app hi-res balanced cable adapter note 10 release date spec uk usb type-c mobile hidizs アイバッソオーディオ ビックカメラ 評價 đánh dc02review dc02đánh dc02driver dc023 dc02giá dc02buy dc02price dc01 ヨドバ android 中古 ビックカメラ レビュー battery canada compatibility cena cobalt usb/type-c red forum update head fi đánh headfi hiss sonata s3 india ipad pro indonesia kaufen lightning measurements mqa microphone malaysia meizu output impedance power philippines in ptt recenzja singapore samsung spotify software dac/headphone amplifier usb-c hd xduoo link with z single ended bán ebay với ios shopee dacibasso ハイレゾ dacケーブルアダプター