amazon KZ AS06 reviews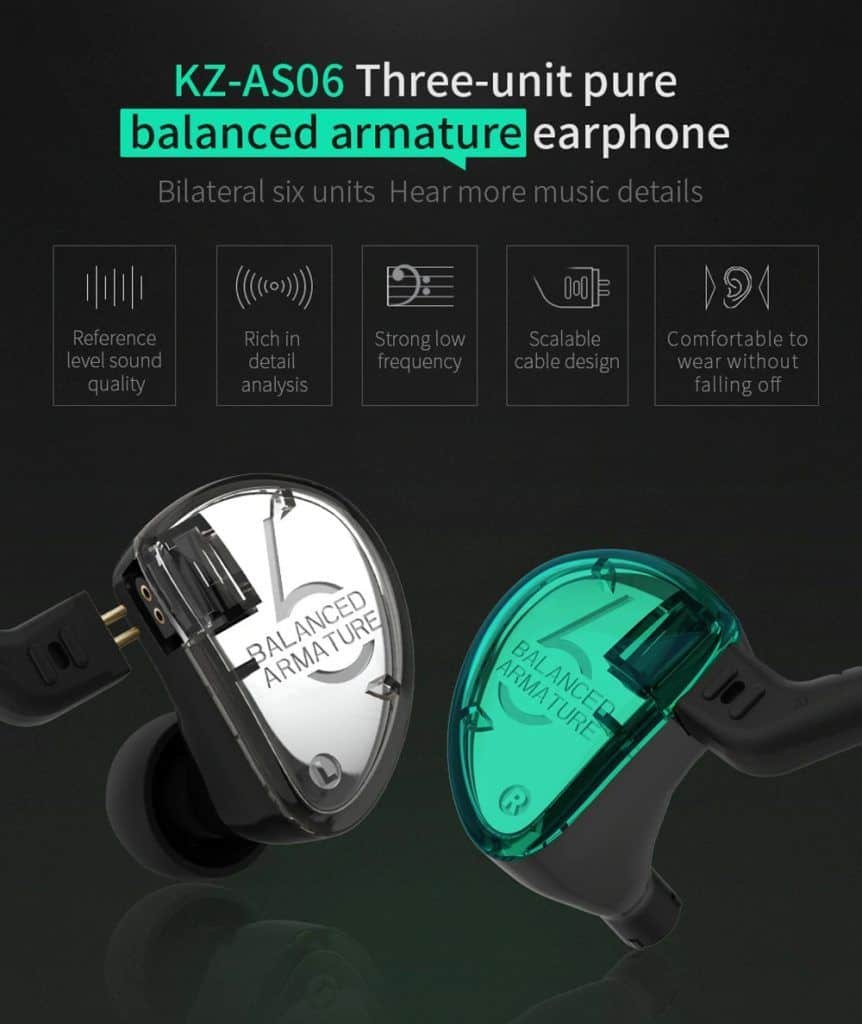 DESIGN AND PERFORMANCE OF KZ AS06
If you've tried KZ AS10 before, you'll see how KZ AS06 looks like them. KZ AS06 uses the housing design with the elder brother with the kidney design. The most noticeable difference is that instead of the crossover board under the faceplate like AS10, KZ AS06 is replaced by a silver plate with large number 6 and the Balanced Armature line. I personally like this design of the KZ AS06 more than the previous AS10 because it looks cleaner and more elegant.
As a cheap IEM driver driver, it is not strange that the housing KZ AS06 is made entirely from plastic. Due to that, the weight of this headset is very light. The bezel assembly on the housing and the faceplate surface is very tight. The housing is polished to the surface to increase the smoothness of the wear.
The sad thing about the design of KZ AS06 is that the eartips on the drain have not been upgraded yet. There are only 2 small plastic tabs to keep the eartips in place instead of 1 bar or the like of other earphones. Some people wear eartips will experience eartips sticking to the ear because the holding edge is too weak and the eartips' tube is a bit too big. To overcome this phenomenon, you only have to buy a pair of eartips with small and elastic sound tubes to be able to adhere to the sound tubes of KZ AS06.
Once again we find a familiar point on KZ AS06, which is the conductor. Luckily, this guide has a pre-bending earhook instead of the old-fashioned wire, which is quite annoying with the old KZ headphones.
Of course, you will still have KZ's exclusive 0.75mm 2-pin connector. There is still no sliding part holding the left and right wires and the Y splitter is quite far away, making the wire quite tangled.
There is no problem in the complete quality but this is clearly a design error. I always hope KZ will soon upgrade these attached cables.
CONFIGURATION OF KZ AS06
Despite being a cheap headset, the internal audio configuration is still invested quite seriously and methodically.
Inheriting the same driver architecture as on the KZ AS10, the KZ drivers are placed in a special 3D resonant cavity, not using the normal sound tube, but still producing good detail.
Inside KZ AS06 will have 3 BA drivers responsible for each separate frequency band. Especially, a very large 22955 driver ensures the bass range to reproduce bass not only fast but also powerfully.
All of these drivers are self-made by KZ, so they are cheap. You will also encounter BA drivers with similar code from big brands like Knowles or Sonion but with a much higher price.
Comfort and sound insulation
KZ AS06 has a very reasonable housing shape design so it is easy to wear and comfortable to wear. Housing is also quite light weight, about 14g for each ear. The housing is made of a smooth surface with no edges to give the soft and friendly ear. Even if your ears are a bit small, I believe KZ AS06 can fit neatly in your ears.
As a full driver BA headset and close almost completely, the ability to sound as well as sound out of the KZ AS06 is very excellent. Once you've put on your headphones and stream music, not much noise can get in the way of your listening experience. You also do not have to worry whether the person next to you can hear what you are listening to or not because certainly at a distance of 1m, that person will not be able to hear anything coming from KZ AS06 at all.
where can you get a KZ AS06 online
LINSOUL KZ AS06 3BA Balanced Armatures HiFi in-Ear Earphones with Detachable 0.75mm 2Pin Cable, Noise Canceling Earbuds (Without Mic, Black): Buy it now
KZ AS06 3BA in Ear Earphones Yinyoo KZ HI-FI IEM Headphones Wired Noise Isolating Earbuds with Triple Balanced Armature Drivers Microphones 3.5mm Plug Cable(Black with mic): Buy it now
KZ AS06 IEM Earphone 6BA KZ Earbuds, KINBOOFI HiFi Wired Earphone Musician Balanced Earphone Monitor with Detachable 2 Pin Cable and Microphone: Buy it now
KZ IEM Earphone 3BA Balanced Armature Headphone HD Sound in Ear Monitor HiFi Stereo Noise Cancelling Earbuds AS06 Triple-Driver Universal-Fit in-Ear Musicians' Monitors (Black Without MIC): Buy it now
KZ AS06 Earphones 3BA Balanced Armature Driver HiFi Bass Headphones in Ear Monitor Sport Headset Noise Cancelling Earbuds (with Microphone, Black): Buy it now
SOUND OF KZ AS06
The overall sound of KZ AS06 is in the form of V-Shape. That means the sound will hit the booming bass and clear treb. This sound style is easy to listen to and easy to like with the majority of users.
Bass range
As I mentioned above, KZ AS06 is emphasized on the bass range, especially in the mid-bass area. Due to the use of Balanced Armature driver, the AS06's bass has good speed, rounding, not overshooting or buzzing like dynamic driver headphones. Although the bass beat quite fast speed but still enough thickness and weight.
Despite being a BA driver, the KZ AS06 Sub-bass still has good opening in the price range. Bass roll-off is quite fast at less than 50Hz and well controlled. The sub-bass of KZ AS06 will not be as grating as the dynamic headphones but it is respectable on a BA driver.
There is still a small amount of bass that is out of range and the amount of bass will be enough to win the majority of the audience, except for the real basshead.
Mid range
Smooth and fluid, the KZ AS06's Mid Range is great for a budget IEM. Male and female vocals both perform well, although male voices are somewhat backward when compared to female voices.
The instrument has a clear separation and overall balance to make the singer's voice shine. As in Anathema's "Underworld," there's a lot of electric guitar and drumming, but the vocals are still there.
Speaking of electric guitar sounds, sounds are well recreated with detail and brittleness. Surely classical music lovers will also like KZ AS06. When listening to the track "Symphony No.5 in E flat, Op. Sibelius 82: 2 ", I had to take off the headphones twice to check if I was wearing headphones from KZ.
Treb strip
The treb band is an area where KZ is always quite cautious and this is also true on KZ AS06. Treble is crispy and detailed, although I find it a bit dry. Vivid and energetic but quite uniform and without sibling phenomenon. In Katatonia's The Night Subscriber, the crazy cymbals throughout the song were not uncomfortable, which I used to be quite sensitive to when listening to other headphones.
Space
Theater space is larger than average and more inclined to width than depth. The ability to separate the instrument layer is quite average, although in many instrumental segments, the KZ AS06 appears to be confused. The sound of the instrument is also quite good and is completely acceptable at this price.
CONCLUDE
KZ AS06 was really a surprise to me. I never thought that a shortened headset would sound better for me than the full KZ AS10. This is emotional but it is clear that KZ AS06 is not too inferior to the seniors like KZ BA10 or AS10 in terms of sound. In addition, KZ AS06 still inherits almost the entire AS10 hardware design, so it feels very comfortable and comfortable to wear. So, if you are looking for a headset worth $50, there is no reason to ignore this bargain KZ AS06.
---
amazon kz as06 reviews on newest prices of deals best buying a lastest what is at where to buy can i you get online purchase sale off discount cheapest for products tutorial specification features test series service manual instructions accessories aliexpress as10 ali audiobudget audifonos 比較 acoustics bluetooth price in bd cca c10 vs cable comply caracteristicas ebay earphones español eイヤホン head fi frequency response fone graph gearbest đánh giá king gnu iem india inceleme iphone review zst và zs10 reddit specs linsoul malaysia mysku tai nghe opiniones zsn pro philippines pin ptt rtings sound signature shopee tfz t2 trn v80 zs6 yinyoo 2pin アップグレードケーブル イヤーピース エージング eイヤホン 音漏れ 辛口 価格 クーポン ケーブル コンプライ 白日 評価 評測 headfi マイク 楽天 リケーブル レビュー ワイヤレス