amazon L de Lolita Lempicka reviews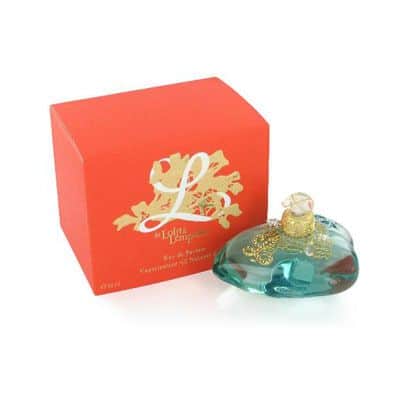 Each bottle of perfume, no matter which brand it is behind it is always a story, the words of the manufacturer's own sent to the community. I always liked the story written by Lolita Lempicka. Not just a scent, every bottle of perfume represents the sensitive soul of the young woman who is in green spring. I always felt dreamy when carrying that fragrance on me, like I was walking into a fairy garden. So the "L de Lolita Lempicka" line is no exception. If we ever traced the First Fragrance forbidden fruit charm or Si Lolita four-leaf clover, we couldn't help but love the blue heart "L de Lolita Lempicka".
I would like to call it the name "Little Mermaid" because her scent is "beautiful" like a princess in a fairy. Lempicka's excellent point is that the look always attracts the eyes of the eyes. Who designed this perfume bottle must be an artist. We can see the enthusiasm and meticulousness through the sea-blue crystal heart with exquisite decorative gold-plated corals. I believe any girl who sees L de Lolita Lempicka is super happy from the beginning.
Certainly, in the childhood memories, there is a movie "The little mermaid" right? Ariel is always my favorite princess. I like from her long, flowing red hair to her big eyes and especially the optimistic soul, always singing happily. Until now, the song "Part of the world" is always in the list of favorite music pops up whenever sad. Jodi Benson's honey-like voice is as sweet as the taste of L de Lolita Lempicka. Spray a little on the wrist, behind the nape, we can feel the perfume is melting into my skin. I thought if it was green, it would have to be cool. But no, cinnamon and vanilla handle the scent very skillfully. All senses are awakened by a sweet taste, not overly overshadowed, smooth on the skin. At this time, "it" is like a delicious buttery biscuit, only to wait for others to occupy herself and cause them to be addicted, enticing the next time. And of course, eating well is always the happiest thing in this world, that mermaid makes me feel that life becomes simple and easier to breathe.
Whoever has come to Dalat is no stranger to immortal flowers. When I turned myself into L de Lolita Lempicka, that glittering yellow flower kept its nature unchanged. Fragrant charm, full of eternal desires and longevity. Like the story of the mermaid, longing for a beautiful love with the prince but eventually choose the sacrifice. It's a way of love, it's just a bit stupid, isn't it? I think the girl did not transform completely into sponges but kept her soul and sent it into Lempicka's blue heart, giving off the scent of immortal flowers. An interesting point is that with Maurice Roucel's magic hand, he combined the scent with tonka beans to make the fragrance smell of smoke. Sweet bitter, happiness mixed pain, grief for a sad love.
L de Lolita Lempicka is a message sent from the blue sea to all young girls: Always be beautiful and live your life with the youth, youth do not wait for anyone. The beauty of the woman is always sparkling, radiant like a blue heart. Lempicka wants owner to always bring scent to it, everywhere, to be brilliant all the time and more confident than ever.
where can you get a L de Lolita Lempicka online
L DE LOLITA LEMPICKA by Lolita Lempicka: Buy it now
L de Lôlítá Lémpícká by Lôlítá Lémpícká for Women Eau De Parfum Spray 1.7 oz: Buy it now
L de Lolita Lempicka by Lolita Lempicka: Buy it now
L DE LOLITA LEMPICKA by Lolita Lempicka: Buy it now
L DE LOLITA LEMPICKA by Lolita Lempicka (WOMEN): Buy it now