amazon Shanling M2X reviews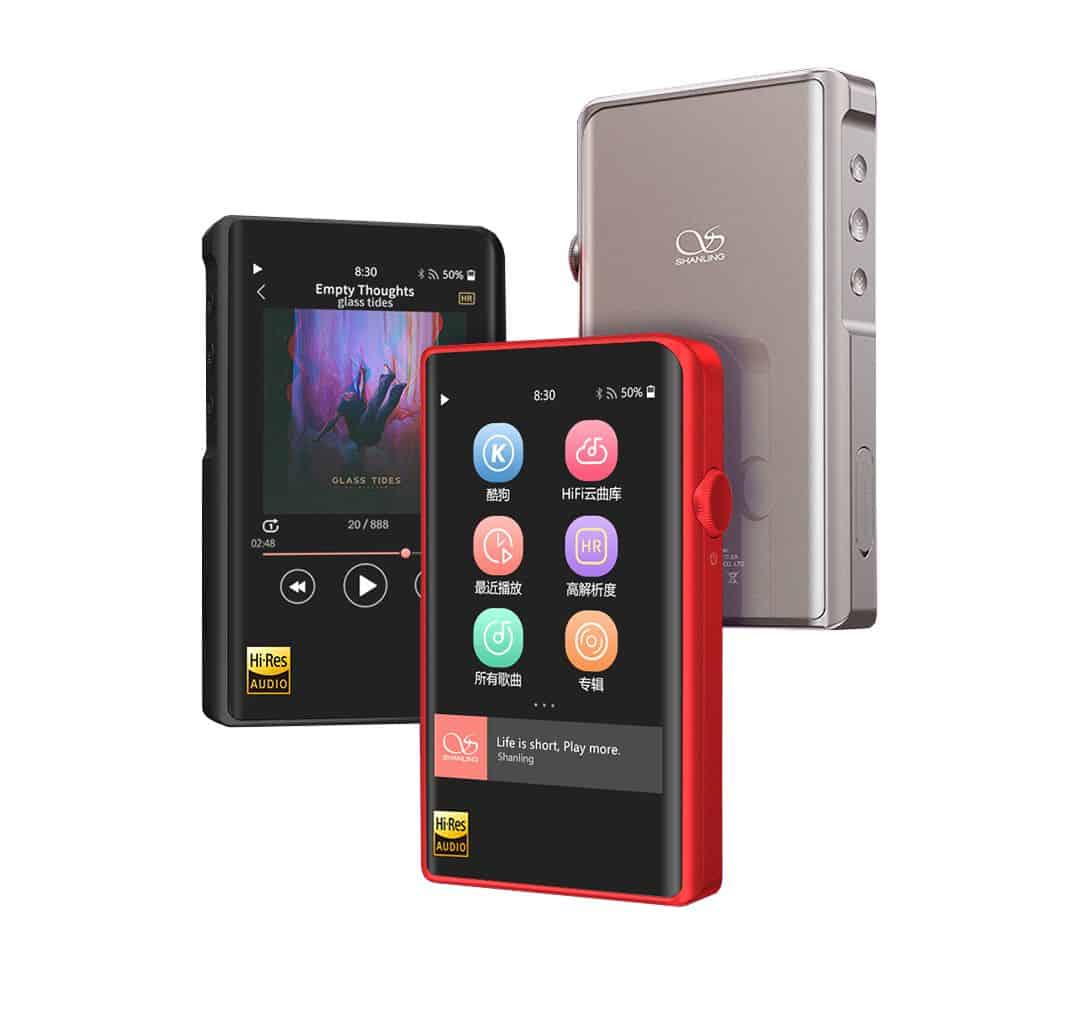 After many days of waiting, Shanling finally officially launched an upgraded version of M2S with the code name M2X. Shanling M2S was previously a very successful mid-range player with its beautiful design and impressive sound quality in the price range. Whether M2X will be further improved, let discover it right away.
A little information about Shanling for those who do not know. Shanling is a brand that has been present for more than 30 years in the Hi-fi audio market in the world. From Hi-end CD products to expensive lamp amplifiers, all of its quality products have made Shanling's name and position today. Ever since the company entered the portable audio market with low-cost music players, it has also made a big splash with its M series. Shaling models always have beautiful design, high-end finishing, superior technology and especially extremely reasonable price.
DESIGN AND FINISHING
Shanling M2X looks like an enlarged version of M0 or a miniature version of M5S. Shaling retains its unique design style to increase product consistency as well as easier brand recognition.
Compared to the old Shanling M2S, the frame of the new Shanling M2X is thicker and more rigid than before. Still made from CNC monolithic aluminum, the details on the Shanling M2X are sharper.
The control key cluster on the left side of the device is sunk against the edge for convenient operation. The play button is made bigger than the 2 switch buttons for accurate click operation, avoiding the press wrong button phenomenon like on the M2S.
The identical multi-tasking volume control knob on the Shanling M5s is sunk slightly to the frame to increase durability and make the overall machine more neat than its predecessor. This volume knob, when rotated, will create clicks that allow you to adjust the volume even when inserted in your pocket without any errors.
However, the quality of the display on Shanling M2X does not impress me. The screen size is 3.2" but the resolution and brightness are not high. When watching in the sun, you will have a little difficulty reading information on this screen.
Overall for a machine in the mid-range segment, Shanling M2X has excellent design and finish. The unibody metal frame is definitely cut neatly and flawlessly. The curved glass on the front combined with the glass back on the back helps improve the grip and increase the elegance of the product.
For hardware, Shanling M2X uses a DAC AK4490EN which is a slightly upgraded version of AK4490EQ on old Shanling M2s. Together with the self-developed FPGA circuit by Shanling, the signal interference and distortion are extremely low. The amplifier floor has been upgraded with a new AMP chip for a little more output. Especially, Shanling has brought 2.5mm Balanced gate to Shanling M2X, which previously only appeared on mid-range products such as M3s. As a result, users will have a better listening experience with this Balanced port.
The output power is higher on the Shanling M2s but the M2X is just enough to pair with low impedance headphones. If plugging in large impedance headphones, you should consider buying yourself a separate amplifier to pair with Shanling M2X.
You can also turn Shanling M2X into a portable DAC / AMP through its Type-C port. It is capable of decoding signals from a PC, Mac or even from a smartphone or tablet if you have the appropriate transfer cable.
We are entering the era of 4.0 internet of things, so Shanling equipped with wireless wireless connection is extremely reasonable. Shanling M2X supports popular streaming standards such as DLNA, AirPlay that allow you to stream high quality music without having to pay much attention to the device's memory capacity.
Especially Shanling M2X is equipped with the ability to stream high quality music from Tidal to help you bring your music with you wherever you go.
Shanling 2X has also been upgraded for Bluetooth connectivity when it supports the most advanced LDAC standard available. Shanling 2X is capable of 2-way Bluetooth connectivity while both taking the signaling and decoding functions of an extremely convenient DAC / AMP Bluetooth.
Another nice wireless feature on the Shanling M2X that you probably won't notice is the USB Bluetooth Transmitter feature. With this feature, you can use the Shanling M2X as a separate Bluetooth card to receive music signals from your computer and then broadcast to a receiver such as a speaker or a headset in high-end codecs like LDAC or AptX. This feature will be most useful for those who on office computers without Bluetooth available.
Shanling music player products have traditionally never used internal memory, and so does M2X. The device supports only 1 memory card slot with a maximum capacity of up to 2TB, comfortable for you to use.
Inside Shanling M2X is a 2400mAh battery (larger than the 1800mAh version) for impressive music listening time. I tested with 3.5mm port for approximately 10 hours of continuous time and 7 hours with 2.5mm port. Shanling M2X is more than enough for you to listen to the music.
SOFTWARE ON SHANLING M2X
Shanling M2X is the third product after M0 and M5s running its proprietary MTouch 2.0 operating system. This is an operating system customized from the Linux kernel developed by Shanling after hiccups with Hiby Software. That's why we no longer see the familiar Hiby Link feature appearing on Shanling's recent products.
If you are familiar with Shanling M0 then you will not be familiar with the gestures like the system on Shanling M2X. Not typical touch, touch control operations on Shanling M2X will require you to operate more decisively, but once familiar, you find it very handy.
There are not too many complicated features such as Android devices, no third-party applications installed, MTouch 2.0 for a smooth experience and maximum focus on listening to music.
SOUND OF SHANLING M2X
So after all, what is the sound of Shanling M2X like? The first thing I feel is that the Shanling M2X has an extremely static background. Even with low impedance headphones and high sensitivity, no background noise was detected at all.
The sound of Shanling M2X has a neutral tendency, clear and no color.
Bass range: Accurate and taut, fast and definitive beat speed. The blank layers in complex music are well peeled off without sticking together.
Mid range: quite flat, this means there will be no little highlight in this negative range. Yin will reproduce as originally as the original recording. Many people think that this is good, but I like a little bit of clicking for more colorful sound.
Treb strip: neutral and pleasant. This sound range on Shanling M2X is more technical than musical. The small details in the recording are clearly shown, especially in the symphonic pieces with many instruments.
The good ability of separating musical instruments, reproducing accurate images and spacious stage space are what Shanling M2X does very well in the price range.
CONCLUDE
The Shanling M2X is a reasonably priced, feature-rich music player, an extremely well designed and great sound in its price range. The minus point may come from the screen quality is not really good and the new control operation makes many people will be surprised. All in all, this is still a player worth considering in this price range.
where can you get a Shanling M2X online
Shanling M2x Portable Music Player HiFi Music Player Bluetooth MP3 Player High Resolution Audio Player (Titanium) by Shanling: Buy it now
 SHANLING M2X AK4490EN DSD256 32bit /384kHz Dual Bluetooth AptX LDAC Balanced Port Portable Hi-Res Music Player (Titanium): Buy it now
---
amazon shanling m2x reviews on newest prices of deals best buying a lastest what is at where to buy can i you get online purchase sale off discount cheapest for products tutorial specification features test series service manual instructions accessories digital audio player aliexpress avis case canada dap fiio m9 vs m7 m6 firmware update forum head fi headfi harga kaufen linsoul line out m3s portable music m5s m0 m2s price review reddit recenzja specs spotify singapore tidal uk bluetooth headphone zone india malaysia philippines storage offline tokopedia hidizs ap80 обзор レビュー