amazon Sony OLED A9G Master Series reviews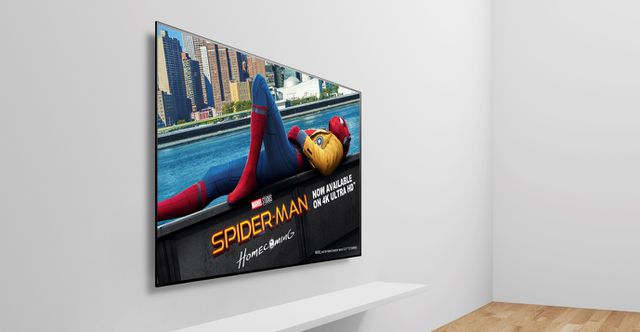 Value Electronics TV Shootout is a very popular competition in the audiovisual arena, which honors the best TV of the year. In 2018, Sony's first predecessor A9F, OLED Master Series defeated LG, Samsung to take the throne. This year, with the absolute victory in all four categories of Sony's competition, OLED Master Series A9G continues to receive the 2019 "King of TV" highest award from 8 judges who are industry experts. Specifically, this year, Trimaster OLED BVM-X300 – the industry's standard display reference screen, was chosen as the standard screen for assessing image quality of TVs. This standard includes: contrast, saturation, accuracy of the color and resolution of motion, evaluated through 4 display modes: View internal SDR during the day, see SDR content in the mode color calibration, watch HDR standard content and watch content directly on Netflix.
Master Series is the name given by Sony exclusively for the best TV series, providing a comprehensive premium experience from image quality, color, contrast and clarity to specialized reference screens. Therefore, A9G not only possesses 4K resolution OLED panels with the quality displayed 4 times more than Full HD TV, the image on this TV is also extremely true reproduction with super wide viewing angle, Absolute black and infinity contrast. More than 8 million self-illuminating pixels are controlled independently by the X1 Ultimate image processor.
Currently the original 4K content is not as popular as Full HD content, but the X1 Ultimate image processor will help the OLED TV A9G upgrade every input to quality close to 4K HDR. This processor is also capable of distinguishing each object in the frame, separating and sharpening or eliminating individual noise according to the characteristics of the object.
At the same time, technology to enhance pixel contrast (Pixel Contrast Booster) on A9G will enhance color saturation, maximize contrast for each color at high brightness and Motionflow XR scanning technology to help brighten every movement, especially when watching action movies, watching soccer. In addition, the OLED A9G is equipped with the original Netflix movie view (Netflix Calibrated Mode), Dolby Vision and Dolby Atmos technology to ensure that the filmmakers' original creations will be accurately reproduced from the picture to sound.
Peak sound
A9G has an ultra-thin design, but the sound quality is impressive with the Sound technology from the Acoustic Surface Audio + screen. Sony used both the giant Oled screen to vibrate the A9G to provide the same audio experience as the movie theater.
For customers who prefer to install an independent multi-channel audio system, TV Center Speaker mode allows full use of OLED displays
A9G is like a central speaker, creating a wide, wide sound field. Besides two direct vibrating sets, the TV has two more bass speakers that enhance the built-in bass range.
Extreme experience with the Android operating system
It is not too much to say that the Android operating system is the "queen" to help A9G become a perfect "king".
Rich Google Play app store with outstanding international entertainment applications such as YouTube, Netflix, Amazon Video, Google Movies, Spotify, … Especially, A9G MASTER Series allows users to watch movies on Fim + 4K – exclusive application on Sony TV in Sony OLED series, X9500G, X8500G.
Smart Assistant Google Assistant combines with the built-in microphone on A9G to make it easier and more convenient to control TV, search content, and control smart devices, especially with Can communicate with users in natural conversation language. Users can also talk into the microphone on the remote to control and search content correctly.
where can you get a Sony OLED A9G Master Series online
Sony XBR-55A9G 55 Inch TV: MASTER Series BRAVIA OLED 4K Ultra HD Smart TV with HDR and Alexa Compatibility – 2019 Model: Buy it now
Sony XBR-77A9G 77 Inch TV: MASTER Series BRAVIA OLED 4K Ultra HD Smart TV with HDR and Alexa Compatibility – 2019 Model (Renewed): Buy it now
---
sony master series a9g 4k oled tv 77-inch 65-inch 55-inch – bravia a9g/ag9 hdr 55 class 65 77