amazon MEE audio MX4 PRO in-ear Monitors reviews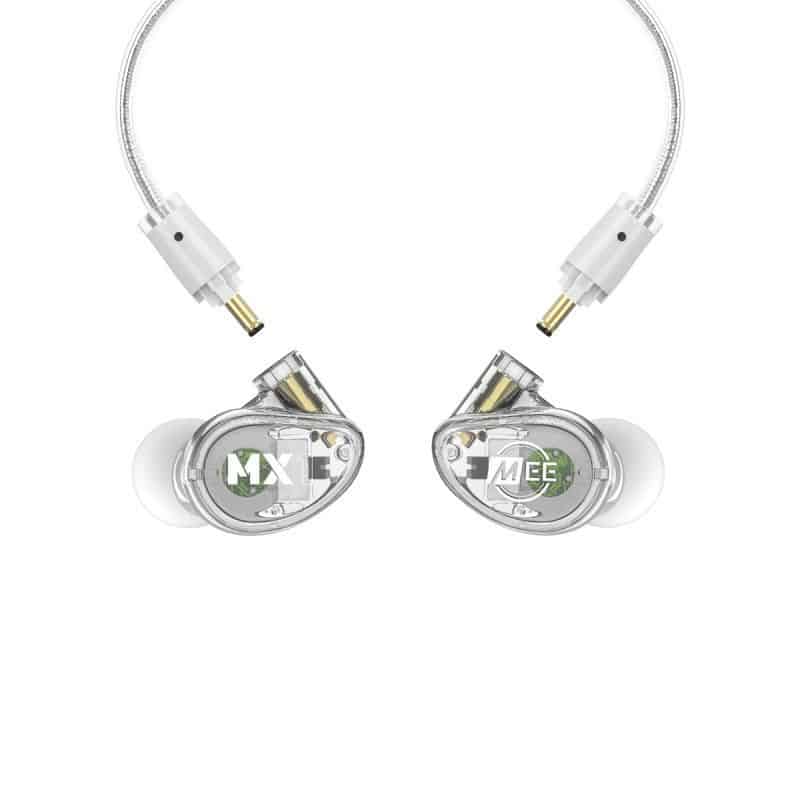 Design
If two pairs of MX1 Pro and MX2 Pro (with 1 and 2 diaphragms) have the same design, then MX3 Pro and MX4 Pro have more membranes that share a housing. This housing is thicker than the other two, and is also thicker than the previous M6 Pro, but still stays in the ear and creates high comfort.
The sound tube section is placed diagonally to make it easier for the user to get into the ear, as well as having 2 steps to fit each person while changing a little sound. I have a short ear canal, so I usually have tips close to my ears to optimize the area of ​​the earpiece in my ear, to increase the sound quality.
MX4 Pro has a very dense speaker system and crossover, you can see it through the clear plastic housing. Of course, MX4 Pro belongs to the MX Pro series, so it will be able to replace the external faceplate and custom tips for those who need the best ability to block external noise.
The wire is reinforced very firmly, especially in the L-shaped pins. Currently, the wire system used by Mee Audio is not really as rich as MMCX or 2 batteries, but also in the box. Up to 2 strings, and users can set through Mee Audio if both of them have problems, so this does not become a drawback. The cord with the mic is included in the box.
Technical specifications
– 1 Dynamic membrane, 3 BA membranes
– Frequency range: 20Hz to 20 kHz
– Impedance: 12 Ω @ 1 kHz
– Sensitivity: 103 ± 3 dB (1 mW @ 1 kHz)
– IP55 waterproof
Sound quality
After evaluating the 3 previous product lines in MX Pro, I found that the sound indication board provided by the company is very accurate, so even if not opening MX4 Pro, we can know the general sound quality of the ear what will it sound like. When opened, of course it is true: the ear has all three balance bands, clicking on the high-mid and treble parts, no more bold about the bass like most other earphones pairs with the company.
Bass, of course, is still not enough, in contrast, it is still very plentiful and responsive to the pop genre. The Rude drum – Magic hit more mid-bass than the sub-bass, but the control was extremely tight so there was no boomy, fast play speed and no tail pulling. The sub-bass part is made quite smooth, the deeper it goes, the more it is rolled off so it doesn't feel dark. For those who are bass-head, it is advisable to learn about MX1 Pro and MX2 Pro, but for those who are light, classical or sometimes listen to Pop music, please switch to MX3 Pro and MX4 Pro, with plus is a better bass technique.
Like the MX3 Pro, MX4 Pro does not hit much on the bass, but directs users to enjoy mid tones (vocalist, main instrument) and treble, creating a more technical sound. The middle part of the earpiece is closer to the listener, the detail is also completely outstanding compared to the MX1 Pro and MX2 Pro duo. Created by the Balance Armature membrane, this middle part has a thinner part than Dynamic's middle sound, but keeps the tone so it is not dazzling. Mars Argo's voice in Runaway Runaway is very clear (showing good detail), airy and almost transparent. This is definitely one of Mee Audio's best mid-ear headphones.
Treble sound is also pushed high as compared to the mid section, playing high enough and not limited in playing space. This strip is not as bright as the Pinnacle 1 or Pinnacle 2 pairs, so it does not create sibalance, but it is still a significant range in general sound. Due to this treble, the soundstage of MX4 Pro (and the MX3 Pro) is significantly better than the two low-end products.
Epilogue
After finishing evaluating all 4 MX Pro product lines, I think these are very interesting pair of headphones, because each has a different sound quality, towards a different user object. In particular, MX4 Pro has the most 'adult' sound quality, balanced between all bands and can be used to mix music easily. Along with that, this is also the best detailed ear pair, for those who want to enjoy music according to exactly what the singer or songwriter wants to convey.
Advantages
– Rugged design, smooth wearing
– Ability to replace faceplate
– Waterproof IPX5
– Complete set of accessories
– The sound quality is clean and balanced
– Good detail
Defect
– Highest selling price in MX Pro series
where can you get a MEE audio MX4 PRO in-ear Monitors online
MEE Professional MX4 PRO Customizable Noise-Isolating Universal-Fit Modular Musician's in-Ear Monitors (Smoke): Buy it now