amazon Sony WH-CH510 reviews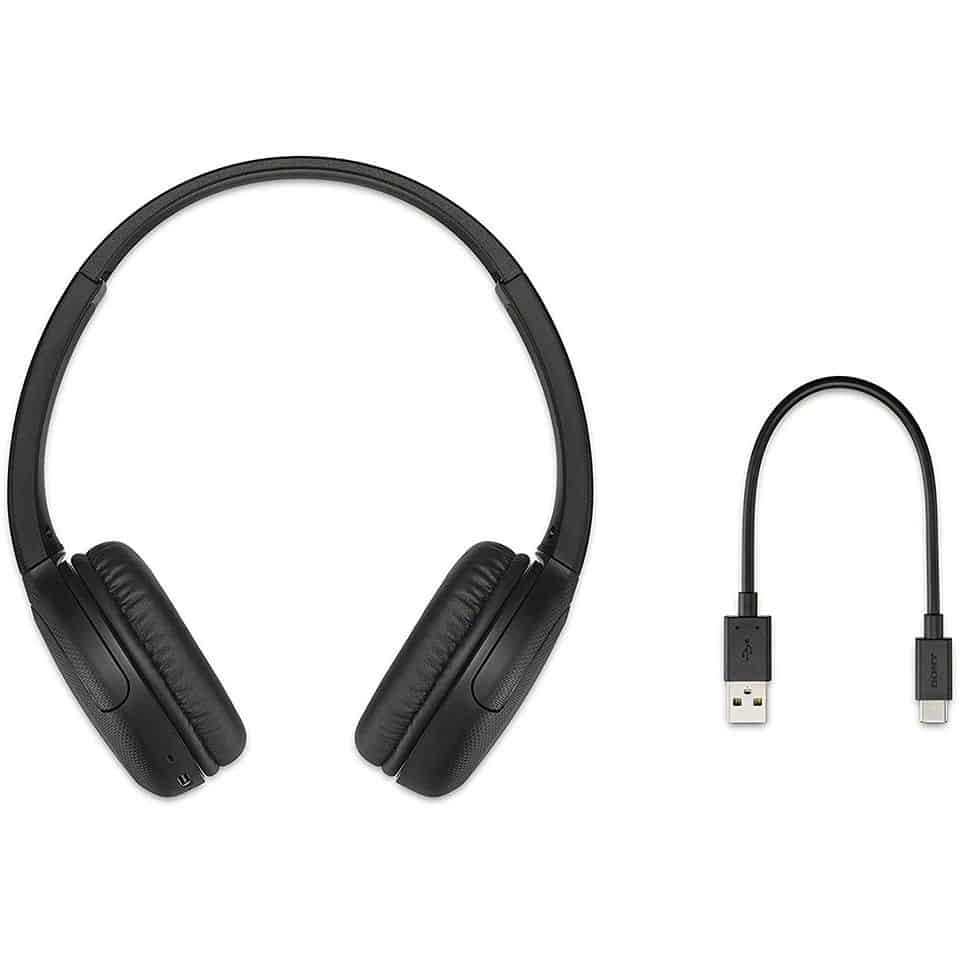 Design
We still have a popular Sony paper box, though large in length and wide but quite thin.
The back has a few parameters of the ear, worth mentioning is the ability to play music continuously for 35 hours, accompanied by fast charging technology that helps listen to 1 hour 30 minutes on just 10 minutes charging.
There are also not many accessories in the box, including the user manual plus the USB Type-C charger cord. As in the review of the Sony WI-XB400 pair mentioned, all Sony products, whether expensive or cheap, have switched to USB Type-C, which is praiseworthy!
WH-CH510 as the name suggests is a pair of hooded headphones, more specifically, the On-ear. This type of headset will be placed on the ear of the user, but with CH510, due to its light weight (only 132g) due to being made of plastic, with thick padding, it still retains high comfort.
The outer surface of the ear is made of rough plastic, with small textures that look a lot like a golf ball! This pattern is not only beautiful for decoration, but also for increasing the durability of the outer ear (not scratched like glossy plastic) and almost never sticking to dirt.
These earphones can only be rotated 90 degrees, but they cannot be bent inward to make them smaller. In addition, the company also does not give in a box a bag like other brands so its mobility is also affected.
The control buttons and USB Type-C charging port are all moved to the right side of the ear. The new pair of Sony headphones is completely wireless, which means it no longer comes equipped with a 3.5mm port for wired listening.
Technical data
– Dynamic 30mm drivers
– Frequency response: 20Hz – 20kHz
– Bluetooth 5.0
– Duration of playing music: 30 hours
– Standby time: 200 hours
– Weight: 132g
Practical experience
Comes with the new USB Type-C standard, CH510 is also equipped with Bluetooth 5.0 standard. For On-ear headphones, the ability to connect as well as the latency does not depend too much on Bluetooth, because in standard 4.2 pairs of headphones of this type, especially Sony has solved these two issues thoroughly, But the company uses the latest standard is also welcome, we can not complain.
Compared to In-ear headphones like the Sony WI-XB400, the Sony WH-CH510 seems to have less sub bass, perhaps because of the lukewarm and comfortable way of wearing, which makes this sound somewhat dissipated. But the mid-bass part is kept almost intact, giving a healthy beating and creating a high punchy level. Try quickly with Estelle's American Boy, we have a solid drum sound, which is right in front of the user and really impressive.
Up to the middle, the sound starts to fade, especially about the placement. The singer's voice is often moved backwards, accompanied by a little more sound than the sound, so it loses the rigidity of the bass. For most of the Pop songs I listen to, this sound is enough, but if possible, I will increase the thickness and the health in the high-mid part to match the style strong bass in the background.
The middle part is still considered to be 'enough', I am not satisfied with the way this pair of headphones shows in the highs, is cut a lot. The amount is only average, the brightness is not really high, so the metallic properties of the cymbal in Hit the road Jack become more gentle, softer. But we also have to ignore this pair of headphones, it is difficult to get good treble bands, often very rare if not to say that there is no Onear headphones at this price range.
Is it worth buying?
Of course, with cheap price, Sony WH-CH510 does not have too many differences in sound quality so that users must feel impressed from the first experience. But when looking broadly, at this price range there are very few pairs of headphones that are fully functional (USB Type-C, Bluetooth 5.0, perfect) as these pairs, so it is hard to complain. much. To upgrade, perhaps we will also have to spend a large amount of money, and for someone it is not an option.
Advantages
– Completely pretty good, unique motifs
– New features like BT 5.0, USB Type-C
– Wear comfortable despite being Onear
– Duration of use is very long, up to 35 hours
– The substance is in general harmonious and bold
– Low price, easy access
Defect
– Difficult to take anywhere because not folded, no bags
– Cannot be used in wired mode
– The treble is quite weak
where can you get a Sony WH-CH510 online
Sony WH-CH510 Wireless On-Ear Headphones, Black (WHCH510/B): Buy it now
Sony WH-CH510 Wireless On-Ear Headphones (Blue) with Knox Gear Protective Headphone Case Bundle (2 Items): Buy it now
Sony WH-CH510 Wireless On-Ear Headphones (Blue) with USB Bluetooth Dongle Adapter (2 Items): Buy it now
---
amazon sony wh-ch510 reviews on newest prices of deals best buying a lastest what is at where to buy can i you get online purchase sale off discount cheapest for products tutorial specification features test series service manual instructions accessories auscultadores audifonos aldi argos wireless headphones with voice assistant google enabled bluetooth headset mic – black on-ear mic/remote review kulak üstü kulaklık siyah blue casque casti case currys driver de tai nghe không dây ecouteur over-ear trådlösa ear-hörlurar jb hi fi fejhallgató fnac user guide gaming đánh giá how pair headphone jbl tune 500bt vs john lewis e45bt t460bt t450bt kaina kablosuz whch510b kopfhörer kulaküstü kulaklik kaufen (wh ch510/l) wh-ch510/l white malaysia mavi nfc harvey norman niebieski opinie price ps4 prisjakt pret australia compatible playstation recenze recenzja słuchawki bezprzewodowe sluchátka czarny mdr-zx330bt slúchadlá wh-ch500 và chụp wh-ch510/bc teszt (svarta) trådløse høretelefoner uk wh-ch700n skullcandy hesh 3 mdr-xb650bt yorumlar youtube zwart windows 10 5mm bt 5 0 app charging ceneo media markt reddit skroutz specs stereo over-the-ear ch510/b) wh-ch510/w aptx alexa aliexpress connect tv cena canada cable compatibility cijena db dimensions emag echo ebay equalizer fiyat firmware update (blue the ear) gym hinta headfi iphone inceleme idealo bluetooh latency lesnumeriques microphone multipoint macbook pro noise cancelling nz noir avis officeworks pairing philippines mode pricespy recenzia rtings recensioni setup sound quality size singapore settings target techradar hodetelefoner xbox