amazon Somic G805 reviews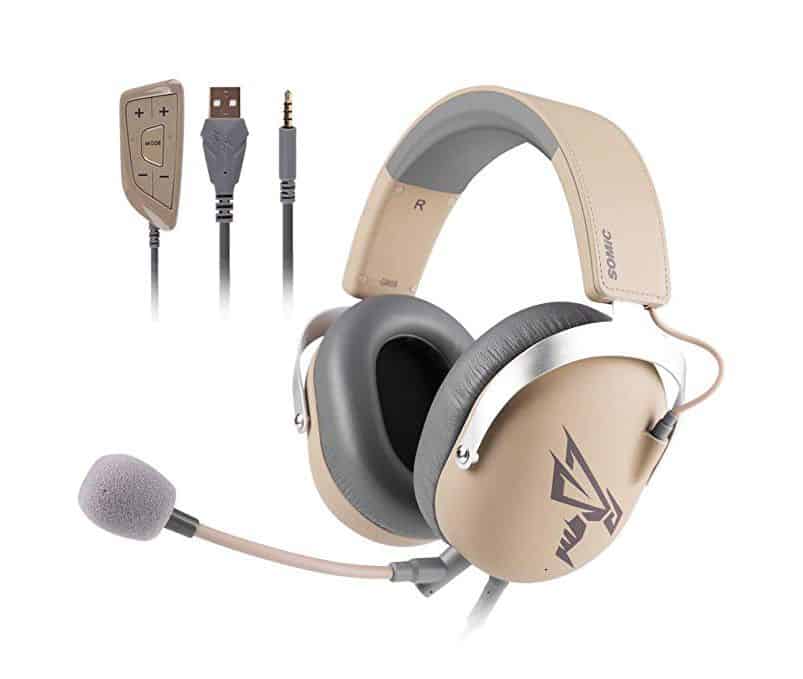 Open the box / Design
The box of the G805 is indeed very large, but it feels light in the hand, which proves that the headset is not too high weight, which may be an advantage in comfort.
Opening the box, we found the following accessories: a large canvas bag for carrying headphones everywhere (pretty good quality), an external mic using a 3.5mm port and a controller.
This controller has 2 heads, a 3.5mm input to plug in from the headset, and a USB connector for use with a computer. This is a great design, enabling users to use the G805 with mobile devices using the 3.5mm port, or attach it to the computer during computer sitting.
On the controller, there are 5 buttons, 2 sets of buttons to control the volume of the headset and microphone, and a button with LED to adjust the sound style, including 3 types: Multimedia (for movies and music), PUBG and Game MOBAs.
These headsets come back to Somic's strong, rugged design that looks more like a noise-canceling headset for soldiers in the military than a regular headset! On the outside, there's the Stinco logo, a gaming sub-brand of Somic.
As mentioned above, the headset is very light – accompanied by a thick head and ear cushion, so when worn on the ear … it almost feels like it's wearing, very comfortable! This is a prerequisite for a pair of entertainment headphones, enabling users to use for hours without feeling stressed or tired.
The microphone section is attached to the left ear, which can be bent to suit each person. When playing games we can also completely remove the mic to not cause problems.
Technical data
– 50mm drivers
– Impedance: 32 Ohms
– Frequency: 15Hz – 26.2kHz
– Sensitivity: 103dB
– Weight: 294g
where can you get a Somic G805 online
SOMIC G805 Stereo Gaming Headset with Removable Mic for PS4, Xbox One, Phone, PC:7.1 Surround Sound(NO Drive) USB Computer Headsets/3.5MM Headphone Noise Canceling Headphones for PUGB/LOL/VIDEO(Black: Buy it now
Practical experience
The sound quality assessment will be divided into 3 parts, because this pair of headphones has 3 presets to change the sound quality. And indeed, in actual use, these 3 sound quality are very different!
Multimedia (Audio Visual): According to the company, this is the sound quality used to watch movies and listen to music, and thanks to that, it is most balanced, there is not too much EQ to transform sound quality. But in my personal opinion, I still think this is a preset suitable for watching movies rather than listening to music, because of the clear sound style rather than 'music' to listen to the best music. The bass part has a moderate amount, not much and the speed of playing music; the progressive vocalist should be extremely clear but somewhat lacking in thickness – more suited to the voice in the film than to the music; The treble is bright and powerful – but again it is more suited to explosive sounds, shooting sounds in action movies. G805 is a pure pair of movies / gaming headsets, so I think those who listen to music more should get pairs of headphones designed for this.
PUBG (FPS shooter): This Preset brings sound quality closer to the listener, most likely for us to hear more clearly the small noises and the voices of teammates through the game. The bass is also pushed more strongly, thereby clarifying the sound of bombs, guns firing so we can 'focus' more on the matches. The 7.1 simulation effect is not very evident in this mode, probably because the company wants users to focus on the front elements, rather than being distracted by the ambient sounds.
LOL (MOBA strategy game): This is the optimal preset for the 7.1 simulator effect when the headset brings the sound to 'around' the listener rather than 'in the head' as in the previous two presets. This is also understandable, because MOBA games have the effect of placing sounds from far and near, those who can hear exactly where the sound is coming from will know the exact position of teammates and opponents, from there give out tactical. The sound quality in this preset is quite strong, so it will be a bit 'virtual' when using to listen to music and watch movies, but fortunately we can adjust it with just one push of a button!
Epilogue
Somic G805 is a pair of headphones that clearly embody Somic's gaming product design philosophy: military design, focusing on user comfort and sound quality can be varied. Moreover, we also have the advantage of being able to use with 3.5mm jack or USB port, so anyone can plug into your favorite device. The downside of these headphones in particular and other gaming headsets is that the quality of playing music can not be equal to those dedicated to music, but in return, the quality of watching movies and gaming is a big advantage.
Advantages
– Wearing very comfortable and light
– There is a removable mic
– Use with 3.5mm or USB
– There are separate audio presets
– Clean sound, spacious soundstage
– High speed bass section, no buzzing
Defect
– Quality of music playback will lose to the same pair of earphones at the same price range
– Price is also marginally better than the average of Somic