amazon TISSOT TRADITION T063.610.36.037.00 reviews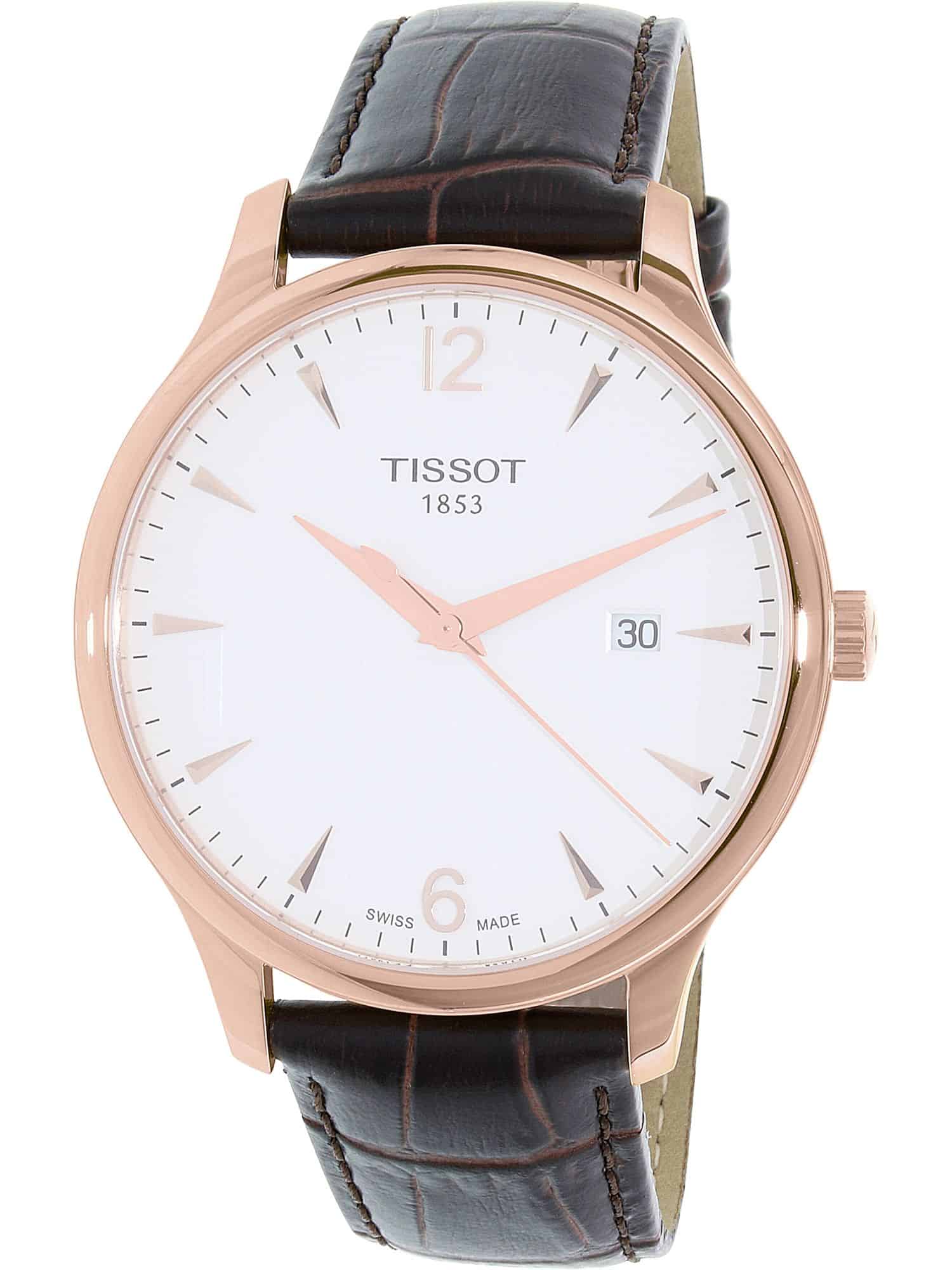 Tissot Tradition T063.610.36.037.00 has a very traditional shell shape with a diameter of 42mm and beveled of moderate length. The watch has a rather slim design of only about 7.5 mm combined with a size of 42mm that will fit the men's wrists with a circumference of 16 cm or more. Moreover, its strap is made entirely from cowhide then surface by technique of stamping not only beautiful but also gives a gentle feeling on the wrist with durability and good surface under moisture absorption.
Tradition's dial is white with 10 Arab numeric piles and 2 Roman numerals engraved on the application dial with polished and beveled technology. The movement in the center is the dauphine needle set which is completed by the company according to the same technique. With that shaping, when watching the clock in the sun, the one-sided effect is bright – one side of the dark will make every detail more beautiful.
The whole design of the dial in particular as well as the overall design in general gives the owner a quite streamlined beauty, both traditional and modern. No matter how simple it is, the artist still cannot forget the stage of clearly printing the brand name "Tissot" and the birth time of the company – the year "1853" is the most visible position – corner 12 hours and words "Swiss Made" in the direction of 6 hours.
In order to make an impression on the dial, the company has opened a calendar window to the 3-hour angle. Although there is nothing new and creative, it makes the men very excited. I think Tissot was very smart when combining the calendar disc with the dial to get a clearer view. And the clarity is raised to a new level thanks to the transparent properties of sapphire material used as a glass element. In addition to outstanding interior, this type of glass also protects its surface smooth due to better scratch-resistant mechanism than any other traditional material.
Unlike women, men are always interested in technical issues. In addition to aesthetic or choice based on personal style: elegant, classy, dynamic, the reason they chose this Tradition model is because of the apparatus it owns. In order to provide accurate operation with a 0.5-second error per day and a very stable performance, the company has equipped the Eta F06.111 quartz version. This is a favorite Tissot machine used for the male battery product line with the advantages of compact and light. In addition to the basic time features, the Eta F06.111 also provides an additional status notification feature out of battery with a 4 second jump signal every step called with the term EOL – End Of Life.
where can you get a TISSOT TRADITION T063.610.36.037.00 online
Tissot Men's Tradition 42mm Brown Leather Band Rose Gold Plated Case Swiss Quartz Watch T063.610.36.037.00: Buy it now
Tissot Men's T0636103603700 Analog Quartz Brown Leather Strap Silver Dial Watch: Buy it now