amazon Xiaomi Mi Bluetooth Receiver reviews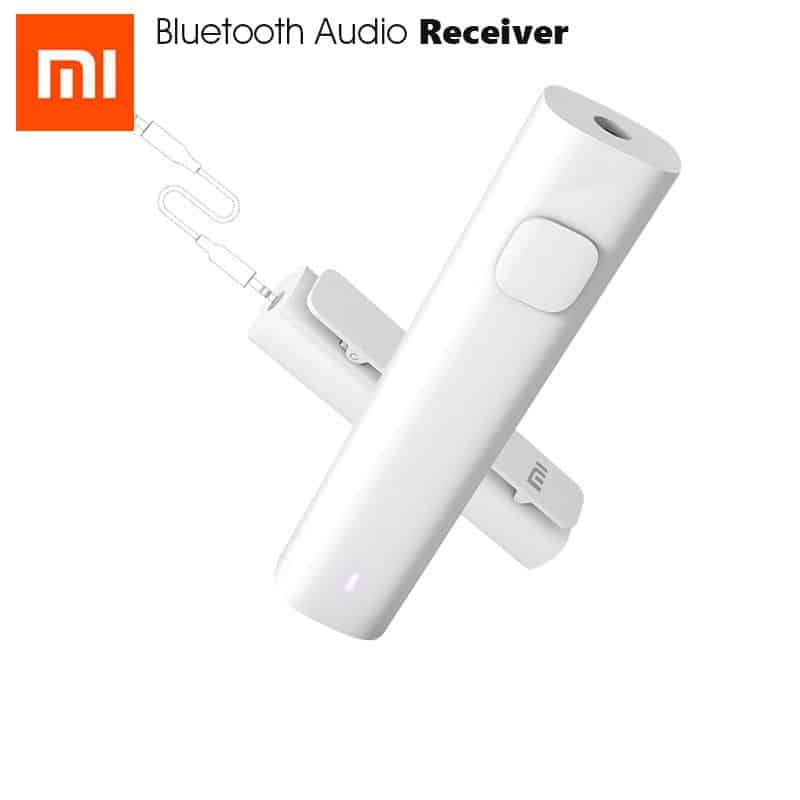 Xiaomi Mi Bluetooth receiver design and features
There is nothing worth mentioning with the Xiaomi Mi Bluetooth Receiver, compact and extremely good quality finishing product. With expensive pure white color with a single button, you can control the device. The bottom end is where the device is charged, the top end is the 3.5mm output, suitable for headphones with a mic.
The rear clip is made of metal, and the Mi logo is imprinted on it so that users know it is the brand.
The battery of the product is only 5 hours continuous listening and requires a headset with a mic to use the call listening feature. Users can use this product to plug into their sound rigs to modernize their devices. The Xiaomi Mi Bluetooth Receiver has a feature that will boot up when plugged in, which is very suitable for those who want to upgrade their home audio system.
The Xiaomi Mi Bluetooth Receiver jack supports headphones with mic, the buttons on the headset are usable. So Xiaomi completely removed the device to keep the best sound quality.
Equipped with good V4.3 bluetooth now, Xiaomi Mi Bluetooth Receiver will not have to sacrifice too much with the high quality music that you listen to everyday.
Impressive sound quality of Xiaomi Mi Bluetooth receiver
With an impressive design, this Xiaomi Mi Bluetooth Receiver will be a companion with your smartphone. Not merely a bluetooth receiver, it will deliver the sound quality that very few phones have.
Sound quality in the bass range on Apple iPhone 5 confident with many contemporary music. There is some emphasis on the mid and sub bass, you will hear more about the depth and the battering force in most songs. But this series seems to have no good control, there is no clear separation and overflow, sounds not fresh and smooth, only thrust and depth are good on iPhone 5. For Xiaomi Mi Bluetooth Receiver is the complete opposite, the bass force is less in volume but the sound quality of this tiny device is more soulful a lot.
Not only is a device to receive bluetooth signals, Xiaomi Mi Bluetooth Receiver also upgrades the sound of your phone significantly.
Inside the Xiaomi Mi Bluetooth receiver is integrated with the best DAC AMP possible at this price range to make the music you listen to more enjoyable, clean sound and more convenient than ever.
The following is our overall review of Xiaomi Mi Bluetooth receiver
Advantages:
Compatible with most devices
Natural sound quality, lively
Strong output
Full accessories
Elegant design
Defect
No charger cable included
Battery life is not long
With the upgrade of the sound of your phone without paying much will be a good choice if you are a fan of music listening with headphones, easily mix well with a variety of headphones with different impedance. Xiaomi Mi Bluetooth Receiver will be a new option for connoisseurs of sound and want a wide soundstage, or simply "upgrade" the sound of their devices.
where can you get a Xiaomi Mi Bluetooth Receiver online
Original Xiaomi Bluetooth 4.2 Audio Receiver Wireless Adapter 3.5mm Jack AUX Audio Music Car Kit Speaker Headphone Hands Free (Bluetooth Receiver and Cable): Buy it now
Xiaomi Bluetooth 4.2 Audio Receiver Wireless Adapter 3.5mm Jack AUX Audio Music Car Kit Speaker Headphone Hands Free (Receiver Only): Buy it now
---
amazon
xiaomi mi bluetooth receiver
reviews on newest prices of deals best buying a lastest what is at where to buy can i you get online purchase sale off discount cheapest for products tutorial specification features test series service manual instructions accessories audio ses alıcı 4 2 kulaklık adaptörü обзор 4pda alıcısı white wireless adapter отзывы aliexpress đánh giá bán thiết bị kết nối nzb4005gl адаптер blanco – hàng chính hãng digiworld volume control ceneo receptor de dns firmware gearbest hd india iphone mic microphone (mi) opinie olx odbiornik pdf инструкция на русском alex@ review recenze shopee ypjsq01jy для наушников (ypjsq01jy) 16407 3 5mm aux