amazon ATH-CKR7TW reviews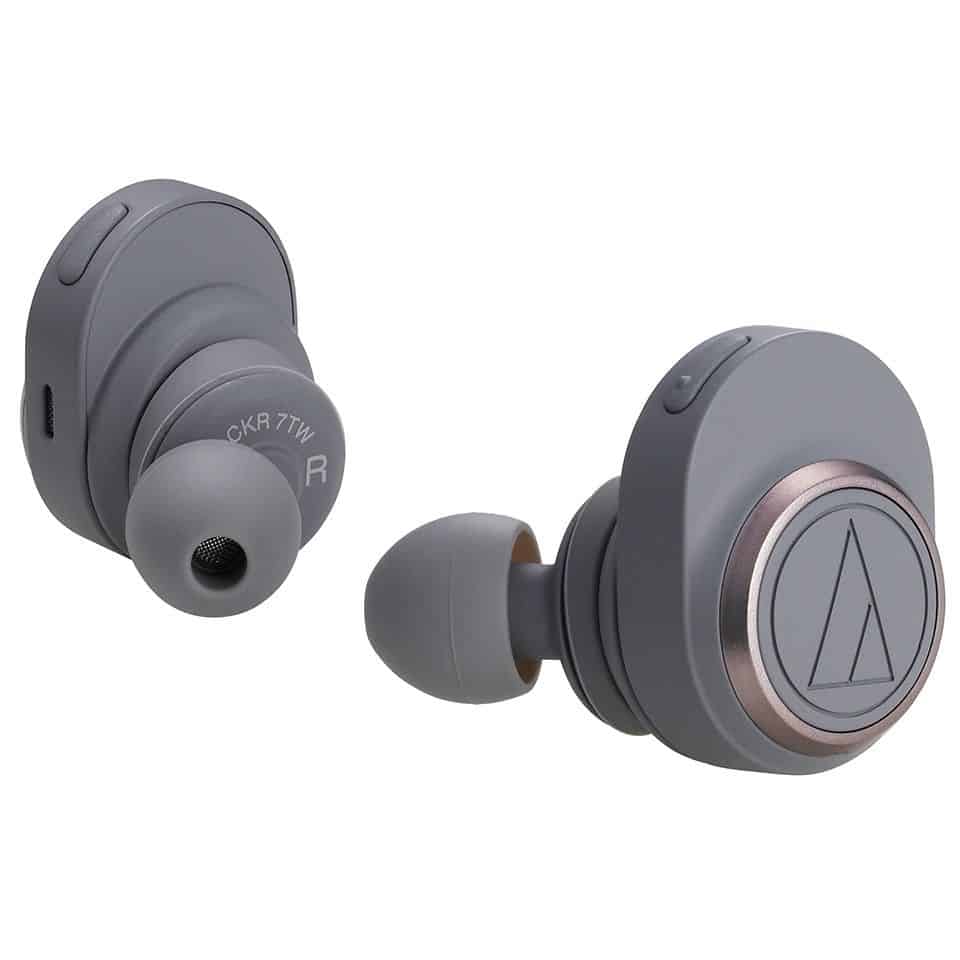 Bluetooth audio has come a long way and started to make significant improvements in sound quality when the introduction of advanced wireless codecs such as LDAC or Aptx HD. The gap between wired and wireless audio is becoming increasingly asymptotic. But to become completely wireless, especially with True Wireless headphones, the road is still very long. I have experienced a lot of True wireless headphones before from the first versions like Apple Airpod or Sony WF-1000X and later a series of other brands such as Jabra, Padmate, Bose. Obviously there has been a marked improvement in sound in the new versions of this headset but for me that is still not enough. Most recently, Japanese audio company Audio Technica has launched a true wireless headset called ATH-CKR7TW.
Audio Technica is the audio company that seems to be the slowest in the True Wireless race. It took two years after the first True Wireless headset to debut, in September 2018 at the new IFA Berlin exhibition for the launch of its first True Wireless headset. Two models were released, a true wireless model sports the ATH-SPORT7TW code and a true wireless model aimed at professional audio players codenamed ATH-CKR7TW. This is why I am so excited and have high expectations for an ATH-CKR7TW audio breakthrough.
BOXED
The box design is similar to most of the ATH CKR lines. White cardboard box packaging. Ahead is the image of the product …
In the box, we have accessories including: 4 pairs of silicone tips (XS, S, M and L), 1 pair of rubber rings to increase ear grip, 1 micro USB charging cable and cannot 1 manual booklet missing. All accessories will have the same color as the color of the headset, you buy black ear tips will be black even the charger. There will be 2 versions black and gray.
TECHNOLOGY
The technology that this True Wireless headset is equipped with can make any audiophile hear it will be unhappy. Yes, ATH-CKR7TW is proud to be the first True Wireless headset in the world to have a removable DAC / AMP chip. The chip is codenamed AK4375 from Asashi Kasei, similar to the chip of the highly successful Bluetooth DAC / AMP EarStudio ES100. This will make the sound output more accurate and detailed than conventional True Wireless headphones using integrated chips.
Not stopping there, ATH-CKR7TW is equipped with its proprietary dynamic driver with diamond carbon film technology up to 11mm in diameter. Sound chamber designed to be completely isolated from the cavity containing the control board. Promises to deliver the ability to reproduce crystal clear sound unmatched on any True Wireless model.
It is also one of the very few True Wireless headphones on the market that currently supports the Qualcomm Aptx codec standard. Although this codec is not as high as LDAC or Aptx HD, it is at least the top of the current True Wireless earphones. Comes with the latest Bluetooth 5.0 standard for better connectivity and signal.
As long as the technology on ATH-CKR7TW has made you feel excited.
DESIGN AND EXPERIENCE
The design of ATH-CKR7TW is of course not like any previous True Wireless model I've ever held in my hand. It looks quite big, almost on par with my previous Bose SoundSport Free model. It's understandable because you have to carry a bunch of components optimized for audio.
The box section does not look very neat, although it is known to fit the ATH-CKR7TW, this is required.
Anyway, the feeling in the hand is not bad, quite sure.
In terms of finishing, the housing of ATH-CKR7TW is made from plastic. The bezel details are very smooth and sharp. There is nothing to blame for perfection.
ATH-CKR7TW is quite bulky but worn on the ears. The weight of each ear is about 9g, almost twice as heavy as Pamu Scroll, so when we accidentally dropped the headset, we will know right away. Just kidding, it's just like Bose SoundSport Free.
The design of a sound outlet is skewed to one side and reasonable angle plus earwing to increase ear grip. In the accessories of the company, we add 1 pair of rubber rings called 3D Loops. This small ring will help adjust ear fit better for large ears for example.
The excess is not as much as Bose SoundSport Free but it will still float 1 block on the ear.
ATH-CKR7TW is equipped with the latest Bluetooth 5.0 so I have no problem with her connection at all. No interruption or jerks when listening for long periods. Currently, most True Wireless headphones with Bluetooth 5.0 have overcome most of the drop in the first model. The optimum connection distance according to the manufacturer is less than 10m. An acceptable distance.
There is a point to note, when using the transmitter codec as Aptx, ATH-CKR7TW proved to be quite late when watching videos or playing games, the lag is about 0.2-0.3s. This should not have been the case with a high-end True Wireless, or should at least be minimized.
Designing control buttons on True Wireless headsets is still the most problematic for manufacturers. If only touch like Pamu Scroll or Apple Airpod, there will be no increase or decrease in volume. If hard buttons like Bose SoundSport Free are too difficult to manipulate. On ATH-CKR7TW, Audio Technica chooses to use a physical button. Although there are only 2 buttons on each ear, it handles all functions. With the right ear, you hold to control the power, press once to stop playing music or receive calls, press 2 times in succession to move the song. The button on the left to press once will increase the volume, pressing 2 times in succession will decrease the volume. Pressing the button is easy, not too hard, but I still prefer the touch button because it will not be pressed by the button.
The battery life of the ATH-CKR7TW is also quite impressive, 6 hours of continuous music listening. Plus a 9 hour charging case. In total we have 15 hours of use.
In addition, we also have a bundled software called Audio Technica Connect. In the application we can change a few settings related to the headset control button, select the playback codec. Unfortunately, the EQ adjustment function is not yet available in the current version, hopefully Audio Technica will bring this feature soon.
where can you get a ATH-CKR7TW online
Audio-Technica ATH-CKR7TW True Wireless In-Ear Headphones, Gray: Buy it now
A Audio-Technica Full Wireless Bluetooth Earphone ATH-CKR7TW-GY (Gray) (Japan Domestic Genuine Products): Buy it now
A Audio-Technica Full Wireless Bluetooth Earphone ATH-CKR7TW-BK(Japan Domestic Genuine Products): Buy it now
SOUND
Perhaps this is the strongest point and the company focused most on this headset.
The first time I heard the ATH-CKR7TW I felt that it sounded bright. A little stress on the upper-mid and high ranges. However, that does not mean that this headset is low in bass. The fact that the bass of ATH-CKR7TW do very well is the other side.
Bass range
Bass bands on ATH-CKR7TW show very neat, balanced and detailed. The bouncing of drum sound is good and full from sub-bass range to upper-bass range. Bass beat is not pulled much, so when listening to music with strong bass and moderate response speed. I have deephouse test, really ATH-CKR7TW did quite well with my bass range.
Mid range
The mid range is a bit thin, typical of Audio Technica. Therefore it is not suitable for people who like to listen to warm vocalists like me. ATH-CKR7TW will merge with the female voice because the sound is pressed on the upper-mid so it sounds very flyy, airy. Details are also very good. The sound of the instrument and the singer were clear and sharp. However sometimes sibilant phenomena occur in the high notes. This headset is advertised by the company as having extremely high frequencies and I have to admit this.
Treb strip
I don't think this headset has a V-Shape sound. It's more like a linear graph of low to mid range, then gradually increasing to higher range. This I've encountered in some True Wireless models before and it makes the sound sometimes becomes rough and stuffy. I'm glad to announce that the ATH-CKR7TW doesn't sound like it at all. Strip up very clear, brittle and silky. No hiss phenomenon, jarring hearing. Although this is not the type I like most, it is actually one of the best sounding headphones in the True Wireless line ever.
Stage space
The stage space that ATH-CKR7TW recreates is very deep. It's wide in width means you don't feel stuffy when the instruments and singers are too close to your head. It has depth when the position of the instrument and the singer surrounds the head rather than being pinched. This is also something that I am very impressed with the sound of ATH-CKR7TW
CONCLUDE
Audio Technica's first True Wireless headset, ATH-CKR7TW is truly a True Wireless headset with very good sound quality, worthy of its expectations and many music lovers around the world. However, to become more perfect, the ATH-CKR7TW still has a lot of improvement in the design stage. In summary, It have the following advantages and disadvantages:
Advantages:
Sounds superior to most current True Wireless headset models
The world's first True Wireless headset with removable DAC / AMP
Stable connection
Support multiple Bluetooth codecs
Good finishing
Long battery life
Disadvantages:
Not waterproof
Pretty big and bulky
Delayed when watching videos or playing games
The bundled software is not yet useful
---
amazon ath-ckr7tw reviews on newest prices of deals best buying a lastest what is at where to buy can i you get online purchase sale off discount cheapest for products tutorial specification features test series service manual instructions accessories review reddit release date audio technica singapore spec price vs
sennheiser momentum
true wireless ath-sport7tw
bose soundsport free
in-ear headphones uk firmware update mw07 e8 youtube 2ch 5ch audio-technica bk レビュー gy sound reality オープン価格 ath-cks5tw 比較 イヤホン イヤーピース iphone イコライザー ipx eイヤホン オーディオテクニカ ワイヤレスイヤホン 評価 フルワイヤレスイヤホン グレー ath-ckr7tw-gy 値段 完全ワイヤレス bluetoothイヤホン(ブラック)audio-technica ath-ckr7tw-bk オーテク 価格 買取 片耳 感想 bic camera 上市 左 聞こえない ケース コンプライ コーデック comply com 購買 試聴 初期化 仕様 スポーツ 説明書 接続 接続できない 接続方法 操作方法 外音 操作 装着感 装着 台灣 台湾 充电时间 遅延 中古 通話 使い方 付け方 つながらない 通话 鐵三角 点滅 オーディオテクニカ(audio-technica) 取扱説明書 取説 日本 日本知名品牌鐵三角 日本知名品牌铁三角 ノイズキャンセリング 延遲 発売日 ハイレゾ 評判 ヒアスルー 評價 付属品 紛失 head fi 香港 マニュアル マルチポイント マイク マルチペアリング 真無線耳機 真无线耳机 铁三角 メルカリ ヨドバシ リセット nfmi バッテリー アップデート アプリ jp aptx aac 音切れ 音ズレ 音質 故障 低音 評測 ファームウェア