amazon Audio-Technica ATH-S200BT reviews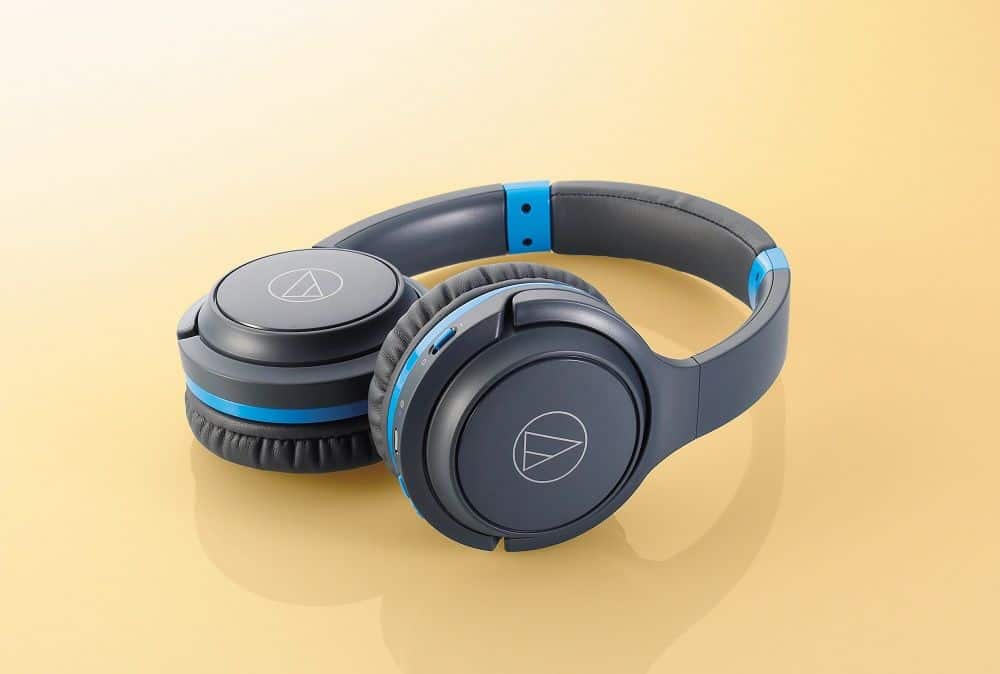 Audio-Technica is an audio brand from Japan and was founded in 1962 in Tokyo. The company specializes in researching and manufacturing audio devices such as high-end microphones, Kim reading platters, speakers and similar devices. Audio-Technica has well-known products that make waves in the market such as studio monitor audio line Audio-Technica ATH-M20x, ATH-M30x, ATH-M40x, ATH-M50, ATH-M50x, headphones for audiophile like ATH- MSR7, ATH-SR5BTBK, ATH-DSR7, ATH-AD700 open back…
Audio-Technica bluetooth headset ATH-S200BT is the new headset model launched by this Japanese audio company. Audio-Technica ATH-S200BT is designed and refined in Japan and manufactured in Vietnam. ATH-S200BT is aimed at the common, dynamic users who need wireless with great battery power, cheap price and good sound quality with Audio Techinca. With prices below $100, Audio-Technica ATH-S200BT will be a new option worth considering.
Boxed Audio-Technica ATH-S200BT
Like other Audio-Technica headphones, the Audio-Technica ATH-S200BT headphones have the package not too fussy, simply with the usual way of opening the box. The front is a true print of the headset along with some outstanding features.
The back has a couple of recommendations for superior functionality compared to other competitors Audio-Technica ATH-S200BT headphones. Inside the box is the headset, charger and HDSD version.
Design by Audio-Technica ATH-S200BT
Audio-Technica ATH-S200BT is in the form of on-ear headphones, small and compact. With slender and balanced design, Audio-Technica ATH-S200BT aims to be as simple and easy to use as the headphones on the market today. Compared to other earphones, audio companies are all about beauty, neatness and use more expensive-feeling materials on the headphones, not Audio-Technica ATH-S200BT. With the plastic earcup casing held up very sturdy, with a touch of feeling like expensive Japanese Gundam toys plastic shows the quality of the product.
The left earcup Audio-Technica ATH-S200BT has a battery charge, 4 hard keys to control music, volume and is separate from the source rather, this headset does not have a line-in jack to support wired music.
The earcup fixed part is made of sturdy plastic and can move earcup 2-way, without restricting users too much when wearing. The L and R logos to distinguish left and right are clearly seen in the earpiece, convenient for holding and wearing.
The frame of Audio-Technica ATH-S200BT is made of very flexible and rigid leather-covered plastic, pressed firmly into the user's ear to make sound better.
The cushion of the headset is made of good leather, but it will also be easy to peel off if the user does not hold the headset carefully. Audio-Technica ATH-S200BT ear cushions smooth wearing, good soundproof but not too deep, will create quite painful feeling for beginners to play on-ear headphones.
Overall, Audio-Technica ATH-S200BT is no different from quite similar to the on-ear models of Sony released this year, a little different from a slightly larger design, looking youthful, tall level and both are really well balanced in design big earcup but no tone with frame, look very seasoned. In return with the amount of battery TERRORISM up to 40 hours of continuous listening, eating off many Bluetooth headset models on the market.
The sound quality of Audio-Technica ATH-S200BT is for those who like music
With the new 40mm driver of Audio-Technica, Audio-Technica ATH-S200BT will promise to users a new full of bass for those who love bass but not different from previous products of the audio company from Japan.
This Audio-Technica ATH-S200BT headset is aimed at general users with strong bass accent, suitable for many people. The bass range has a listening depth, along with a lot of force will easily shake the contemporary music. If compared with the Audio-Technica ATH-S200BT headset with Sony's recently released Sony WH-CH400, it is definitely better to see the force and depth of the bass range on the S200BT significantly better.
Interesting point here when the mid range is refinished Audio-Techinica sounds quite good for a Bluetooth headset for just under $100. Mid is natural and full of music, very suitable for contemporary songs that have electronic melody ranges that sound strange and funny, and have little attention to the attack of good Vocal.
Overall the mid range is performed very nicely for general listeners, along with quite strong bass range will make songs with instrumental tendencies as well as contemporary music become more energetic and youthful.
Just like the footsteps of other seniors, Audio-Technica ATH-S200BT brings a crisp treb sequence to the audience, making listeners surprised with this unique sound quality. It makes the tracks have depth and meticulous separation on every sound detail.
The feeling of listening with Audio-Technica ATH-S200BT headphones as soon as the listener puts on that ear is the easy-listening treb range above, along with the bass force strong enough and deep enough to clearly see the superior sound quality in such a way that Main Japanese engineers refine.
Soundstage that Audio-Technica ATH-S200BT headphones bring to life. With a deep, light resonance and very good separation, showing each position of the instrument played very vividly and accurately, the Audio-Technica ATH-S200BT headphones will create a sense of listeners like being taken to a the tea room, and witness the great performances of the singers.
Advantages
+ Young sound quality, V-Shape
+ The soundstage reproduces very accurately
+ Great battery capacity 40 hours of continuous listening, with automatic shutdown
+ Accessories with high quality
Defect
+ For some unfamiliar people, ear pain will occur
+ Missing Line IN
where can you get a Audio-Technica ATH-S200BT online
Audio-Technica ATH-S200BTGBL Bluetooth Wireless On-Ear Headphones with Built-In Mic & Controls, Gray/Blue: Buy it now
Audio-Technica ATH-S200BT Bluetooth Wireless On-Ear Headphones (Black) with Portable Charger + Cleaning Kit: Buy it now
Audio-Technica ATH-S200BT Bluetooth Wireless On-Ear Headphones (Gray/Blue) with Portable Charger + Cleaning Kit: Buy it now
Audio-Technica ATH-S200BT Bluetooth Wireless On-Ear Headphones (White) with Portable Charger + Cleaning Kit: Buy it now
Audio-Technica ATH-S200BT Bluetooth Wireless On-Ear Headphones (White) with Headphone Hanger + Portable Charger + Kit: Buy it now
audio-technica Bluetooth Wireless Headphone ATH-S200BT-WH (WHITE)【Japan Domestic genuine products】: Buy it now
---
audio-technica ath-s200bt
iphone オーディオテクニカ bluetooth対応ワイヤレスヘッドホン(ブラック)audio-technica bk bluetooth対応ワイヤレスヘッドホン(ブラックレッド)audio-technica brd bluetooth対応ワイヤレスヘッドホン(ホワイト)audio-technica wh bluetooth対応ワイヤレスヘッドホン(グレーブルー)audio-technica gbl 評価 ath-s200bt-wh(ホワイト)【bluetoothワイヤレスヘッドホン】 マイク レビュー review