amazon COMBO MSI VIGOR GK60 AND CLUTCH GM50 reviews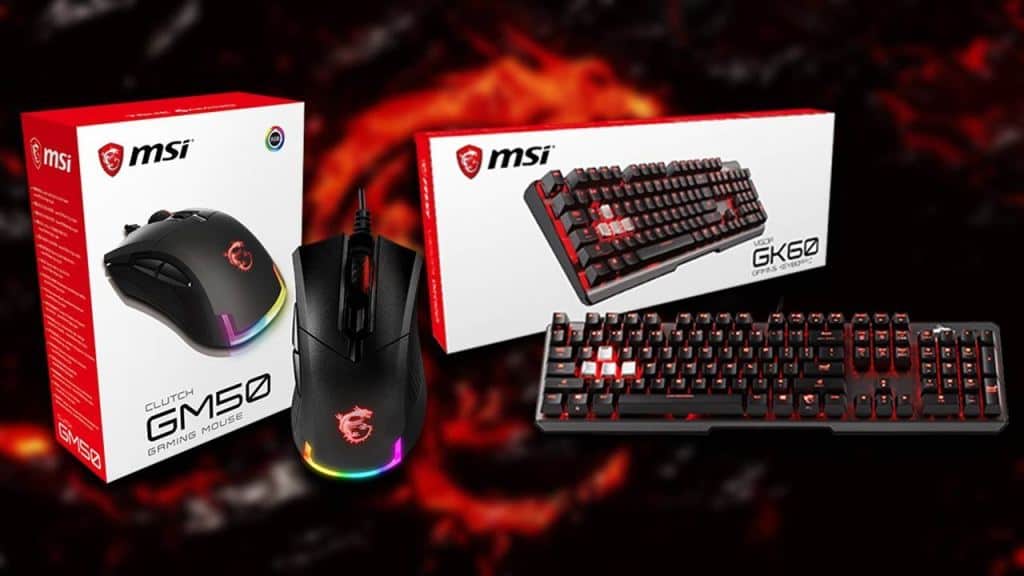 Design: strong but no less subtle
The first impression of the boxes of the two products is that they both bring the delicate red-white tone that is familiar to MSI. While the front is a large-sized render of the product inside the box, the back and sides of the product box are the main information. Vigor GK60 has only one version using Cherry MX Red switch.
Inside the box are the usual accessories. While the GM50 Clutch mouse only has a user manual, comes with Vigor GK60 is an extra WASD keycap set to replace the built-in metal keycap cluster when there is no need for gaming and an O-ring keycap gripper. It would be better if MSI equips the whisk keycap, because using the o-ring will scratch the two sides of the keycap, maybe this is a way for MSI to save some cost.
Overall, the Vigor GK60 and Clutch GM50 carry on their design exactly what you would expect in a gaming gear product: Strong and gamers-like.
Vigor GK60 mechanical keyboard
Vigor GK60 is designed according to the standard ANSI 104 key layout, without separate media keys so the size is neat, does not take up too much space on the table. The weight of 1.05 kg can be a bit difficult to carry around, partly because the keyboard is made of aluminum but in return, this keyboard is firmly on the table, not moved. when manipulating.
The surface of the keys is silver, made from brushed aluminum with good finishing, eye-catching and at the same time effective against fingerprints. The owner of Corsair's K70 Mk.2 Low Profile keyboard also has a brushed aluminum surface but black color is easy to grip fingerprints and sweat, so this is the point where MSI did better than expected.
The top right corner of the keyboard is a cluster of three LED lights that indicate Numlock, Capslock and Windows Lock, and the MSI dragon logo seems to be painted, so it will be difficult to avoid peeling or discoloration in the long run.
Vigor GK60's keycap is made from popular ABS plastic, not PBT, so it will stick to sweat and be shiny when used after a long time. The characters are engraved by laser rather than double-shot so the font face will be eroded, leading to the phenomenon of flying letters. If possible, you should replace the default keycap of Vigor GK60. With the keyboard using a Cherry MX Red switch, finding a replacement keycap will not be too difficult.
Vigor GK60's font is designed in a gaming style, sturdy and a bit colorful but a bit small than usual. I personally do not need to see the typeface when using it, but if the font size is a bit bigger, it will probably be easier to look and more beautiful because the LED light penetrates more.
Profile keycap (key height) of the keyboard is called OEM profile, very popular so users can get acquainted easily. The keycap is designed to be floating to enhance the gaming definition, but in exchange for dirt will be easier to get into and the LED light will spill out the keycap, some people will like, some people won't.
There is no separate media key, but Vigor GK60 still supports media control via the Fn key. You can play, pause, rewind, increase or decrease the volume, … and change the LED mode without the need for software.
Flip down below, there are two points that we need to pay attention that MSI has intentionally designed the middle slot to be cut out so that users can wire other components such as mice, headsets more neatly and 5 large rubber soles with 1 dedicated space pad, what MSI calls "Gaming Base". However, the fact is Gaming Base is basically just one more fulcrum for the keyboard to be more solid to use.
The connection cord of Vigor GK60 is a seamless one, and it is not only "thinner" than usual, MSI also does not wrap even though this part is for durability, so users should be careful not to break the cord implicit. The anti-jamming unit – which is common on low-cost keyboards – also doesn't appear, but in return, the gold-plated USB connector, will not rust from oxidation over time.
Clutch GM50 Mouse
In terms of form design, Clutch GM50 has an ergonomic design. This design makes the process more comfortable to use, but it is only for right-handed people.
Overall, the GM50 Clutch looks good on the eyes with moderate elongation, not too "Large" but still retaining gamers' quality. The size (length, width, height) of the mouse is respectively 120x67x42mm, fits, not too big nor too small, while weighing 87g (excluding cables) can also be considered moderate.
The surface of the mouse body is made of plastic, matte and anti-fingerprint. Besides the indispensable dragon logo, Clutch GM50 has a U-shaped LED strip that looks quite unique. The finishing quality of Clutch GM50 is commensurate with the price range, when the seams are tightened, not creaking when held.
The two sides of the mouse are attached with two pieces of rough rubber, which helps increase slip resistance when hands are wet. Based on these two rubber pads, the Clutch GM50 will be suitable for users who hold a mouse in a palm-grip style. Above the rubber pad are two macro keys, the default is forward / back, but you can assign other functions to it through the software.
The mouse wheel scroll wheel comes with an LED strip, and like the dragon logo and the U-shaped strip of lights, you can customize their colors through the software. Underneath the wheel is a single DPI-changing button, which can be combined with other keys to change the brightness modes of the LED lights instantly. I personally prefer having two DPI buttons like the Durgod V95s, so users can actively change depending on their game. Another inconvenience is that this DPI button has no notification LED, so we will not be able to know what the current DPI level is.
Clutch GM50 connection cord is almost "twins" with the Vigor GK60 keyboard, when it has the same length and is not covered with a protective fabric, is also gold plated USB connector pins.
Below, two large GM50 Clutch feet, MSI sacrifices part of the dragon logo to make room for those mouse feet.
Hardware, good experience in the price range
Vigor GK60 keyboard has only one version using Cherry MX Red switch from the famous manufacturer from Germany Cherry with a lifespan of up to 50 million clicks. Perhaps it would be better if MSI equipped at least three basic types of switches: Red, Blue and Brown for users to choose, but ultimately, this keyboard is still aimed at gamers, and Red switch is still The best option with short key travel, convenient for quick operation.
Regarding the typing feeling of Vigor GK60, there is nothing to complain or blame. Smooth key travel, even pressure between keys, low typing noise are the characteristics of Cherry MX Red. Spacers use the Cherry Stabilizer (the keyboard stabilizer bar) to make removing /setting these keys easier, but in return the typing feeling will be a bit "soft". Gaming Base does offer space bar support, but it doesn't improve the typing experience.
Meanwhile, the GM50 Clutch mouse uses a switch from the famous Omron company with a life expectancy of up to 20 million clicks, but the reading eye is the PMW-3330 less well known in the market. With a maximum DPI of 7200, Clutch GM50 is still enough to "weigh" all sorts of different resolutions at the present time, and the product also has many custom DPI stretching from 400, 800, 1600, 3200, 6400 and 7200.
The feeling clicking is comfortable and accurate when trying with a few games of League of Legends and Counter Strike: Global Offensive, but only the sound when the click is a little big, enough to annoy people around quiet office environment, but this is not a big problem for gamers.
Beautiful LED light, customizable software enough
To further refine the features, MSI has its own software called Gaming Center, and it supports both Vigor GK60 and Clutch GM50 products. Simple software interface with mainstream black and red tones, high visualization. If you have multiple MSI gaming hardware products, you can also sync your LED lights through Mystic Light software.
While the Vigor GK60 keyboard only has options related to LED mode, the Clutch GM50 mouse can be further customized with 3 profiles, allowing you to tweak many things from LED mode, brightness, DPI until replace of key function, assign macros.
Both products have good, bright LED lighting in a dark room. While the Vigor GK60 keyboard has only red LED, the Clutch GM50 mouse supports RGB, but the color options are not much. Personally, I don't really care about the number of LED or RGB modes, as long as it's bright enough to work or play games at night.
where can you get a COMBO MSI VIGOR GK60 AND CLUTCH GM50 online
MSI Cherry MX Red Dedicated Hotkeys USB Pass-Through Mechanical Gaming Keyboard (Vigor GK60): Buy it now
MSI CLUTCHGM50 Gaming USB RGB Adjustable up to 7200 DPI 1ms 6 Buttons Desktop Laptop Gaming Grade Optical Mouse (Clutch GM50): Buy it now