amazon XIAOMI MI 9T reviews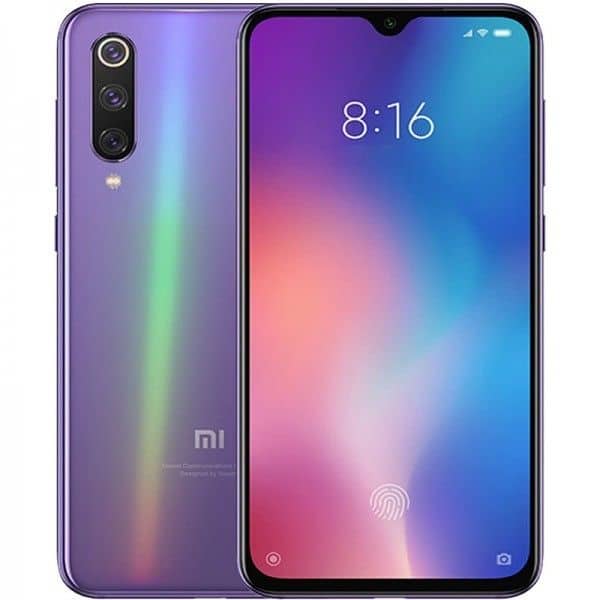 The Mi 9T is designed based on the Mi 9 version with a metal frame, glass back and similar design. The difference of this product is that the front camera is hidden in the chassis, no longer takes up the area on the screen. The entire front of the phone is now flat screen, no rabbit ears, no water droplets or moles, holes.
Mi 9T has 3 edges (top and 2 sides) very thin, only the lower chin is a bit thick but still at a good level considering the price of the product. The display ratio (screen area / front) of the screen reaches 86%, higher than the Samsung Galaxy S9 / Samsung Galaxy S9 Plus and only slightly inferior to the Samsung Galaxy S10. The speakerphone is very thin, located in the middle of the upper border and screen, must be careful to see.
Similar to Mi 9, junior Mi 9T continues to be equipped with an in-screen fingerprint sensor. However, recognition speed and accuracy have improved markedly. This is not too surprising considering the advancements in in-screen fingerprint sensors on recent smartphones. Specifically, the new mid-range smartphones launched not long ago like Vivo S1 or Oppo Reno have in-screen fingerprint sensors with fast recognition speed, not as annoying as before although still not comparable with traditional fingerprints.
The camera auto-retract cluster on Mi 9T works smoothly and quickly. Similar to Oppo devices, Xiaomi has taken into account the situation of dropping the phone when using the front camera, then the protruding camera cluster will automatically retract. New to Xiaomi is the retractable camera cluster with LED strips that attract attention.
The body of Mi 9T is similar to Mi 9: the back is curved, hugging but quite slippery and easy to grip fingerprints, a familiar characteristic of glass. The back is treated glossy, uniform color with the frame. In the black version, the back has a beautiful stripe pattern. It also has two more colors, blue and red, which are treated with fire and aura-like gradients, which look like gaming phones, suitable for young users. On the black version, Xiaomi also included a few details to create a highlight for the design, such as adding red to the edge of the board on a rear camera and power button.
Looking at the details, the finishing on the body of the Mi 9T can be assessed as good: the back of the glass and the metal frame fit tightly together, there are no gaps. On the sides, the machine is full of familiar ports and buttons, including: USB Type C supports fast charging, 3.5mm audio jack, dual SIM slot, power and volume keys. The unfortunate absence of this product is that there is no external memory card slot, a factor that young users need to expand the storage of photos, movies and games.
Overall, Mi 9T is a product with good design compared to the price range. This is reflected in the material, perfection and care of Xiaomi for design. Comes with a fast 18W charger and a slim plastic case that fits tightly into the body, a rough surface for a comfortable grip.
Super AMOLED screen is bright, looks good in the sun, big speaker.
The Mi 9T's screen has the same specifications as the Mi Mix 3, including a 6.39-inch Super AMOLED panel, Full-HD + resolution, a pixel density of 403 PPI and HDR support. Perhaps the two machines share a panel.
In practical use, the screen of Mi 9T fully displays the characteristics of AMOLED panels: bright colors, deep blacks, high contrast and wide viewing angles. Outdoor use is also good, not glare. This shows the maximum brightness of the high screen. In particular, the screen of Mi 9T supports watching HDR videos with images more vivid and vibrant than conventional videos.
However, you should also know that the display quality of this phone is still a gap when compared to the top products using Samsung and Apple Super AMOLED panels. When placed side by side, the Super AMOLED screens on Galaxy S10, Note 9, or Apple iPhone XS Max phones look brilliant, clearer and more prominent.
Like Samsung, Xiaomi also introduces different color and contrast modes. The default mode displays the bright colors typical of AMOLED panels, while the standard mode simulates the sRGB color band with more accurate color but looks more pale and warmer.
In terms of sound, the Mi 9T has only one speakerphone located on the bottom edge, do not use the extra speaker as a dual speaker like some other smartphones. The loudspeaker of the device is quite large, on par with the Oppo Find X that the writer is using but when increasing the volume to the maximum, it is a bit glaring and distorted. The speaker is small, but still loud volume, offering a pleasant listening experience.
Fast performance, good "handle" heavy games
Compared to Xiaomi Mi 9, performance is the only point Mi 9T cuts to match its mid-range price. The device is not equipped with the high-end Snapdragon 845/855 chip series but switched to Snapdragon 730. However, this chip is still enough to bring a good experience on Mi 9T.
On performance measurement applications, the Mi 9T is not inferior to any smartphone in the same price range. In particular, the performance score of the device far exceeds that of a competitor from Samsung Galaxy A70.
In fact, Mi 9T handles daily tasks very smoothly, not least compared to high-end machines. In terms of gaming, this phone "handle" comfortably most games on Android today in the highest graphics mode. We used GameBench to measure the smoothness of Mi 9T on some familiar games like Dead Triggers 2 and PUBG Mobile.
As a result, Mi 9T played smoothly with high and stable frame rates in Dead Triggers 2. Only PUBG Mobile games need to reduce the graphics mode to achieve a frame rate of 40 fps, the maximum level of this game when playing on mobile devices.
Regarding software, Mi 9T currently runs MIUI 10 based on Android 9 like the Xiaomi smartphones launched in 2019. This is a very familiar software package for Xiaomi fans with a lot of unique features of the manufacturer enter as 2nd space to hold private data; dual applications to run in parallel 2 accounts Facebook, Messenger or Zalo; App lock needs password protection, fingerprint …
where can you get a XIAOMI MI 9T online
Xiaomi Mi 9T (64GB, 6GB RAM) 6.39″ AMOLED FHD + Full Screen Display, 48MP Triple Camera, Global 4G LTE Dual SIM GSM Factory Unlocked – International Version, No Warranty (Carbon Black): Buy it now
Xiaomi Mi 9T (128GB, 6GB RAM) 6.39″ AMOLED FHD + Full Screen Display, 48MP Triple Camera, Global 4G LTE Dual SIM GSM Factory Unlocked (Carbon Black): Buy it now
Xiaomi Mi 9T Factory Unlocked Global 4G LTE Dual SIM GSM, Full Screen Display, 6.39″ AMOLED FHD, 48MP Triple Camera, (128GB, 6GB RAM) (Glacier Blue): Buy it now
The battery sufficient for comfortable use all day with high intensity
Mi 9T uses a 4,000 mAh battery that supports 18W fast charging via USB Type C. In the familiar battery tests of BiaReview, the device has good results with all 3 activities of gaming, watching movies and surfing the web. With this result, users can be assured of the battery of Mi 9T, enough to use comfortably all day with high intensity.
In terms of charging time, the included quick charger takes about 1 hour 40 minutes to fully charge the device, of which the first 30 minutes charge about 43% battery and 1 hour charge 94%.
Camera for good image quality, natural colors, low light still need further improvement.
Mi 9T has 3 rear cameras and a 20MP front camera. Cluster 3 rear cameras including 48MP main camera using Sony IMX582 sensor, f / 1.8 aperture, 1/2 inch sensor size, 0.8 ,m pixel, phase focus, no optical stabilization. Next is an 8MP telephoto cam to take 2X zoom photos and remove the background, finally a 13MP ultra-wide-angle camera that is so prevalent today.
The IMX582 sensor on the main camera has the same imaging parameters as the IMX586 sensor used on mid-range and high-end smartphones like Oppo Reno and Redmi Note 7 Pro. The only difference between the IMX582 and IMX586 sensors is the ability to record movies. IMX582 can only record 4K movies at 30 fps, while IMX586 can record more smooth 4K 60 fps videos.
Camera application has a familiar interface. You can switch between 3 cameras (normal angle, wide angle and 2X zoom) through the switch, modes (normal photography, 48MP photos, portraits, night, panoramic, experts, videos .. .) and features like AI, HDR, flash on and off … right on the capture screen. Unfortunately, Xiaomi still does not allow the use of zoom to switch between 3 cameras and the experience of switching between cameras is not very smooth.
In normal shooting mode, Mi 9T has a very fast shutter speed and image processing, except Night mode that takes a few seconds to combine multiple photos into one. In terms of quality, the overall plus point of this phone is its natural color, which feels very close to what the naked eye sees. AI and HDR modes often push colors a bit more brightly than they actually are, but still at a moderate level, don't be overly aggressive in most situations. When the shot is bright enough, the image is detailed and the range is quite wide.
Like other 48MP cameras, Mi 9T only takes 12MP photos in normal mode but can choose to shoot 48MP if desired. However, the detail between 12MP and 48MP photos is almost no difference. The most obvious difference is that 48MP photos will be larger and take longer shots. Moreover, the 48MP shooting mode still doesn't support HDR and AI.
When there is no light, the photo retains quite natural colors but the water is no longer sharp, noisy and evident. Night mode taken by combining multiple photos significantly improves detail and balance for the photo. However, this mode handles images for quite a long time, up to 3-4 seconds depending on brightness and is only suitable for photos of subjects that are not moving.
With the background erasing mode, Mi 9T uses an 8MP telephoto camera in combination with a 48MP main camera to aid in collecting depth information. Photos remove natural looking backgrounds, subject and background parts are handled smoothly, especially with photos of subjects with a great distance from the background. When capturing fonts, Xiaomi also allows users to adjust the level of font removal as well as effects before and after shooting.
Photos taken from wide-angle lenses have noticeably lower detail than the main camera but the colors remain natural. Like other mid-range smartphones with wide-angle cameras, Xiaomi also defaults to automatic image distortion. Users can turn off distortion correction in the settings, but at this time the corners of the image will be blurred, though the wide-angle effect will be more pronounced.
Mi 9T's 20MP front camera shows off the ability to capture images can also be said as impressive. Photos are detailed, sharp and eye-catching colors. The bright range of the image is limited, but this is not a problem for selfies, prioritizing the subject in the foreground. Besides, the front camera supports HDR to help improve the brightness range of the image. It also supports taking selfies to remove the background and effectively separating the subject with a good background, the border is less smudged even without an auxiliary camera to measure the depth.
Summary
Mi 9T impresses all the basic elements of design, screen, performance, camera, and battery life. This phone does not have the minus points that are too much to worry about, except for some small details such as no memory card slot, the back is slippery if not using case and low light shooting needs more improvement.
Devices of the same price range like the Galaxy A70 or Oppo F11 Pro do not have the comprehensive as Mi 9T. So for the time being, this is our recommended phone if you're looking for a quality mid-range smartphone.
---
amazon xiaomi mi 9t reviews on newest prices of deals best buying a lastest what is at where to buy can i you get online purchase sale off discount cheapest for products tutorial specification features test series service manual instructions accessories avis pro android 10 aliexpress auto andrea galeazzi allegro 128gb boulanger belsimpel bateria bon plan bestcena case bumper coque comprar celular caracteristicas cover características cdiscount darty das donde doto dimensioni dimensiones dt danh gia etui epey en ucuz el corte ingles ecran 128 gb ebay euronics funda fiche technique fnac ficha tecnica fundas para foro fotos tomadas con giá gcam gearbest galaxy a50 vs geizhals gsm arena s10 harga huawei y9 prime p30 lite hp di indonesia hdblog hoesje iphone 11 idealo 8 plus 7 istanbul bilişim infrarrojos waterproof jual jumia janmitra screen protector jarir обзор jeftinije jbhifi hr kimovil kapan rilis kelebihan dan kekurangan masuk kính cường lực kuantokusta kamera kryt les numériques linio le lineage os lanzamiento lineageos lg g7 liverpool media markt mediaworld mercado libre mgsm motorola one vision mua miglior prezzo livre nuevo novo n11 nova 5t notice notebookcheck nillkin nfc note 9 opiniones oferta offerte oppo reno oneplus 7t 2 ouedkniss precio prix play preço pccomponentes maroc que tal es quick charge price in qatar qiymeti qi charging gama recensione recenze recenzja reddit recenzia root smartphone spesifikasi spek scheda sahibinden saturn samsung a70 telephone trucos teknosa telefon telcel trovaprezzi topes de turkcell tweakers unterschied und unieuro unboxing ultimo unlock bootloader ulasan vatan verre trempé vidrio templado bilgisayar vodafone valor vivo v17 vetro temperato valori sar walmart philippines worten will work canada wallpapers xataka mi9t xda cc9 và k20 redmi a3 se yugatech youtube yoigo 2019 yorumlar kullanıcı yorumları zte axon zoom zdjęcia zwane zenfone 6 zastitno staklo za zap p smart z đánh điện thoại đt tinhte camera 6/128gb flame red meizu 16th mate chargeur 27w honor 20 view realme x 3mk flexible glass 360 full protection magnetic 39 zoll jack 3 5 32gb 3t google pixel 3a 4pda 4g+ dual chip 64gb 4g phablet bandas 6/64gb 5g destekliyor mu kaufen tiene 5mm 512gb support 64 6gb/128gb 6gb/64gb asus 75hz snapdragon 730 karşılaştırma ou 855+ 855 8gb czy сравнение и algerie specs and brasil black shark bangladesh chile com cijena colombia ceneo technische daten deutschland del datenblatt değeri eu españa egypt ekşi france forum fiyat global go handy hepsiburada hülle lazada cũ review cellphones отзывы audio jumbo kılıf kaina ekran koruyucu xiaomi's latest mobile launch the sri lanka lesnumeriques mix nigeria odr opinie olx phone pocophone peru f1 quality sound 6gb (k20) (k20 pro) store smartgsm skroutz teszt uk uae usa version wireless wert wasserdicht weiß ricarica xs yorum yandex market türkiye satışı ne zaman zdjecia çıkacak zubehör zwart rom warehouse (xiaomi garantili) 256gb 256 8/256 8go/256go capa globale gsmarena compare nokia 8gb+256gb 8x 1 azul bleu blanco carbon casas bahia cena ecuador especificações kırmızı 2s t m9t mexico niebieski orange india купить recenzija rojo release date oder antutu bị lỗi blue benchmark battery life banggood drain chính hãng có chống nước không sạc dây tốt hỗ trợ thẻ nhớ chơi game clickbuy didongthongminh dxomark disassembly sim ds emag europe eesti eis fpt fptshop face fortnite rẻ glacier hoanghamobile headphone hard reset hdr heureka ireland issues ip rating infrared pakistan installment inceleme jordan jb jerry rig everything kopen kogan kenya led notification event lte modrá mobilecity màu trắng miui malaysia mediamarkt nz nabava netflix noon night mode near me not working official or ois 4 qualcomm quickmobile qc ra mắt sosanhgia shopee sd card slot singapore tgdd tiki thông số trả góp 0 themes twrp theme update user ufs viettel vatvo f11 wallpaper white weight whatmobile wiki wifi calling xách tay yaoota y zoomer zoomit a8 2018 api máy xanh w polsce kiedy premiera sklepach plusie 299 299€ 2b euro 3d inch 4k 60fps bands 8/256gb 84hz 960fps