amazon Durgod Taurus K320 reviews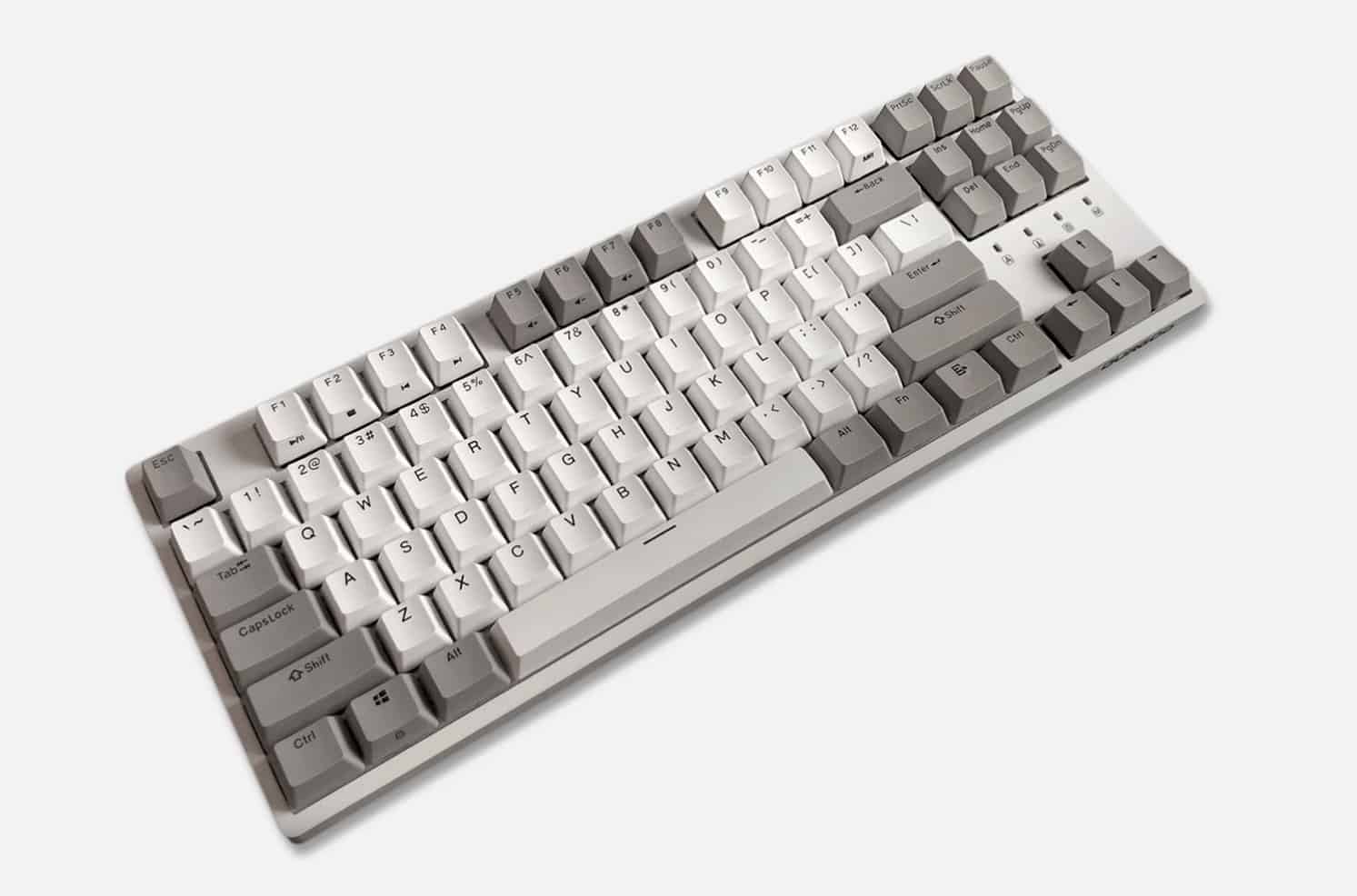 First impressions
In the period when everything on a PC case, or a laptop, more or less must have colorful RGB Leds, many eye-catching effects, etc., the products have a simpler design, saying no to Led is still With a large number of customers, with mechanical keyboard products alone, what they are looking for is perfection, keycap quality, giving a good typing feeling.
Some brands that have chosen this development direction can be mentioned as Leopold and Filco, but the products are not for the majority due to the high cost. In the lower price range, we have iKBC, and now Durgod with the Taurus K320 product.
The box looks simple but quite beautiful, thanks to the combination of blue and black tones, creating a sense of certainty. On the box, there is no picture of the keyboard, but only some information about the product. Opening the box, I found that the keyboard was "covered" quite well, in addition to a piece of plastic to cover dust, there was also a thin bag.
In the box outside the keyboard, we have quite a lot of necessary and modern accessories: such as a 2-headed USB type C cable, and then 1 more cable 1 USB type C and 1 USB type A, 2 wires. The cable is not covered with umbrellas and the USB head is not gold-plated. In addition, there is a key puller "egg beater", a wire to wrap the cable, and a Durgod logo sticker for decoration.
I appreciate that Durgod equips a 2-headed USB type C cable, which is very convenient for new devices, for example, the new Macbook Pro with all Type C ports, more surprisingly, I can also use it to type on My Android phone: Samsung Galaxy Note 8.
Back to our main character: Durgod Taurus K320, is a compact TKL keyboard, but still has full function keys for users, using ANSI (or US) layout with profile ( key height) familiar OEM. This keyboard gives me a lot of sympathies, the first is the beauty through its keycap color scheme: using black and gray tones, combined with quite prominent white letters.
One more point to note is that the "egg beater" with the Hardcap logo, is a subsidiary of Ducky, and the keycap on the Taurus K320 keyboard is a product of this Hardcap brand.
The keycap I see is quite beveled, and slightly rough, creates a good grip on the fingertips, and uses PBT plastic material (which is the hardest and most durable material today to use in keycaps) with a thick Doubleshot technique, so the quality of the keys is very good, the key surface is not shiny even though my hands are easy to sweat. Try typing to hear the typical chisel and "pop" sound. The text on the keys is sharp and easy to see, and the font is quite beautiful, consistent with the general, and simple but still impressive.
The main design uses a lot of beveled edges, and beveled lines, especially the sides and bottom below the keyboard. The bottom of the Taurus K320, in addition to 5 rubber feet, also has 2 more joints to raise the keyboard height with 2 steps, on each step, there is also a rubber base to increase grip. Besides us, there is also a wire slot and a cable hole. The bottom of the keyboard looks quite modern, but in my opinion, it is a bit cumbersome, with a few redundant details.
The keyboard frame is made of plastic, but the finish feels like metal, sturdy, and firm in the hand. The edges are well-machined, and the textured frame surface greatly reduces the possibility of sweat and fingerprints. In the middle of the frame and the key, there is a small gap, for some fastidious people, this will be a minus point because when viewed from the side, it feels not seamless, and of course, dirt is easier to get in…
Overall, the overall Durgod Taurus K320 is a product of a gaming gear company, but it feels more authentic, if gamers are used to looking at or using the mechanical keyboard models of Corsair or Razer, You may not like this minimalist design very much! In return is the solid structure, no flex phenomenon, the relative weight of the keyboard (0.9kg), and the detachable cable, so it is easy to carry around, the keycap color combination also feels a bit gaming-oriented, comes with 2 cables that can be used on many different devices.
Dive into the details and experience
Durgod uses Cherry's switch for all its mechanical keyboard products, and the Taurus K320 model that I used in this article has a Blue switch, with familiar parameters: durability of 50 million clicks, tactile and clicky sound, pressing force of 50g, etc. Combined with the PBT keycap on the keyboard, the sound when typing is quite loud and resonant, with the right clicky quality.
In addition, according to information from the manufacturer, the switches are lubed (oiled) ready to feel smoother and smoother typing. Although the difference is difficult to describe and feel unless you have 2-3 other mechanical keyboard models next to you to experience. Or when you use this keyboard for a certain period.
The switch is still according to Cherry's "traditional" reverse soldering, and I think the circuit board can also make more Led, you can research this issue more if you still like RGB Led.
A stabilizer is still a Cherry stab like other mid-range keyboard models and is also lubed, ensuring a smooth typing feeling for long keys. What about reality? When I press the Space bar key, I feel a lot heavier, pressing at the 2 ends is heavy, when I take it off, I see something quite strange, that is Durgod uses an additional switch, Cherry Green (with a weight close to 80g) instead of Blue (45-50g) for the Space button alone. This is the first mechanical keyboard that I have ever used and evaluated with this special point.
Some of you will like or dislike this detail, because each person's perception is different, in actual use, I need to use the joint to raise the keyboard height, partly because the keyboard frame is lower than the key sequence, not yet. Even if some of you still use a removable armrest, if you don't use the advanced joint, typing will be a bit tight, and using it for a long time will hurt your fingers. The feeling of filtering is also relatively, but not too uncomfortable, mainly when pressing the 2 ends of the key edge. I also don't know if other switch versions (Black, Red, Brown, Silver) have the difference in the Space bar button like the Blue switch version I'm using?!
In an office or public environment, the noise level of the keys with the Blue switch is enough to make people around them uncomfortable, this is a point that you need to consider. Although somewhat noisy, in my opinion, Cherry MX Blue is a good switch for those who are just learning to play mechanical keys, so that they can feel the clear difference between mechanical keys and traditional rubber keys.
As mentioned above, the keycap material of Taurus K320 is PBT plastic, with Doubleshot and the usual OEM profile. This gives an extremely comfortable and solid typing feeling, both when typing or playing games, I like the typing feeling that the Durgod model brings more than some models of iKBC, Vortex, or Razer, and.. same price range.
Switch up and down smoothly and evenly, Stabilizer is a bit heavy, but when hitting the bottom, it feels quite good! The keyboard frame is solid, so when typing strongly or when playing games using multi-key combos, there are no shaking, or stuck keys. Experience can be said to be "worth the money"!
Although there is no RGB keyboard background Led, Taurus 320 still has support software included so that users can customize some functions, and set macros, called Durgod Zeus Engine. The key programming feature is not necessarily too necessary for ordinary users, but it is better than nothing.
The software used is temporary, not stable, has few functions, and no shortcuts to quickly switch back and forth between created profiles.
Conclusion
What a surprise! I have to say that when I experience using the Durgod Taurus K320 keyboard model. It can be seen that, although it is a relatively new brand, Durgod has invested a lot in its products, enough to confidently compete with other familiar and long-standing brands in the market. The strategy focuses on typing experience, good finishing, and simple but still unique form, my assessment is very reasonable.
Not to mention the quality keycap, high-end switch, trendy USB type C cable, and reasonable price, I gradually see the silhouette of a strong representative in the mechanical keyboard.
Not without disadvantages: the USB head is not gold-plated which can rust after a while if not carefully maintained, Stab is quite heavy not all gamers like, there is no Led even just a monochrome Led, definitely need more time to verify,..…but I think the disadvantages can be ignored, compared to the advantages that Taurus K320 brings, and Durgod can completely overcome and take care of those next-generation products.
where can you get a Durgod Taurus K320 online
Durgod Taurus K320 TKL Mechanical Gaming Keyboard – 88 Keys – Double Shot PBT – USB Type C – ISO UK (Space Grey, Cherry Mx Brown): Buy it now
Durgod Taurus K320 TKL Mechanical Keyboard | Backlit | 87 Keys Tenkeyless | USB C Wired | Doubleshot PBT Keycaps | Programmable Keys | NKRO Rollover | Windows & Mac | Cherry MX Red, Corona: Buy it now
Durgod Taurus K320 Tenkeyless Mechanical Gaming Keyboard – 88 Keys – Dye Sub PBT – USB Type C – German Layout (Cherry Brown, White): Buy it now
Durgod Taurus K320 TKL Mechanical Gaming Keyboard – 87 Keys – Double Shot PBT – NKRO – USB Type C: Buy it now
Durgod Taurus K320 TKL Mechanical Gaming Keyboard – 87 Keys – Double Shot PBT – NKRO – USB Type C (Cherry Red, Space Grey): Buy it now
Durgod Taurus K320 TKL Wired Mechanical Gaming Keyboard – 87 Key – Double Shot PBT – NKRO – USB Type C (Cherry Brown,Black) (Renewed): Buy it now
---
Pamer
durgod taurus k320 aliexpress amazon backlit bluetooth tkl cherry brown bàn phím cơ corona mx silent red cable clear driver disassembly vs ducky one 2 iso de nebula rgb dns firmware mechanical gaming keyboard space gray hot swap uk is keycaps keycap profile keychron k2 k310 linux led 텐키리스 manual mac mod nature white обзор купить qmk qwertz review reddit software sound test wired wireless 87 the swappable teclado k320review k320tkl k320software k320reddit k320manual k320rgb k320nebula k320keycaps k320cherry
[collapse]