amazon Garmin Instinct reviews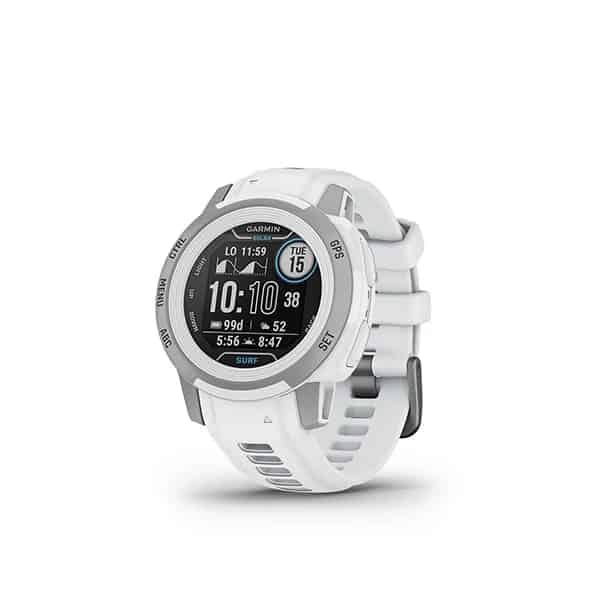 Basic parameters
– Glass: Tempered glass
– Screen: monochrome, anti-reflective, 128 x 128 pxl.
-Battery life: 14 days (smart mode) – 16 hours (GPS mode)
– Strap: silicone, replaceable (22mm)
-Material: Super strong polymer fiber
– Dimensions: 45 x 45 x 15.3 mm
-Weight: 52g
-Water resistant: 10ATM
-Memory/History: 16 MB
General design
My first look at the Instinct was that its design was accidentally "similar" to the Galaxy Watch that I also evaluated not too long ago. I know it's just a coincidence because the publication time of "2 babies" is relatively close together. In general, the lines can't be more masculine because it's already too masculine.
Instinct has a total of 5 mechanical buttons, both the button and the body are made of super-durable fiber-reinforced Polymer, a soft silicone strap, and holes cut out for more ventilation. There is one point I don't understand, ie the watch is specialized in harsh environments, why don't I make this lock with metal to keep it safe, made of plastic if it's broken?
How's the Instinct's screen?
The total screen size I measured is 32mm, but the actual use area is only 23x23mm. Resolution 128×128 pxl, infer the pixel density is 201 PPI the sharpness of the text is not too clear. Instinct's screen is coated with a chemical that increases scratch resistance and is anti-reflective.
In my opinion, because the watch is oriented for outdoor activities, the screen does not need to be too colorful, and the simple blue border with white text is reasonable. Tested in 2 dedicated environments, under the sun, and in the dark, I found the display to be very good, almost I could see normally with no inconvenience. Arguably a strong point of the watch.
Sound – Alarm
The sound when there is a message or an alarm is not too loud, the distance for me to be able to hear it is about 2m and there is only one alarm option. In terms of vibration intensity, I feel only about 20% weaker than the vibration intensity of most phones today.
What's so special about Instinct's durability?
Instinct is Garmin focused on durability when released with the US military standard 810G, ensuring good heat resistance, shock resistance, and water resistance (up to 100m depth). So that we can use it in different environments. Water resistance is nothing new, but military-grade durability isn't available in all watches.
Some outstanding features.
Instead of being fully integrated with indoor and outdoor sports like Forerunner or Fenix series, Instinct only focuses on outdoor activities, minimizing Fitness features. With Garmin Instinct, the most powerful features are probably focused on positioning and navigation.
Instinct is integrated with a 3-axis sensor, and barometer along with many global satellite positioning systems (GPS, GLONASS, and Galileo) to support better tracking in harsh environments instead of just GPS as usual.
Similar to other Garmin watches, we can still use Instinct to monitor heart rate, or "weigh" indicators during exercises with the built-in sensor with most types of models. Exercise/fitness, cycling, swimming, jogging through a 3-axis gyroscope.
Some of the highlights of the trip include TrackBack – navigating the same route to return to the starting point, scheduling trips in advance through the Garmin Explore website and app, storm Alert-access access altitude data, and storm warnings.
In addition to the features VO2 Max or Connect IQ, NFC and the ability to store music have been removed on the instinct, the support features for outdoor activities are also fully integrated such as hiking, climbing, skiing, boating…
Connect ability
Of course, the ability to connect to Android and iOS is indispensable to view and customize options, and the data will be automatically synced on Garmin Connect. Although the number of times omitted the smart and Fitness features, we can still receive notifications from apps such as Facebook, Zalo, Grab, sms…and can reply with ready-made messages. In addition, Instinct is also compatible with other Garmin devices, typically the Garmin VIRB camera.
Battery life
Unfortunately, I only kept the watch for 2 days, so there was not enough time to test the actual battery life. However, according to the company, the battery can be up to 14 days in smartwatch mode, 16 hours in GPS mode, and 40 hours in UltraTrack battery saving mode.
Advantage:
– Design pitiful, masculine
– US military standard durability 810G (waterproof, shockproof, heat resistant)
– State-of-the-art positioning technology (GPS, GLONASS, Galileo)
– Measure heart rate, and stress and support outdoor sports.
– Receive/reply to smart notifications from your phone
– Compatible with other Garmin devices
where can you get a Garmin Instinct online
Garmin Instinct Solar, Rugged Outdoor Smartwatch with Solar Charging Capabilities, Built-in Sports Apps and Health Monitoring, Graphite: Buy it now
Garmin Instinct Tactical, Rugged GPS Watch, Tactical Specific Features, Constructed to U.S. Military Standard 810G for Thermal, Shock and Water Resistance, Tan: Buy it now
Garmin Instinct Esports Edition, GPS Gaming Smartwatch with Esports Activity Profile, Broadcast Your Stress Level and Heart Rate to Game Streams via Str3AMUP!: Buy it now
Garmin Instinct, Rugged Outdoor Watch with GPS, Features GLONASS and Galileo, Heart Rate Monitoring and 3-Axis Compass, Sea Foam: Buy it now
Garmin Instinct Crossover Solar, Rugged Hybrid Smartwatch with Solar Charging Capabilities, Analog Hands and Digital Display, Graphite: Buy it now
Garmin Instinct Solar, Rugged Outdoor Smartwatch with Solar Charging Capabilities, Built-in Sports Apps and Health Monitoring, Sunburst Yellow: Buy it now
Garmin Instinct Solar, Rugged Outdoor Smartwatch with Solar Charging Capabilities, Built-in Sports Apps and Health Monitoring, Orchid Purple: Buy it now
Garmin Instinct Solar, Rugged Outdoor Smartwatch with Solar Charging Capabilities, Built-in Sports Apps and Health Monitoring, Flame Red: Buy it now
---
Pamer
app accessories analog alarm amazon altimeter activities list activity tracking ant+ alternative black lava bị treo band battery life replacement bluetooth pairing mode blood pressure friday size crossover solar cũ charger charging cable review tactical compass release date dimensions dog dezl wrong dc rainmaker do not disturb diving display delete symbols esports edition vs instinct ebay manual waterproof ecg gps gaming smartwatch fpt frozen features factory reset find my phone for running freeze sale faces forum giá watch golf settings graphite green garmin pay hard hybrid heart rate accuracy how to use monitor hrv hang hacks set time hiking instructions inreach icons incident detection iphone interval timer india is indoor cycling in sauna jb hi fi jumpmaster jacket jump rope john lewis jailbreak jakt jezyk polski jeftinije jak wyłączyć keeps turning off kaina kayaking beeping kohl's komoot kitesurfing keepers ksp freezing lakeside blue lap button leather latest software version locked up strap update lug width launch music map mil-std-810g control models myer military mgrs metal nz navigation notifications nato syncing getting showing weather new near me outdoor on wrist one piece orange orchid or forerunner 2 oxygen level fenix officeworks price power pulse ox pakistan save failed quick start qi quickfit qatar quora quadranti rugged reddit – with refurbished surf camo tundra temperature track user uk ultratrac used unblock 18 10 us upload gpx unlock keys 55 vivoactive 4 vo2 max apple 6 waiting data warranty widgets wireless xero locations xda x xataka position xkom xxl xiaomi mi yellow youtube yoga year of manufacture yard work can you answer calls zulu zwift zawiesił się zurücksetzen zifferblätter zeit einstellen zubehör zmiana jezyka 1 đánh 3 rumors é bom o suunto 5 245 venu 54 standard 255 3d speed 33mm 3rd party apps 40mm 45mm 45 4pda 51mm 5s 5x plus charge couch 5k figure grid reference 645 prop 65 6s pro 6x 7 735xt 745 torpedo7 iwatch 810g 8 digit 64 firmware types 99 bikes 9 27 935 945 23 955 abc are best buy body barometer saver change connect iq calibrate coros pace play costco difference between and does sleep have steps enable expedition elevation enter fitbit sense versa turn restart pair the worth it touch screen accurate a jam jual bekas kelebihan kohls kogan kay jewelers kill switch dan kekurangan lock live linking strava maps metronome montre 2022 2021 navigating text messages night vision oximeter open polar grit project waypoint qvc 22 quadrante dies quickly rei core stopwatch storm alert spo2 tutorial trackback using virb video virtual partner velcro bands what where t rex shower zegarek sportowy grafitowy opinie instrukcja obsługi đồng hồ thông minh alpha 100 16 17 15 50 40 14 100m 235 samsung active swim distance 35 hr galaxy amazfit stratos stuck at comparison rating 7x tricks breathwork basic basecamp coach canada descent g1 tracker delta drain enduro epix express explore sports (graphite) hrm dual run instinct2 instinctsolar instincttactical jbhifi cara setting hifi klocka keeper know when fully charged disconnecting from miles km lily stress manuals multisport updating working owner's protector dynamics pod tactix unisex sq sunburst talk zone zones face zoom alt dây đeo 2s edge 530 differences kohl's
[collapse]