amazon EZVIZ C3W reviews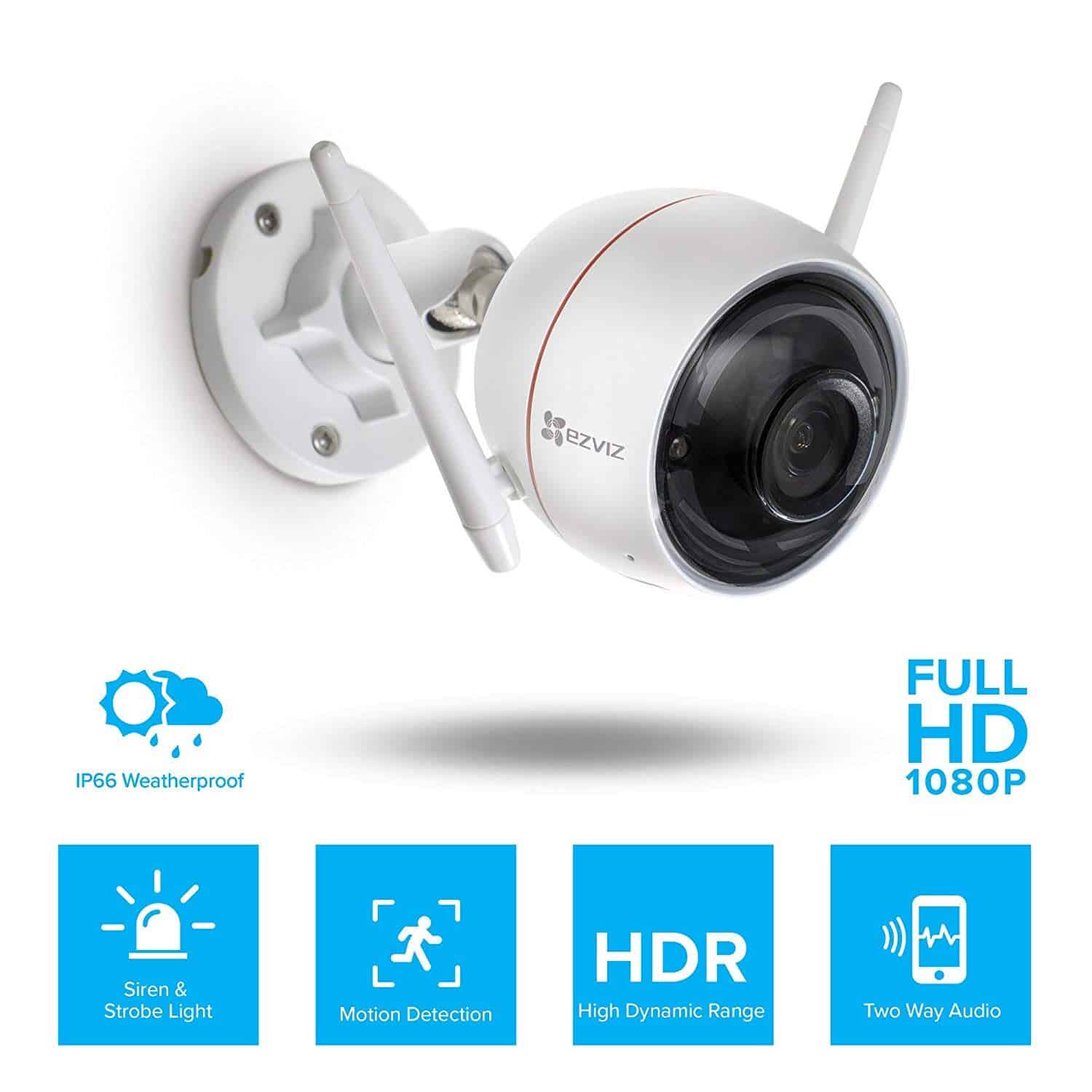 EZVIZ's C3W outdoor security camera is aimed at individuals, households, and small and medium-sized companies with a reasonable price of only about $50, integrating many features such as sirens and lights. Flashes, motion alerts, 2-way conversation, dustproof and IP66 waterproof.
As a sub-brand of Chinese technology company Hikvision, which has been dubbed the "tycoon" of security and surveillance cameras, EZVIZ focuses on individual users, households, small and medium-sized companies with The products have moderate costs, diverse designs, types and features.
C3W is one of the latest models of EZVIZ. This product belongs to the outdoor WiFi camera line, integrating sirens and flash lights to enhance the anti-theft, safeguarding the property of individuals and organizations. Currently EZVIZ C3W has a price of about $50 with a 2-year warranty period.
Fancy design
The initial impression of EZVIZ C3W is that the design is "cute, more friendly" than conventional outdoor cameras. Instead of the slender rectangular shape, EZVIZ's outdoor camera model is compact with a spherical shape. Combined with two WiFi antennas that can change direction flexibly, this device looks like a large insect robot with mischievous "paws".
The entire outer shell, base as well as joints, rotating shaft of C3W are made of solid metal, sturdy, smooth sandpaper. The fixed-position latch can easily be twisted manually to change the camera's viewing angle, allowing it to be swung forward or backward, suitable for wall or ceiling mounting. The lens is protruding with a large size.
The memory card storage area and the Reset button are firmly bolted 4-pin, inside are rubber gaskets to prevent water. C3W uses the familiar micro SD card on security cameras today, the maximum capacity supports 128GB. One note is that although the box contains an EZVIZ Cloud service, which allows online data storage.
In addition to integrating WiFi b / g / n 2.4 GHz standard with maximum bandwidth of 150Mbps, C3W also has 100Mbps RJ45 network port to serve the needs of more stable network connection.
The network port and the power port are integrated on the same cable and taken completely outside the camera rather than on the body like the cameras in the house. It also arranges accessories that come with rubber seals to prevent water when you install the network. However, the power port part does not have this necessary accessory.
An important note when using C3W is always turning the memory card storage area down, especially when used outdoors to avoid stagnant water, causing damage to internal components.
Easy to set up, intuitive software
Setting up EZVIZ C3W is quite simple, just download the manufacturer's app on the Google Play app store or Apple App Store and launch it. Sign up for an EZVIZ account following the instructions on the app to manage and secure the camera. Then click the + sign on the app to add devices. A scanner will appear for you to scan the QR code on the body of the C3W, then log on to the WiFi network or install a wired network that the camera is ready to use.
EZVIZ's camera management App has a full friendly interface. The function buttons are easy to understand and operate. It is worth noting that the video recorded by the camera will be arranged in the form of a timeline right on the main interface that is very convenient to watch, review, including color stickers for each type of video.
Specifically, pink is the video with a human face, orange is for videos with motion, blue is when the video has no movement or changes in images and white is for deleted videos or cameras not record due to power failure.
Similar to most security cameras today, EZVIZ C3W only automatically records motion videos to save memory cards and minimize the writing and erasing of data.
Loud siren, clear alarm light, sensitive motion detection
The most outstanding feature on C3W is the built-in siren and flash light. You can actively activate by clicking the Bell button on the interface of the app or set up so that whenever the camera detects movement it will automatically issue these alerts, preventing objects intended to invade unauthorized entry.
In addition, when you are away from home, you can set it so that whenever the camera detects suspicious movement, it will automatically send a notification to your phone and save a video for about 30 seconds.
The EZVIZ App allows you to refine the motion detection sensitivity and customize the motion detection area according to your needs to limit the number of false alarms caused by factors such as wind, leaves, or light changes, annoying during remote monitoring.
2-way conversation feature works as expected. Thanks to the high volume speakerphone, the sensitive recording mic, it is convenient to talk with the delivery staff, pay utilities, cable TV or family at home when you are away on business clear, easy listening.
The image quality is good but the night view is not as impressive as expected
Despite being able to record Full HD 1080p videos, EZVIZ C3W only defaults to 720p HD quality. This is understandable because it is still an option to balance image quality and latency. If you have a good enough Internet, the average speed is about 50Mbps or more, and always use 4G with abundant high-speed capacity, can be adjusted to Full HD 1080p quality for high-definition, high-detail best.
Like other security cameras, C3W records video in MP4 format with a frame rate of 15 fps Full HD or HD resolution, and drops to 10 fps when recording at 480p resolution. Due to the special feature of surveillance cameras that are continuous recording, the videos are reduced to the maximum bitrate (ranging from 180 to 800 Kbps) to reduce the file size. Therefore, 64GB memory card can last 10 days continuously and the camera will automatically delete old data to save the latest data when the memory card is full.
In bright enough conditions, C3W produces good image quality, detail, sharpness, bright colors, clear sound, wide viewing angle, good light balance, less glare when strong light sources are available straight into the camera.
When shooting at night, the C3W uses an infrared filter to record black-and-white images with the help of two infrared lights mounted on the lens. EZVIZ claims C3W has a maximum night vision of C3W that can be up to 30 meters. In fact, with objects such as houses, and furniture in the room can still be clearly seen at that distance. However, for subjects that need a higher level of detail such as human faces or license plates, the visible distance is only about 4 to 5 meters.
A praiseworthy point of C3W during operation is the ability to capture WiFi very well. Even in difficult locations, when the Samsung Galaxy Note 10 cannot connect to the test WiFi network, EZVIZ's camera model still catches well and transmits images smoothly and stably. Unfortunately, 2 WiFi antennas are not removable to upgrade or replace when needed.
IP66 standard makes this camera can work well even when pouring water directly into the lens. However, the absence of a roof like other outdoor cameras makes water more likely to accumulate and flush into the lens, affecting image quality. EZVIZ should have allowed the addition of a roof mount to an outdoor camera to better protect the lens.
Besides, C3W is very easy to heat up even if operating only for a short time, even in cool indoor environments, with air conditioning always open at 24 degrees Celsius.
where can you get a EZVIZ C3W online
EZVIZ C3W / ezGuard 1080p – Wireless Wi-Fi Security Camera with Remote Activated Alarm System: Buy it now
Summary
With a price of about $50, EZVIZ C3W is an outdoor security camera model with many attractive points from compact, fancy design, rugged metal case, dustproof, IP66 waterproof, receive WiFi good, good image quality even in the dark night, easy to adjust the rotation angle. The system of sirens and flash lights as well as motion detection helps to increase security, anti-theft and prevent objects from intended to gain unauthorized access.
Friendly management software, easy to use, many intensive features, convenient 2-way conversation.
However, there are some points that EZVIZ can further improve on this product such as the addition of sunshades for the lens and the power cord, allowing disassembling the WiFi antenna to replace and upgrade when needed. Especially to optimize the operating temperature because it is clear that the fast hot camera will affect the internal components.
Advantages:
+ Compact design, rugged metal case, easy to adjust the rotation angle.
+ Dustproof, waterproof IP66
+ Getting strong WiFi
+ Good image quality, see clearly in the night at a distance of 4-5 meters
+ Loud siren system with high volume, clear flashing alarm lights
+ Friendly software, easy to use, many features
+ Stable 2-way conversation, effective
Limit
– It is not possible to disassemble the WiFi antenna to replace or upgrade it
– Quick hot
---
amazon ezviz c3w reviews on newest prices of deals best buying a lastest what is at where to buy can i you get online purchase sale off discount cheapest for products tutorial specification features test series service manual instructions accessories
ecovacs deebot ozmo 950
australia 2-in-1 vacuuming and mopping robot app bedienungsanleitung робот-пылесос (black) dx9g review vs roborock s6 price 930 idealo saug-& wischroboter staubsauger nasswischroboter preis w950 preisvergleich robotics saugroboter 40 watt zubehör canada uk husky air 1080p outdoor 720p wifi camera ezguard wi-fi security ip (ezguard) cs-cv310-a0-1b2wfr bullet cloud beveiligingscamera & poe camara ngoài trời (cs-cv310) datasheet default password motion detection caméra de sécurité / msrp $89 99 hikvision extérieure – (c3w) full hd firmware gia ez guard how install setup with nvr kamera installation address (1080p) cctv smart cs-cv310 fullhd led ir alarm ip66 (husky 720p) kasutusjuhend lazada pdf malaysia user nz color night vision onvif pantip power cable supply range rtsp spec sd card valvekaamera ctq3w c3s verification code c3wn combo x5c + youtube cài đặt 2mp (c3wn) có màu configuration cena 2 8mm kit fhd synology storage wireless