amazon SENNHESISER IE 40 PRO reviews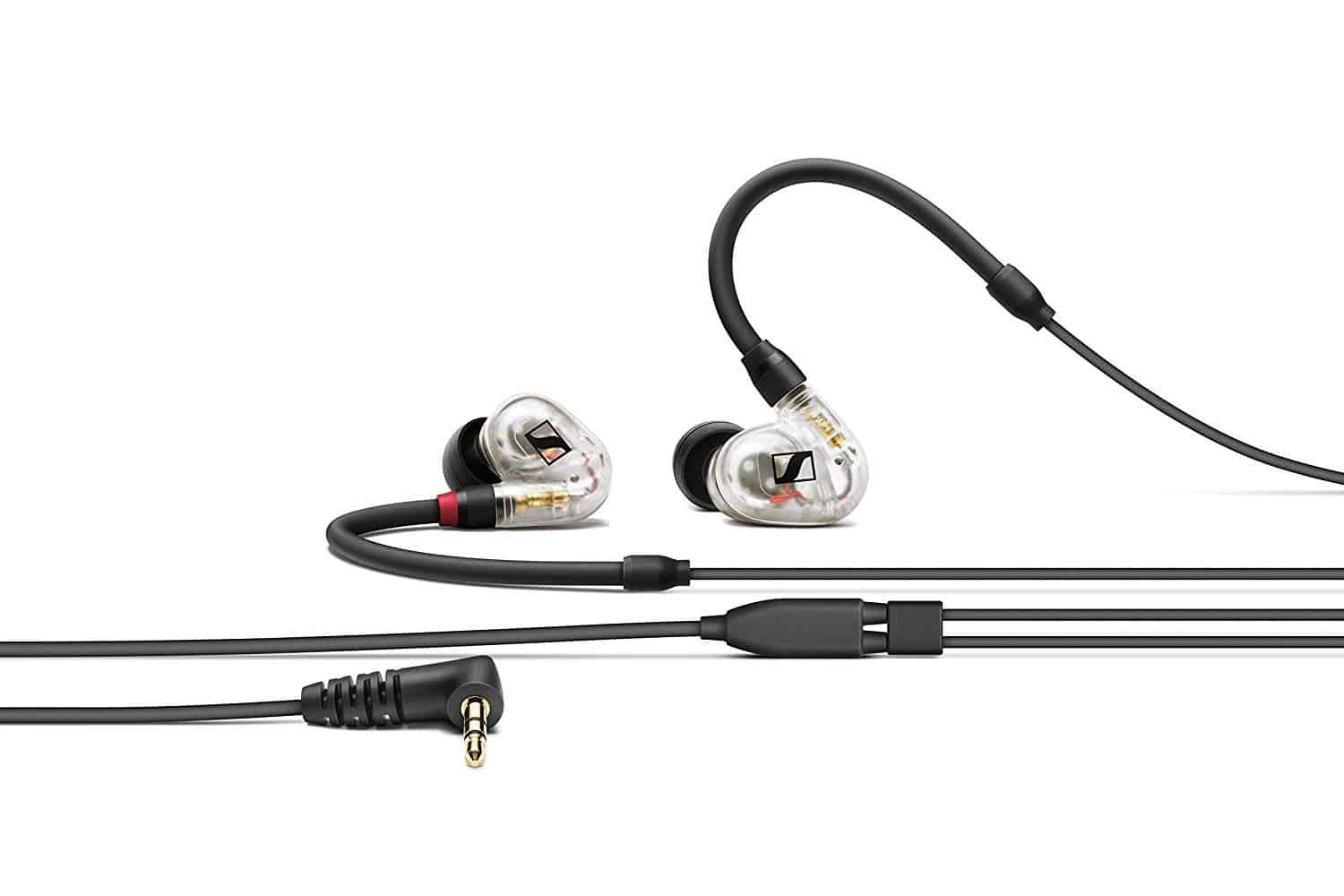 Review Sennhesiser IE 40 Pro in-ear headphones, realistic sound, internal power
Sennheiser is the oldest and most famous audio brand in the world known by many audio players with products distribution all price segments.
Sennheiser IE 40 Pro headphones in the mid-range segment of the company was launched at IBC2018 exhibition in Amsterdam (Netherlands). The IE 40 Pro is highly regarded by professionals and global audiophiles both in terms of performance and design.
Open the box
Headphones with 2 black vs white will not catch the eye with those who prefer colorful or beautiful appearance. For those who just like the product with good sound quality, they will admit that the IE40 pro is more beautiful than the popular IE80 or IE60 series.
The front of the box is printed in black and white background tones, creating a contrasting contrast of the transparent IE 40 pro headphones.
The back of the product prints the specifications of IE40 pro headphones such as 20 ohm impedance, 115db sensitivity or 10mm dynamic driver.
Accessories
Sennheiser IE 40 Pro is equipped with the German audio company, which comes with accessories to say is not redundant.
Accessories include a bag, 2 sets of silicon buttons, 1 set of sponge buttons, 1 mm mmcx standard Sennheiser wire and 1 cleaning rod.
Design
The dynamic driver selected for use is the latest generation of Sennheiser with a diameter of 10mm, the outside is a high-quality plastic housing that looks pretty good.
Personally, I judges white is much nicer because it fades away, white looks quite stimulating, not as black.
The driver is connected to a standard MMCX plug, so you can easily upgrade or repair the accessory in case the headset fails. However, this is a proprietary connection that is protected by Sennheiser with the connection length of MMCX longer than the international standard so in case of upgrading or replacement, you should contact the company for support.
The headset has very low distortion of only 0.1% (1kHz, 94dB) so it enhances the clarity of detail.
This slim fit ear hook design makes you think of the fiio fh1 or shure se215.
Comfortable to wear
The big cord is firm and quite flexible, so when you wear it, it feels comfortable in the ear while adjusting the curvature of the earcup. The jack head L and R are powder coated in Red (R) and Black (L).
I was very surprised when I unplugged IE40 pro, it was extremely easy to remove and install because the standard MMCX cord was extended by Sennheiser than other brands. Hygiene or earplugs can be removed after use without fear of damage to the silicone ear plug or jack.
The L-shaped headphone jack is durable, comfortable and quite pliable, compared to the previous Sennheiser models.
The silicon button of IE 40 Pro is soft, if you want to be quieter, you can use its attached sponge button, in a dust-proof cotton tube and noise filter.
Basically, the connection cord of Sennheiser IE 40 Pro firm is quite perfect. Regarding the feature of focusing to listen to music, the company does not support mic and control so it means that the headset's durability will be higher.
Passive noise canceling feature
IE 40 Pro in-ear headphones are passive noise resistant up to 26 db. When you wear, you will see a sense of environmental isolation quite pronounced.
IE 40 Pro headphones are performed by audiophiles, audio artists and DJs at large performances when outside noise is removed. The artists will coordinate the performance better.
Sound quality
Sennheiser announced that with a impedance of 20 ohms, a sensitivity of 115 db IE 40 Pro headphones can be played on any mobile device such as smarphone, laptop or professional music player.
Currently, many people use smartphones to listen to music, so I use the Apple iPhone 6S with mp3, alac, wav music formats to test.
At first glance, you can easily feel that IE Pro's sound range has sufficient bass range, accurate and solid, neat mid range, and treble strip. Headphones reproduce natural, clear sound to bring live music closer to everyone.
Bass range is not much, but accurate and focused, the sub bass band is somewhat overflowing than the mid bass range. If you want the sub bass better, you can use it via Dac Amp like Fiio Q1 gen 2 will be easier to sub range.
Mid range is airy, but the middle bass is not soft and a little rough. After hearing about 3-5 days, the mid will be compact vs less rough. This honest mid range is suitable for the voice of European and American singers such as Adele, Westlife.
The Treble strip really surprises me with the tinkle, separation, detail and sharpness of the vilion instruments, electronic instruments, striking rock drums and more energetic through the concert, solo.
The sound of IE 40 Pro is quite detailed, separated, quite bright at just enough level not too overwhelming the listener. If you burn more or use a good source of lossless music, the sound will be slimmer and more personal.
Summary
It can be said that Sen IE 40 pro has many advantages with a beautiful design without color, durability and practicality, German sound quality.
The headset is low so it is easy to pull all the devices so you will not need to invest in equipment immediately when shopping for it.
Compared to other similarly priced headsets like the Shure 315 treble of IE 40 pro, they are not as sophisticated, with Fiio F9 pro vocal, classic not as sweet as the details. In return, IE 40 Pro listeners will feel the surprise and sophistication in the sound bands, which are outstanding each sound band and personality suitable for many music lines, quite suitable for EDM, Kpop, Rock and Symphony.
where can you get a SENNHESISER IE 40 PRO online
Sennheiser IE 40 PRO, molded in ear dynamic monitors (Clear): Buy it now