amazon Shozy BG reviews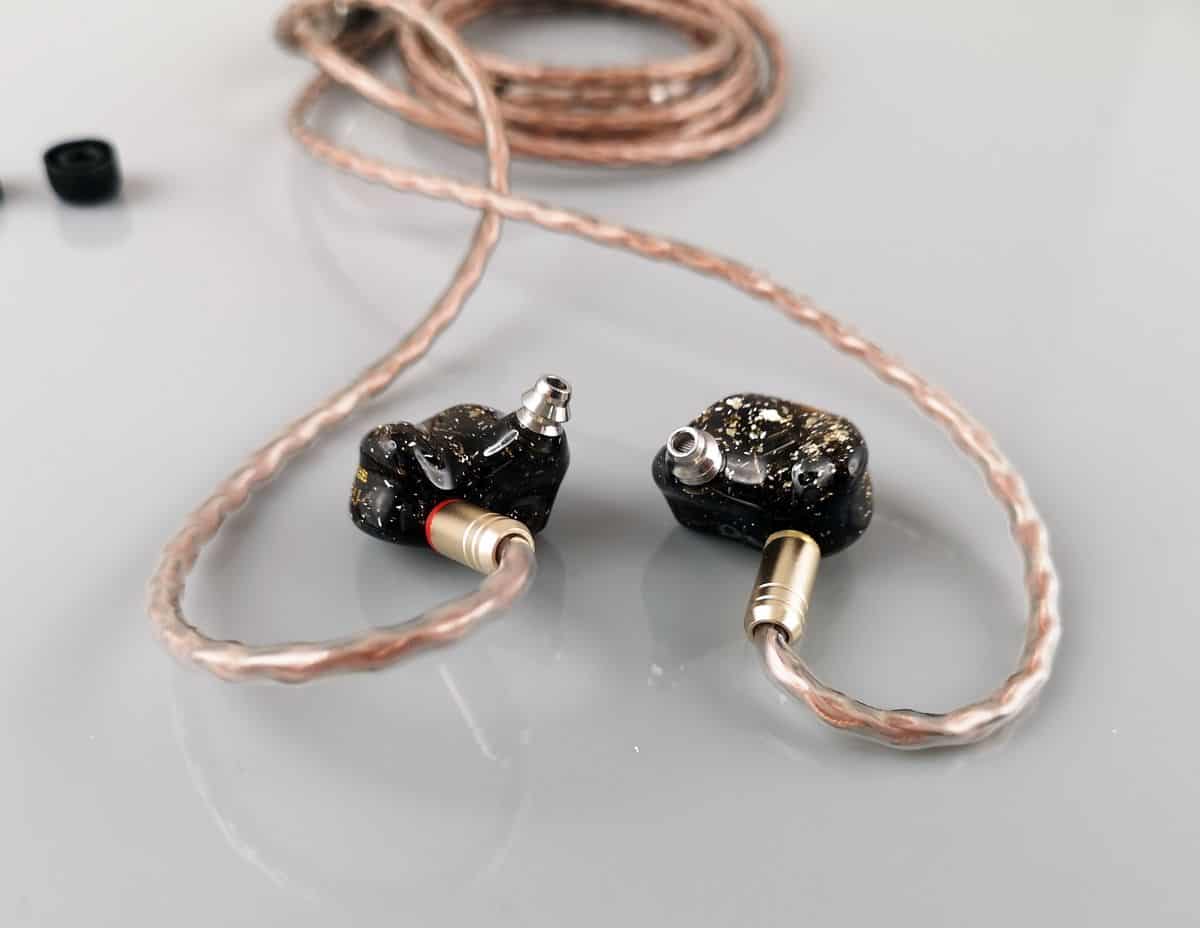 DESIGN
Skip the bland box, we will go straight to the design of this headset.
Shozy BG's housing is designed as a semi-custom for fit similar to custom ears, better grip than conventional universal ears. However, the downside is that not everyone can wear this housing, especially for those with small ears. This design on the Shozy BG is also very similar to the BGVP DM6.
The material that makes up Shozy BG is a very well finished resin. The surface is smooth and the faceplate is decorated with gold dust texture that enhances the elegance of this headset. If you look closely, we will see that the housing of Shozy is not completely black but transparent. We can still see the components inside this ear, like the driver assembly or the connector pins.
The nozzle on the Shozy BG is designed similar to the Shozy CP with the type of 2-storey pine tree. Tilt at an angle of about 45 degrees and finish from sturdy metal. Moderate length, neither too short nor too long.
Connector used on Shozy BG is still the same MMCX standard as on Shozy CP rather than 2-pin as on previous Shozy Hibiki.
Comes with a headset using the detachable connector indispensable leads with similar standards. This cable is much more compact when compared to the cable of BGVP DM6. Material announced by the company is pure copper. You may notice that under the transparent shell are 8 more small wires braided together. The straight 3.5mm jack pins are quite large in size and are covered with carbon pattern against signal interference. The connector pins and splitters are both metal and sturdy. All the little details show that, although it is accompanied, this is not a mediocre wire.
Summarizing the design and finishing, Shozy BG continues its tradition. Beautiful design and extremely good finishing compared to its price.
Configuration and parameters
Impedance: 22 Ohm
Sensitivity: 110dB SPL / mW
Frequency response: 20Hz-20000Hz
Output configuration: 5 Balanced Armature Drivers + Passive frequency crossover
Shozy BG uses a sound configuration configuration of 5 BA drivers for each ear. In total we will have 10 drivers for a complete headset.
I'm really lucky to have a pair of national ears when wearing any ear. The strap of Shozy BG is also quite suitable. The pressure feeling on the ear is not too uncomfortable because the wire is quite small and light. Microphonic phenomenon almost no. Generally, Shozy BG has extremely good fit and comfort in semi-custom ears that I have tested before.
Soundproofing is also very good, designed by Shozy BG completely closed. Passive noise reduction according to Shozy announced up to -25dB. There will still be, but very little noise can enter when the headset is working. This helps to make the background quieter and darker.
where can you get a Shozy BG online
SHOZY-BG 5BA Drivers with Metallic Filter Nozzles, 22955 Bass Driver from Knowless Paired with Custom Made Tweeter for A Grand, Dynamic Presentation with Sweet Vocals and Smooth Extensions on Both End: Buy it now
SHOZY & NEO BG 5BA HiFi in-Ear Earphone Audiophile IEMs with 0.78mm 2Pin Detachable Cable: Buy it now
QUALITY
As an IEM headset with an impedance of only 22 Ohm and a sensitivity of up to 110dB SPL / mW, the pairing of this headset does not have many obstacles. Shozy BG is very sensitive to the source, even smartphones are strong enough for the headphones to sound loud enough. However, a good source such as a dedicated music player or DAC / AMP is essential for Shozy BG's performance to be at its best.
Bass range
Most of Shozy's earphones so far have not had much bass. Therefore, the Shozy BG has a bass strip that lacks depth and volume in the subbass. However, SHozy BG still proved to be a headset with a bounce. The drum beat is very accurate both in speed and decay with very good detail and texture. This feature compared to the BGVP DM6 will be quite similar but in my opinion, the Shozy BG seems to be a bit better in quantity.
Mid range
The mid range is lively without being forward or backward. Feeling fit and very relax. Especially the mid strip is quite thick and warm, which makes me very excited with this Shozy BG. The fragile feeling of the Audio-Technica will not appear on this headset at all. The singer's voice or the instrument are all very well detailed, clear. Especially with stringed instruments such as guitar or violins, the feeling of strings vibrating in the air clearly appears.
Treble strip
The treble strip is where the Shozy BG really shines. This headset shows incredible details in everyday music you still don't hear often. That makes the audio experience with familiar music very interesting. Of course this also depends on the original recording which must contain those details. The treb strip has good opening, brittle and smooth. Good control so there is no sharp or thorny phenomenon.
Soundstage
The soundstage of Shozy BG is quite wide when compared to an IEM ear. It is quite similar to the BGVP DM6 but the depth is a bit narrower. The position of the singer and instrument is very accurate. You can easily pinpoint the direction of the standing singer or the position of each instrument playing in the orchestra.
Ability to layer
This is the ability that only mid-range headsets can begin to clarify the instruments in a piece. For example, in a remix you will hear clearly which instruments are being played in it without being mixed. It will also separate the singer's voice from the music scene, recreating a more lively theater space. In this clause, Shozy BG has also done quite well with high accuracy.
Actually, I am quite satisfied with the stock line of Shozy BG. If possible, I will find some other options to see how interesting Shozy BG will be.
CONCLUDE
Shozy BG is another good example of Shozy's name. The company is very pleased with its customers when creating really good headphones in the price range. Without Shozy or other Chi-fi firms, perhaps to get a well-finished product, high-end design and audiophile-like sound quality, we will have to spend a large amount of money much more than what Shozy offers.
Shozy BG will play a lot of music genres, especially Classical / Pop / Rock. What a pity if you miss the opportunity to try out this great headset.
---
amazon shozy bg reviews on newest prices of deals best buying a lastest what is at where to buy can i you get online purchase sale off discount cheapest for products tutorial specification features test series service manual instructions accessories and neo review & 5ba hifi in-ear earphone vs fiio fh5 head fi techno iem 5 tai nghe 2pin ราคา รีวิว