amazon Shozy CP reviews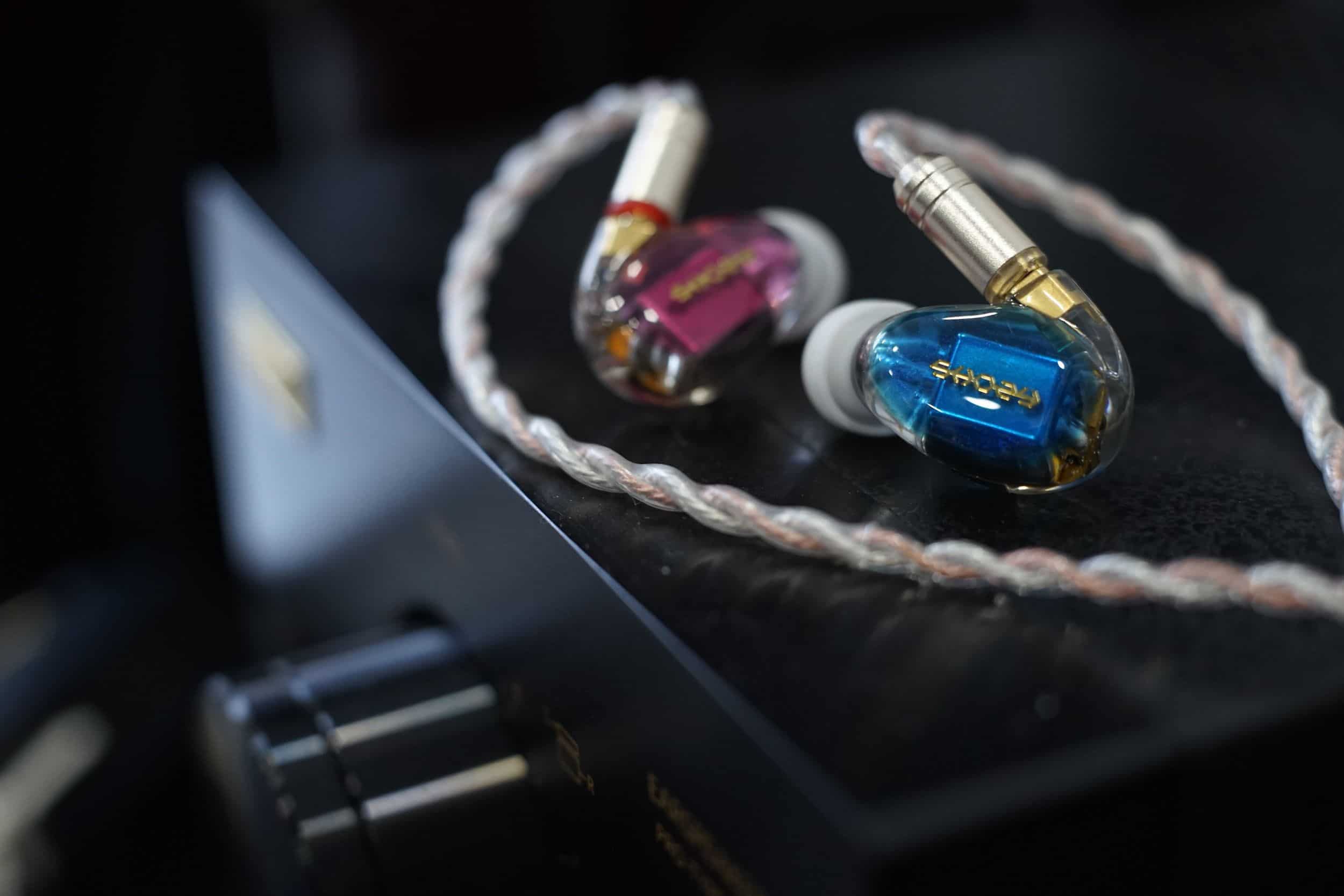 PACKING AND ACCESSORIES OF SHOZY CP
Canned so far is not what Shozy cares about. Shozy CP's box is simply a gray box, the same way Shozy did on Shozy BK before. The front is the CP logo and the back is a little technical information about this headset.
In my experience, it seems that sound companies that focus much on audio often neglect to care for the external senses of the product. There are many cheaply boxed products that are extremely eye-catching to attract the eyes, but the product quality is extremely bad. Therefore, this can also be considered as a good sign for those who love pure sound like me.
In the box we will have a black zipper box with the Shozy logo. And inside this black box will be the main character and accessories.
Accessories include:
2 pairs of audio filters (1 pair built-in ear)
2 pairs of sponge tips
3 pairs of 2-tier silicon tips
3 pairs of 1 tier silicon tips
DESIGN AND FINISHING
The transparent housing design and colors remind me of the first time I hold Shozy CP in my hand, they are like two sweet candies.
The housing is made from transparent acrylic plastic like glass. The housing on the left will be in pink and the right in blue with the gilded Shozy logo on it. There are no blemishes on the complete housing of Shozy CP. Shozy seems to have cast the monolithic.
Shozy CP is configured as an In-Ear Monitor configured with 3 Balanced Armature drivers and frequency system for 3 separate sound bands.
Using a large-sized bass driver from the famous knowles driver company promises to deliver an extremely fast bass speed with dynamic and powerful.
A BA driver is specially customized to extend the frequency range to super high levels, providing the ability to reproduce the smallest details of the music as well as make the music more flying.
Of course the remaining 1 driver will handle the mid range. I don't see Shozy emphasizing on this driver so let's wait in the listening experience.
The exhaust design on the Shozy CP leans at an angle of about 45 degrees and is made of metal. The top of the tube is designed with removable filters at the top of the tube that allows you to customize the color tone to your liking.
On the underside of the housing you can see the words Neo and the serial numbers in gold. And from here you can also see the entire internal organs of this headset, crossover circuit board, wires and driver system inside. Very interesting and beautiful.
Shozy CP chooses to use an MMCX connector that comes with a single cable. 4-core twisted wire with 2 copper cores and 2 silver-plated copper cores. The connector, splitter and jack are all metal-backed. On the 3.5mm jack also has a beautiful carbon belt, just increase the ability to prevent signal interference.
Overall, the design and perfection of Shozy CP are very good, beautiful and well-groomed, there is nothing to blame for this design.
where can you get a Shozy CP online
SHOZY NEO CP Triple Driver 3 Balanced Armatures HiFi in-Ear Earphones Customized in-Ear Monitor IEMs with MMCX Detachable Cable: Buy it now
FIT AND SOUND OF SHOZY CP
The housing of this headset is quite small, almost can fit on anyone's ears without worrying about the size. It is also quite light and this will help you can wear Shozy CP for hours without feeling uncomfortable. However, my personal soundproofing is only a bit above average, not as good as Custom headphones because there are many empty parts in the ear socket that have not been filled.
SOUND OF SHOZY CP
Shozy CP is a bit warmer than neutral sound with outstanding mid range and very detailed instruments. The bass of this headset is fast and solid. A little press in the upper mid area while the treb strip is a bit gentle, lacking in sharpness.
This review was written after 70 hours of continuous headphone burn-in. I used the original tips and standard filters throughout the experience because, according to my personal experience, the replacement filter was a bit out of control and unnatural in the upper mid.
Bass range:
The performance in this negative strip of Shozy CP is quite fast, firm, seasoned and average depth.
The sub-bass on Shozy CP is deep enough to play many genres of music well. Meanwhile, the bass is sufficient, round and down to enough to satisfy the majority except the basshead. This is understandable due to the energy-rich booming bass not the strong point of the BA drivers.
Bass plays focus more on mid-bass and down to total force rather than punchy. Therefore, Shozy CP is able to reproduce bass effects very well in music that requires heavy bass and high vibration.
The good thing about the mid-bass of this headset is that it is controlled and not encroached into the mid range, which will make the mid range dark and blindly and ruin the performance of the whole song.
Bass guitars have good thickness and vibrations, drums respond quickly and decisively while electronic drums are expanded and well controlled.
I noticed that Shozy CP looks a lot better with Trance because of the characteristics of the bass and mid range. It's hard to find an IEM out there with bass that doesn't overwhelm the vocals in Trance tracks where you enjoy layered bass at the same time.
Mid range:
This is the main band that Shozy CP focuses on. This range is more advanced and has much more detail than the rest. Especially those who like to listen to Acoustic music will surely feel very good Shozy CP.
Vocals:
Shozy CP will be an ideal IEM for those who are looking for a music headset for a long time and want a performance that is rich in music, not tired of ears, full body, not too bright.
Shozy CP is good at both male and female voices. Vocals are average, neither too thick nor too thin. For some super bass male voices, it may lack a bit of thickness to feel the depth better.
When listening to the female voice, Shozy CP performed a warm, emotional and fresh performance. This is also my mid quality and probably will have more people like me. In small details such as breathing sounds, swallowing air, the microphone scissors are shown in detail on Shozy CP. This may be a strong point, but it is also a weakness when listening to poor quality recordings because of  a recording error will be revealed and cause a bit of discomfort when listening.
Musical instrument:
Stringed instruments such as guitar, violin, piano, or flute instruments like saxophone are naturally reproduced. The guitar sound was so intense, I could feel the sound of my fingernails touching the strings when strumming as well as the vibration of the strings in the air. The piano sound is not too harsh on the high notes. The sound of the violin is sweet and clear.
Upper Mid and Treble strips
As I mentioned before. The most attractive part of the Shozy CP is the mid strip while the upper mid and treb strips are placed backwards.
The upper-mid part shows the clarity, softness and slightly warmth. There is no overtones or sibilance in this area. The transition in this negative area in genres like Metal is quite soft and controlled, creating a very good Shozy CP for those sensitive to this sound area.
The treble sound on the Shozy CP is quite gentle and somewhat gentle. Bright and clear, then roll-off quickly after about 7kHz.
For example, the Hi-hat sound also emerges from the background but melts quickly and sinks. This phenomenon is also encountered with cymbals. Therefore, in my opinion, the Shozy CP's treb range is only average in terms of both quantity and openness.
This treb strip is also not super detailed but not to the point of lack of sharpness. This treb strip will be suitable for long-term hearing and is ideal for those who are sensitive ears with treb too bright.
Soundstage
Shozy CP soundstage is quite good. Stage space is relatively good in width and slightly less in depth. However, it is enough for instruments and singers to be correctly placed in space and you will not be too secretive to listen for a long time.
CONCLUDE
Shozy CP is a very well-rounded IEM of Shozy. Owning an eye-catching appearance, easy fit and good sound quality. If you have sensitive ears with dazzling trebs and are looking for a headphone with progressive, warm and sweet mid range as well as a fit, speedy bass band, Shozy CP is a good choice.
---
amazon shozy cp reviews on newest prices of deals best buying a lastest what is at where to buy can i you get online purchase sale off discount cheapest for products tutorial specification features test series service manual instructions accessories and neo & iem review 3ba x