amazon Tin Audio T2 reviews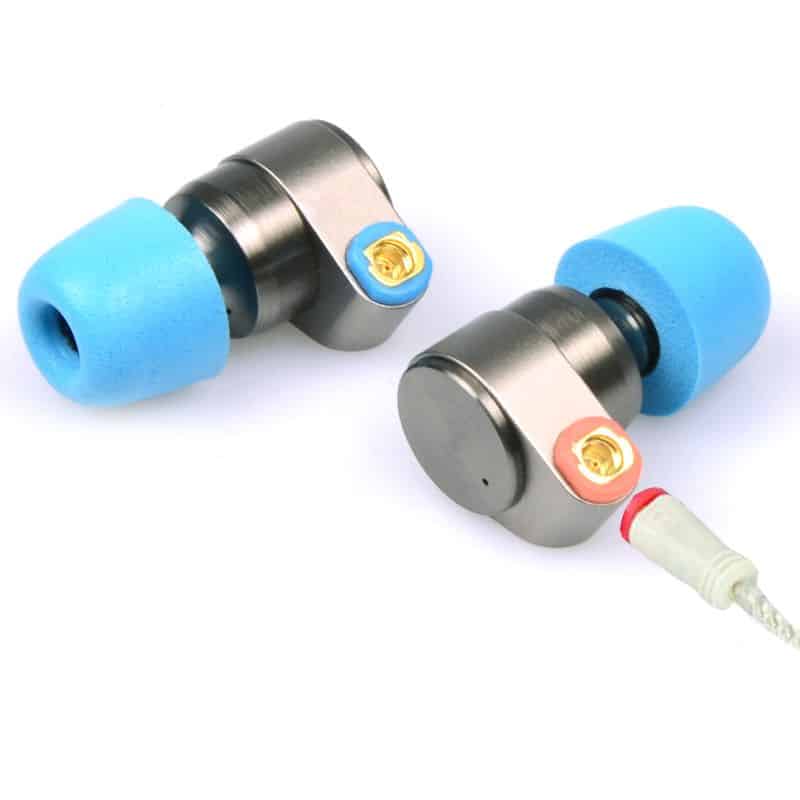 AUDIO DESIGN T2
Tin Audio T2 has a bullet-like design. All housing is finished from aluminum. There are 2 main parts of housing. The first which is the cylindrical body with a diameter of 1cm. This part is very dusty gunmetal and another part is protruding and surrounds this cylinder. This section contains the MMCX connector and is rough, the color is also brighter than the accent body. The whole housing is completely smooth, without any symbols printed on it, including the left and right distinctions. You can only distinguish L / R through colors on the connector. Red to the right and blue to the left.
This design in my opinion is a safe design and makes a very different feeling when looking at. It helps Tin Audio T2 not to be mixed with any headphones out there, simple, sturdy and still quite beautiful.
The complete quality of Tin Audio T2 is really good in the price range. I'm not saying that it is perfect, but it is also hard to find any errors on the finishing part. Even with the MMCX connector it looks very solid. Choosing MMCX is a pretty wise thing in this price range, there are many companies have used 2-pin connector for their products. MMCX is more durable and stable than the other connector type.
The included headphone cord is also a bright spot of Tin Audio T2. This rope is woven with 8 beautiful cores. For sure feeling and trust. The carbon-textured portion (probably a fake carbon pattern) looks solid. The pin is also gold plated to increase degree of tangent.
EXPERIENCE THE GAUGE OF TIN AUDIO T2
When talking about the wearable experience, Tin Audio T2 is not like many headphones out there. Ordinary inear headphones with MMCX will only have one type: wear it over the ear. And the continuous wires will be straight down strings. With Tin Audio T2, you can wear both, as long as you feel comfortable. Frankly speaking, Tin Audio T2 wears quite comfortably for a few hours in a row. Not perfect, but it was decent, neither uncomfortable nor too heavy. Especially with the sponge tip, it feels like it sticks to the ear. For those with small ears, it can be difficult because Tin Audio T2's drain pipe is quite short.
The soundproof level of Tin Audio T2 is just above average. You will hardly hear the announcement at the train station or on the bus if you are wearing this ear. Especially with sponge tips.
The ability to control the sound is not out of Tin Audio T2 is excellent. The noise generated when listening to music is minimal. When you turn on the music at 100dB, the output sound is only about 22dB. It is lower than the background noise at work, you can wear and listen to music without disturbing people around.
Perhaps many people will be sorry because Tin Audio T2's default cord does not come with a microphone. Perhaps because the company focused more on the audio on this cheap IEM, the microphone was cut off. You can buy replacement cords with a microphone on the outside.
where can you get a Tin Audio T2 online
LINSOUL TIN Audio T2 HiFi 2DD Double Dynamic Drive in Ear Earphone Bass DJ Metal Headphones, 3.5 mm MMCX: Buy it now
TIN Audio T2 in Ear Headphone Double Dynamic Driver 2DD Neutral Sounding IEM in Ear Monitor, Balance Sound HiFi Earphone Metal Shell Headset with MMCX Connection: Buy it now
AUDIO OF TIN T2
Tin Audio T2 is a seriously sound-invested headphone. A well balanced audio graph with natural, moderate bass. The mid range is clear, detailed, and the tinkling treb band sometimes has sibilant phenomena.
Bass range
With silicon tips, the bass range does not go down too deeply, with a neutral tendency to moderate. As for sponge tips, you will see that the bass increases significantly, going deeper and more in volume. The speed is a bit faster than average, hitting neatly and not being encroached into the mid range as well as making the whole song badly affected. However, this bass range seems to be a bit exhausting when playing electronic music when it require a huge and overwhelming bass. Instead, this bass will play well music genres such as acoustic, jazz, pop ballad or other types of music without too much bass.
Mid range
The first word in my mind that comes to mind when describing the mid range of Tin Audio T2 is clear. The response frequency is quite flat throughout the mid range. The result is a very balanced sound with both vocals and instruments. In the low-mid, there is a slight press of about 2dB, which helps to add a bit of thickness to the vocals. A very interesting point is that the stringed instruments and the trumpet sound are performed very well. The sound of a tight guitar string and the sound of a trumpet playing can be heard clearly.
Treble strip
The treb range is also pretty good. The entire high range is below the target curve. On the low-treb, there was a slight decrease in the 3dB range, resulting in a lack of brightness in the vocals and instruments while the peak at 10kHz was sharp. Hence Tin Audio T2 you will occasionally hear sibilants. But overall, the treb is still tinkling, the details are good and crunchy.
Sound and soundstage
I don't think with a metal housing that closes almost completely, the soundstage of Tin Audio T2 is so wide. It's not as wide as open headphones but with an in-ear ear, it's actually quite comfortable. The sound of the instrument and the singer are not placed close together, listening quite relax. However, in depth, Tin Audio T2 does not seem very good. The stage space is flat in the front, in the back it looks better. This point is acceptable for this price range.
The sound of Tin Audio T2 is a plus for this headset. The position of the instrument and the singer in the correct space. The phase delay of both left and right channels is almost identical.
CONCLUDE
What made the success of Tin Audio T2, let me help you summarize offline. Tin Audio T2 owns a model appearance, a seriously boxed way, very large sound and the price could not be more pleasant. Previously, there were a few Chinese audio companies that had shocked the world audio industry, such as KZ. Tin Audio got the community crazy once again, but on a different level.
Tin Audio T2 will play well most music genres except those that require fast and strong bass such as EDM, hip-hop or Rock.
---
amazon tin audio t2 reviews on newest prices of deals best buying a lastest what is at where to buy can i you get online purchase sale off discount cheapest for products tutorial specification features test series service manual instructions accessories audiobudget aliexpress pro ak 2017 australia allegro alternative difference between and tips better than bqeyz kb100 vs bluetooth cable bass mod burn in cca c10 comply chifi foam cena coupon canada balanced durability hifi mmcx dual driver 5n deutschland deal de drivers senfer dt6 ebay eartips eq etymotic earbuds earphones europe kz es4 equalizer over ear fiio fh1 final e3000 f5 f9 e2000 frequency response fiyat review head fi fit gr07 gearbest graph gaming giá đánh tai nghe tfz galaxy harga headfi how wear hifinage hong kong hifiman re400 forum iem ibasso it01 và india & iems inceleme indonesia isolation impedance price bangladesh jual zs6 zs10 zs7 zsn as10 zst kaufen kopen linsoul lker i8 lazada mercado livre left right which massdrop mee m6 malaysia microphone measurements tape nuforce edc nz nozzle size or t3 ohm out phase opiniones olx philippines reddit обзор revo next qt2 recenzja soundmagic e10 spinfit shure se215 e80 singapore soundstage specs s2 tinhifi trn v80 uk upgrade unboxing vent wireless wooeasy micro yinyoo v2 youtube zs5 z 1more triple 2019 2dd 4pda carbo tenore replacement tip sensitivity tokopedia shopee andromeda bookmark_border t2pro amp ali broken comfort comparison ceneo drop eu fake headphones earphone iphone kaina kulaklık red blue rtings static sound signature sibilance taobao t400 with mic zeos イヤホン 耳機 tina audiofool ca black friday blu tack crinacle diameter demo bgvp dm6 đánh kaskus kulaklık mercadolibre revonext remove mh755 t4 wire warranty weight dmg f3 обзор mods sverige t2tin b â 5 banggood q setup y g x & reviewsharga t n tennmak proreview prođánh