amazon Tin Audio T3 reviews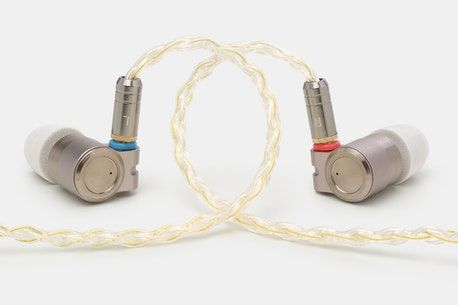 BOX AND AUDIO FITTINGS T3
Tin Audio T3 boxed way retains the typical features from the Tin Audio T2 period but has been raised to new heights. The cellophane design on the box allows you to instantly see the 2 housing of Tin Audio T3 right from the first contact. The box material is still cardboard with navy blue imitation leather texture and is designed to open and close like a book.
Included accessories are 1 pair of sponge tips, 3 pairs of black rubber tips and 3 pairs of silicon tips.
The most noticeable point in that accessory is the new wire. This string feels thicker and stronger than on T2. The 3.5 jack section with beautiful silver-plated carbon pattern and bigger body. Both the connector and spliter have also been upgraded to solid metal. Knitting wire 8 strands combining silver color and gold color.
DESIGN AND COMPLETE TIN T3
Housing of Tin Audio T3 is loyal to the design that makes T2's success.
Cylindrical design and has a protruding part to accommodate the connector. There are still a few details that change to make a difference. The back of the housing has an additional edge around the accent. The protruding connector contains a small groove that I think is just for beauty, but not much use. A minus point in this design also comes from the protruding connector. It is no longer cut at the top, so when worn on the ears, especially with small ears, it can be touched to the ears.
Tin Audio T3 is very well finished, no doubt about the durability and stability of this headset. The entire frame is made of CNC metal and exquisitely made Tin Audio T3 appear sturdy. There is no excess plastic or warping.
Overall design on Tin Audio T3 is still minimalistic, sturdy and beautiful. However, the subtlety of user experience can be a step back.
EXPERIENCE IN AUDIO GAUGE T3
With Tin Audio T2 before, you can wear the ear in 2 different ways, wire around the ear or to straight line the traditional way. With Tin Audio T3, you only have to wear a cord around your ear because earhook is already on the wire. I regret that this earhook has no curling wire inside. It's only shaped by rigid heat contraction, so not everyone wearing it will stick to their ears.
The new part looks a bit harder than the old one, the microphonic phenomenon is still but not very uncomfortable.
The length of the tube on Tin Audio T3 is similar to T2, so for those who have small ears will still be uncomfortable, plus the edge above I have said that Tin Audio T3 was not born for those people with small ears. As for me with the average ear size, the feel of Tin Audio T3 is still identical on the T2, quite gentle and pleasant, nothing to complain at all.
where can you get a Tin Audio T3 online
Linsoul TIN HiFi T3 Premium Single Knowles BA Single PU+PEK Dynamic Hybrid Driver InEar Earphones, CNC-machined Metal Design, Detachable Gold-Plated OFC SPC MMCX Cables: Buy it now
Tin HiFi T3 IEM Brighter Neutral Sound TIN Audio T3 Earbuds Headphone with Balanced Knowles Armature and Dynamic Driver MMCX in Ear Monitor: Buy it now
AUDIO AUDIO T3
I tested Tin Audio T3 with many different sources: Topping DX7, xDuoo X10T-II, Topping NX4 DSD, Aune M1s. All music files are in FLAC format with standard resolution of 16bit / 44.1kHz (some Hi-res tracks are also 24bit / 96kHz)
Tin Audio not only changed in appearance, it also changed the internal hardware structure of Tin Audio T3. The headset skips dual-dynamic technology on the T2 and advances to use hybrid technology, the technology commonly used in high-end headphones today. Tin Audio T3 uses a dynamic driver paired with a BA driver of Knowles – the BA driver manufacturer for many famous headset brands. One thing that has not changed is that Tin Audio T3 still does not need a separate amplifier to maximize its power.
As I said at the beginning, Tin Audio really listened to customers' suggestions when designing Tin Audio T3. The company has fixed most of the problems that people have with T2, such as the bass is not deep enough and the high range is a bit too far. Tin Audio T3's sound is still quite bright, but somewhat less than the predecessor. The presence of the bass range is better while still amidst the focus in the high mid range.
The T2 did an excellent job in the audio specs and, fortunately, the Tin Audio T3, too. The stage space is more than wide, not only horizontally but also depth. The truth is that the depth is better than the width of the soundstage, which is quite weird. The width is also pretty good, not average.
In general, you will have the feeling of covering music especially when listening to live recordings, the feeling of the atmosphere of the stage is quite realistic.
The picture is also good. The position of the instrument is in the correct stage. Close my eyes I can see the instruments placed on stage, partly due to the separation of Tin Audio T3 very good. The instrument is easily separated even in the chorus, it's so good that I can see how many instruments it uses. Although this may sound unbelievable, it seems that Tin Audio T3 has raised the technical level of the cheap headphones under $100 to a new level.
Bass range
Tin Audio T3 performed extremely balanced bass, only a little lacking in low-bass. It is actually neutral, even though the response frequency is reduced at low-bass, then slightly boosted at about 90Hz and then sloped towards the midrange. All are very subtle and the difference between these areas is quite small, so do not think of the graph of fluctuations in this bass range. Bass has a decent depth, down well at around 30Hz and gradually roll-off to 20Hz. Bass has good detail, floating blocks even with complex music. The control of this bass range is astounding in its price range. I did not feel any distortion, hit neatly and decisively, did not encroach into the mid range, did not pull the tail much. Tin Audio T3 did too well this bass range.
Mid range
Mid is still very balanced, there is a little press in the high mid. This accent ends right at the intersection with the treb band, hitting just right but not as much as on T2. It adds a bit of sparkle to the mid range, the vocals become clearer and airy, the instruments are sharper without being tired and stuffy. Maybe many people hear the mid will be a bit bright, but compared to the overall bass range very well, the overall sound still has a characteristic balance. In terms of quality, the resolution of the midrange is also very commendable, showing a lot of details. Speed control, fast response speed and excellent expression of percussion instruments or trumpets.
Treb strip
Like on T2, Tin Audio T3 is still pressed on this audio band. Hit but not so much as to upset or break the balance. Pressing the most in the mid-treb area makes the details easy to hear. This is really necessary for ears that require high detail but is a disadvantage for those who prefer an easy-to-hear universal color tone. This pressing also leads to a result, that there is still some sib phenomenon in instruments such as the violin or high notes. The high range is wide, jingle and airy. It also positively affects the details of the whole song, especially the minor details that must be heard to feel.
With a balanced sound and a bit of natural light, Tin Audio T3 is a good headset for whatever music you like. Unless it's a bass or treble. Although the Tin Audio T3's bass was better, it was more technical than quantity.
CONCLUDE
Improving Tin Audio T2 seems like an impossible task in the price range. Despite all the hype and towering expectations, Tin Audio has created a new product better than its predecessor with many commendable improvements. A little more bass, a more balanced mid range and less stressed treb strips, Tin Audio T3 will probably be one of the most worth buying headphones in the price range below $150.
I know it sounds a bit subjective but with my personal experience, many products of the same level, none of them has reached the level of sound technology as well as perfection like Tin Audio. Tue. Tin Audio T3 is not without drawbacks, but at this price, it is really a monster hard to find a worthy opponent.
If you don't have Tin Audio T2, Tin Audio T3 is the headset you must have.
---
amazon tin audio t3 reviews on newest prices of deals best buying a lastest what is at where to buy can i you get online purchase sale off discount cheapest for products tutorial specification features test series service manual instructions accessories aliexpress australia kz as10 vs cable canada drivers 1more triple driver ebay europe final e3000 frequency response fiio fh1 đánh giá graph headfi hifi iem review isolation jual zs10 pro kaufen linsoul massdrop malaysia microphone tai nghe price reddit rtings specs singapore sibilance shopee shure se215 tfz t2 taobao uk burn in bass mod comply comparison foam tips head fi india ibasso it01 philippines p1 イヤホン tinhifi