amazon TWS Urbanista Athens reviews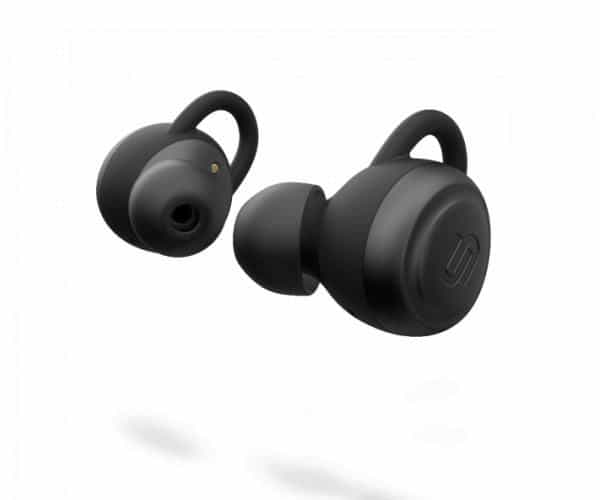 So far, many people still think Urbanista is a headphone company that puts fashion first, not caring about technology. But through the launch of new wireless headsets, the company has proven that the opposite is true. And today, we will explore a 'clear' proof of that claim: Urbanista Athens.
Open the box
The box of Urbanista products is always the same, always has a very unique Nordic beauty. With Athens being the most advanced TWS headset, the company also reduces the surrounding decoration to create a more 'adult' look.
Accessories include a new USB Type-C charger cord and three special pairs of pads that the company called GoFits for sports activities.
Design
My first impression with the Athens charging box is that it is quite small, can easily be placed in the pocket of the pants similar to the box of the Apple AirPods! The box is made of soft velvet-covered plastic, although it is easy to get dirty, but it is extremely soft, similar to the box of the Sony WF-1000xm3.
Despite being small, this charger box for extremely long use time, with headphones used independently will be 8 hours and up to 32 hours of synthesis, quite high.
The charging box is small, but the pair of headphones is also made a bit 'oversized', because it is integrated quite a lot of technology. The back has buttons to control, with a nice circular LED strip, through a thin layer of plastic that should be scattered – can also help us find these pairs of headphones in low light. This is a pair of headphones designed for sporty people that should be designed with a rubber wing around them, along with a diagonal tube.
Athens, when worn on the ears, a bit tight at first, but it is used for a short time – it is familiar – this is a common feature of the sports headphones, so we can work hard but ears don't fall off (which can be lost with TWS)!
But the most important point here is the high IP67 dust and water resistance, which allows these headphones to be submerged underwater but continue to work – so we can confidently exercise in the rain, even It's okay to just take a shower or swim.
Technical data
– Dynamic 6mm driver
– Frequency: 20Hz – 20kHz
– Impedance: 16Ω ± 15%
– Bluetooth 5.0 with Qualcomm apt-X
– Duration of use: 8 – 32 hours
– Charging time: 1 hour
Actual quality
The IP67 waterproof rating is also not unique to Athens, and the pair also has Bluetooth 5.0 paired with Qualcomm apt-X high quality music compression. This is a technology, we can't see the effect with the eyes but what it can guarantee is the ability to send almost the entire signal of the smartphone to the ear, making it possible Sound reproduction with the highest performance.
In most of its headphones, Urbanista adopted a fairly 'safe' type of sound that was smooth, aiming to listen to noise to suit more people. But in the flagship product, just for sports lovers, Urbanista uses a new, more vibrant and explosive style.
Of course, with the description above, everyone knows that the sound pushed up by Athens is the bass range. Athens' bass has quite a lot more than most of its firm's headphones. Not only outstanding in volume, the bass of this pair of headphones has outstanding quality when creating high volume floating, each hit down creates a great force to the user. The song Slow dancing in the dark also makes it extremely powerful and vibrant – as a way for users to continue exercising.
The mid part was received from the warmth from the high-bass part, so it was made quite bold and warm. Urbanista always did, always making a pretty vocalist so everyone was easy to listen to, but often lost a bit of 'natural', balanced so we also have to accept that Instrumental songs can not 100% accurate color retention. But with the deep bass sound, for many music lovers (such as Feel this moment of Pitbul ft Christina Aguilera), this is not too important, at least Athens can fix sibalance errors to create Good listening to the user is good enough.
The part that the company can still do better is the treble, because this part seems to be a bit 'inserted' by the two bold sound bands below. We have high enough to use, but were rolled out a bit early to create an impression on the user. It is also difficult to ask for a pair of headphones that can do all the sounds well, and Urbanista so far has not featured this treble range.
Hard to deny!
Athens is the highest-end true-wireless headset from the Swedish audio company, and for what it brings, this award is worth it. We have a pair of rugged, thick, IP67 waterproof headphones, supports Bluetooth 5.0 apt-X, lasts up to 32 hours and a super-explosive sound quality.
Advantages
– Compact charging box, high mobility
– Headphones are sturdy, very strong
– LED strip helps us find headphones in the dark
– A rare IP67 waterproof standard on the market
– Bluetooth 5.0 apt-X has zero latency
– Combined usage time of 32 hours
– Rich sound quality, very thick bass
Defect
– Treble may be weak for some people
– Price is marginally better than other Urbanista pairs
where can you get a TWS Urbanista Athens online
Urbanista Athens True Wireless Earphones 32 Hours Playtime Waterproof IP67 with Charging Case, Bluetooth 5.0, Built in Mic in-Ear Earphones Compatible with Android and iOS – Black: Buy it now
---
amazon
tws urbanista athens
reviews on newest prices of deals best buying a lastest what is at where to buy can i you get online purchase sale off discount cheapest for products tutorial specification features test series service manual instructions accessories midnight black bewertung connection earphones earbuds review true wireless in-ear headphones kaufen kopfhörer svenska omdöme pairing pris pricerunner vs paris recension (black) 7