amazon Asus ROG Sica reviews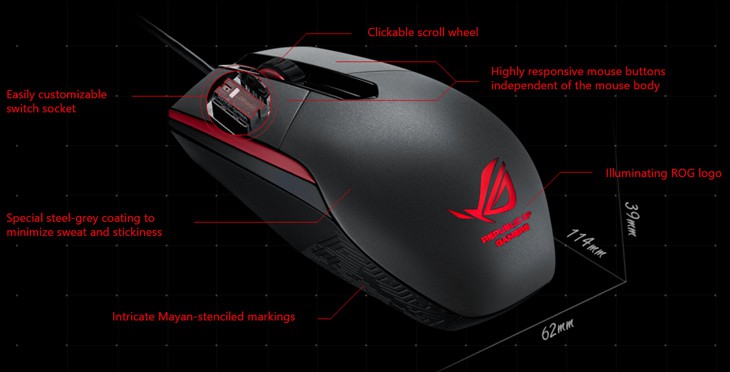 Aimed at gamers who do not have the financial resources but still want to use a high-quality ROG brand product, the Asus ROG Sica has done its job successfully.
Open the box
Asus has added a new gaming mouse to their lineup of peripherals – the Asus ROG Sica. Inspired by ancient history, Asus named its gaming mouse after an ancient weapon.
Sica comes in a typical ROG-branded box, very similar to Gladius. The image of the mouse is printed on the front of the box.
The back of the box shows some of the specifications of this device.
Inside the box, the mouse is housed in a transparent plastic case, two ROG stickers, and a quick guide.
The packaging is pretty basic, with no extra accessories, unsurprisingly it's the most affordable gaming mouse from ASUS.
Hardware specifications
ASUS ROG Sica features a 5000 DPI optical sensor with a tracking speed of 130 inches/sec and acceleration of 30g. It has a maximum response rate of 1000 Hz and the device is compatible with Windows 8.1, Windows 8, and Windows 7. The mouse weighs 117 grams, including the cable. Overall this is a pretty small mouse, measuring 115 x 62 x 39 mm. That's 4.52 x 2.44 x 1.53 inches.
Use ASUS ROG Sica
ASUS says it designed Sica for MOBA games, such as LOL and Dota. The mouse is also aimed at gamers who prefer the fingertips grip, due to its small size.
As a budget mouse, the Sica has no special features other than the standard mouse buttons. It has left and right buttons, a middle button/scroll wheel, just like any other standard mouse on the market. No side buttons, no DPI buttons, and no extra weights. I was quite disappointed by the lack of side buttons since it's a feature most mice today have, even the budget mouse. These buttons are useful both during games and when doing office work or while browsing the Web.
I have used Sica in a variety of games ranging from RPG to MOBA and FPS games. The mouse worked well, I didn't experience any jerky or delay, the experience was generally quite smooth.
Sica is quite suitable for those holding a fingertips style mouse. If you are familiar with palm grip, you will find ASUS Sica quite uncomfortable to use. Given its small size and shape, the Sica is quite suitable for a laptop mouse, or a spare mouse that you will take with you when you go out, instead of being the primary mouse for all your daily activities.
Conclude
ASUS ROG Sica is an affordable gaming mouse, with excellent performance and basic customization options. The overall performance of the mouse meets most of your gaming needs. The most prominent downside is probably that the side buttons have been omitted. Personally, I use these 2 buttons a lot, even in games like LOL, so maybe this mouse is not suitable for me. However, Sica is really suitable for those on a limited budget, who do not care about redundant features but only need 1 mouse from big brands, stable and accurate operation. If that's what you need, Sica is the brightest option.
where can you get a Asus ROG Sica online
Asus ROG Sica white Gaming mus, 90MP00B2-B0UA00: Buy it now
ROG SICA – ASUS ROG SICA SICA Gaming Mouse: Buy it now
ASUS ROG SICA Gaming Mouse (White) (Renewed): Buy it now
ASUS ROG SICA Gaming Mouse, A Weapon for Champions of The Light, Black (Renewed): Buy it now
---
asus rog sica armoury download amazon black chuột cena mysz czarny gaming mouse software driver disassembly dpi drivers impact ratón 5000 egér firmware gamer óptico maus vs logitech g102 review g203 p301 5000dpi обзор p 301 قیمت price 301-1a ptt white 6000 reddit sensor switch specs strix souris teszt test vélemény weight