amazon ddHifi TC35B reviews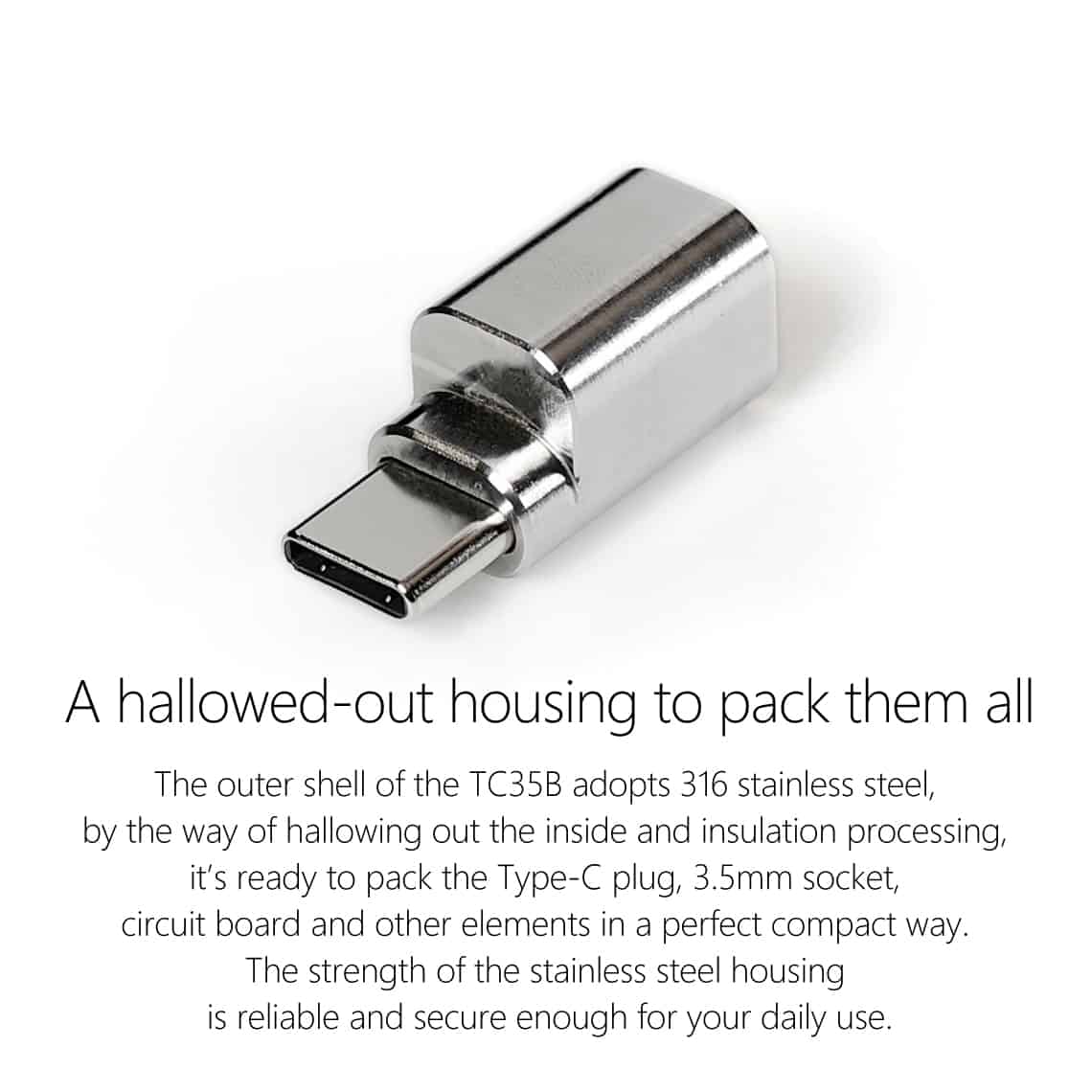 ddHifi is a brand that has emerged quickly in the headphile community thanks to its innovative and high-quality accessories. These include conversion plugs, cables from 4.4mm Balanced to 2.5mm or 3.5mm Single End, and many other great accessories.
Recently, ddHifi launched TC35B, the world's smallest portable Type-C converter with DAC. At 990,000 VND, this is not a cheap option but many people have chosen and bought TC35 for reasons that we will learn through this article.
DESIGN AND FINISHING OF ddHifi TC35B
"Smaller than tiny" is the topic when it comes to TC35B on ddHifi's homepage. You will understand what it means when you see the compact Type-C transfer cables for phones.
ddHifi TC35B packs a 3.5mm port with a Type-C plug into a seamless metal block. There's no longer any wires so there is no fear of breaking them. The ddHifi TC35B housing is made of 316 stainless steel with extremely sturdiness and durability. The 3.5mm port shield is made from brass. All are CNC handled sharply. There are no dead angles on the ddHifi TC35B, making it almost seamless, solid, and durable.
ddHifi TC35B has a very smart design when the Type-C connector protrudes long enough to not be blocked by any type of protective case. This Type-C port is of great quality, sturdy, and neatly placed.
The 3.5mm port of ddHifi TC35B has an internal smart switch. Only when you plug in headphones will the ddHifi TC35B work, which helps to save and increasing the battery life of the device.
In summary, there is no flaw in the design and finishing of ddHifi TC35B.
CONFIGURATION AND STATISTICS
ddHifi TC35B uses Realtek's ALC5686 decoder chip to decode PCM music up to 32bit / 384kHz.
The ddHifi TC35B supports both headsets with a microphone and in-ear control keys, allowing you to fully utilize all the wired headsets you need.
ddHifi TC35B can work not only with phones, tablets but also on desktops with Type-C ports or via conversion jacks. With Android and Windows 10, you will not even need to install any drivers, but instead, just plugin and play.
With Windows 8 and below, you may need the driver for ddHifi TC35B to work properly.
Technical data:
USB CODEC: ALC5686
THD + N: <-92dB
DNR:> 110dB
SNR:> 120dB
Capacity: 30mW at 32 Ohm
Interoperability: 16-200 Ohm
Frequency response: 20 – 20,000 Hz
Decoding support: maximum PCM 32bit / 384kHz
Weight: 6g
EXPERIENCE AND SOUND QUALITY
The ddHifi TC35B plugs firmly into all Type-C ports on phones. Thanks to its compact size and having no wires, I did not see any uncomfortable entanglement, even when the phone is in my pocket.
The control buttons on the headset and microphone can work well on phones or even on Windows 10 desktops. This feature is very useful for those who are sitting in the office when they want to use the mic with your own phone headset.
When operating, ddHifi TC35B will warm up but not too hot as the transfer cables using DAC left AKM or ESS. So you can use ddHifi TC35B even if you put it in your pocket without feeling uncomfortable.
No wires, no worries of cutting off, it's obvious advantages of ddHifi TC35B instead of traditional transfer cables.
The last part is about sound quality. I did not expect a small adapter to deliver a huge amount of power, but it must pull in high-sensitivity headphones while the power output is clean enough.
Checking the frequency response, ddHifi TC35B gives out an almost perfectly flat response. The bass does not roll-off like the one with cheap sources.
Testing the cleanness of the background sound with Campfire Andromeda, ddHifi TC35B has slight background noise. Understandably, Campfire Andromeda is a highly sensitive headset, so it is not strange to encounter hissing on the source. The hissing sound is not increased by increasing the volume nor affected by Wifi or Bluetooth. This is a good sign because the ddHifi TC35B has the sound quality, though not as clean as the Hi-end DAP models, it is still quite decent to pair with regular headphones.
About sound quality, ddHifi TC35B has a balanced sound with its warmth and smoothness. The sub-bass is good, but it lacks stability when compared to stronger sources. The mid-bass is lightly pressed and has a warm and smooth color. The control of the bass range is average, not too good.
The mid-range is well balanced and linear, with a fairly natural tonal color, without adding much. A bit of warmth from the bass range also makes the mid-range of ddHifi TC35B warm and fuller. The details are reproduced quite well, not to the point of sharpness but also full and clean enough.
The high range is added a little brittle in the low-treble section. The brightness is moderate and especially the sibilant does not appear at all.
ddHifi TC35B does not show the ability to separate the instrument like professional music players. The image is reproduced quite well, and the position of the instrument is relatively clear.
To summarize the ability of ddHifi TC35B, although it's not as high as the dedicated music players, the sound from the phone is fresher and more vivid than all kinds of conventional jacks.
CONCLUSION
Not a very good transducer in terms of sound in the price range but with the design, perfection as well as the ability to support the maximum phone headset, ddHifi TC35B is still a very quality product. It will meet all your needs on one device in this price range.
where can you get a ddHifi TC35B online
DD ddHiFi TC35B USB Type-C USB-C to 3.5mm Headphone Jack Adapter, USB CODEC ALC5686, For Android Mobile Phone Huawei Xiaomi Oppo Vivo Samsung iPad Pro, Supporting PCM 384kHz/32bit, 316 Stainless Steel: Buy it now
DD TC35B USB Type-C to 3.5 Connector Cable Adapter 384 kHz / 32 bit Adapter: Buy it now
Linsoul DD TC35B Type-C to 3.5mm Cable Adapter Converter with ALC5686 Decoding Chip 384kHz/32bit for Android: Buy it now
Generic DD ddHiFi TC35B USB Type-C to Jack 3.5mm Cable Adapter & Decode for Android Mobile Phone 384kHz/32bit: Buy it now
---
ddhifi tc35b usb-c to 3 5 mm adapter review