amazon MSI Optix MAG271CR reviews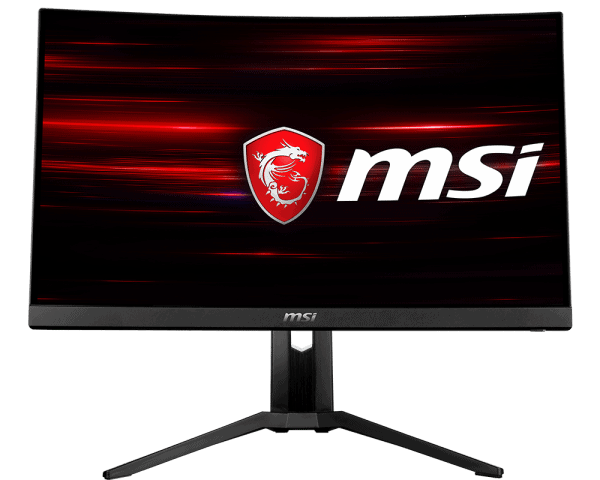 Gaming products always have a very special category of art because the hobby of the user segment is slightly different from that of ordinary users. They like the fashion, the cheeky and the angular to express the "personality" and the unrealistic nature like the virtual world they feel. However, it is not an easy task to apply subtle contours and cut corners and bring up a shaped device model.
Fortunately, the MSI Optix MAG271CR does not make the mistake that many manufacturers have tried to turn their screen into "impressive". In return, the MSI Optix MAG271CR is far more simple and minimalist than following the trend of previous MSI products, or the Thinkview G270 competitor that Biareview has previously review to readers.
The impression is also raised much when the lines are simple but do not appear weak but still have solid certainty due to the big beveled corners, the black rough and especially the legs Large cylinder.
Despite its large size, the MSI Optix MAG271CR's legs do not bring any inconvenience to the users because of the versatile rotation and lifting capabilities of this foot unit. Unfortunately, due to the purpose of gaming with curved background of 1500R, MSI Optix MAG271CR has no vertical rotation. If you think about using MSI Optix MAG271CR in vertical mode for office work, you should consider it first.
In return, with a 27 "size panel and 1500R curves, the MSI Optix MAG271CR multi-screen combination will definitely deliver an incredibly gaming experience if you are an economically qualified user. Partly thanks to the good image quality of MSI Optix MAG271CR that we will cover later.
Other pluses are extremely worthwhile, but perhaps any gamer must be satisfied with the integrated RGB Mystic Light backlight system and the built-in headset holder, very handy for gamers with battle angles narrow comb, there is no space for headset hanger.
The light system of MSI's Mystic Light should not need to be introduced much because the ability to synchronize the whole system will definitely turn your strategic corner to be extremely shimmering, spoiled for taking photos … hearing.
One thing that is probably always the fatal weakness of the game screen lines is the image quality. Typically, manufacturers will have to sacrifice color quality to compensate for frame rates to provide high responsiveness.
MSI Optix MAG271CR still has a high speed, reaching 144Hz, but fortunately, MSI has applied VA plate instead of TN, giving the image quality much better and brighter although the color is not very deep and there is color band palish. However, it is still a feature of the VA panel, so it will still be the advantage of MSI Optix MAG271CR compared to other high-speed screens using other TN panels.
For users in the mid-range segment, the MSI Optix MAG271CR with a maximum speed of 144Hz is also completely understandable, providing a better experience enough to improve the level if needed and not necessarily "try-hard". This will more or less reduce the investment costs for gamers and the cost of products, more accessible to users.
where can you get a MSI Optix MAG271CR online
MSI Full HD Non-Glare 1ms 1920 x 1080 144Hz Refresh Rate USB/DP/HDMI Smart Headset Hanger FreeSync 27" Gaming Curved Monitor (Optix MAG271C): Buy it now
In particular, MSI Optix MAG271CR is also integrated with FreeSync technology for the ability to provide smoother, anti-tearing images if users use AMD's graphics system – a cheaper than technology products from "green houses" NVIDIA.
MSI Optix MAG271CR's communication method with the user is also emphasized by the manufacturer, providing the flexibility to set up not only to operate directly through the monitor system but also through the application. MSI Remote Display. In this, the basic settings to the advanced for use purposes such as movies, games, work … are "ready" for users by MSI.
MSI Optix MAG271CR is a good screen both in terms of quality and competitive price, but the application of curved backlight technology with a radius of 1800R is still quite new, so the finishing level of MSI Optix MAG271CR is still not really high.
Sometimes, users can still recognize the clear open corners, if it is a user who tends to have obsessive-compulsive disorder (OCD), it will be extremely uncomfortable without a fix. Although knowing this is a common disease of most curved background screens, MSI will "better" if it can overcome this inherent disadvantage.
MSI Optix MAG271CR's large cylindrical design, as mentioned above, has a strong and solid appearance, but occupies a lot of table space. The MSI Optix MAG271CR on the back is not able to mount the wall / bracket.
In the end, though not the cumbersome form of design, the MSI Optix MAG271CR has an extremely confusing and difficult to use user menu. If there is no remote control application via phone, users will probably have a hard time getting used to the menu of MSI Optix MAG271CR.
---
– with mystic light skærm giá 開箱 評價 27"