amazon BlackBerry Key2 reviews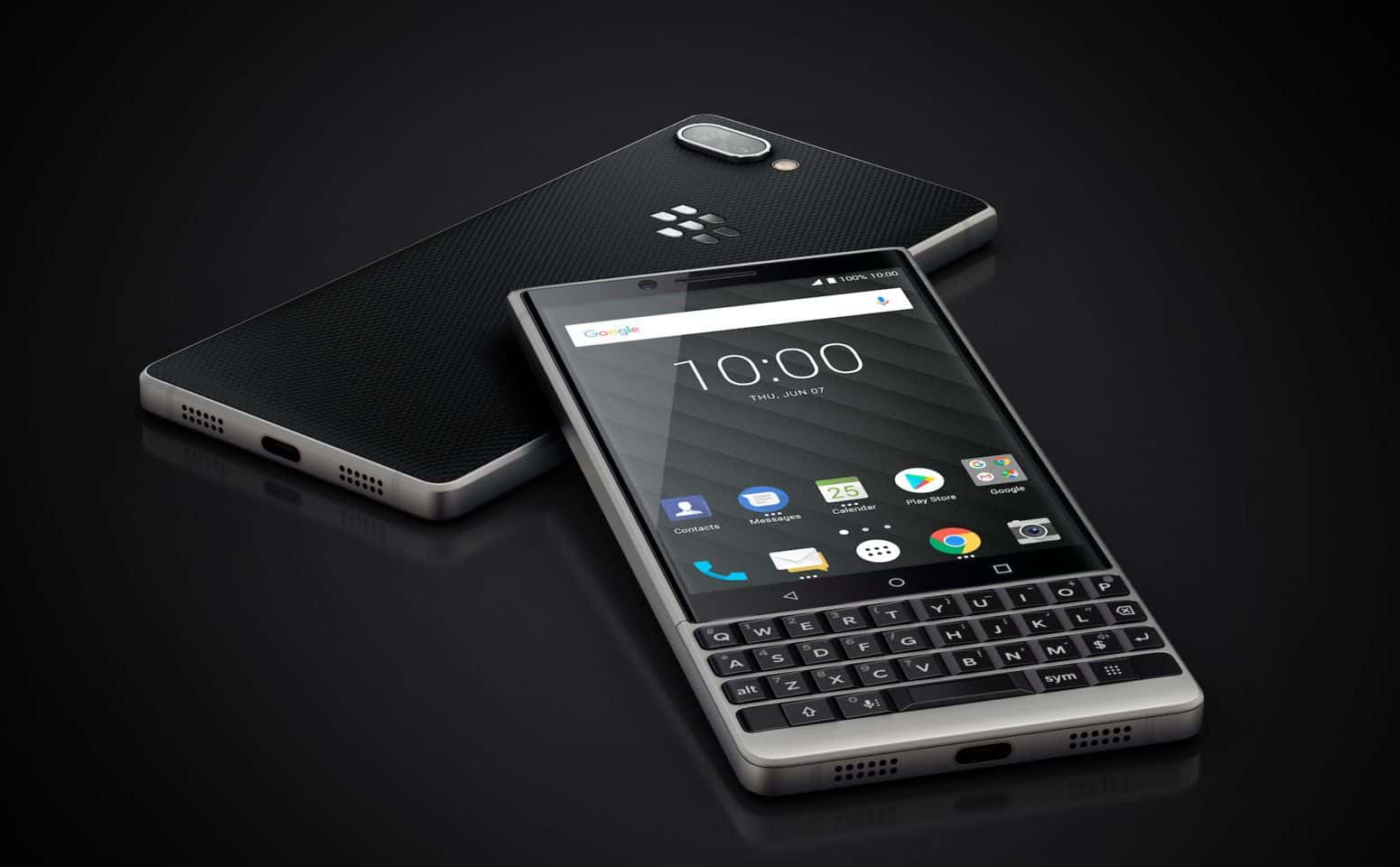 Following success, BlackBerry continues to launch the second generation, Key2 (KEYtwo), with many upgrades in performance as well as an accompanying feature. In particular, the most prominent is the dual camera cluster as well as the powerful hardware coming from Snapdragon 660 processor.
Design
Compared to the previous generation, Key2's design seems to have no major differences. It really reminds me of Apple's Macbooks with boring designs with silvery color, aluminum frames and physical keyboards. The biggest difference only comes from the dual camera cluster as well as removing the metal strip placed above, making it more seamless. In addition, it does not have any changes with the lumpy back and familiar BlackBerry logo.
Perhaps that BlackBerry wants to create a phone that is more handy than refining the looks of the device.
On the left side, it is completely empty, only the SIM tray and memory card are open. While the volume up and down keys and power key are located on the right side, in the middle is a convenient button that you can install to launch any application you want.
Normally, I will install this handy key to activate the virtual assistant Google Assistant to serve the listening, calling, directions. Or you can install it to open the music player application, or even activate the camera, which is convenient and useful.
In terms of the handling experience, in fact, Key2 is a bit lighter than KeyOne although it has a larger size, the back of Key2 is also easier to hold and less slippery. The only downside of Key2 is probably probably dust and water resistance.
Screen
The screen is probably not too good and different from the previous generation. The device still has a 4.5-inch LCD screen, Full HD (1080p) resolution, 3: 2 aspect ratio. In fact, 4.5 inches seems smaller than the current screen standard, but if there is a keyboard underneath, plus a large screen, it's hard to handle it conveniently. Especially about the swipe from the top down to see the notification.
In terms of quality, the screen of Key2 is quite good, although it is not equipped with Samsung panels. Deep and detailed display, you can customize the color as you like by changing the color tone, enhancing saturation, … just like on Google's Pixel 2.
However, the screen of BlackBerry Key2 is not very bright, especially when auto mode is turned on. Compared to the brightness at 50% that the phone I use, Key2 is much lower. Especially when it is displayed in the hot sun, you must pull the brightness up to the highest level and it will be visible.
Performance
Performance is the most powerful upgrade that BlackBerry Key2 has. Previously, KeyOne had low RAM capacity and slow SoC, multitasking seemed to be the most improved problem. Therefore, Key2 has completely overcome the above weaknesses.
Equipped with a powerful Snapdragon 660 processor like the Nokia 7 plus, the RAM capacity of up to 6GB makes Key2 extremely good. Basic tasks such as surfing Facebook, Instagram, watching YouTube … there is no lag phenomenon, most quickly and smoothly.
Along with that, the Adreno 512 GPU also helps meet the entertainment needs to play. Typically, the game Asphalt 8 or Lego Star Wars: TFA is very smooth and at a high frame rate.
When scoring AnTuTu Benchmark as well as 3D Mark, the machine achieved a high score, 142029 BenchMark points and 1368 3D Mark points. Beat and be completely different from the 60761 points AnTuTu and 466 3D Mark points compared to BlackBerry KeyOne.
Keyboard
Keyboard on Key2 is also really better with predecessors. While KeyOne's keyboard is small, loose and glossy when used for a long time, Key2 has overcome these. Key2 keyboard has more powerful force, larger size about 20% (overcome font errors) and is quite sure as well as being more resistant to scratches.
The sound emitted by the keyboard on Key2 has also decreased significantly. Besides, these keys can also be a touch keyboard with swiping left, right, up and down to scroll pages or move. You can also program up to 52 keyboard shortcuts to launch your favorite applications. For example: You can set the "p" key to launch your favorite podcast application, while you want to open the CH Play Store, just press the "c" key to finish, very simple and convenient.
On KeyOne, these shortcuts only work on the phone's main screen, and now you can press and activate it anytime and anywhere. Feedback speed is also improved and faster than before.
Hardware
BlackBerry Key2 is doubled in internal memory, ie up to 64GB, expandable memory card also supports up to 2TB. So you can be assured that you can comfortably store data without fear of running out of memory.
As a smartphone in the high-end segment, it is equipped with a modern USB Type C connector at the bottom edge. Then there are 2 loudspeakers, however, only one right speaker is real, the rest will only be used for decoration.
In terms of sound quality, it stopped at a decent level, but the volume is still not very big and small, especially it lacks a bass. In return, opening the max volume will not make the sound quality distorted and shrunk.
BlackBery Key2 retains the traditional 3.5mm headphone connector and places it on the top of the phone with the extra microphone.
Besides, the vibrator on Key2 also gives better and stronger feedback than the previous generation. Although there will be people who do not like this upgrade, I think it will be very handy if you put the phone in a wide pocket, so you will not feel the notifications coming up if you have muted.
As for biometric security, the device still has a fingerprint sensor that integrates the keyboard's space key immediately. This is a place where the sensor mark is quite ideal because if placed behind, the back of the device will no longer be perfect.
Software
Regarding the interface, BlackBerry Key2 is not much different from KeyOne. However, the difference is that Key2 is using Android 8.1 Oreo while KeyOne is still in Nougat 7.0
Referring to BlackBerry, it is impossible to mention its security capabilities. Key2 is equipped with good security features such as locking apps with fingerprint sensors, or you can even hide your sensitive photos using the Private Locker application.
Besides, the new feature of Privacy Shade also helps to mask content that you don't want others to see if you're in a public place. You only need to use 3 fingers to pull from the notification bar down immediately, this feature will be activated, only a part of the content you choose will be displayed, the rest will be blurred and covered, quite good and convenient. And if you are looking for a safe and secure phone, perhaps BlackBerry Key2 will be a good choice.
where can you get a BlackBerry Key2 online
BlackBerry KEY2 Black Unlocked Android Smartphone (AT&T/T-Mobile) 4G LTE, 64GB: Buy it now
BlackBerry Key2 LE BBE100-2 64GB Unlocked GSM Phone w/Dual 13MP & 8MP Camera – Dark Blue/Champagne: Buy it now
BlackBerry KEY2 LE BBE100-2 64GB Unlocked GSM Android Phone w/Dual 13MP/5MP Camera – Space Blue/Slate: Buy it now
Blackberry Key2 128GB (Dual Sim BBF100-6) Unlocked GSM – International Version (Black Edition, English UK QWERTY): Buy it now
BlackBerry Key2 LE BBE100-2 64GB Unlocked GSM Phone w/Dual 13MP & 8MP Camera – Dark Blue/Champagne (Renewed): Buy it now
Camera
The camera on Key2 is upgraded a lot compared to the previous KeyOne. The device is equipped with dual camera cluster with 2 sensors, the first sensor has a resolution of 12MP, aperture ƒ / 1.8. The other sensor also has 12MP resolution, ƒ / 2.6 aperture and both have phase-autofocus (PDAF). BlackBerry does not use the second sensor to capture wide-angle but use it for 2x optical zoom and portrait mode.
Photos in sufficient light are quite sharp and detailed, but sometimes some images are subject to saturation reduction.
However, when switching to portrait photography, removing the font, Key2 makes me quite impressed, especially in a bright enough environment, the device gives the ability to accurately erase, contour and clearly separate subjects.
The camera's selfie is also quite good, the skin color is faithfully reproduced.
In terms of the ability to capture low light, the image is very shaky and blurry, noise also appears quite but compared to KeyOne, it is still better. This may also be due to the fact that the machine is not equipped with OIS optical vibration protection even though EIS is still available but not really effective.
Turning to video, this shaking phenomenon also appears more pronounced. However, when you fixed the device, Key2's camera will produce impressive videos by its detail and sharpness thanks to supporting 4K recording at 30fps.
Battery life
3,500mAh battery is available on the device for a long time to use, meeting a full day of work. If used properly, the waiting time can be up to 2 days.
Besides, it also supports QuickChrage 3.0 fast charging to fully charge the battery quickly. It also offers the option to choose a fast charging mode or regular every time you plug a charger so that you can choose the time to unplug it more appropriately.
Summary
Compared to KeyOne, BlackBerry Key2 is a perfect and worthwhile upgrade. However, compared to the price to own the device, it is quite high, much higher with the machine with the same configuration.
BlackBerry Key2 is a phone for those who are looking for security on Android, for entrepreneurs and for those who want to own a smartphone with a unique and strange design but still equally modern and powerful.
---
au 分割 機種変更 antutu pie atomic iwnn x xs max instagram itunes ifixit used updates wifi calling unboxing unlocked canada expansys ebay engadget red edition 予約 simフリー 英語入力 液晶 otis handmade leather case otterbox order official google pay nfc price in email 価格 camera cases カメラ waterproof qi 口コミ クーポン quicpay quick charge クレードル charging cursor kuala lumpur custom rom キーボード キャリア 設定 アプリ キャリアメール 機能 バックライト ケース 純正 keyone 比較 ctrl key shortcuts arabic koodo comparison between and cover connect pc compare convenience 購入 国内版 sar サイズ 最安値 再起動 サイズ比較 札幌 サイドボタン サイレントモード サポート singtel singapore card free shop dual-sim bbf100-6 シャッター音 supershieldz スペック スクリーンショット suica 数字入力 ストラップ スピードキー スレ スピーカー seidio sell security cena セキュリティ 説明書 software soft shell ソフトバンク 操作方法 ソフトウェアキーボード ソフトバンクsim 対応バンド タッチパネル 高い タッチパッド 単語登録 台湾 taiwan 台灣 how take screenshot trên tay charger tinhte tips 中古 違い じゃんぱら 着信音 champagne 中国版 tudia merge 使い方 hub 通知led 通販 使いにくい 通話 the new tetded telus tempered glass テザリング 取扱説明書 取扱店 撮り方 twitter touch from root reset use 名古屋 nanosim ナビゲーション 日本 日本語入力 発売日 日本語 入力切替 日本発売 ドット 入力 日本版 model number sales numbers 値下げ 値段 network zealand nova launcher led notification light not working fingerprint sensor harga hard 販売店 販売 発売 発表 評価 評判 priv 開箱 fox key2(bbf 100-9) factory huawei p20 lite flip heureka 変換 並行輸入品 ヘルプ 並行輸入 help much nigeria holster malaysia マナーモード マルチウィンドウ まとめ マイク mineo user microsd miracast mini micro sd 水貨 店头 music mua 無線充電 apple player multitasking メルカリ mediamarkt メーカー メール設定 メール メリット メイン bootloader menu mexico mobile 文字入力 モバイルsuica モンスト モバイルネットワーク pointer mode モデル engineering safe mouse ヤフオク 安く 矢印キー 輸入 有機el ユーザー辞書 ユーザーズマニュアル 輸入法 指纹认证 youtube ヨドバシ ヨドバシカメラ 好 ライン 楽天モバイル 楽天 raw ringke fusion リング stock ringtones ringtone download 留守電 reddit release date repair recovery rooting root化 ローマ字入力 wallpaper 技適 ワイモバイル ワイヤレス充電 ワンセグ 割引 watch giá bao nhiêu galaxy s9 s7 ガラスフィルム 画面サイズ ガラス おすすめ 画質 game games ビックカメラ 在庫 danh gia dac dark theme india verizon backup battery バンド バッテリー交換 バンパー バッテリー バックアップ パズドラ passport password keeper replacement parts forgot copy paste 1&1 uk 128 go 100-6 azerty uae 2019 friday bangladesh 32go gris 32 quiz answers 31 october shf100-3caleu1 – smartphone gb 4gb 64+4gb 100-5 slate recenzia 6s oneplus upgrade australia アップデート id spacebar issue wireless wiki us guide etoren 絵文字 one oem swivel おサイフケータイ or t 格安sim カバー 買取 key1 com hong kong bbe100-4 初期設定 スクロール セール 性能 接続 生産性タブ ソフマップ desktop 通知ランプ 通信 line 通知 展示 店舗 手帳ケース thailand termux classic 半角 felica screen protector 保護フィルム 保証 保護 ホーム画面 spring clip マニュアル instruction boost レビュー バッテリー持ち life 版 10 1und1 3a 6t アクセサリー アイコン 秋葉原 アマゾン 赤 アクセサリ イオシス イヤホン ime japan imei uqmobile uq usb c 液晶保護 edy 音楽 大きさ 音質 音量 おすすめアプリ os おサイフ カーソル移動 壁紙 カーソル カスタマイズ カレンダー クローン 交換 切り替え 革 レザー 契約 カード 故障 購入方法 コジマ 個人輸入 後悔 小文字 コピペ コンビニエンスキー シルバー 修理 初期化 仕様 ショートカット 指紋認証 種類 スペースキー セットアップ タッチセンサー 中国 tricks ツイッター 手帳 店頭販売 teardown トラックパッド 問い合わせ とは hdmi nano 日本語切り替え 日本語化 人気 日本語マニュアル ハンズオン hands フィルム 不具合 フリップケース フリック入力 foma 付属品 香港 欲しい 本 マナー モード mac manufacturer レッド 廉価版 技適マーク wallpapers 顔文字 画面キャプチャ バンド18 bangkok パーツ 2 cũ 256gb 2nd hand bbf100-2 ( ) mắt fcf100-3aaleu1