amazon Children of Morta reviews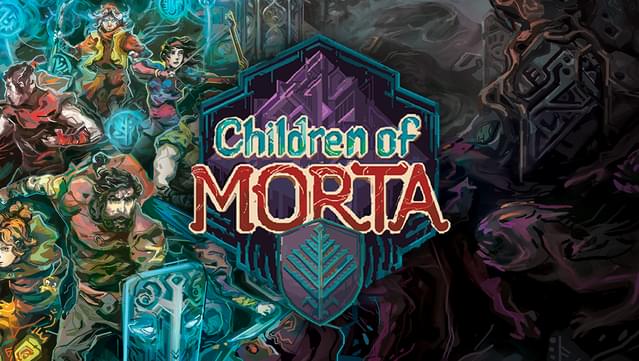 Children of Morta tell the story of the Bergson family and the challenges they face to fight a dark power called the Corruption "gnawing" on everything.
This darkness forces the Bergsons to experience harsh moments of blood, tears and sacrifice.
The plot is an essential part of the game, taking you through emotional ups and downs and better understanding of this family. Moreover, the story is conveyed through poetic essays and an extremely warm narrative voice, like taking you into a magical world in the game.
Children of Morta is probably one of the few games that can maximize the beauty of pixel graphics to create many colorful scenes and worlds.
And in that world are characters, enemies, mysterious forces that are vividly revealed. Everything is so intertwined, so soft and impressive that it makes you forget that you are looking at rough, rugged pixels.
In short, the way the game is presented alone shows that Children of Morta is a valuable product.
Entering a dungeon, you will try to go away, try to hold on, so that if you are unlucky, you will suffer, lose and start over, but stronger than before.
Perhaps this way of playing many times makes what you experience "repetitive", but Children of Morta has overcome it satisfactorily.
First of all, every time you return to the dungeons, a new area will open for you, even if you go to the same place. In those locations, the game also features a large number of side quests, side games and assistive items you can find.
From there, through each challenging floor, you will gradually accumulate different antiques and make you stronger.
Naturally, those items will change constantly the times you play and the enemies you encounter. Therefore, everything will be new every time you start.
Somewhat worth noting is that most of the stories or characters you encounter in each dungeon are of a "color" nature.
For example, on the journey you can save a robot, but he will … bring nothing special for the playing experience at all.
The traits not only stop in the dungeons, but also the characters you choose.
There are 6 members of the Bergson family that you can experience, with each member having different skills and play styles … very different.
For example, Linda is an archer, so she is suitable for attacking from afar. However, if the enemy rushed in too heavily, she was easily "devoured". Joey is another member, and also a genuine "wall", hitting slowly, but much blood and great damage. Lucy is a young girl, also able to attack from afar like Linda, although less effective but she has the ability to create a "decoy photo" to lure enemies …
In short, each member of the Bergson family has many outstanding features, different advantages and unique ways of playing.
The game also has a way for you to choose between characters. That is when a character is played too much, they will fall into Corrupt state and the stats are negatively affected, needing to rest.
Therefore, you can not focus all your energy to "play" a character for perfect, but in return, when unlocking skills, each character has different abilities that help the whole family. So you don't need to worry.
In particular, mentioning the whole family, money is quite important in this game. Thanks to it, you can "unlock" a lot of upgrades that work for everyone.
The game gives you 6 character choices, so the balance between them can be said to be hard to perfect.
For example, Lucy is perhaps the most "sweet" character in the Bergson family. Despite being able to attack from afar, but because the amount of blood is too small and the damage is not much, so if you bring Lucy to areas with strong monsters when she is weak, they will surely "kill" her, so You need to go back to the old areas to training the character.
Moreover, because the game requires you to "take care" of the characters evenly, the design of the characters so that is balanced is quite necessary, but the game has not done well.
In general, not all characters are suitable for solo combat, and the game is designed in a way that has many clear players.
The game's Steam site also says the game will support Local Co-op, but so far, the game is only for one person.
Perhaps with 4 years of development, the manufacturer has not been able to bring out a product "fully" yet.
Moreover, the balance does not stop at the array of characters but also extends to the items or skills in the game.
For example, many items will take up to a minute to recover. Of course, if you use that item, then running to the "quiet forest" to wait for a countdown and then come back is a way to play, but it is extremely time-consuming and goes against the pace of game.
In short, the biggest weakness of Children of Morta is balance.
The game has not found a harmonious connection in creating characters, skills and many other good elements.
Children of Morta is a game with a great performance, clearly showing a family love story on a temple of vivid pixel graphics. Moreover, the design of playing experience full of surprises and diversity is indeed a highlight. Unfortunately, in terms of calculate to create a balance, the game has not done well.
where can you get a Children of Morta online
Children of Morta – Nintendo Switch: Buy it now
Children of Morta – PlayStation 4: Buy it now
Children of Morta – Xbox One: Buy it now
Children of Morta PC CD: Buy it now
---
amazon children of morta reviews on newest prices deals best buying a lastest what is at where to buy can i you get online purchase sale off discount cheapest for products tutorial specification features test series service manual instructions accessories children's childrens switch