amazon Code Vein reviews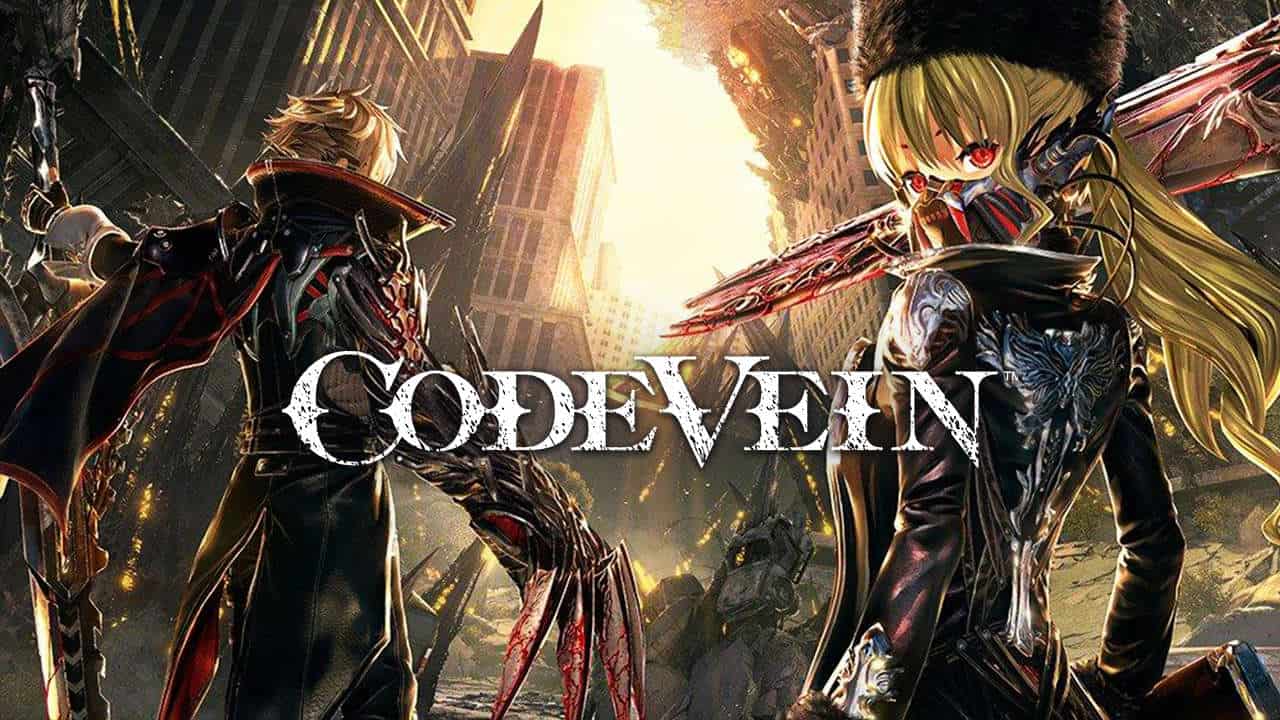 Code Vein takes players into a desolate, chaotic world currently on the verge of life and death. You, like everyone else, a Revenant (who returns from the dead) carrying immortality but need human blood to maintain life, otherwise you will lose your mind and gradually become Lost – A hysterical creature wandering in the city searching for blood.
Captured by the red mist separating the outside world and not many people left, the Revenants fight each other for the Blood Bead – an alternative to blood.
Since then, gangs have been established, the strong eliminate the weak, all because of the Surviving.
Of course, you also get caught up in the harsh reality of this society.
However, in the course of action, you meet Louis – a Revenant that is not moved by the flow of life but still retains the "kernel" inside the mind. Together with his group, they all go to find the source of Bloodspring – a strange tree that produces Blood Bead – to end Vein's suffering.
True to being an "Dark Souls anime style", you will enjoy a "series of anime" with content that is relatively linear and predictable but still thrilling to make you want to "play" to the end game.
The more you uncover the mysteries of Vein society and the origins of Revenant, you will feel more and more interested because the world of the game is elaborately built, each event, each character is closely linked with together.
For those who have played and fell in love with God Eater, you will be amazed at the connection between these two games!
The characters in the game have a fairly predictable color: either good or evil throughout the game, but all still do well in their role. Characters' personalities is clearly revealed and has its own highlight.
After you find out Vestige of each person and read back their fragments of memory, you will see that each character has its own obstacles in this chaotic society, creating a very "human" part of these lost "vampires".
Besides the compelling storyline, Code Vein also offers extremely diverse editing and customization capabilities for you to unleash your creativity.
First, one of the points you'll like at the beginning of the game is that the game offers a lot of tools that allow you to tweak the character to your liking.
Regardless of male or female gender, players can freely customize their appearance from hair, clothes, faces … with many trendy models, making this one of the time-consuming and gray-matter parts superlative in the game.
Next, the Blood Code system helps you not to be tied to a certain gameplay.
Blood Code can be roughly understood as how to build your character, decide the stats and the types of skills (called Gift) that you will be using.
Each Blood Code will have different strengths and weaknesses, as Prometheus will favor a one-handed sword, possessing the ability to dodge quickly but has a small amount of blood; Atlas provides the ability to fight with formidable arms and huge amount of blood but is quite slow …
Not only that, after you use the Blood Code to destroy the enemies, the Gifts of that Blood Code will also increase the familiarity and will allow the player to use regardless of the type of Blood Code you are wearing. .
Because of this ability, players can freely combine the gifts of different types of Blood Code to create the most powerful Revenant.
The writer is currently using a combination of Berserker, Atlas and Hermes to create a balance between attack and defense when using two-handed swords.
Moreover, Code Vein also promises to own a lot of Blood Code scattered everywhere, some need to play to NG + to be able to find out.
This makes your customization almost endless and you can spend hundreds of hours with the game!
In addition to the above points, Code Vein also has some not so good points that it needs to improve better in the future, or at least for the back part because the game has absolutely potential for this.
At first, the character's animation was made meticulously and in detail, but this became a "double-edged sword" during the fight.
Drain Attack or Parry attacks (used by Blood Veil – the type of costume in the game) have slow and uneven speed, such as Stinger and Ivy's Blood Veil will be slower than other types.
Moreover, the goal of Drain Attack attacks is to suck Ichor (a type of magic in the game) but requires the player to stand still for a long time, along with a slow attack speed that also makes you shake your head. Even the normal attacks can also heal Ichor without putting you in too much danger.
Next, teamwork skills are also meaningless once again possessing a long execution time, consuming a large amount of Ichor without creating too many surprises.
This will usually be the skill that you will use when facing bosses, but standing still for too long makes you an "easy" target for the enemy!
This is a very strange point when Code Vein itself is a fast-paced game, much faster than other Souls-like games but the skill are too slow compared to the medium tempo of the game.
Therefore, I feel that these two mechanisms should be ignored and played as a normal Souls game, focusing on dodge-and-kill ability, it will be much better.
Besides, the stage design is not necessarily a plus point of Code Vein when the maps are built quite boring.
Most of the stage is quite wide but completely not creating excitement for me as when exploring Dark Souls or Bloodborne, but instead is the boredom of having to navigate the way.
This will be outlined extremely clearly in the Cathedral of the Sacred Blood map, the player must go through the same area but is blocked by numerous obstacles that force the player to search the detour.
This move is repeated continuously making navigating become a pain even if the game supports small maps.
Not only that, I felt that this map was somewhat "inspired" by Anor Londo from Dark Souls 3 in terms of design.
Finally, Code Vein itself is a game that is not difficult at all, owning a fast-paced along with the companions has partly made it possible to move on the map and kill the boss pretty easy.
To increase the challenge of the game, instead of designing a better game screen, with placing more sophisticated enemies, Code Vein uses another mechanism, temporarily called "Lost Invasion".
This is a mechanism that activates when the player enters a certain area of the screen, summoning a lot of enemies to attack you, your task is to destroy them all.
It is worth mentioning that this mechanism is activated quite randomly without any warning to let you know in advance.
where can you get a Code Vein online
Code Vein – PlayStation 4: Buy it now
Code Vein Standard Edition [PC Online Game Code]: Buy it now
Code Vein Collector's Edition – PlayStation 4: Buy it now
Code Vein – Deluxe Edition [PC Online Game Code]: Buy it now
Code Vein – Xbox One [Digital Code]: Buy it now
Code Vein: Deluxe Edition – Xbox One [Digital Code]: Buy it now
---
amazon code vein reviews on newest prices of deals best buying a lastest what is at where to buy can i you get online purchase sale off discount cheapest for products tutorial specification features test series service manual instructions accessories activated mistle all ending aragami armor vestige locations atlas awake weapons blood veils blazing claw companion bad bosses bayonet codes builds build crack crackwatch cheat engine cathedral the sacred cruz silva cruze codex table status crypt spire date de sortie discord download pc dweller in dark free depths map demo dex elegant fountain pen exalted reputation edicion coleccionista eos enemies c eve endings guide part iv fecha from software fionn flood impurity failed initiate multiplayer session farm queen iron fortification god eater 3 gamespot gilded hunter game same universe gamestop collector's edition gift extension gameplay howling pit how healing mod parry hermes d much io igg games worth it ign ice good investigate ruined city center invasions jb hi fi jvc jogo juego jeu jeux video jim sterling jagatplay jäger überrest jump kathedrale des heiligen blutes kira buckland komplettlösung kinguin kotobukiya kostbarkeiten kaneki key kevin kotaku lanzamiento lançamento louis valuables lost zweihander voice actor invasion lösung let's play mj212 mia gifts murasame more clothes metacritic mobility karnstein nexusmods noble silver night fang naomi nicola nezuko npcs nexus nier automata new oliver collins ornate ost opening one handed swords old world materials op ocean open critic sword presents ps4 photograph ps store psn pre order release preview titanium tungsten queen's knight reborn rib cage revenants breath quick gesture steel recensione rocky ruins requisitos reddit character creation rescue riki revenant review steam side quest survivor 2 successor throat swift destruction statue speedrun trainer tvtropes time beat tirelessness trophies skull king tank uscita umber hounds unequip weapon unlock ability inherit 50 underworld song unboxing upgrade regeneration ufotable list venous vestiges actors types when weaver wills happened are why was delayed xbox xtralife pass x s x360ce yakumo youtube yellowed book trading yuri lowenthal trailer yuta yamamoto zero district zmart two zentrum der ruinen stadt zones oni bane vs đánh giá icd 10 deep thrombosis portal superior mesenteric splenic 1 03 patch notes 100 memories player gtx 1050 2b 2019 news 2nd boss 2h 2018 21 9 35mm reel 3dm 3rd 36000 (introduction needle or intracatheter vein) an example rank 30 after 3440×1440 ce-32809-2 3d models 4players 400 medals go 4th intel hd 4000 4k wallpaper isis 4 5ch cutdown venipuncture 55-year-old male patient report rx 570 scathach 5 persona 60fps pro 60 fps 6 gt 710 750 85 83 dried up trenches ridge frozen souls 87 windows 8 93 percent stuck 970 940mx anime artemis alternate media set veil backstab characters coop wiki extraction left foot using approach bleeding varicose mapping cpt adrenal sampling plus gif hot springs mark honor hifi japanese jack jukebox b audio jiggle physics barracks eagle weakness door max level save location memory leveling lo accessory limited recommended launch attack mods maps manga name geisha noodles npc quests network requirements pure shang gustav richard queenslayer system skidrow soundtrack stats story switch twitter tips tv tropes update uk use gestures trial walkthrough wikipedia with xatab deluxe beta co cognitive zeal rv mastery 101 version e3 veins unspecified aura and appearance butterfly cau hinh crash many players fix dao minh ha drain denuvo depth emily eva enemy error final focus fling mode fearless drop fextralife female full gamek huong dan harmonia ichor blend invading executioner voices juzo mido judgement edge rutherford japan jack's karen katana keyboard linkneverdie low end leda lore cap mobile motgame nintendo ng+ noi ban preset bonus pvp plot pixiv romance rating restore regen expansion factor file data season score true tip theme transformation points ultrawide utorrent ultimate voz viet hoa vietnam vietgame và waifu weight reader xp glitch your ymmv zoom zone levels shot 2hand fight companions 18+ 04 02 1h bloodspring 5th 5700 xt 9s 960m 940m 920m 9pm v9/30 run canoneer caster can't send distress signal cannoneer queens greatsword クロスプレイ 牙装 協力プレイ 巨大風穴 協力 曲 旧世代の資材 敬愛の印 継承者 経験値 血涙 mouse コードヴェイン coco collector collectors wizard 再生力 サントラ 最強武器 最強 深層 shift siliconera sign falling flame 嗜好品 surge スイッチ self important search secret sekiro セーブ 聖堂 操作 装備 original sound track 操作方法 ソフマップ 装備重量 体験版 攻略 感想 引き継ぎ アップデート 評価 対象店舗 chaos customization tifa tumblr ツイッター つまらない 通常版 ツヴァイ 通販 通信 強武器 queen's とは namco 難易度 名前 内容 難易度変更 何人 なんj names dlc banned na 日本語化 日本語 ニコラ 人数 二周目 number game+ ネタバレ 値段 nodvd not working controller haze farming 発売日 発売延期 発売 はちま ハクスラ 発売日延期 hands 評判 引継ぎ 干上がった海溝 干上がった humble bundle fit girl find ファミ通 heirs height ヘルメス ヘイズ heal this hell magic マルチプレイ マップ 漫画 microsoft 未来の選択を トロフィー ミドウ 村雨 難しい ムラサメ 胸 multi rewards music metascore 女神像 メタスコア echoes meta 女神 metacritoc moss covered 導入 モーション イオ blessed body ヤクモ 闇の住人 ヤドリギ 槍 破解 夢小説 ゆっくり 雪 雪山 游戏 予約 ブラッドサーストエディション 予約特典 ヨドバシ 予約開始 before raven fatigues 楽天 rar ラストジャーニー frame rate rin ribcage 延期 理由 リチャード 臨時総督府内部 理查 cs ru ルート speed explore ruin reshade reserved bloodkin resetera rock paper shotgun ロシアキー ロゴ warped blade ワンダーグー pushed back wont material workshop xnalara ng+2 difficulty gamesplanet gamebillet gamersgate informer gamefaqs davis ダークソウル us バンナム バンダイナムコ バンダイナムコエンターテインメント bath towel バグ バックアタック バスタオル parrying パクリ parking garage timing 3440×1440 あらすじ いつ wikia collector's embargo orange 開発 価格 片手剣 鍵屋 camera クリア後 クリア時間 クイーン 記憶 サウンドトラック 最強装備 再生 シーズンパス 主人公の記憶 official site スペック ストーリー ステータス スカウト スタッフ スカアハ 主人公 声優 questline ソフト creator 錬血 練血 hard マガジン green man gaming missile mistles cliff rust repack start 爆死 アラガミ アウェイク アイテム アマゾン アプデ アニメ アトラース アサシン 衣装 意味 イシス イラスト 凍てついた霊峰 衣服 石川界人 インタビュー 受け流し 売上 打ち上げ ウルトラワイド 売り上げ タイミング ボス エンディング エヴァ エーオース エラー エモーション エミリー エレベーター エディション 英語 贈り物 おすすめ 温泉 オリバー 面白い おま値 音楽 斧槍 オフライン 稼ぎ 回復 カレン 棺の塔 クロスプラットフォーム クインスチール クルス クインタングステン 狂い咲く毒蝶 砕けた血英 記憶の返還 起動しない けつえい 堅牢 献血 敬愛の証 掲示板 敬愛 交流 攻略本 考察 好感度 コスチューム 混合冥血薬 コードネーム コントローラー 最安値 最大レベル サブクエスト サバイバーの血英 白い血の聖堂 周回 主題歌 スチーム スピードアタッカー スカウトの血英 スタンプ 先駆者 設定 性別 世界観 戦闘 セール 説明書 早期購入特典 ソウル ソウルライク 総重量 操作設定 高い 血英 中古 チート 地図 血 チャート 蝶 血に渇くし者 チートエンジン 沈黙の雪渓 ツヴァイハンダー 継ぐものたち 追加コンテンツ 礫の廃都 テーマ 転生 店舗特典 敵 店舗 転売 特典 轟く名声 トロコン トレード 取り返し 登場人物 問い合わせ 扉 仲間 濁の大水 二週目 贄の街 贄の血 人間 ぬいぐるみ ネットワークテスト 寝る 熟練度 の記憶 能力値補正 ハルモニア 配信 果てなく共に ハッピーエンド 派生 白亜の大剣 ハイド 火の降る街 ヒロイン 百合 ファミ通dxパック フィギュア 服 フィン フレンド フィンの血英 不具合 フロム フレームレート ヘイズ稼ぎ ヘパイストス ヘイグ ヘイムダル 補正 ホワイトグレイス 崩壊都市 褒章 褒賞 マスク マッチング 魔法 見た目 ムービー 無料体験版 冥血 メイキング 亡者の巣窟 安く やりこみ 安く買う やり込み 闇の巣窟 ヤドリギ賦活剤 やりこみ要素 容量 受け取り方 ライル ライトニングパイル 乱入 radio リージョンロック 臨時総督府 リーク ルイ レビュー レベル レベル上限 レベル上げ 恋愛 れんけつ 霊峰 レシピ 恋愛要素 レベルカンスト 画像 外見 刀 ガード 画質 外見変更 雑誌 ダウンロード 大剣 大崩壊 大百科 ダッシュ ダウンロードコンテンツ ダークナイト 大聖堂 バックスタブ バニッシュ バクスタ バヨネット バッドエンド パイル パッチ パッケージ パッド 920mx