amazon Lypertek Tevi reviews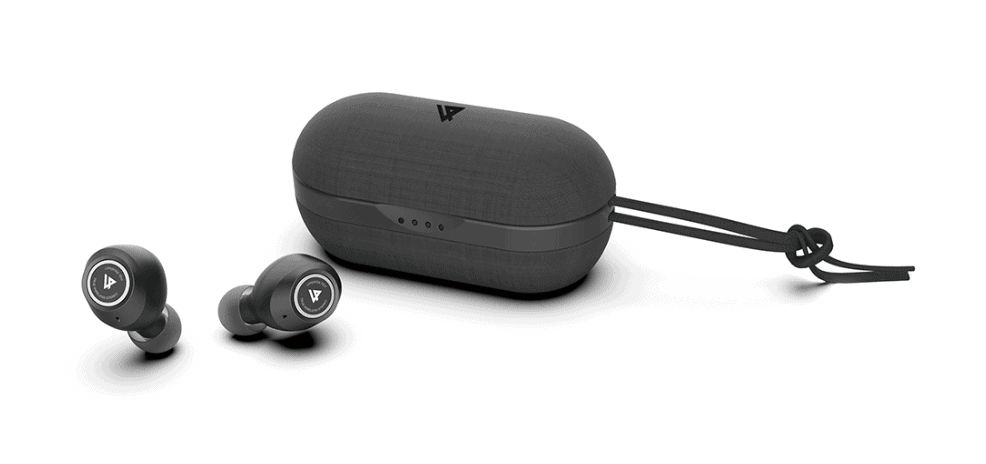 Everyone has been talking about a True Wireless model that looks like the twin brother of Sennheiser Momentum True Wireless but it costs only a quarter.
That's Tevi from Lypertek, an extremely new Start-up sound on the market. Whether this headset can do what startups like Pamu do or not, let's find out.
BOX OF LYPERTEK TEVI
As a cheap headset company focusing mainly on the sound quality of the product, the way of packaging of Lypertek Tevi is very minimal. We have a square paper box with a transparent cellophane layer that can see the product inside.
Product information and specifications on the back and sides of the box are available in 3 languages, English, Japanese and Korean. I was quite surprised that for the first time a Made in China product and did not have any Chinese words.
Inside the box we have:
1x Lypertek
1x Charging box
1x Type-C charger cord
3x Silicone eartips
1x Foam tips
LYPERTEK TEVI DESIGN
At first glance, the box of Lypertek Tevi reminds me of the Sennheiser Momentum True Wireless.
However, it would be unfair to say that Lypertek Tevi is a plagiarism. Our headphones still possess very distinct lines.
The charging case is streamlined, rounded for a very good grip.
The connection details between the fabric part and the plastic part are made extremely accurately, without warping. The hinges are reinforced to make sure the opening and closing of the box is solid, not creaking or cheap.
On the right side, there is a LED light cluster that announces the battery level of the charging box in a quite delicate position, which the Momentum True Wireless charging box does not have.
This is clearly the result of serious investment in the product rather than the way of cheap plagiarism as many people think.
Next is the earphone part. Housing is quite compact in size and has very good finishing. The plastic moldings are very smooth and fit snugly.
The faceplate is decorated with a shiny metal ring that surrounds the company's logo. This is also the control button of the headset hidden on the bottom.
Notice carefully that there is a small notification light on this area. However, this position will be difficult to observe when operating because the button is placed slightly submerged on the faceplate surface, so when operating, the light will be covered by your finger.
The tube is medium sized, not too long but not as short as Sennheiser Momentum True Wireless. Therefore, the ability to replace eartips will be more diverse and easier.
where can you get a Lypertek Tevi online
LYPERTEK TEVI – True Wireless Earbuds, Bluetooth 5.0 Stereo Hi-Fi Sound Wireless Earphones, IPX7 Waterproof, Upto 70 Hours Playtime, in-Ear Bluetooth Earphones with Charging Case: Buy it now
CONFIGURATION OF LYPERTEK TEVI
Although coming from a lesser known brand in World, Lypertek Tevi is equipped with extremely impressive hardware configuration.
Qualcomm Chipset
Going from outside to inside, the first part is the circuit that receives and decodes the signal. Lypertek is powered by Qualcomm's Bluetooth 5.0 chipset and supports proprietary Decoding of AptX codecs.
This chip is the brain of the whole headset. Not merely a signal receiver, it also integrates the DAC / AMP circuitry inside to help reproduce the sound in the highest quality.
In addition to DAC / AMP, this chip has a 3-core Kilimba 32-bit processor that helps process the audio signal quickly and smoothly, eliminating annoying jerky sounds when listening and adjusting sound according to the manufacturer's intent.
Lypertek Tevi also inherits the latest Qualcomm TrueWireless Stereo Plus technology, allowing a direct connection from the source to each ear to reduce latency and increase signal stability.
Great battery life
According to the manufacturer's announcement, Lypertek Tevi's battery life is capable of lasting up to 10 hours of continuous use on a single charge. This is the number one of the awesome rank in the current True Wireless headset. Plus the charging box, the total usage time is up to 70 hours. Get enough power throughout the week without plugging in.
Lypertek Tevi also supports fast charging via the new USB Type-C port. Just 15 minutes of charging will immediately get 2 hours of use in emergencies.
IPX7 waterproof
Lypertek Tevi according to the Manufacturer claims to have very strong water resistance. You can wear this headset in the rain or even in the bathroom. However, it should be noted that the charging box will not support this waterproof standard.
Clarity calls
With Qualcomm's cVc 8.0 Microphone Noise Canceling technology, Lypertek Tevi delivers clear conversation even under noisy conditions. However, in reality, this technology is only a support, not a thorough noise reduction like dedicated conversation headsets.
Graphene membrane driver
Dynamic drivers with Graphene membrane technology always deliver a much more detailed and vivid audio experience than conventional drivers. That's why Lypertek has equipped the Tevi driver with this technology to ensure the sound is not as trivial as other cheap headphones.
EXPERIENCE AND SOUND
The feel of Lypertek Tevi is pleasant and very solid, very similar to that of the Pamu Scroll. This is because the housing size and weight are quite similar. No need for an earhook, Lypertek Tevi still has good ears because the long sounding tube is firmly in the ear and light weight causes less inertial force when exercising. Another plus is the bundled FlexiFoams eartips. Because of the sponge tips, Lypertek Tevi's soundproofing and ear-tightening ability got even better.
Regarding connection experience, I assess this is both a strength and a weakness on Lypertek Tevi. When starting to connect, you will be a bit confused when there are 2 devices with the same name as Tevi, an L and R appear. According to the manufacturer, Lypertek Tevi will automatically switch the secondary ear to save battery. Therefore, you can connect to any side, the one ear will automatically connect to the other ear. Once connected, the headset operates extremely stable, without dropping or interrupting the signal. Another weakness is control operation. The control button on the Lypertek Tevi is a physical button instead of a touch, so when unscrewing it will have to press a force strong enough on the headset. The button of Lypertek Tevi is a bit hard, the response is not very good so it will cause discomfort when operating, at least with people like me. Therefore, in my opinion, this is the biggest weakness of this headset.
What about the sound? In the introductory poster, you and I saw the words: "The Sound you Never Found Before". Indeed, it is so. I've heard a lot of True Wireless headphones in this range, the common point is the vibrant sound, lots of bass, impressing the majority of the average user Lypertek Tevi will certainly not be among them.
The sound of Lypertek Tevi is very balanced, evenly in all 3 bands without clicking on any sound band. Overall good detail thanks to the power of graphene film driver. Lypertek can listen to a wide variety of music from R&B, Pop to Classical. Rock is not bad either.
Bass: Not as violent as other earphones of the same level, Lypertek Tevi keeps a very unique bass. Moderate in quality, focusing most on mid-bass. Bass is not very deep, but it has good speed. Bass control well, not encroached on mid range. Overall, the bass is very good quality with an average amount, more than enough to make the foundation for R&B or Pop.
Mid tones: This sound range is quite clear, not backward V-Shape style, details are quite good. I think vocal is a bit thin so female voice will have an advantage over male voice. The instrument sounds like guitar and piano are relatively clear but not opaque.
Treble: Up to be good if not the best in the price range of $100. Treble has good detail, is quite brittle, well controlled. No glare or sibilant phenomena appeared.
CONCLUDE
Lypertek Tevi is a surprisingly true True Wireless headset for just under $100. Finishing very well, equipped with many new technologies and especially sound balance, details are impressive when compared to rivals of the same level. Lypertek Tevi's appearance may make many people think this is just a joke of an unknown company from China but the actual quality of the product has prove opposite. If you are a fan of balanced sound, elegant design, and sophisticated, Lypertek is really the better option in the price range.
---
amazon lypertek tevi reviews on newest prices of deals best buying a lastest what is at where to buy can i you get online purchase sale off discount cheapest for products tutorial specification features test series service manual instructions accessories australia aliexpress true wireless bluetooth earphones promo code canada – earbuds in ear isolating forum how pair iphone jaben singapore review philippines malaysia munkong pairing spec uk vs app aptx bass controls case connect call quality cena driver europe guide head fi hong kong indonesia japan lazada latency microphone made price quick start reset sg spinfit earphone tws reddit user airpods sennheiser sony galaxy buds jabra elite 65t creative outlier air momentum warranty ca de hd au application battery black friday hypertek tv india life button comply coupon connection issues delay dimensions deutschland release date ebay equalizer eq egypt foam tips fit firmware update frequency response faq running giá google assistant headphones use pertek kaufen korea lag mic devi mpow t5 noise cancelling nz nozzle size order origin ph pris qualcomm qatar ratings range south africa sound store uae unbox usa us sabbat e12 ultra 1more stylish wf-1000xm3 charging whathifi weight waterproof website youtube mevi đánh 2 3500 425 – 5 0 hk jual specs รีวิว reviewslypertek