amazon KZ ZS10 PRO reviews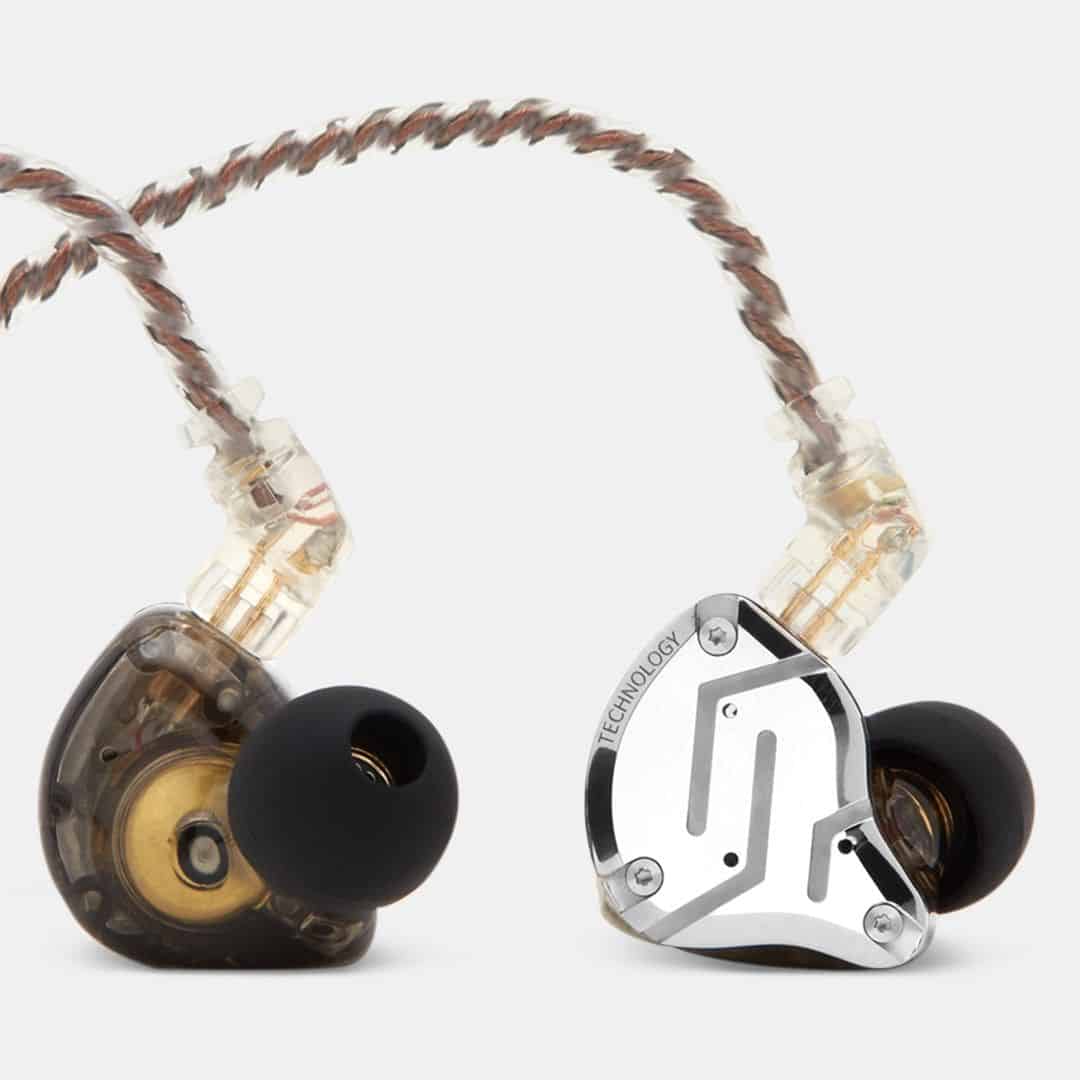 DESIGN AND FINISHING
If you are a fan of KZ, you will easily recognize that KZ ZS10 PRO has a design inherited from ZSN. The housing is molded from transparent hard plastic to reveal the entire interior. This plastic is significantly thicker and harder when compared to the old KZ ZS10.
The faceplate is screwed into the housing, rather than just using the glue as before. Although the 3-groove pattern on the KZ ZS10 PRO is still the same as the KZ ZSN, the beveled path is larger enough to carve the words 10 HYBRID TECHNOLOGY. This faceplate is made from shiny steel, not aluminum like ZSN, so it feels more premium and definitely more solid. You can even look in a mirror on this faceplate.
The nozzle is also made of metal for greater stability and durability, as well as for a more premium overall. Put on the scale, the appearance of KZ ZS10 PRO has been completely upgraded compared to the KZ ZS10. More eye-catching, more rigid, better finishing, sturdier and more luxurious. In terms of size, there is not much change compared to the old KZ ZS10. If you fit KZ ZS10, KZ ZS10 PRO will certainly fit, even wearing experience is much better due to the metal nozzle tube.
The KZ ZS10 PRO connector is, of course, a typical 0.75mm KZ Z-pin, but it has been completely redesigned from the old KZ ZS10. Protruding outside and molded throughout. This design is similar to previous models of TFZ and gives good stability and grip, protecting the connector on the ear and for greater durability. Many of you will be worried that the old upgrade wire such as silver wire or Bluetooth cord on the old KZ ZS10 may not work on this new connector, but rest assured, KZ has calculated that this new connector is still fully compatible with old plugs.
The cord included with KZ ZS10 PRO is very pleasing. The pre-shaped earhook part replaces the previous frame style for much easier wearing, the ear grip is also quite good. Regarding the wire material, it still only stops at OFC copper, the only difference is the large transparent connector and bigger than the old KZ ZS10. You also can't plug in the wires of the new ZS10 PRO on the old ZS10 because the connector has been made bigger. There will be 2 wired versions, with mic or without microphone included for your choice.
CONFIGURATION AND SPECIFICATIONS
Due to the use of home-grown drivers, KZ is always very crammed with its drivers as much as possible. KZ ZS10 PRO will still have a structure of 5 drivers including 1 Dynamic driver responsible for the bass range, 2 BA 30095 drivers for the treb range and 2 BA 50060 drivers for the mid range. As a result, KZ ZS10 PRO has a terrific response frequency range from 7 – 40 000Hz.
It is not uncommon for KZ to always give startling numbers but we need to remember the sound quality of the headphones is something to be concerned about.
The notable feature of the KZ ZS10 PRO driver is probably from the Dynamic driver with the 2nd generation Tesla magnet system. This driver is completely different from the conventional dynamic driver using only 1 permanent magnet. This technology is similar to the technology iBasso is using on its flagship products that help increase the magnetic force, thereby increasing the power and responsiveness of the driver. This promises to bring a huge improvement in the bass range as well as the detail in the bass range and mid range in a real way.
This 5-driver system is still exported directly to a single tube like on ZS10 without dividing the audio line like high-end products. The use of metal nozzle will also more or less affect the sound quality due to the material resonance of plastic on ZS10 and metal on ZS10 PRO are different.
where can you get a KZ ZS10 PRO online
KZ ZS10 Pro, Linsoul 4BA+1DD 5 Driver in-Ear HiFi Metal Earphones with Stainless Steel Faceplate, 2 Pin Detachable Cable (Without Mic, Black): Buy it now
KZ ZS10 Pro Headphones Yinyoo Over Ear Wired Earbuds IEM HiFi Earphones with 4BA 1DD Hybrid Balanced Armature Driver Dynamic Drivers 3.5mm Audio Plug Cable(Purple no mic): Buy it now
KZ ZS10 Pro in Ear Monitor Earbuds Headphone, HiFi KZ Earphone with 4BA and 1DD Drivers, KZ Upgraded ZS10 Pro with Detachable 0.75mm 2 Pin 6N OFC Cable (Black No Mic): Buy it now
KZ ZS10 Pro 4BA+1DD Hybrid in-Ear Earphone with High Resolution 075mm 2pin Connector Detachable Cable (Without MIC, Blue): Buy it now
Five Driver Headphones,KZ ZS10 PRO High Fidelity Noise-Isolating Earbuds/Earphones with Detachable Cable 2Pin 0.75mm (Without MIC, Blue): Buy it now
EXPERIENCE AND SOUND
With the new earhook design, the wearing of KZ ZS10 PRO is faster and less clumsy than ZS10. You just need to insert ZS10 PRO into the ear and then rotate it gently for earhook to stick to the ear, so it is done, no more bending up and down to fix the memory cord as before. The new housing structure is also compact and the metal nozzle is longer so it can fit and stick better. However, KZ ZS10 PRO is still not for people with small ears. The soundproofing ability of KZ ZS10 PRO when wearing the right eartips is very good, almost no noise can interrupt your listening experience when wearing KZ ZS10 PRO. The feeling on the ears of ZS10 PRO is more compact than the old ZS10 due to more metal parts weight for each ear is approximately 35g. The sound that goes out when you wear the KZ ZS10 PRO is still, but not absolutely silent, due to the dynamic driver's vent holes on the faceplate. However, in office conditions with average volume, the ability to hear the sound coming out of it is almost zero.
The overall sound quality of KZ ZS10 PRO is still going in the joyful direction with booming bass and crisp treb. However, everything is improved in the direction of easy listening, details and better control than the old ZS10.
Bass range
KZ ZS10 PRO has deep bass range and mid-bass has better speed and control than ZS10. Compared to the bass models of KZ so far, it can be said that KZ ZS10 PRO has the best bass now. Mid-bass and upper-bass moderation, moderate amount without the system being encroached to the mid range. It can be seen that the new driver with a stronger magnet creates a more explosive and dynamic sound than the traditional design. The bass is compact and firm, not buzzing and sticky thanks in part to the new housing structure, less vibration when compared to the KZ ZS10.
With this bass KZ ZS10 PRO is able to play many different genres including the basshead.
Mid range
In this sound range, KZ ZS10 PRO produces thick and warm sound, good details. KZ ZS10 PRO reproduces well. Mid bass proved to be quite balanced with high-mid range, so the female voice will have an advantage over the male voice on KZ ZS10 PRO. The male voice was polite and relax due to the low-mid seemed to be going back a bit. For instruments, KZ ZS10 PRO reproduces details very well, especially with guitar or violin sounds, neat and clear. In short, this sound range is more open and comfortable when compared to the mid and narrow sounds of KZ ZS10 before.
Treb strip
The treb band on KZ ZS10 PRO really made me quite impressed. Good control, crispy and smooth easy listening style, not inclined to trebhead. Good opening, no mid-roll-off. Compared to the previous KZ ZS10, the ZS10 PRO is easier to listen to because the treble has been calmer, relax. However, details and brightness are still very good. There were no sibilant phenomena.
CONCLUDE
KZ ZS10 PRO is really a comprehensive upgrade of KZ ZS10. Beautiful appearance and more advanced materials. Upgraded internal configuration with new dynamic driver for flexible bass and better control, as well as the overall sound of all 3 bands, improved in an easier-to-listen way. If you are looking for a good mix headset, the KZ ZS10 PRO will be an option not to be missed in this price range.
---
amazon kz zs10 pro reviews on newest prices of deals best buying a lastest what is at where to buy can i you get online purchase sale off discount cheapest for products tutorial specification features test series service manual instructions accessories audifonos aliexpress audio full australia mee m6 vs as 10 allegro ali price in bangladesh bluetooth cable burn balanced bass blue black banggood royal cca c10 a10 comprar ca caracteristicas chile replacement canada drivers driver 1more triple español eartips ebay eq settings review ear europe monitors eイヤホン ekşi fone fiyat foam tips fiio f9 forum fh1 frequency response head fi upgrade spinfit gearbest graph giá đánh tfz t2 galaxy harga xiaomi hybrid hifi tin t3 inceleme iem indonesia india worth it ixbt jual shopee with mic as16 và zst as10 linsoul lazada metal mexico mercadolibre mod nz nozzle size tai nghe opiniones pantip philippines peru paradise precio pin type reddit recensione recenze słuchawki shure se215 singapore tip 215 trn v90 s2 v80 uk unboxing zs6 king ba10 wireless yorum zs7 z กับ 4ba+1dd 4 xba+1 xdd 2019 4ba comply ears spec taobao audiobudget alternative amp audiofool bd crinacle connector color coupon case diamond diameter eartip earbuds earphones equalizer fit fake headphones hissing impedance isolation monitor left right malaysia measurements mmcx noise cancelling purple pakistan phonograph qdc specs teardown tokopedia treble tint2 zsn zsx 5 アップグレードケーブル イヤホン イヤーピース đánh エージング eイヤホン prođánh proshopee progiá prowith zs10vs proreview 違い 比較 評測 開箱 比较 香港 レビュー ケーブル 耳機 リケーブル 辛口 価格 交換 クーポン 極性 コンプライ 左右 ハイレゾ マイク 楽天 バランス接続