amazon Lenovo ThinkStation P900 reviews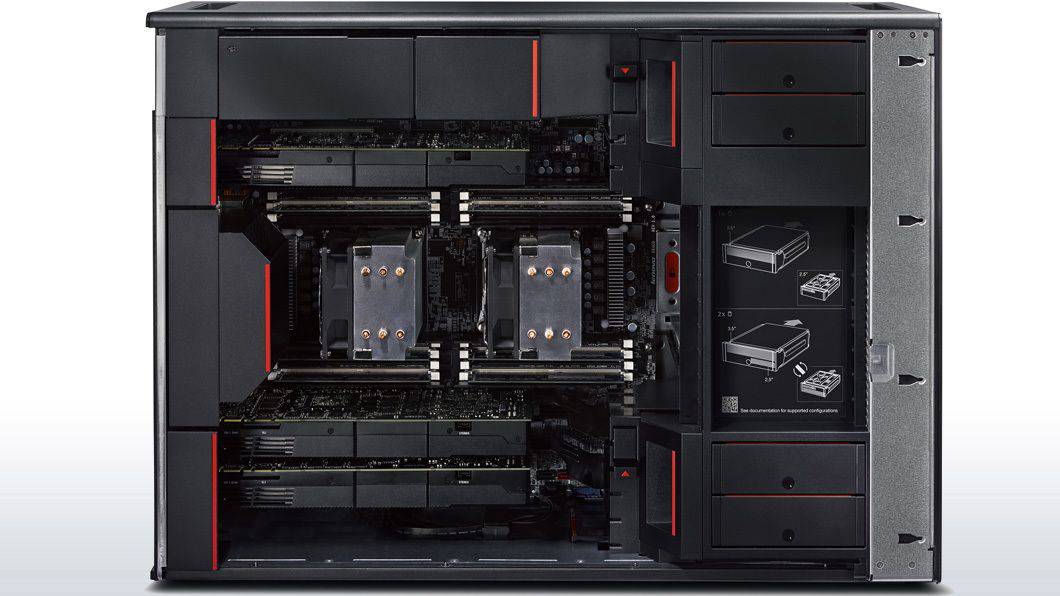 Lenovo ThinkStation P900 looks cool, but simple, with a 200x620x446 mm tower. Although weighed at around 35kg, but thanks to the handy design of the handles at the four corners, the move and installation of the ThinkStation P900 can also save significant time for IT technicians.
Like the high-performance, heavy-duty machines, the ThinkStation P900 also takes full advantage of the front and rear surfaces of the chassis for heat dissipation.
Based on information from the manufacturer, the Lenovo ThinkPad P900 workstation is designed for corporate customers who demand video editing, filmmaking, CAD / CAE design, petroleum exploration, and research genealogy and pharmaceuticals, as well as work in computer-aided computing.
Immediately behind the seemingly simple ThinkStation P900 design, Lenovo's powerful hardware includes two dedicated Intel Xeon E5-2620 v3 processors (2.4GHz, 15MB cache), nVidia graphics Quadro K4200 with RAM 4GB, 16GB memory of RAM, 300GB of high-speed hard drive (SAS), up to 92% of the 1,300W of power. Lenovo also comes equipped with the ThinkStation P900 (standard) DVD burner, versatile memory card reader, two Gigabit Ethernet ports, four USB 2.0 ports, eight USB 3.0 ports, eight PCIe slots and a port PS / 2 socket for traditional keyboard / mouse.
However, depending on the needs of the work, users still have a lot of options to upgrade the hardware of the ThinkStation P900. By default, the machine supports the expansion of RAM up to 512GB (16 slots), the number of hard drives dark. Up to 14 devices (8 internal drives, 2 external drives and 2 M.2 drives) support RAID 0,1,5,10. The ThinkStation P900 also comes equipped with two Flex Connector slots, which are also PCIe x4 slots, but in special locations, allowing users to upgrade storage devices, RAID cards or add expansion cards. I / O without having to spend extra PCIe slots at the back of the case.
Evaluation of design, performance and upgradeability
From practical touches, Test Lab values ​​the ThinkStation P900's design language. With just a few simple operations, the Test Lab was able to observe and access the entire "interior" that was delicately arranged and subdivided. With the ThinkStation P900, areas marked with red highlights feature the ability to allow a hand to removal (tool-less) without the help of any other tools.
According to Lenovo, the ThinkStation P900 workstation is not only equipped with powerful hardware upgrades, but also a cooler design called the Tri-channel that separates the heat into separate areas to optimize pushing. The heat from the inside of the machine goes out.
In addition, thanks to the combination of the multi-blade radiator fan design with ball bearing structure inside the spindle, the ThinkStation P900 is also capable of quiet operation even when working with high intensity. In fact, even in high RPM, the ThinkStation P900 does not make noise in a 28-degree test environment with an area of ​​less than 30 square meters at Test Lab.
Monitor the actual temperature of each sensitive area within the ThinkStation P900 with the CPUID HWMonitor tool, which shows that the maximum CPU temperature at normal operation is only 35oC on average.
When the Test Lab tried to run heavy tasks that required the CPU to work with high intensity, the highest average temperature was only 41oC. It is noteworthy that even when pressed in each sensitive area operating at high intensity, the thermal difference between the focus area and the surrounding area was impressive, suggesting the design of a plastic partition and fan heat works very well and gives good heat dissipation.
From the actual data collected during the test, Test Lab decided to give the Lenovo ThinkStation P900 a plus for the cooler's thermal design.
In terms of performance, with the basic configuration above, the ThinkStation P900 was able to pass tests at Test Lab with very impressive scores. For example, the GeekBench test results in a total of 33,115 points. Graphics performance testing with the 3DMark Cloud Gate tool also resulted in 21,836 points.
With the power of the nVidia Quadro K4200 graphics card, Lenovo's lowest available graphics card option, the ThinkStation P900 gives the time to complete a video editing test that causes many products to compete in the segment must envy.
where can you get a Lenovo ThinkStation P900 online
Lenovo 30A4002FUS ThinkStation P900 30A4 – Tower – 1 x Xeon E5-2667V3 / 3.2 GHz – RAM 16 GB – SSD 512 GB – DVD-Writer – no graphics – GigE – Windows 8.1 Pro 64-bit – Monitor : none: Buy it now
Lenovo 30A4002EUS ThinkStation P900 30A4 – Tower – 1 x Xeon E5-2643V3 / 3.4 GHz – RAM 16 GB – SSD 512 GB – DVD-Writer – no graphics – GigE – Windows 8.1 Pro 64-bit – Monitor : none: Buy it now
Lenovo 30A4002DUS ThinkStation P900 30A4 – Tower – 1 x Xeon E5-2637V3 / 3.5 GHz – RAM 8 GB – SSD 256 GB – DVD-Writer – no graphics – GigE – Windows 8.1 Pro 64-bit – Monitor : none: Buy it now
Lenovo 30A4002CUS ThinkStation P900 30A4 – Tower – 1 x Xeon E5-2623V3 / 3 GHz – RAM 8 GB – SSD 180 GB – DVD-Writer – no graphics – GigE – Windows 8.1 Pro 64-bit – Monitor : none: Buy it now
According to subjective comments from Test Lab, these test scores are for reference only and are not intended for use as a consumer product for home use.
However, the performance scores obtained from testing with test tools are often used in conjunction with the actual usage suggesting that the ThinkStation P900 may be a good choice for customers who are often attached to the Jobs require a lot of system resources, from video editing, image processing, graphic design, software design to the higher requirements of special customer groups that need performance and capabilities operates 24/7.
In terms of scalability, each ThinkStation P900 hard drive bay can accommodate up to two 2.5-inch SAS or SATA SSDs, as well as conventional hard drives, or even combine at the same time a 2.5-inch drive with a 3.5 inch drive.
With the Flex Connector design, the ThinkStation P900 also allows users to upgrade I / O, upgrade PCIe-based SSDs, or use a PCIe-equipped RAID configuration via a PCIe interface. In a position completely independent of the traditional PCIe slots. Test Lab found this design quite useful for upgrading hardware or expansion cards later, especially when users use two graphics cards that occupy more space and the number of PCIe slots on the side at back the case.
Lenovo also install for Lenovo Think P900 with the Lenovo Solution Center, which gives users an intuitive view of the entire system. This application is also very responsive in detecting errors and tracking small changes throughout the operation of the equipment through Check-up.
In general, Test Lab appreciates the cooler design of the ThinkPad P900, a very important factor in keeping it stable 24/7.
---
amazon lenovo thinkstation p900 reviews on newest prices of deals best buying a lastest what is at where to buy can i you get online purchase sale off discount cheapest for products lenovo thinkstation p900 bios drivers price in india manual motherboard workstation review specs thinkstation* tower 30a5k2jgpb