amazon iKKO ITM03 zerda reviews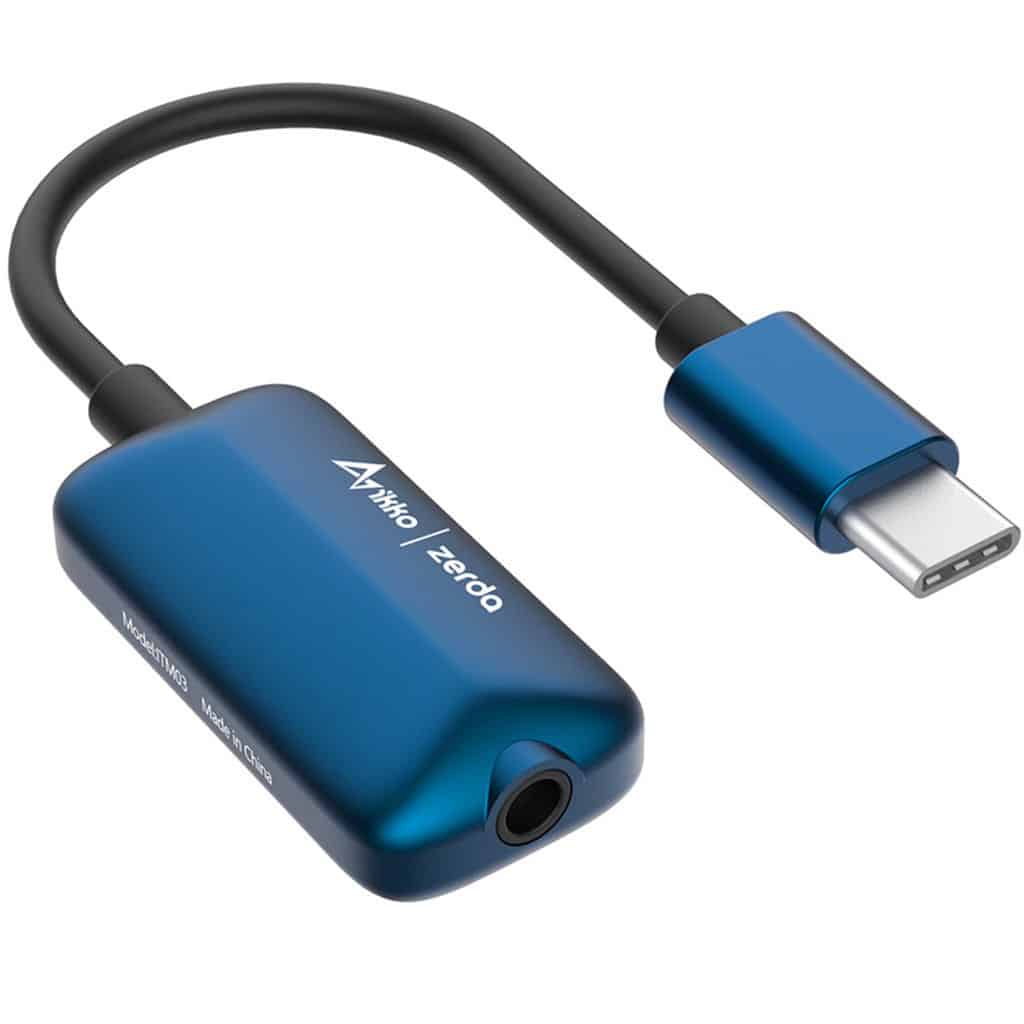 Open the box and design
iKKO designed this box so 'cute' this year! Both the OH10 Obsidian high-end headphones and the ITM03 Zerda adapter are adorably animated, just like Japanese manga books.
The back has a few specifications printed, most notably the Cirrus Logic 43198 DAC, capable of decoding 32bit / 384kHz! Most people will use the highest 24bit, but the fact that it can decode higher is also a plus point.
The product has 2 versions: Lightning (for iPhone), USB Type-C (for the latest generation iPad, Android phones and laptops). I use both phones and laptops that have USB Type-C, so I will choose to use this version.
The kit has a very simple design: one USB Type-C and one larger end has a 3.5mm port. Both are made of very strong aluminum, painted blue to create a premium look. Regarding the perfect quality, ITM03 Zerda is superior to the converters, including from the firm!
The 3.5mm head has built-in lights on the back, and can be used as an optical port for the external amp, or use the integrated amp to listen directly to the headset.
Reasons to use iKKO ITM03 Zerda
There are many reasons for a product such as iKKO ITM03 Zerda to be born.
– First, the latest generation smartphones have now abandoned the 3.5mm port, so will need an adapter to use with wired headsets.
– The older generation smartphones, or laptops with 3.5mm ports are also integrated with very "messy" DAC / Amp from many different brands, the use via ITM03 Zerda will synchronize the sound quality between the device.
– ITM03 Zerda uses high-end components like Cirrus Logic DAC 43198, pure silver OCC copper wire from Monster and external anti-jamming components. Using ITM03 Zerda as a replacement for its converters or on the market is undoubtedly an upgrade in sound quality.
What about the actual quality?
First we have to talk about connectivity issues. ITM03 Zerda when plugged into the phone, it will always receive, without having to install anything (this is a big advantage for other brands' DACs). When used with a Windows computer, it will automatically download the driver for the DAC inside the product suite, and the user will need to reboot – but the process is quick, I don't feel like the What troubles are too big.
To test the sound quality of ITM03 Zerda, I used a pair of high-class headphones with the firm, iKKO OH10 Obsidian – a pair of headphones with high sound quality, good technical (will be discussed carefully) in a separate article, use the plug directly into the laptop and compare it with the use via ITM03 Zerda, also listen to the new Samsung Galaxy Note 10.
Before testing, I also anticipated that the sound quality would have a slight difference, but through testing I found that … the difference became a heaven and a field. My Asus laptop, which is a well-regarded audio solution, doesn't have any detrimental sound-boosting software like Dell or Gaming laptops, but can't do it with one product specialized for audio like ITM03 Zerda.
In terms of volume, laptops give just enough volume to listen at 20/100, and Zerda can give the same volume at 10/100, which means the integrated Amp of the product has a higher output than the laptop. The most noticeable difference when listening to Zerda is the detail: OH10 Obsidian plugs into the laptop for a slightly dark sound and clustered in one place, the details are also slightly overlap. Zerda has a bit brighter sound, but especially pushes the sound components farther apart, all with a separate stage.
With a brighter sound quality, Zerda seems to offer less bass than a laptop, less volume but the quality of bass is markedly improved. Bass is more focused on the mid bass, creating tidiness and faster tail off, accompanied by very fast speed. Due to the appropriate amount of bass, the bass of the OH10 Obsidian through Zerda is much clearer than the body, in a more understandable way, the user can feel the force hitting the ears clearly.
Like bass, the mid section is lightened and somewhat more compact, leaning toward analytic and technically better than plugging directly into a laptop. The voices of members of the Pentatonix group in Misbehavin have good detail, always keeping distance from each other. This clean mid section will also be a good point for those who like to listen to the instrument according to its 'quality', in Jazz or Instrumental tracks. The brighter sound quality also makes Zerda more susceptible to sibalance than dark sources, but this phenomenon appears too little to become a disadvantage.
The treble part does not have too many changes in quality, but it is also upgraded in quality. Treble up to higher frequencies, time stretching, not turning off too quickly. Due to the expanded soundstage and more 'care' detail, the treble also has space to perform well.
As mentioned above, the big advantage lies in the ITM03 Zerda's sound quality that is homogeneity between devices, because it integrates the entire DAC / Amp into an external device. During usage, I always attached the OH10 Obsidian pair to the ITM03 Zerda and transferred back and forth between the laptop and the Samsung Galaxy Note 10. No matter where I plug it in, I still have the same sound (clean and good technique). This is an advantage not to be missed for those who hate to mix and match to have the same sound quality between devices.
where can you get a iKKO ITM03 zerda online
Ikko Zerda ITM03 Portable Headphone Amplifier 3.5mm Audio Type-c DAC Cable Adapter, Flagship DAC chip CS43198,Support Fiber Optic Digital Output,Full System Compatibility (Type-c): Buy it now
IKKO Hi-Res Audio Compatible Ultra-Compact Portable DAC Amplifier Zerda ITM03【Japan Domestic Genuine Products】【Ships from Japan】: Buy it now
Conclusion
The price of $100 is quite a high price, but that is when users see iKKO ITM03 Zerda in terms of a '3.5mm port adapter', but this product is not a conversion adapter. This is a complete replacement for DAC / Amp, even some low and mid-range DAPs, helping to unify and enhance the sound quality of all USB Type-C, Lightning devices. For this purpose, ITM03 Zerda has done a great job, worth the money.
Advantages
– Compact design, great finishing
– There are 2 options USB Type-C and Lightning
– Easy to use, just plug and play
– Can be used as optical port
– The integrated Amp is quite strong
– The sound quality increases markedly
Defect
– Have a short set-up step with the computer
– High performance means the price is not cheap