amazon Intel NUC Hades Canyon reviews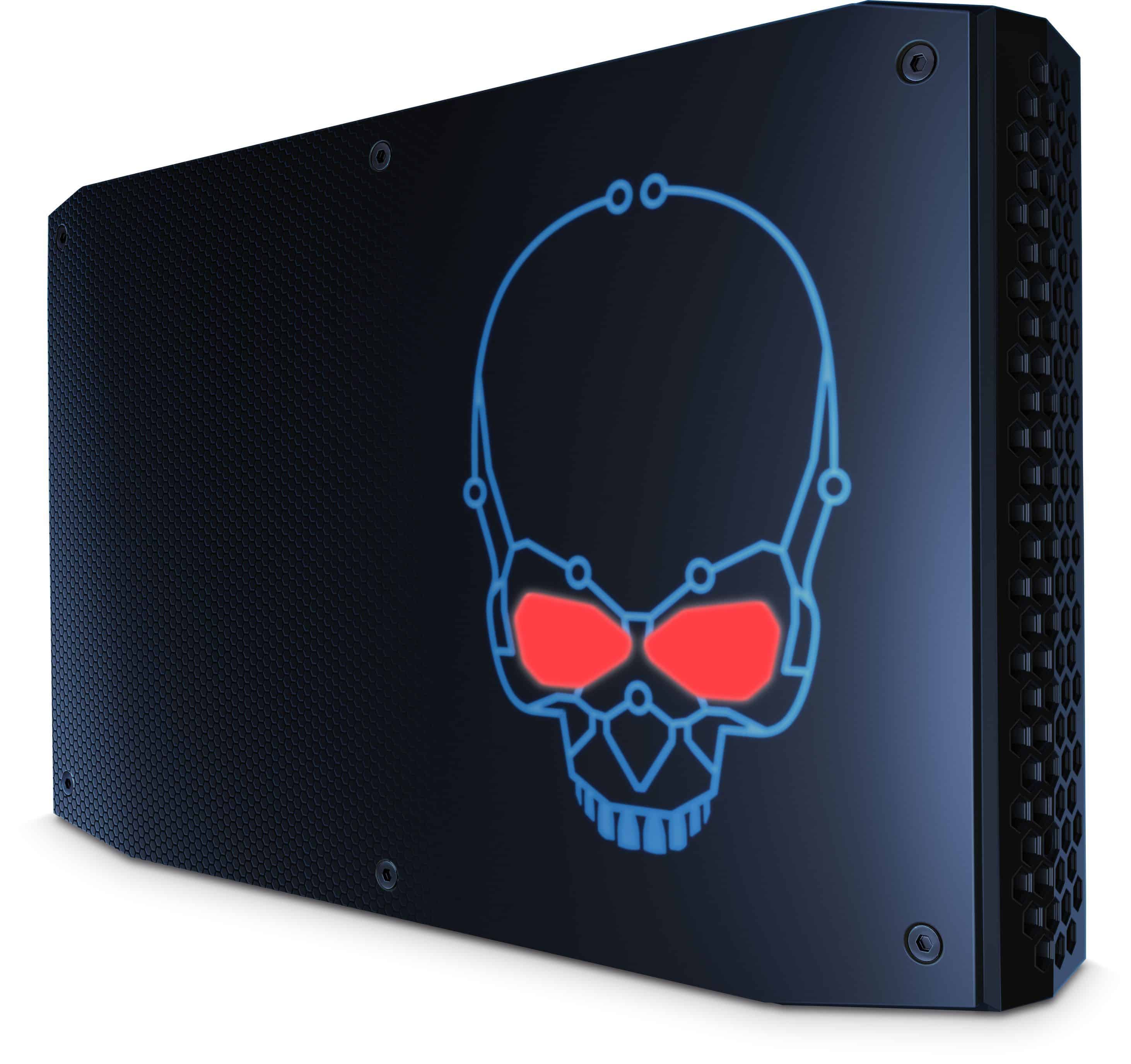 During the CES 2018 event, Intel brought a surprise to many attendees when it announced a mixed chip model with the presence of an AMD graphics processing solution on the same platform to optimize bandwidth. Usage area as well as heat sink system to equip products with stringent power and heat dissipation requirements. Many newspapers have been excited about this solution, even reputable technology bloggers have said that this is a breakthrough in the technology of manufacturing mobile processor chips, creating a lot of excitement and causing curiosity, as expected from gamers, especially among fans of the "red team" when recent gaming laptops mostly use GeForce 10 Series graphics processing chips "Blue team".
The first product on the market to use this integrated processor is a genuine "homegrown" of the company called Intel NUC Hades Canyon, replacing the Intel NUC Skull Canyon generation to use. External graphics solution via previous Thunderbolt cable. Although the product has appeared for a long time in the market, until recently Biareview could borrow a sample product for this detailed review because this is a "rare item", very little well received in the context of the South Asian market will a new chip design work as expected?
If you've ever thought that PC for gamers must be very large, when you hold Intel NUC Hades Canyon, you will have to think again! As a product of Intel's NUC (Next Unit of Computing) series, it aims to integrate and compact, so the product possesses extremely "mini" size. Even when "boxed", the entire product, the manual and the large power adapter fit into a size just like a shoe box.
When opening the box, Intel NUC Hades Canyon can easily be seen a little larger than the previous generation, probably to "insert" a large-sized cooling system to suit a "heavy" CPU like a mixed solution integrated on Core i7 8809G. Therefore, the back of the product possesses a range of extremely cool radiator slots, helping the heat of the two large size fans make up most of the product surface more easily, contrary to "traditional "One side heat sink of the previous NUC product line.
Although the design is quite small, Intel also "crams" on Intel NUC Hades Canyon quite a lot of connections. Up to six USB 3.0 ports, three Type C USB ports including one that can operate at high speed thanks to Thunderbolt 3.0 technology such as the previous "Intel NUC Skull Canyon", two Gigabit LAN ports , two HDMI 2.0 ports (including a front port for connecting VR virtual reality systems) and two Mini DisplayPort ports for multi-monitor use on dedicated screens. In addition, you can also find the Optical output port for the residential sound system behind the machine, a connection port that is quite rarely seen on cheap sound cards.
Intel also equipped Intel NUC Hades Canyon to two high-speed M.2 ports for hard drives so users can combine two NVMe memory cards running in RAID mode or take advantage of a buffer slot. Intel Optane that the company has promoted recently. This is a buffer technology with low latency access, greatly accelerating the launch of programs, surfing the web and loading games while being "less reliant" on RAM.
where can you get a Intel NUC Hades Canyon online
CUK Hades Canyon NUC Premium VR Mini Desktop Gaming PC (Intel i7-8809G, 32GB RAM, 2x500GB NVMe RAID, AMD Radeon RX Vega M GH, Windows 10 Home) Tiny Portable Gamer Computer – Thunderbolt 3, 4K Support: Buy it now
Overall, in terms of design, although "packed" in a compact chassis, Intel still gives the product the necessary "play items", enough to replace the large desktop machines in size but still comfortable for users whether for work or gaming purposes.
Coming to the 3DMark test, the entire system achieved 8574 points for the FireStrike and 3088 test for the DirectX12 TimeSpy test. This score is not really high enough to "carry" the current "killer hardware" games. Only on par with the performance of the GTX 1050Ti video card, although this is a premium version using the integrated RX Vega M GH GPU, more powerful than the version using integrated RX Vega M GL GPU on HP laptops Specter X360 15t.
In fact, Intel NUC Hades Canyon's power is still enough to carry all current games at the highest setting. But with some heavy games of "hardware killer" such as The Witcher 3: Wild Hunt or Assasin Creed: Odyssey, the average speed is quite low, most of the time experience is below 30fps. Therefore, in order to play these games smoothly, players need to lower the setting level to an average level so that they can fully enjoy it.
For some multiplayer games like Battlefield 1, although the average speed is still above 60fps, the "epic" explosion scenes can pull the frame rate down below 20fps, this is also It will be relatively difficult to "network arena" which requires stability and accuracy in all circumstances.
With the overall power of the system at an acceptable level in game tests, Intel's integrated microprocessor solution can be considered quite successful for Intel NUC Hades Canyon when providing a solution powerful graphics for a compact computer of the NUC series.
Although Intel NUC Hades Canyon can be viewed as a successful test of "super-powerful" NUC series that serves a variety of purposes, including gamers' ability to play "professional" games, so But the high price of the product makes many people consider it. At this price, you absolutely can buy a high-end desktop tablet or a similarly powerful laptop, which has an advantage in mobility. Therefore, the product becomes more difficult to sell and less competitive, unless the user needs a desktop system compact enough in a tight working space.
The last little problem of Intel NUC Hades Canyon is in the adapter department with a fairly heavy volume, the shorter re-connecting wires should be inconvenient for users to arrange on the desk.
---
台灣 台湾 香港 10 – cũ (barebone) 2020