amazon Nikon D7500 reviews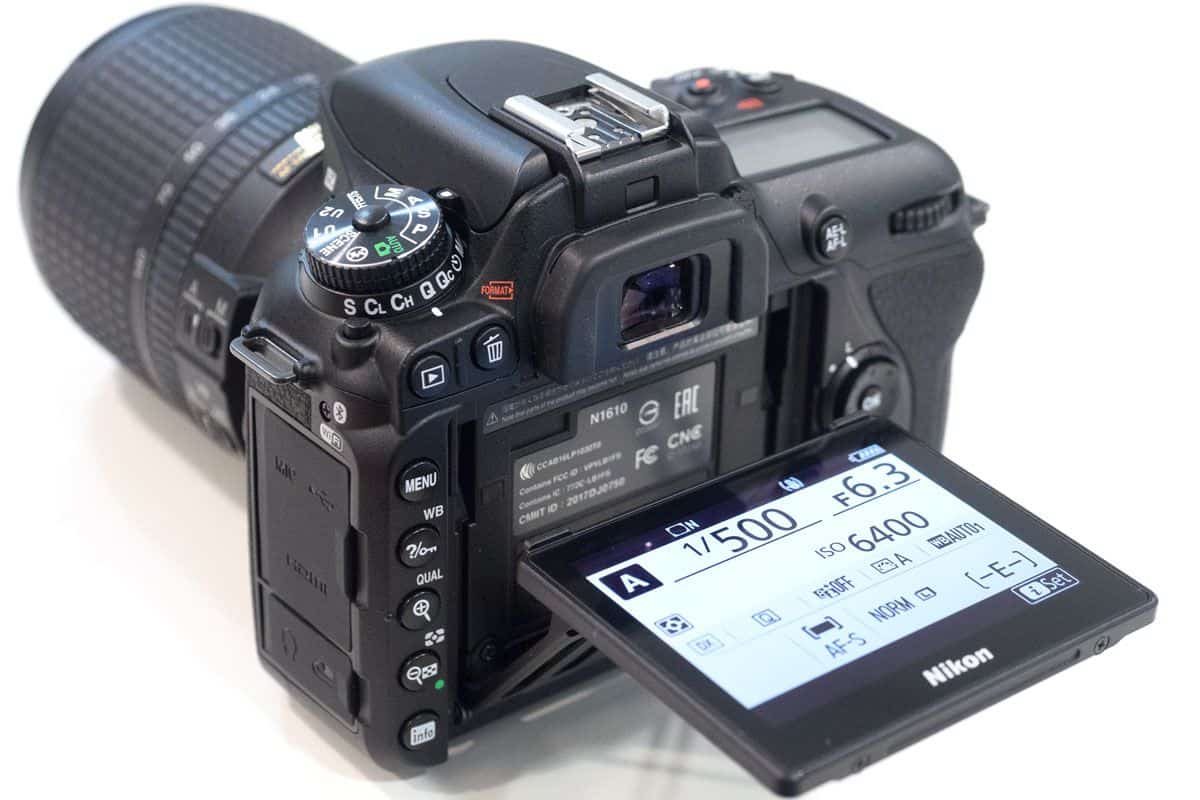 – Advantages of the D7500 camera:
8 frames per second
3D AF tracking works very well
50-sheet RAW buffer
Anti-dust and waterproof
4K video
– Defect:
Missing some of the advanced features of the D7200
4K video or interrupted
– Basic specifications of the Nikon D7500
Full name of the model: Nikon D7500
Resolution: 20.90 Megapixels
Sensor Size: APS-C
(23.5mm x 15.7mm)
Kit Lens: N / a
Viewfinder: Optical / LCD
ISO: 100 – 51.200
ISO Widening: 50 – 1,640,000
Shutter: 1/8000 – 30 seconds
Dimensions: 5.3 x 4.1 x 2.9
inch (136 x 104 x 73 mm)
Weight: 25.4 oz (720 g)
Main features of the Nikon D7500
20.9 megapixel CMOS image sensor
Natural ISO range 100-51,200, expanding to 50-1,640,000
EXPEED 5 processor
Continuous shooting up to 8 frames per second (fps)
Automatic image control
4K UHD recording up to 30p
Built-in Wi-Fi and Bluetooth
SnapBridge function
where can you get a Nikon D7500 online
Nikon D7500 DX-format Digital SLR Body: Buy it now
Nikon D7500 DX-format Digital SLR w/ 18-140mm VR lens: Buy it now
Nikon D7500 Black Digital SLR Camera with 18-140mm VR & 70-300mm f/4-5.6 SLD DG Macro Telephoto Lens + Accessory Bundle: Buy it now
Nikon D7500 20.9MP DSLR Camera with AF-S DX NIKKOR 16-80mm f/2.8-4E ED VR Lens, Black: Buy it now
Nikon D7500 20.9MP DSLR Camera with AF-S DX NIKKOR 18-300mm f/3.5-6.3G ED VR Lens, Black: Buy it now
Processor
The Nikon D7500 has a deeper hand grip than the D7200, as well as an improved texture on the rubber coating. You can definitely see the contact area of the hand between the lens and the clamp is bigger, this makes you hold more easily. The back has a rubberized texture to your thumb for better grasp and is quite delicate compared to some other cameras.
The 'i' button on the back allows for quick access to the controls on the rear of the camera. 3.2 inch touch screen with clear color and text. The screen is solid with a metal hinge and very quickly tilted out when needed. The screen is tilted up and down and is useful for shooting awkward angles, as well as for video recording. The touch screen is very responsive, making changing settings quick and easy and you can use it to scroll through menus and change settings.
The D7500 has 51 focus points, covering a fairly wide area from left to right, and a reasonably vertical area. In the live view mode, you can select any of the areas on the screen to focus, using the 4-way controller or touch screen. The optical viewfinder is very good, and has a small size, with the ability to detect the eye as well as adjust the movement. You can also view the electronic level in the optical viewfinder by pressing the front function button, Fn1 (on the default setting).
Menu
Menus will be familiar to anyone who has used a Nikon digital SLR camera. Recently, menus are allocated with options: Playback, Capture, Movie, Custom settings, Menu settings, retouch and mymenu. There is also a help feature included. So if you do not know what to do and are extremely confused, the "MyMenu" section is where you can add your favorite options and settings.
Wi-Fi features
With Nikon's SnapBridge application, connection settings are initially made using Bluetooth. You get the choice of transferring 2mp photos or full size photos, if you choose full size photos then this can be very slow. If you want to shoot with the camera remotely, then you need to establish a connection with the camera over Wi-Fi. On Android devices, this worked smoothly. There are very few options, the application only acts as a remote shutter, and AF point selection is also possible.
With the D7500 in the Bluetooth options, you can choose "send in off". The camera will continue to send images to the smartphone even when the camera is turned off. This can drain the battery quickly.
Battery life
After 950 tests of the Nikon / CIPA battery life shows that the D7500 battery has a longer battery life that allows you to take great pictures. Even with the use of Wi-Fi and Bluetooth will reduce the battery life.
---
especificações ec mall ephotozine enable bluetooth english 比較 eos80d 価格 com 中古 口コミ キャノン 今すぐ使えるかんたんmini 基本&応用 撮影ガイド キャッシュバック kenrockwell ケース 缺点 co nen mua comparison comentarios compare と cover 後継機 広角レンズ photos 作例 三脚 サイズ 最安値 絞り 仕様 シャッタースピード 使用説明書 ストロボ ストラップ serial number set self セルフタイマー a7ii a6400 測光 単焦点レンズ タイムラプス タイマー タムロン 対応レンズ 充电 超広角 turn off 使えるレンズ thom hogan 手ぶれ補正 定価 天体撮影 tecnicas 値段 available working 花火 hack 遥控器 評判 飛行機 標準レンズ x-t2 factory portrait much blur background マニュアル ミラーレス music メモリーカード error 夜景 野鳥 ヨドバシ イージーカバー 用 raw 楽天 samples file download リモコン ronin s 露出補正 画素数 画質モード 画質 may anh david busch ダブルズームキット バッテリー バルブ バッテリーチャージャー nikkor 1300d g2 1200d 24-70 250d mm-300 70-300mm – k-70 f値 変え方 キタムラ 交換レンズ 後継 撮影枚数 性能 操作方法 操作 made thailand ニコン(nikon) 星空撮影 補助光 レビュー レンズ 16-85 18-400mm 150-600mm アプリ af-c aps-c ae-l iphone ipad u1 u2 electronic 大きさ オートフォーカス 重さ 買取 開封 カメラケース カメラのキタムラ カタログ 機能 写真 下取り 設定 取説 特徴 撮り方 トキナー 11-20 mac 評價 ファームウェア フラッシュ 付属品 フォーカスポイント リモート レンズキット レリーズ 連写 レンタル バッテリーグリップ 18mm-105mm karşılaştırma