amazon REDMI NOTE 8 PRO reviews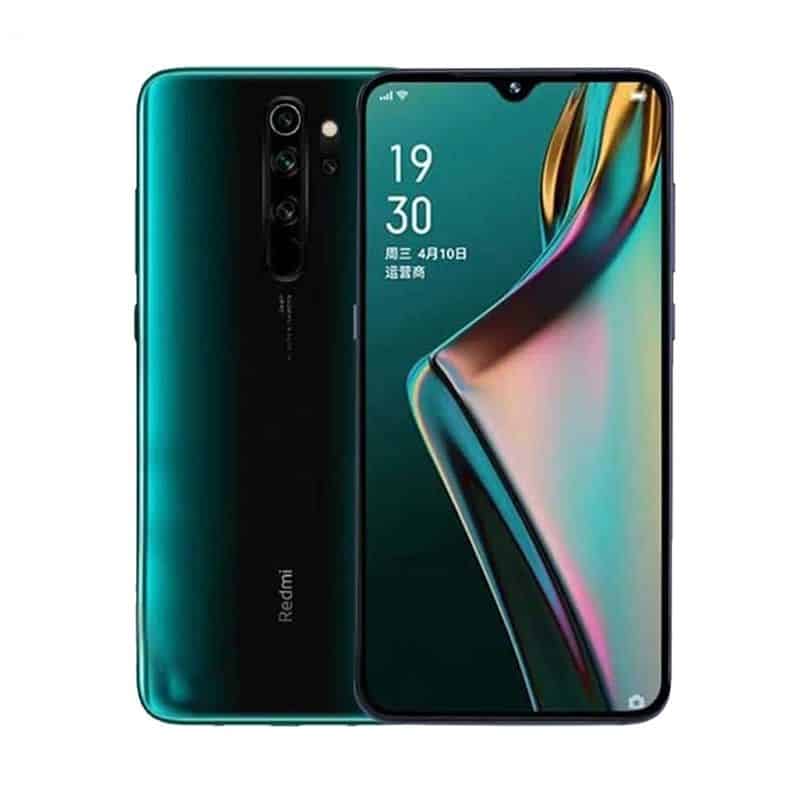 Design: "beauty queen" of Redmi Note series
Xiaomi used to be quite lazy to change the design of the Redmi Note series. However, the company has impressed with the design makeover in the Redmi Note 7 with glossy glass back. On the Redmi Note 8 Pro, Xiaomi continues to change very visually.
If you are a Xiaomi fan, you can see that the design of the Redmi Note 8 Pro has many similarities to the recent Mi 9T. It still uses the glass back and plastic frame similar to the Redmi Note 7 but is treated to look more eye-catching and more classy than its predecessor.
The back of the phone is curved, fits perfectly and holds your hand. But the Redmi Note 8 Pro also feels a bit bulky and heavy in hand. At 8.8mm thick and weighing 200g, this phone is much thicker and heavier than the Redmi Note 7 Pro (8.1mm, weighing 186g). Bigger screens, bigger batteries, and more rear camera clusters are the reasons for thicker and heavier products. However, that is probably not the problem at all.
On the front, the Redmi Note 8 Pro has a selfie screen, not a full screen with a front-facing camera that looks like the Mi 9T in the higher price segment. The screen border of the device is quite thin, the display / front ratio is 85%, slightly better than competing product Realme 5 Pro (84%).
Overall, it can be said that the Redmi Note 8 Pro is currently the most beautiful product in the Redmi Note series so far. However, the product also has a few small minus points like a smooth grip, a fingerprint sensor located in a slightly high position, especially for users with small hands and a slightly protruding rear camera assembly.
Screen: good quality, see clearly in the sun, including HDR
Redmi Note 8 Pro uses an IPS LCD screen with water droplets on it. The screen is sized at 6.53 inches, Full-HD + resolution, 19.5: 9 aspect ratio, Gorilla Glass 5 protection and HDR support, a rare feature at this price range.
The screen of this phone has high brightness, enough for comfortable use outdoors. Similar to Samsung devices, the brightness in the automatic brightness adjustment mode of Redmi Note 8 Pro can be pushed to a higher level than the maximum brightness in manual mode. So when using in the sun, you should turn on the automatic brightness adjustment mode.
The display quality is also very good, natural color, high contrast and wide viewing angle. In particular, this screen supports HDR content, so watching HDR-enabled videos on YouTube is more vivid. Color temperature in the default mode of the screen is a bit blue, but Xiaomi allows users to adjust the color temperature and contrast to suit different needs. In addition, the screen of the Redmi Note 8 Pro also has a dark mode, reducing eye strain when used at night.
Performance: superior in the mid-range segment
In recent years, the Redmi Note series has been based on Qualcomm processors. In this version of Redmi Note 8 Pro, Xiaomi switched to Mediatek chip. The company confidently promotes the Helio G90T chip on the Redmi Note 8 Pro and sees it as a selling edge. Helio G90T has eight processing cores, including 2 high-performance Cortex-A76 cores clocked at 2.05Ghz and 6 power-efficient Cortex-A55 cores clocked at 2Ghz. The Helio G90T graphics chip inside is Mali-G76 3EEMC4 clocked at 800MHz with HyperEngine technology to improve the gaming experience. MediaTek itself promoted this as a gaming chip.
On performance measurement applications, Helio G90T proves the overall power superior to the same-priced smartphones using the Snapdragon 712 (Realme 5 Pro) or Exynos 9610 (Samsung Galaxy A50s). In terms of graphics processing, which has not been a strength on Mediatek chips for a long time, G90T also scores significantly better than Qualcomm's mid-range chip, Snapdragon 712 and outperforms the competition. The mid-range Exynos 9610 chip is used by Samsung on many A and M series smartphones of 2019.
In practical experience, Helio G90T along with 6GB RAM proves that Xiaomi is not wrong when promoting this chip as a product strength. It responds well to everyday activities on the phone, applications open fast and smooth experience.
With the game, Redmi Note 8 Pro also plays the most graphically heavy games on Android today. Specifically with PUBG Mobile, the phone reached 39 fps with 92% frame stability when playing in the highest graphics mode, according to the GameBench frame measurement application. Helio G90T has slightly better gaming performance than Snapdragon 712 on Realme 5 Pro but still slightly inferior to Snapdragon 730 on Xiaomi Mi 9T.
However, the gaming process, the machine heats up quite quickly and the heat level is perceived to be significantly higher than the Realme 5 Pro in the same playing time. The hottest area is the rear camera cluster. Coolers are quite fast after a period of time to stop playing, but this can be considered a minus point in the product. The hot phenomenon not only causes discomfort during gaming but also causes the product to drain the battery faster. Perhaps understanding this, Xiaomi has increased the battery capacity of the product to 4500 mAh, not 4,000 mAh as other similar price products.
In terms of software, the Redmi Note 8 Pro comes pre-installed with MIUI 10 based on Android 9. This is a very familiar software package for Xiaomi fans with many of the manufacturer's specific features included as the 2nd space to contains private data; dual applications to run in parallel 2 accounts Facebook, Messenger or Zalo; lock apps that need to be protected with a password, fingerprint …
where can you get a REDMI NOTE 8 PRO online
Xiaomi Redmi Note 8 Pro 64GB, 6GB RAM 6.53″ LTE GSM 64MP Factory Unlocked Smartphone – Global Model (Mineral Grey): Buy it now
Xiaomi Redmi Note 8 Pro 128GB, 6GB RAM 6.53″ LTE GSM 64MP Smartphone – Global Model (Mineral Grey): Buy it now
Xiaomi Redmi Note 8 Pro 128GB, 6GB RAM 6.53″ LTE GSM 64MP Factory Unlocked Smartphone – Global Model (Ocean Blue): Buy it now
Battery time: enough peace of mind to use during the day
Redmi Note 8 Pro uses a 4500 mAh battery and Helio G90T chip on the 12nm process is quite energy efficient. In the familiar surfing tests, movies and games of BiaReview, this phone gives a decent usage time, enough to use it during the day with normal demand but still inferior to some 4,000 mAh smartphone using Qualcomm chip. That shows the Helio G90T chip provides impressive performance but is not really optimal when considering the power saving.
In terms of charging time, this phone supports MediaTek's 18W Pump Express fast charging standard. Using the included charger, the total charge time for Redmi Note 8 Pro is 2 hours, of which the first 30 minutes charge 35% and 1 hour charge 70%. This charging result is similar to the charging time on phones using Qualcomm's Quick Charge 3 / 4.0 charging standard.
The camera quality is good even in low light but don't expect too much
Redmi Note 8 Pro has up to 5 cameras including 4 rear cameras and one front camera. We should not be too overwhelmed by the number of cameras because 2MP macro camera does not bring much meaning in practice. However, compared to the Redmi Note 7 Pro with only two rear cameras, it is clear that the camera on the Redmi Note 8 Pro is also an upgrade, the most notable of which is the addition of ultra-wide angle camera capable of autofocusing dynamic. Super wide-angle cameras on many smartphones of the same price range currently support only fixed focus, not capable of adjusting focus like Redmi Note 8 Pro.
– Main camera: 64MP, f / 1.9, 0.8 micron pixel size, 1 / 1.7 inch, phase focus, Samsung ISOCELL GW1 sensor
– Wide-angle camera: 8MP, f / 2.2, 120 degrees, pixel size 1.12 microns, ¼ inch sensor
– Macro camera: 2MP, f / 2.4, pixel size 1.75 microns, 1/5 inch sensor.
– Depth camera: 2MP, f / 2.4, pixel size 1.75 microns, 1/5 inch sensor.
– Front camera: 20MP, f / 2.0, 0.9 micron pixel size.
In terms of image quality, the 64MP main camera has lots of detail, high contrast, and natural-looking colors. In high-light conditions, the HDR mode works effectively to balance between bright and dark areas in the image. However, sometimes photos have phenomena that are handled a bit hard.
By default, the 64MP camera will take photos at 16MP resolution through a 4-pixel algorithm that combines them into one, but you can choose to shoot at 64MP. However, the difference between the two image sizes is negligible, similar to the 48MP camera on the previous Redmi Note 7 Pro. Meanwhile, the image size in 64MP mode sometimes up to 15-16 MB compared to 16MP mode usually only 4-7 MB.
The main camera also supports 2X digital zoom. This is a cropped image from a 64MP camera, it is unclear whether it is a crop from the original 64MP image or a 16MP mode image. Looking at the 2X zoom images below you can see that the image processing in this mode is no different from the normal image from color to contrast and detail.
In font deletion mode, the Redmi Note 8 Pro uses a 2MP camera to capture depth support for the main 64MP camera. The photos show that the camera recognizes the subject border to remove the background quite well, less blurry and the background can adjust the level of deletion after shooting. In addition to adjusting the level of font deletion after shooting, Xiaomi also introduces interesting effects for the photo-removing fonts similar to the lighting effects on the iPhone.
Low-light photos from the 64MP camera of Redmi Note 8 Pro are similar to rivals using Sony's 48MP camera like Realme 5 Pro or Galaxy A50s. The image is a bit grainy but the colors are nice and the noise control is quite good. It also supports 64MP shooting in low light but the image is no different than the default 16MP. In general, you should shoot in the default mode of 16MP both bright and underexposed, photos are light and the quality is not different.
Night Mode of Redmi Note 8 Pro helps to improve the overall image quality, sharper photos, more detailed especially dark areas. But everything is improved to the right, not being as outrageous as "turning night into day" like some other phones. Therefore, photos in night mode are sharper but still look natural.
The ultra wide-angle camera offers interesting shooting angles. In particular, this camera supports focus so you can use it to take close-ups. The treatment of colors is similar to the main camera but with less detail and narrower light bands. In bright enough conditions, photos from ultra-wide angle camera for quality to be used for sharing on the network but lack of light, the image is clearly visible.
The 2MP macro camera takes pictures at very close distances, only about 2-3cm. This is the shooting distance perhaps in terms of practical usefulness is not much. However, in bright enough conditions, this camera is quite clear image.
The 20MP front camera gives photos with good detail. HDR mode works well in images with complex lighting scenes such as differences and backlight. The font deletion mode also identifies and separates the subject relatively smoothly. However, this camera only produces good photos in bright enough conditions (outdoors or indoors with light). If there is no light, the photo is noticeably noisy and blurry.
Summary
The choice of Helio G90T processor is a change that helps the Redmi Note 8 Pro stand out in terms of performance compared to other devices of the same price range. Besides performance, the remaining elements of the product are also quite full. Although the number of 4 cameras on the back is only meaningful in terms of number, with the main marketing goal, in return, the 64MP main camera and wide-angle camera that supports autofocus are very positive points. Besides, this phone also has a large screen high brightness, relatively battery life and eye-catching design.
In the international market, Realme XT is the formidable opponent of Redmi Note 8 Pro with the advantage of AMOLED screen, in-screen fingerprint sensor and similar performance power.
---
antutu redmi note 8 pro xiaomi và a50s about benchmark android 10 a70 samsung vs amazon price beli back cover for buy india boulanger online bán bd of banggood now coque características comprar celular cấu hình ceneo cena doto difference between and does support 5g diferencia entre y darty disadvantages details danh gia epey etui en ucuz evkur 128 gb expected especificações flash sale fiche technique funda ficha técnica flipkart fnac tecnica giá gcam google camera gsm arena global rom miui 11 harga 2019 hp dan spesifikasi indonesia hepsiburada how to root much in qatar huawei honor 9x iphone 7 plus is waterproof x amoled information heating issue jual jadwal jumia rilis di surabaya jogja resmi kelebihan kekurangan kapan kelemahan masuk kamera keunggulan launching date linio latest news les numériques lowest launch nepal mgsm mercado libre livre mobilecity mi store 9 lite se nokia 2 new netflix nfc nova 5t 5 opiniones oppo reno 2z oneplus 7t ouedkniss olx opinie precio prix algerie prezzo preço pakistan philippines p30 qualité photo que tan bueno es el vaut le quitar marca de agua gama quora quanto custa o quick ball quality realme k20 review x2 spek scheda skroutz shopee a50 spec galaxy snapdragon teknosa trendyol turkcell telcel thông số unieuro upcoming umidigi f2 up uscita unlock unbrick vivo z1 vatan u20 bilgisayar varian warna vodafone z 1 verre trempé when release www bangladesh wallpaper what the weight mobile will 128gb xda specs 6/128gb 6/64gb test y9 prime y9s yugatech yıldız fırsat cep telefonu youtube yoigo yandex market z1x zenfone 5z zdjęcia 6 ghi âm cuộc gọi trên đánh điện thoại tinhte chi tiết 1088 tl 19kala meizu 16th compare 2b mate 20 3mk flexible glass flexibleglass 32gb 30s mia 3 gadgets 360 comparison 4pda прошивка ru покупка 4k 4g+ 4gb 64gb элемент 5d tempered 5s bagus mana perbandingan so sánh 64mp 6gb fiyat 64 6t 7s smartprix 8t 91mobiles 9t ou mu a3 a9 2020 n blue black friday battery com cc9 custom case wireless charging china k dubai perbedaan mexico peru colombia full specification features from gsmarena chính hãng cũ xách tay 8gb fpt ksa jarir bookstore k30 4g ka which best phone sri lanka ốp lưng lazada on qiymeti lulu sound smartphone specifications pubg user uae pop white with xt y3 y2 yorumlar kullanıcı yorumları yorum yeşil z1pro zoomer zap asus max m2 motorola one zoom narxi mobiles 3s kılıf 3d view 4 fix qc 0 64g 5a or 7a 730g 8/128gb a b8 colour caracteristicas kaufen ekran koruyucu s8 uk v8 x8 4x honour dengan dxomark display e differenze media markt fortnite i kıyasla & f11 s t update vinpro p20 diferencias özellikleri video not (xiaomi türkiye garantili) sm 8/8 8/128 score anti rollback always aliexpress all colours bản quốc tế bao nhiêu tiền bị lỗi nóng brick bắt wifi kém chống nước chotot có mấy màu chơi game clickbuy dgw duchuy ddtm là gì dienmayxanh driver dùng chip dwg digiworld eea eu edl point españa electric fastboot fullbox firmware facebook flip rẻ green gaming hoangha hải phòng hàng hay hnam hao pin hcm hiệu năng jio offer jade jd id kenya jakarta jack khang nhung kháng kimovil khung kim loại khi nào ra mắt kimnhungmobile kuwait rate kernel source lên like liên quân đỏ trắng đẹp nhất xanh đen sim nhattao máy nhập khẩu nguyễn nha trang nhiệt độ notebookcheck ocean onscreen official overheating otg order malaysia charge quá 4+ quad red ngày sạc nhanh sosanhgia lâu sendo không dây tgdd tiki tiếng việt tản twrp tin tính unboxing usa viettel voz websosanh world warcraft edition wiki wikipedia dương xám yurtdışı fiyatı yüz tanıma zoomit zırhlı zubehör zöld after month slot a8 2018 camera2 api 32 tech tele đà nẵng 3/32 w polsce play kiedy premiera sklepach plusie mua ở đâu cellphones 24hstore 256gb 256 25x 27 watt charger 3gb degree 4/64 5000mah 6/128 6g lá 6gb/64gb 7000mah 730 7999 7000 8g 99 9999 960 fps 90hz 9000 91